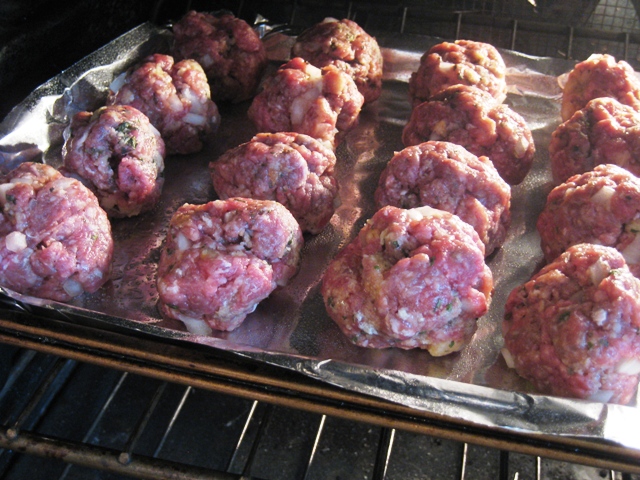 With my second round of June's freezer meals, I used about ten pounds of ground beef to make:
Seasoned Taco Meat – This makes for an easy dinner, just add toppings and tortillas or taco shells. I store the meat in plastic containers.
Chili – As a freezer meal, this is quick to reheat later and serve "as is" or use to top hot dogs. I cooked two batches in both my crockpots. We ate some for dinner and then I had enough to freezer for two more meals.
Meatballs – Meatballs are so versatile; I serve them on pasta in a red sauce or with gravy over mashed potatoes. I bake them in the oven, cool, and freeze in ziptop bags.
Meatloaf – I use the same mixture for meatloaf as for the meatballs, just in a different shape. I freeze meatloaf uncooked. On serving day, I thaw the loaf and bake fresh for dinner.
Recipe: Meatball / Meatloaf Mixture
Ingredients
4 pounds ground beef
3 cups bread crumbs
6 eggs, beaten
1 large onion, chopped
3 cloves garlic
2 Tablespoons dried parsley
1 Tablespoon dried basil
1 teaspoon kosher salt
Instructions
Combine all ingredients in a large bowl. Don't mix too much, just enough to distribute ingredients throughout mixture.
Form into meatballs or divide into four parts and form four meatloaves. These are not very salty meatballs, since you will serve them with sauce or gravy.
For meatballs, bake in 350° oven for 15 minutes or until cooked through for meatballs. Cool, label, and freeze.
For meatloaves, wrap, label and freeze. When ready to serve, thaw and bake 45-60 minutes or until cooked through.
Next up: Freezer Cooking with Bone-in Chicken