Chili Stacks, a taste of my childhood, are an easy and economical dish to pull together. You can assemble it and cook it in less than 30 minutes.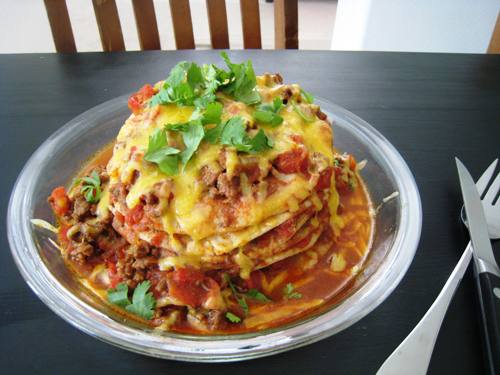 My parents have always been frugal people. They're from the era before credit cards when you had no choice but to save up to buy something. As such our meals were always pretty simple. I remember eating dinner out one night a week, but the rest of the week meals were simple but filling.
We didn't mind that the menu sometimes repeated itself; these were meals that we loved, albeit circa 1978. Things like Sauerkraut and Spareribs, Pork Chops and Curry Potatoes, Chicken Curry, and some odd enchilada concoction made of processed cheese and canned chili. Some was real food; some, like those enchiladas that I requested for more than one birthday dinner, were decidedly not real food.
One thing that was? Chili Stacks! My sister and I both have found memories of this dish, so I dug up Mom's old recipe, made a few tweaks to it. And voila! An easy and filling meal that comes together super quickly. I'm wondering if that's one of the reasons Mom served it so often. I set a timer. It really took me less than 30 minutes from start to serve.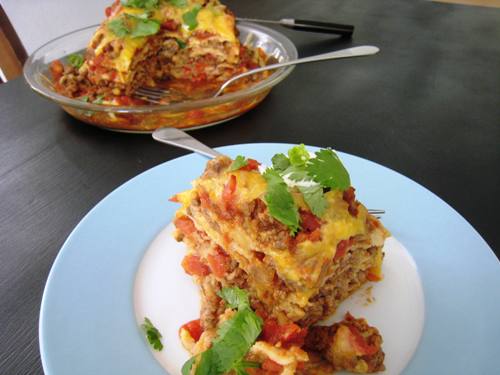 The kids and I enjoyed this for lunch one day. It would do well with a salad on the side. I was feeling lazy and  craving carb-loaded comfort food. You go with it however it works for you.
Looking for more bright ideas to get dinner on the table? My latest cookbook is here! And it's designed just for you to make dinner quickly, easily, and affordably.
You can beat the clock without breaking the bank. And you'll eat well too.
Recipe: Chili Stacks
Ingredients
3/4 to 1 pound ground beef or turkey
1/2 cup chopped onion
one 14.5 ounce can petite diced tomatoes
1/2 cup tomato sauce
1 tablespoon chile powder
1 teaspoon salt
1/2 teaspoon oregano
1/2 teaspoon cumin
6 corn tortillas
2 cups shredded jack or cheddar cheese
optional toppings: chopped fresh cilantro, sliced green onions, sliced black olives
Instructions
Preheat the oven to 350°. Spray a pie plate with nonstick cooking spray.
In a large skillet, brown the beef and onions until the meat is cooked through and the onions have turned clear, about 5 to 7 minutes.
Add the tomatoes, tomato sauce and seasonings and cook another 3 minutes.
Layer the tortillas, sauce, and cheese in the prepared baking dish.
Bake for 15 minutes until hot and the cheese is melted and bubbly.
If you like, serve wedges of the casserole with the toppings.
Preparation time: 15 minute(s)
Cooking time: 15 minute(s)
Number of servings (yield): 4
Like this recipe? Then you'll love what's in my new cookbook! Get your copy of Good Cheap Eats Dinner in 30 Minutes or Less