Chili Stacks, a quick tortilla casserole, is an easy and economical dish to pull together. You can assemble it and cook it in less than 30 minutes!
Hungry? Short on time? Not looking to go back out?
That's when you need a quick and easy recipe that comes together with regular pantry ingredients. No need to run out to the store for ingredients, no hassle in the kitchen to whip up dinner.
Just sit down for a warm and cozy supper that almost came together on its own.
Chili Stacks – A Quick & Easy Stacked Tortilla Casserole
When I was growing up, the TV commercials told me how busy moms were, how they were looking for quick dinners that came together in minutes.
My mom never bought into those Hamburger Helper meals. She didn't need to. She had Chili Stacks in her recipe file.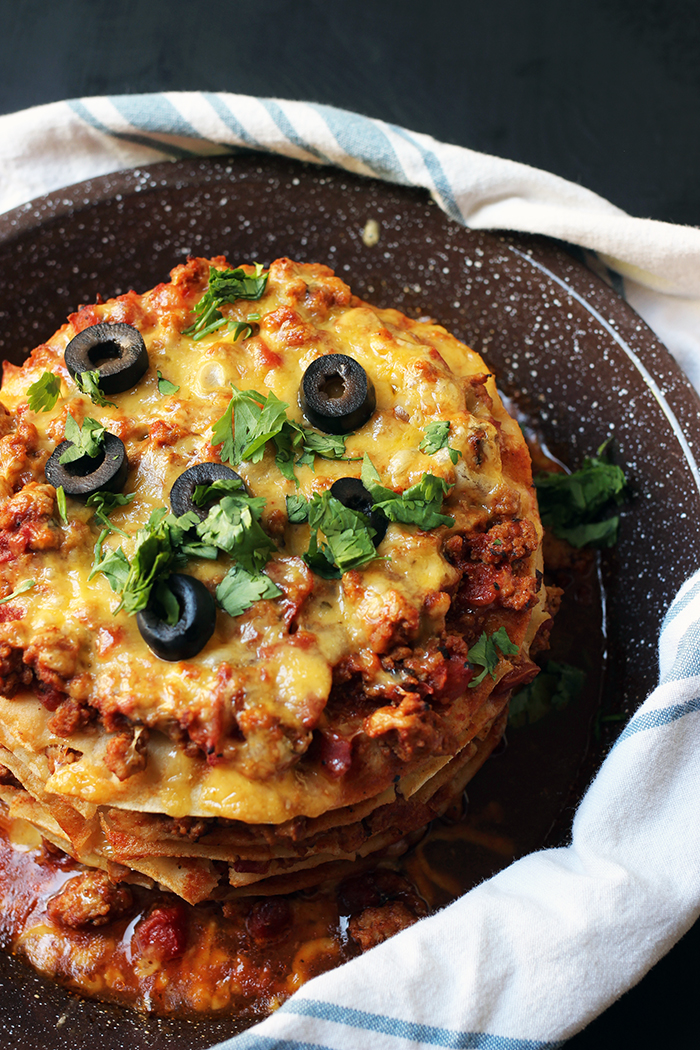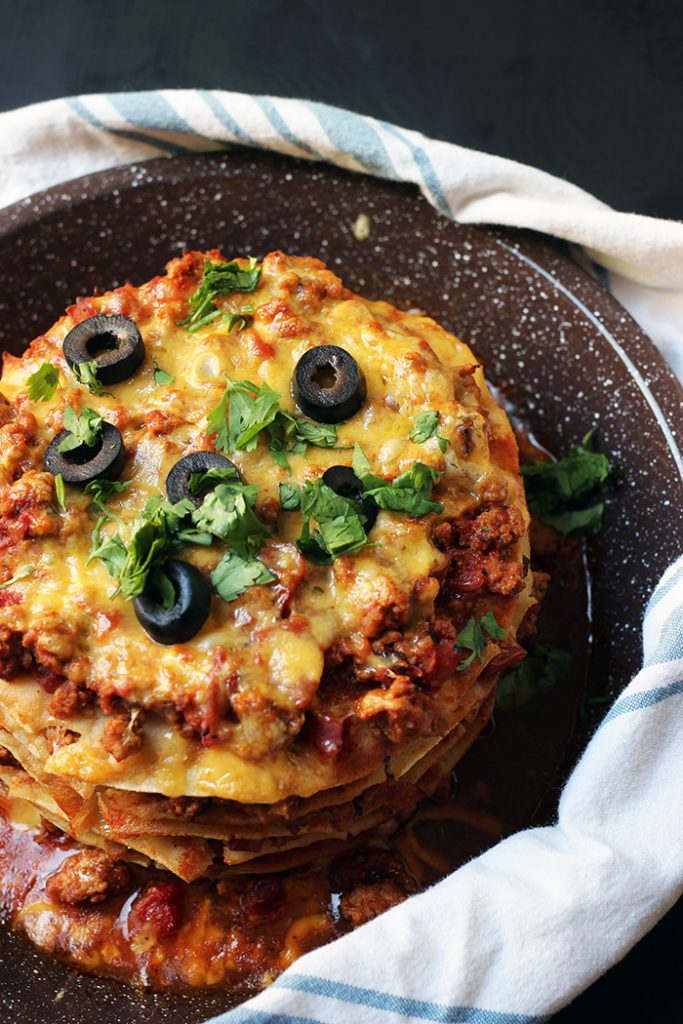 My mom gets a lot of the credit for this blog. She modeled good budgeting. She gave me free reign in the kitchen. She made great meals.
Chili Stacks being one that we had on repeat.
My four siblings and I didn't mind that the menu sometimes repeated itself; these were meals that we loved, albeit circa 1978.
Things like Sauerkraut and Spareribs, Pork Chops and Curried Potatoes, Chicken Curry, and some odd chicken enchilada concoction made of processed cheese and canned chili.
Some was real food; some, like those enchiladas that I requested for more than one birthday dinner, were decidedly not.
Chili Stacks are real food.
My sister and I both have fond memories of this dish, so I dug up Mom's old recipe, made a few tweaks to it. And voila!
An easy and filling meal that comes together super quickly. I set a timer. It really took me less than 30 minutes from start to serve.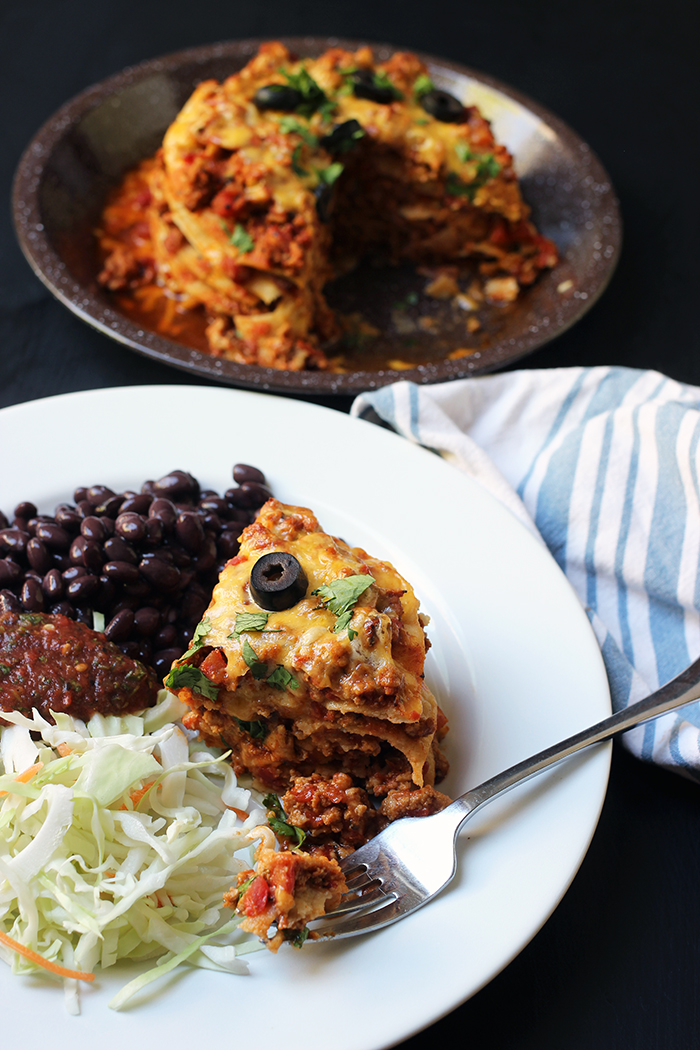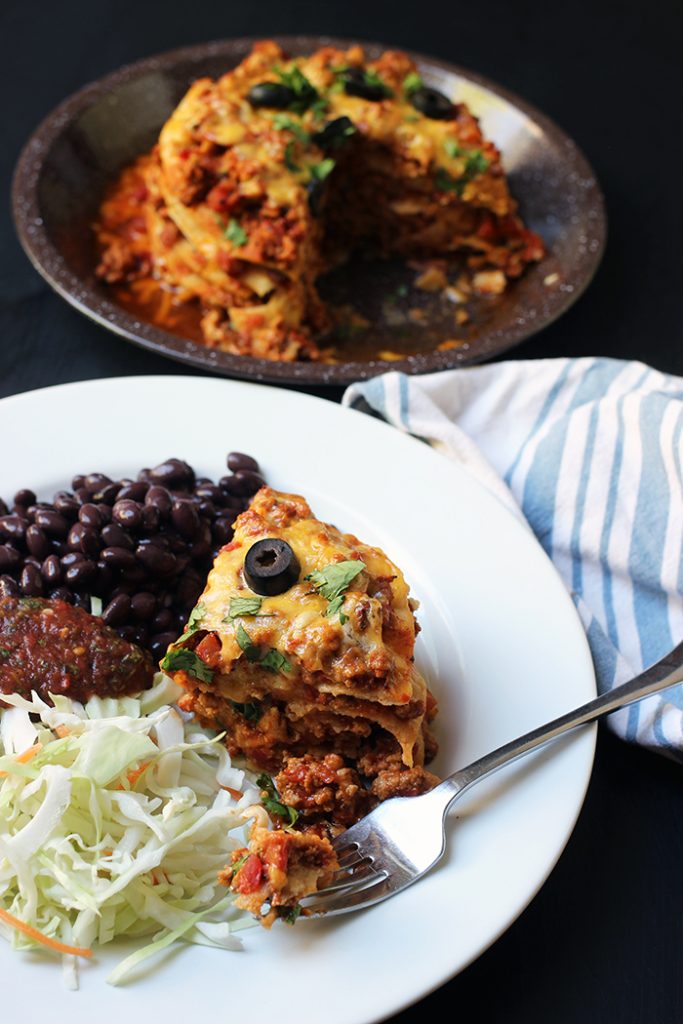 Do you fry tortillas for enchilada casserole?
It's important to fry tortillas for rolled enchiladas since you want them to hold their shape. An enchilada casserole, on the other hand, becomes a melange of flavors and textures, so you don't need to fry the tortillas. Just assemble the casserole and eat!
What can I do with leftover corn tortillas?
Since this recipe for a stacked tortilla casserole only calls for six tortillas, you can do a couple different things to avoid food waste:
freeze the tortillas to use in another batch of Chili Stacks
make Tortilla Chips for a snack or appetizer
cook up a small batch of Chicken and Cheese Flautas
cut them into strips to fry and add to Tortilla Soup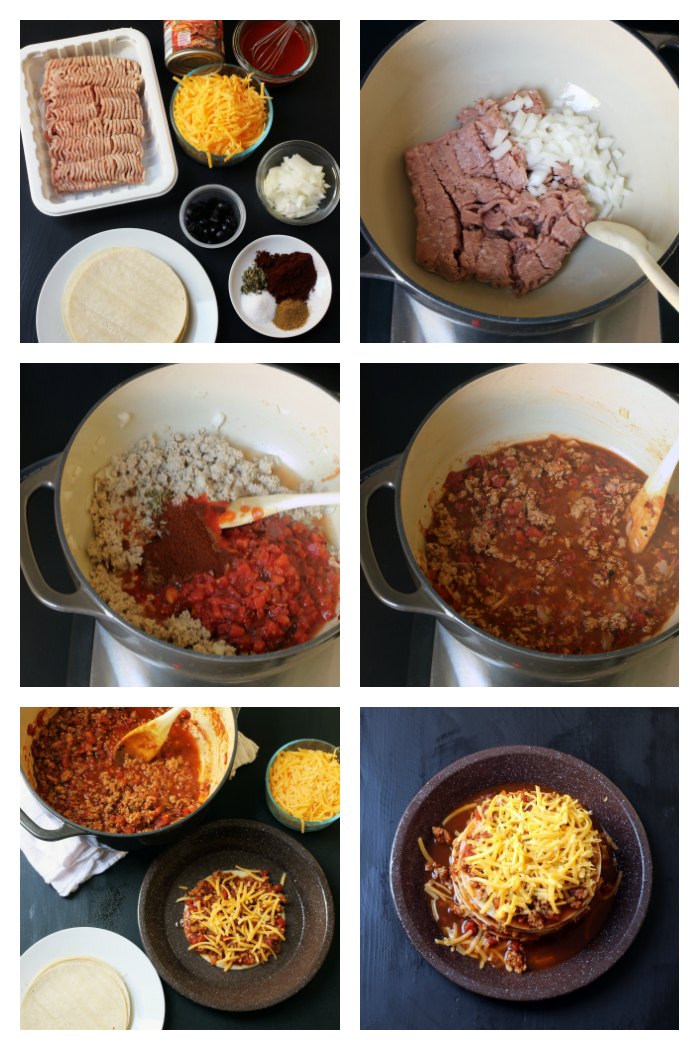 How do you make a stacked tortilla casserole?
Chili Stacks come together super quickly.
Assemble all your ingredients. Chop the onion, measure the spices, shred the cheese.
Spray a pie plate with nonstick cooking spray and start the oven to preheat.
In a large skillet or pot, cook the meat and onion until the the meat is browned and the onion has started to go clear.
Add the tomatoes, tomato sauce, and spices. Simmer the sauce.
Place the tortillas, sauce, cheese in the pie plate, layering them until the ingredients are gone.
Bake and serve with toppings.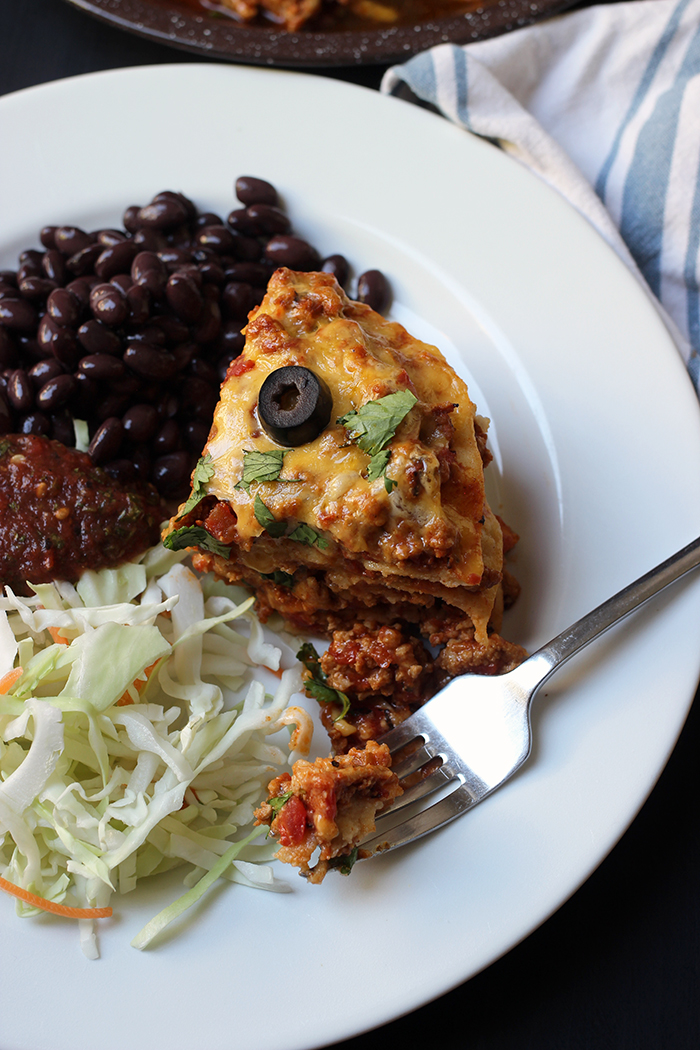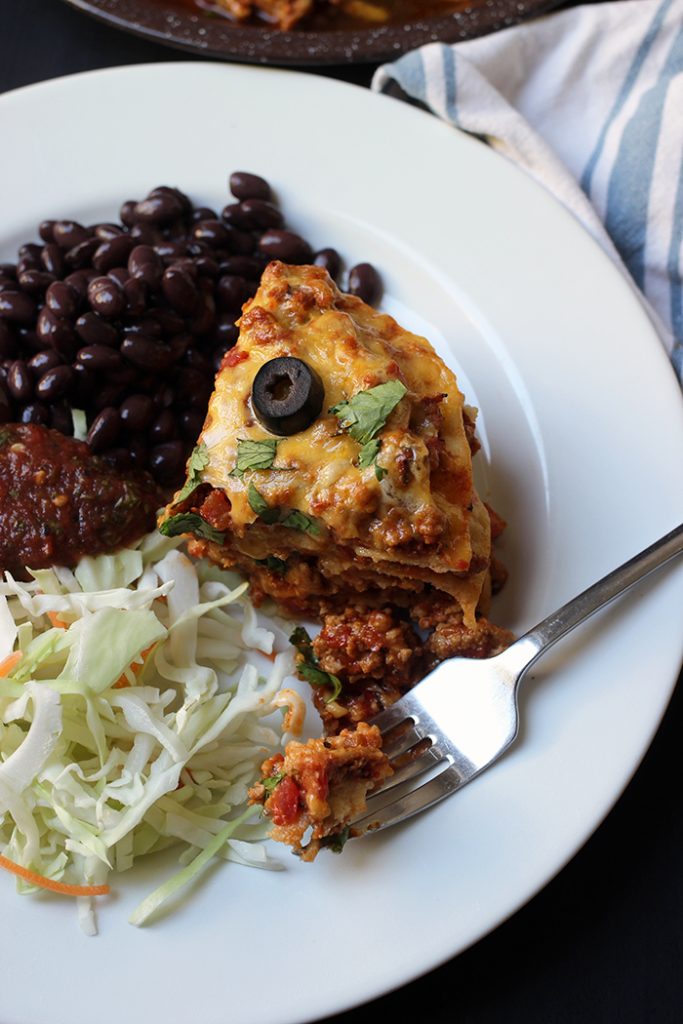 How to make this good and cheap:
Here are some of the strategies you can use to make this recipe more economical:
Stock up on ingredients when they are on sale. When I find regular kitchen staples on sale, I buy a lot. I'm currently using a price book to track prices and that's saving me money. For this recipe, keeping an eye on the price of meat and cheese is key. Since you don't need a lot of either, it makes it fairly economical from the get-go.
Compare prices. Keeping a price book can help you know a good deal when you see it as well as help you see patterns of which stores are best for you to shop at.
Cost breakdown for Chili Stacks
ground meat $3.99
onion $0.25
canned tomatoes $0.45
tomato sauce $0.45
spices $0.25
corn tortillas $0.35
shredded cheese $1.99
toppings $0.75
Total cost, $8.48 for 4 servings = $2.12/serving
You can easily bring this cost down by buying the meat and cheese on sale and/or using less of both if you prefer.
How I make this recipe easy:
Having the right kitchen tools can really make your time in the kitchen more enjoyable. Over time, I've honed my collection so that they are perfect for my needs. Here are the tools that I use for this recipe: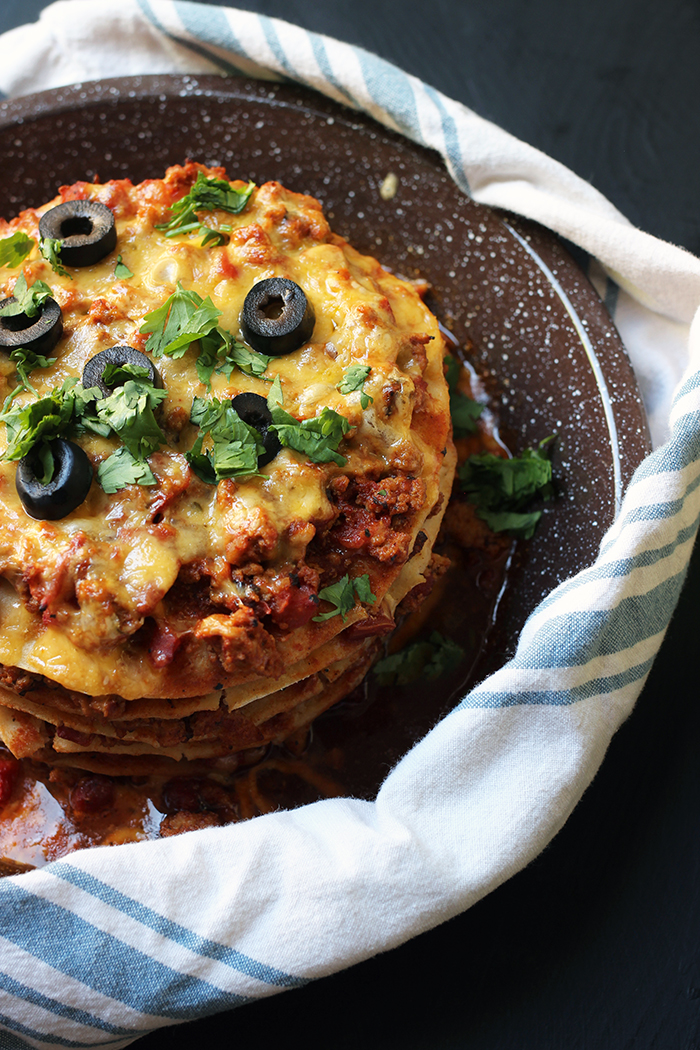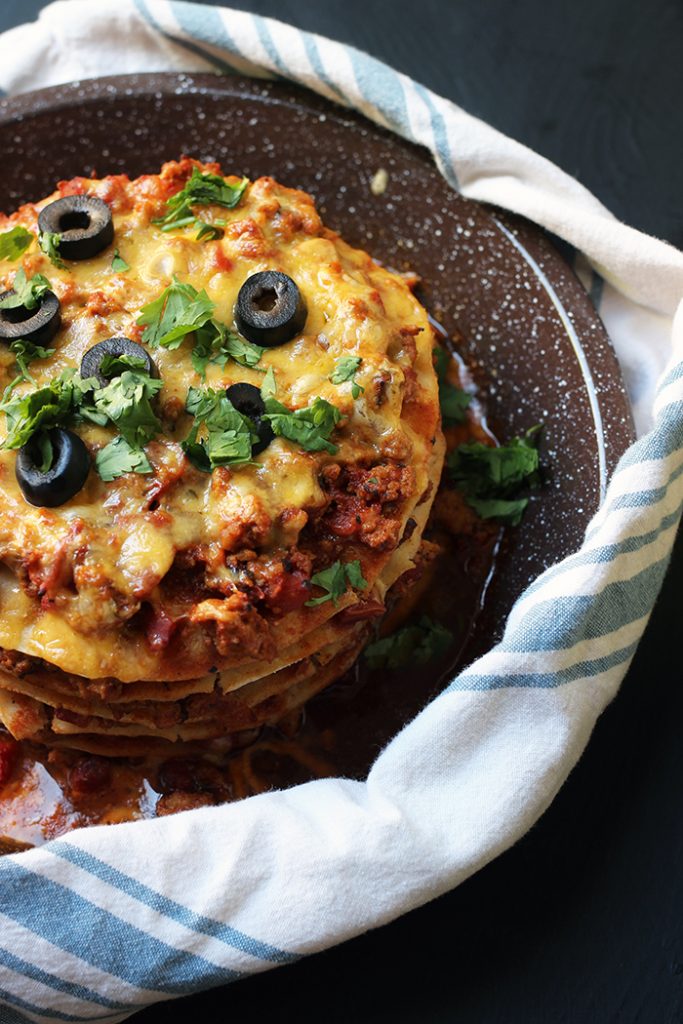 If you prepare this recipe, be sure to share a picture on social media and hashtag it
#GOODCHEAPEATS
. I can't wait to see what you cook up!
Chili Stacks
Chili Stacks, a quick tortilla casserole, is an easy and economical dish to pull together. You can assemble it and cook it in less than 30 minutes!
Ingredients
1

lb

ground beef

or ground turkey

1/2

onion

chopped

1

14.5-ounce can

petite diced tomatoes

4

oz

tomato sauce

1

tbsp

chile powder or ground chile

1

tsp

salt

1/2

tsp

dried oregano

1/2

tsp

ground cumin

8

oz

cheddar cheese (shredded)

(2 cups)

2

tbsp

fresh cilantro (chopped)

2

tbsp

sliced black olives
Instructions
Preheat the oven to 350°. Spray a pie plate with nonstick cooking spray.

In a large skillet, brown the beef and onions until the meat is cooked through and the onions have turned clear, about 5 to 7 minutes.

Add the tomatoes, tomato sauce and seasonings and cook another 3 minutes.

Layer the tortillas, sauce, and cheese in the prepared baking dish.

Bake for 15 minutes until hot and the cheese is melted and bubbly.

If you like, serve wedges of the casserole with the toppings.
Notes
Promptly store leftovers in an airtight container in the refrigerator, for up to 3 days.
Nutritional values are approximate and based on 1/4 the casserole.
Nutrition
Calories:
638
kcal
|
Carbohydrates:
29
g
|
Protein:
38
g
|
Fat:
42
g
|
Saturated Fat:
20
g
|
Cholesterol:
131
mg
|
Sodium:
1309
mg
|
Potassium:
886
mg
|
Fiber:
6
g
|
Sugar:
7
g
|
Vitamin A:
1383
IU
|
Vitamin C:
13
mg
|
Calcium:
528
mg
|
Iron:
5
mg