This post is part of the DIY Convenience Foods series where we're unpacking those fun foods that we just grab at the store or fast food restaurant. We're making them cheaper or healthier — or both.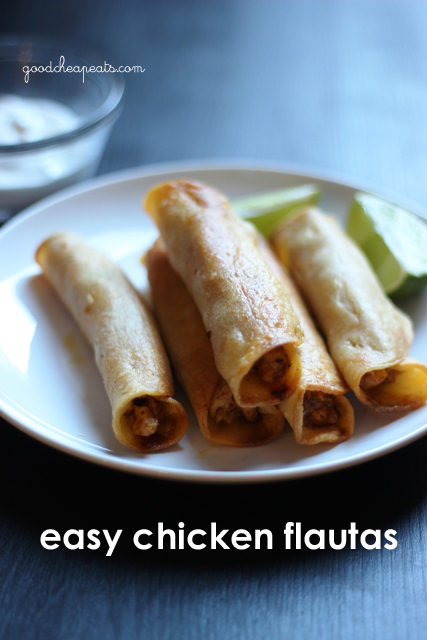 When my sisters and I were young, my mom was always very gracious with her kitchen. It was never any problem for us to go cook or bake something. We were expected to clean up our mess, but Mom was pretty lenient even in that regard.
During junior high or high school, my sister Jamie and I started making flautas, based on a recipe we found in a magazine. The original contained cooked chicken, shredded cheddar, and prepared-picante-sauce-not-from-New-York-City. The filling was rolled into fried corn tortillas and baked in the oven.
We loved them. And made them often.
However, since my husband doesn't love prepared-picante-sauce-not-from-New-York-City and I think it's too expensive to pay for, I've created this version that is better for us and just as tasty.
Enter Foodology:

These look like taquitos, don't they? I always thought that taquitos were made from corn tortillas and flautas from flour. But, The Food Lover's Companion has no listing whatsoever for taquito, and instead defines flauta as the corn tortilla rolled around a savory filling and fried. Wikipedia disagrees somewhat. For argument's sake, I'm calling these flautas.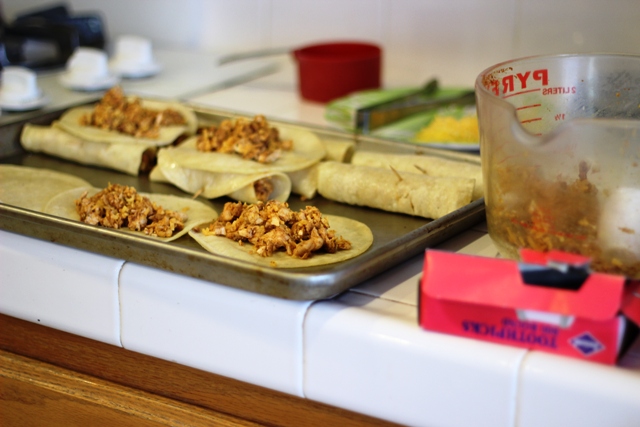 Making it yourself
Preparing the dish, whatever you want to call it, is not difficult. Soften corn tortillas in hot oil, fill them with a mixture of cooked chicken, shredded cheese, and spices. Bake in the oven and serve. Super yum.
You can freeze them on a lined tray prior to baking or cool baked ones and freeze those. Either way, you've got convenience at your fingertips.
Making it cheaper
You'll notice in this post the picture of the frozen "chicken and cheese taquitos" that the cost for 15 frozen is $5.49 or $4.49 on sale. That means that they are about 30 cents a piece on sale; or 36 cents when not. (Is my math right today?!)
I used a pound of chicken (1.99); 2 cups of cheese ($1.00); 18 tortillas ($1.50) and some spices and oil ($0.25 tops) making these for $4.74/batch or about $0.26 each.
While mine aren't a ton cheaper than the commercially made frozen ones, I would submit that mine are tastier and healthier for you. Don't you think? I used boneless, skinless chicken, Tillamook sharp cheese, Mission tortillas, and sunflower oil.
I'm convinced that these were better quality for the money, the biggest bang for your buck. That's kinda how I roll.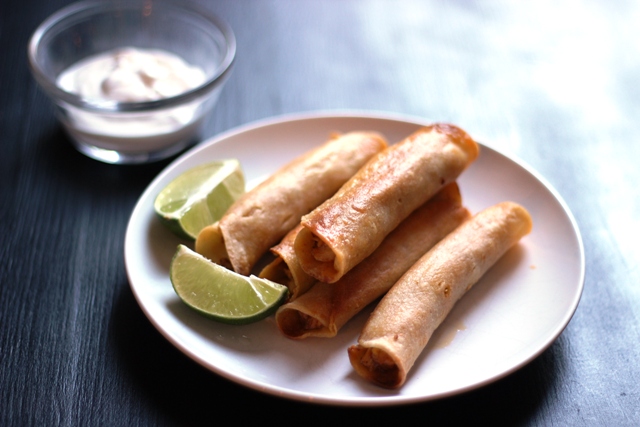 Chicken and Cheese Flautas
Similar to taquitos, flautas are little flutes of tortilla rolled and filled with something delicious, in this case, seasoned chicken and cheese.
Ingredients
1

tbsp

neutral oil

1

lb

boneless, skinless chicken breast

chopped

1

tbsp

chile powder or ground chile

1/2

tsp

garlic powder

1/2

tsp

salt

1/2

tsp

dried oregano

1/4

tsp

black pepper

8

oz

cheddar cheese (shredded)

2 cups, can also use jack

oil for frying the tortillas
Instructions
Preheat the oven to 475°. Spray a baking sheet with nonstick cooking spray.

In a large skillet, heat the oil until shimmering. Add the chicken and cook, stirring, over high heat.

Once the meat starts to whiten, add the chile powder, garlic powder, salt, oregano, and pepper. Cook until the chicken is cooked through.

Remove the chicken to a cutting board and chop fine. Cool slightly.

In a large mixing bowl, combine the chicken and cheese. Adjust seasonings.

In a small skillet, heat about 1/2 inch of oil. Fry the tortillas in the oil until hot and softened. Transfer to the prepared tray.

Roll a scant 1/4 cup filing into the middle of each tortilla. Roll tightly and secure with a toothpick.

Bake for 10 minutes, turn the flautas. Bake another 10 minutes. Serve hot.

Cooled flautas can be frozen after baking.

Alternatively, you can freeeze them unbaked. Once they are all rolled, place the flautas on a lined baking sheet and place in the freezer until the flautas are hard. Remove the toothpicks and store the frozen flautas in a ziptop freezer bag. Do not thaw before baking. Place flautas on a tray and bake as directed. Increase baking time if necessary to accommodate for frozen flautas.
Notes
Nutritional values are approximate and are based on 1 flauta. Refrigerate leftovers promptly and use within 4 days.
Nutrition
Calories:
434
kcal
|
Carbohydrates:
36
g
|
Protein:
30
g
|
Fat:
19
g
|
Saturated Fat:
9
g
|
Cholesterol:
88
mg
|
Sodium:
573
mg
|
Potassium:
488
mg
|
Fiber:
5
g
|
Sugar:
1
g
|
Vitamin A:
795
IU
|
Vitamin C:
1
mg
|
Calcium:
346
mg
|
Iron:
2
mg
Want to make more? Try these Beef Taquitos.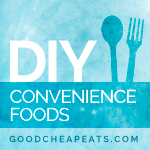 This is part of the DIY Convenience Foods series.
Don't want to miss a post in this series? Subscribe to 31 Days of DIY Convenience food here. Get updates via email here.