Want to make your own trail mix? Oatmeal cups? Flavored cream cheese? Frozen taquitos? Well, read on because DIY Convenience Foods are in your reach.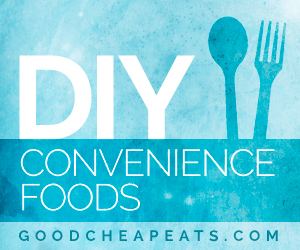 There are a lot of things out there that are convenient to grab when you're out and about. The grocery shelves are filled with snacks and goodies and premade concoctions that are easy to serve at home. These "convenience" foods make life easier, but they can be less than good for us, overly priced, or both.
New series: DIY Convenience
This month I'm starting a series that I've been thinking about since last December: DIY Convenience Foods. I've written about this already a fair amount: here, on Life as MOM, and in my book, Not Your Mother's Make-Ahead and Freeze Cookbook. You probably already know that my heart belongs to homemade. This month, I'm stepping it up a bit.
I'm looking forward to this series as a chance to make homemade more of those things that I count as expensive junk food. I don't want to be held hostage by frozen foods, bottled beverages, or snack pack sizes of anything. I want fun food to reign at my house, but not at the expense of good health or high prices. I want to encourage my husband in his desire of eating better and more economically at work.
And I want to make cooking an eating just a little more enjoyable and a little bit cheaper.
I know that making my own convenience foods won't exactly be "convenient". There's a reason why these products are so very popular. They're easy to grab and throw in your cart. The marketers have convinced you that it's too hard or too expensive to make it yourself.
It's true. There's a history of food manufacturers realizing that if they can just convince the consumer that it's too hard to mix together flour, butter, and eggs to make a cake her own, then she will buy the cake mix. The mix that she has to add butter and eggs to anyway!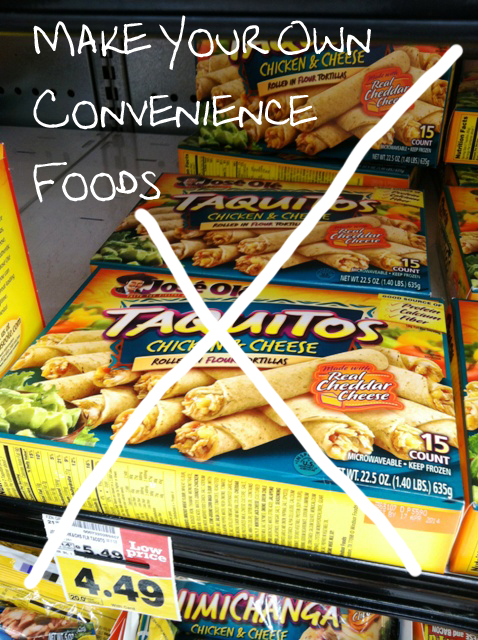 My hopes are manifold:
to experiment with new recipes and things I've been hesitant to attempt on a regular basis, like homemade bagels
to perfect some old favorites that we already love, like tamales
to develop more strategies that will help my family eat better and cheaper, even when we crave "junk food"
to make packing lunches and road trip food a little bit tastier, healthier, and less expensive
Convenience Foods You Can Make Better & Cheaper Yourself