Skip the can of refrigerated biscuits! You can make flaky layers all on your own with this easy recipe for flaky buttermilk biscuits.
I have to admit, the canned refrigerated biscuits is a brilliant idea. They are easy to make, fun to eat, and provide hours of holiday entertainment. Speaking of entertainment, I loved smacking those cans against the side of the kitchen counter to get them to open. Tell me I'm not the only one to do that…
On the other hand, the ingredients list is pretty atrocious and the regular price is fairly high for what you get. (Yes, I know, sales plus a coupon gets you a better price, but still, it's junk.)
As I mentioned early in this series, convenience foods are not always convenient to make. That's why food manufacturers make the big bucks producing them. Sure, the trail mix is a no-brainer, but other items take some time to make or leave a mess in their wake. Their rewards, however, are usually worth it.
Such is the case with these flaky buttermilk biscuits.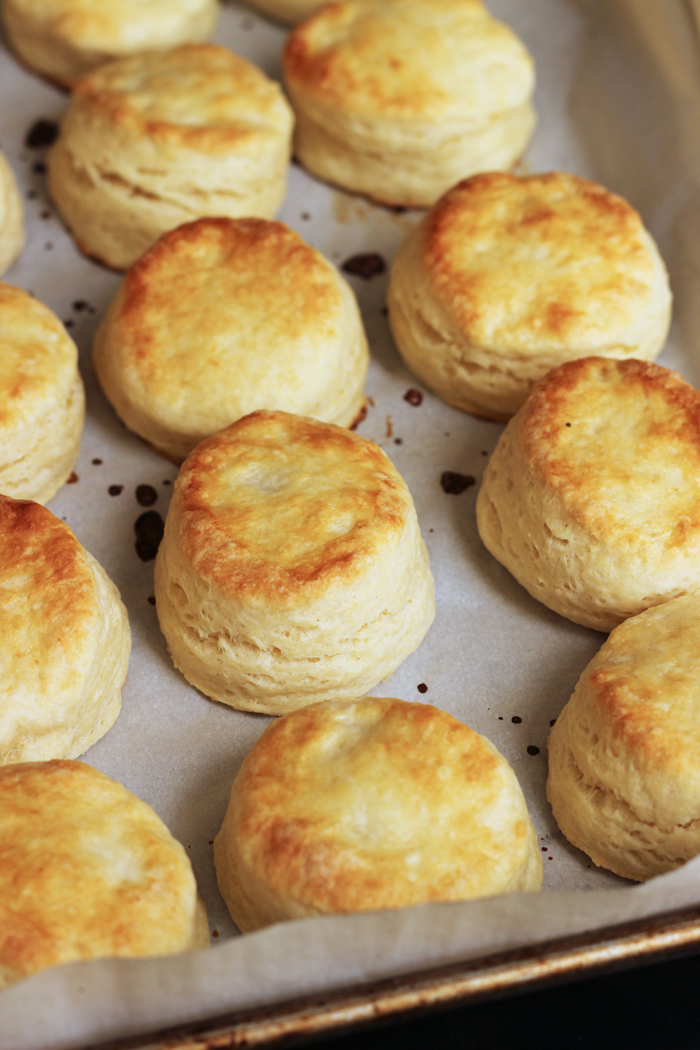 Making buttermilk biscuits yourself.
To speed up the process, I use my food processor, one of my three top time-saving gadgets. You can use a pastry blender, two knives held together, or a fork, but the food processor makes biscuits happen in less than half the time.
If you have six children, I recommend using a food processor. And making a double batch.
I found this recipe in the The New Doubleday Cookbook that my sister bought me as a wedding present 20 years ago. She liked the cover. That's how she chose it. It's proven to have some great recipes in it. This biscuit recipe being one of them.
I have always thought that the trick to giving these biscuits their flaky layers was the fact that you sift the flour twice. However, Amy says that her trick is the folding. So, I'm not sure. Maybe it's both.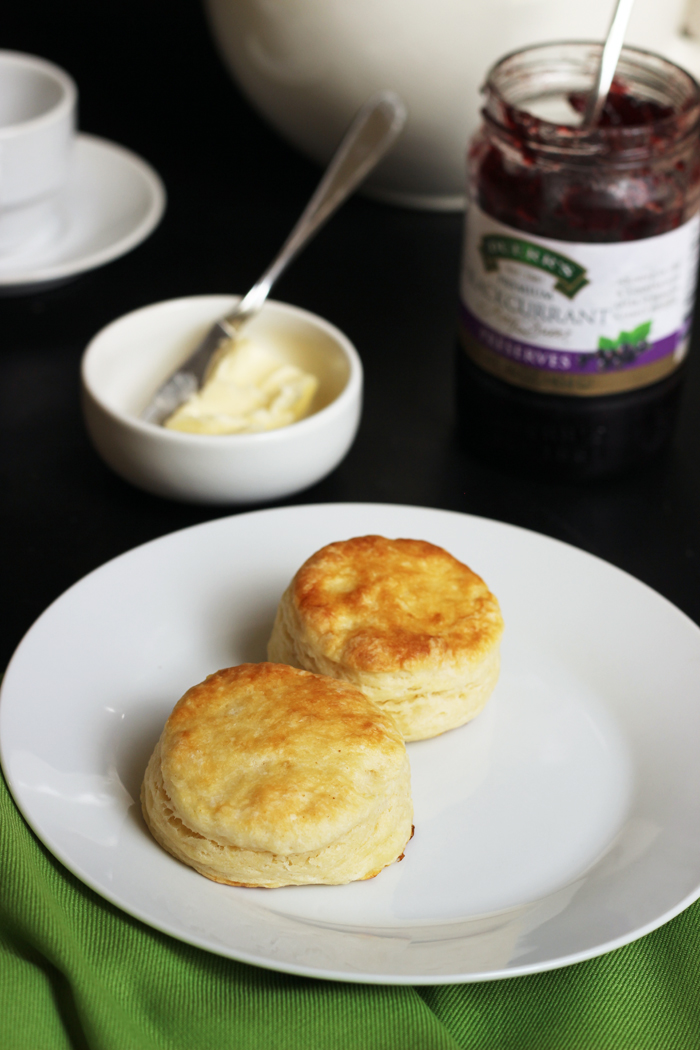 Making it cheaper.
It's been a while since I bought the refrigerated biscuits in a can, so I had to do some homework to find out. I asked on Facebook. The consensus is that you can get 8 biscuits for about $2.68 when not on sale. This makes them 33 cents a piece. Sale price plus coupons gets your price point much lower if you want to buy the prepared kind.
My ingredients costs broke down like this:
unbleached, non-bromated flour $0.30
hormone-free butter $0.36
buttermilk $0.32
allowance for salt, powder, soda $0.25
The full batch of 12 biscuits cost $1.23 or about 10 cents a piece. Making your own biscuits from scratch is clearly the better deal, especially when you take into consideration the better quality of ingredients.
My kids love these biscuits something fierce. Since I (or my 10yo) usually make a double batch, they each got three, much more than they get if I had merely opened a can. We have these often for breakfast with butter and jam. I'd say our satisfaction meter is off the charts.
Want more biscuit recipes? Try these!
Tools I use for this recipe:
Flaky Buttermilk Biscuits
Skip the can of refrigerated biscuits! You can make flaky layers all on your own with this easy recipe for flaky buttermilk biscuits.
Ingredients
2

cup

unbleached, all-purpose flour

2

teaspoon

baking powder

1

teaspoon

salt

¼

teaspoon

baking soda

⅓

cup

butter

cut into cubes

¾

cup

buttermilk

2

tablespoon

half and half

for brushing
Instructions
Preheat the oven to 450°. Line a baking sheet with parchment paper or a silicone baking mat.

In the bowl of a food processor fitted with a metal blade, sift the flour, baking powder, salt, and baking soda. Yes, sift it again. Really. Add the butter. Run the machine for about ten second or until coarse crumbs are formed. (Alternatively, you can do this step in a bowl with a pastry blender, two knives held together, or a fork.)

2 cup unbleached, all-purpose flour,

2 teaspoon baking powder,

1 teaspoon salt,

¼ teaspoon baking soda,

⅓ cup butter

Transfer the crumb mixture to a mixing bowl. Stir in the buttermilk quickly. Press the mixture so that the dough comes together.

Turn the dough out onto a lightly floured surface and knead by folding the dough onto itself 7 or 8 times. Roll the dough out to ½ inch thickness and cut into biscuit shapes. (I've done squares as well as circles.) Place these on the prepared pan.

Brush the biscuits with the half and half.

2 tablespoon half and half

Bake for 10 to 12 minutes or until golden. Serve warm with butter and honey.
Notes
Nutritional values are approximate and are based on 1 biscuit (makes 12). Cover leftovers tightly and use within 4 days.
To make as a mix: Take a large ziptop bag or container and label it with the wet ingredients and the baking instructions. Measure out the dry ingredients into the bag. Seal and store until ready to use.
Nutrition
Calories:
138
kcal
|
Carbohydrates:
17
g
|
Protein:
3
g
|
Fat:
6
g
|
Saturated Fat:
4
g
|
Cholesterol:
17
mg
|
Sodium:
280
mg
|
Potassium:
116
mg
|
Fiber:
1
g
|
Sugar:
1
g
|
Vitamin A:
200
IU
|
Calcium:
56
mg
|
Iron:
1
mg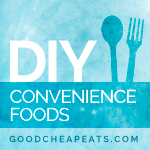 This is part of the DIY Convenience Foods series. Scroll through the archives and discover all kinds of great treats you can make yourself.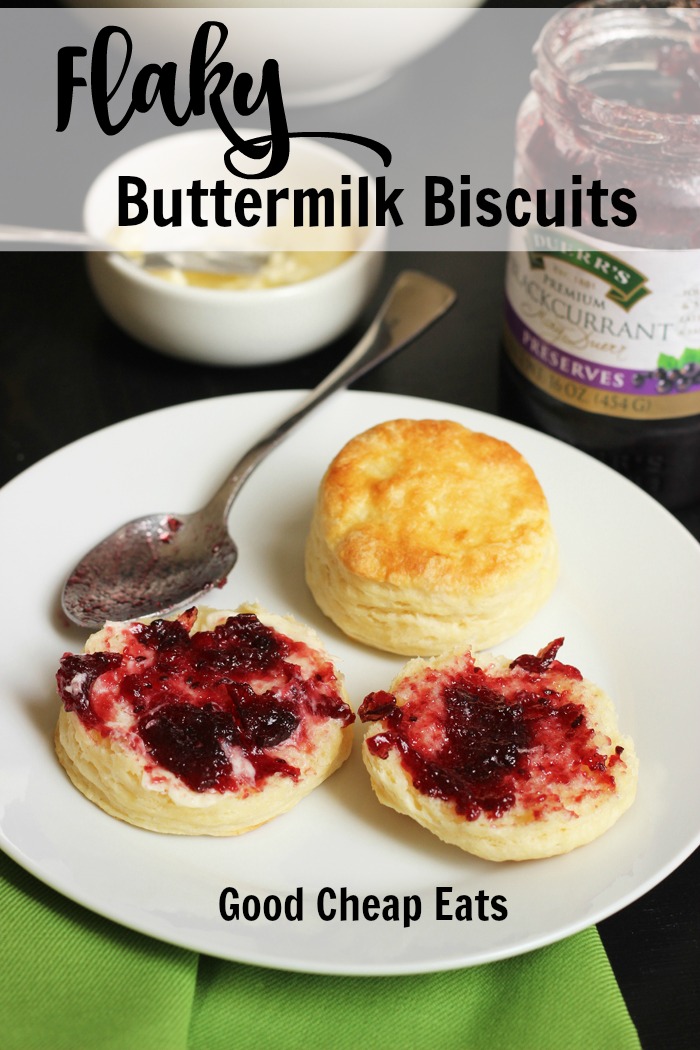 Are you looking for more good cheap eats?