Fill the bread basket with a batch (or two) of these Pumpkin Biscuits. They're a simple but delicious addition to your next soup or chili night. And you can make them gluten-free!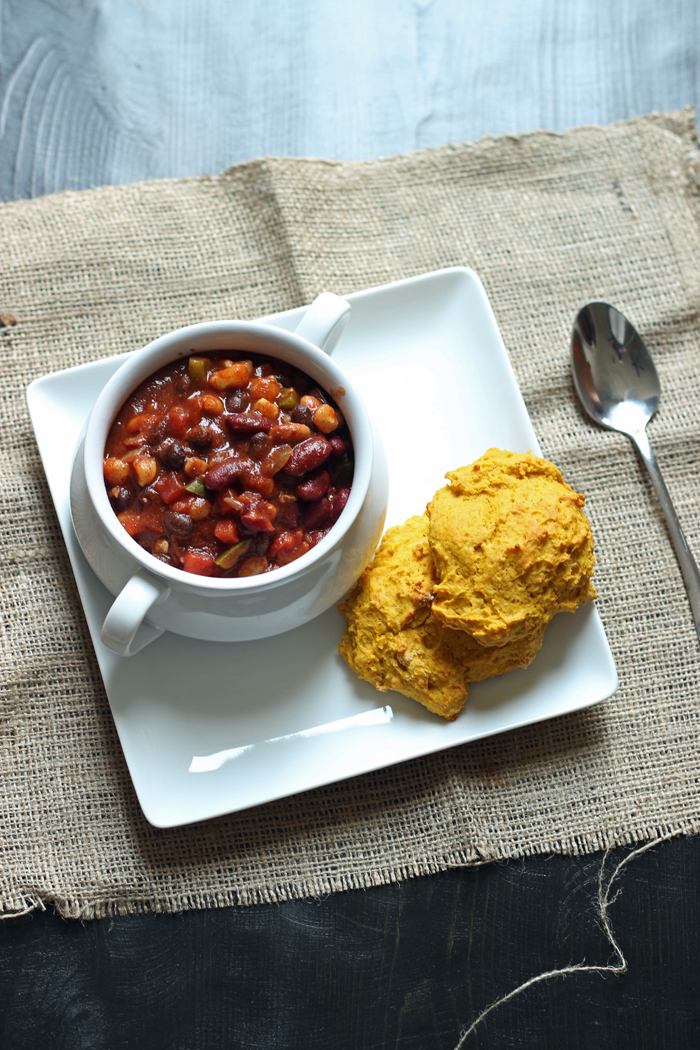 Quick dinner ideas are the name of the game around here this month. Quick often implies that you're gonna go simple, no elaborate souffles or dishes that take a long time to prepare. But, that doesn't mean you can't put in a little extra effort.
One of our simple meals is soup. It's quick and easy and almost everyone in the family loves whatever soup I fix. Not all, but most. I've still got little people, so cut me some slack.
However, one way that I can win people over on Soup Night is to fill the bread basket with some homebaked goodie. Now, that doesn't sound quick, does it?
But, if you make these Pumpkin Biscuits, it can be.
While I was developing recipes for Good Cheap Eats Dinner in 30 Minutes or Less, I played with all kinds of quick breads to serve as side dishes or even as the base of a larger meal. These Pumpkin Biscuits were one of the winning results of that testing.
I took a standard drop biscuit and mixed it up. Pumpkin puree replaces most of the liquid in the dish. A few spices add another element of flavor. However, I chose not to make these sweet. If you prefer a sweet quick bread or biscuit at dinner, feel free to add a couple tablespoons of sugar. However, I wanted something that was more bread than dessert. In 30 minutes or less.
And I succeeded.
If you're wondering why this picture looks slightly different than the first, that would be because I retested the recipe with a gluten-free baking mix. While the end result is slightly different in texture — you folks familiar with gluten-free know exactly what I'm talking about, the recipe works well with gluten and without.
Since the recipe takes half a can of pumpkin, be sure to make two batches and freeze the second so you can maximize your baking efforts and avoid wasting that poor little bit of pumpkin.
Drop biscuits might not look fancy, but they're super simple and taste great, particularly when you serve them with loads of butter and honey. I love these because they stir up quickly without a lot of fuss. Just drop the dough by spoonfuls like you would cookie dough. Send them to the oven and soon you'll have piping hot Pumpkin Biscuits to fill up the bread basket.
Pumpkin Biscuits
Fill the bread basket with a batch (or two) of these Pumpkin Biscuits. They're a simple but delicious addition to your next soup or chili night. And you can make them gluten-free!
Keyword:
biscuits, pumpkin biscuits
Ingredients
2

cup

unbleached, all-purpose flour

or gluten-free baking flour

1

tbsp

baking powder

1/2

tsp

salt

1/2

tsp

ground cinnamon

1/2

tsp

ground nutmeg

1

cup

pumpkin puree

1

egg

beaten

1/2

cup

milk

1/4

cup

neutral oil
Instructions
Preheat the oven to 450 degrees. Line a baking sheet with parchment paper.

In a medium-sized bowl, whisk together the flour, baking powder, salt, cinnamon, and nutmeg. In a large bowl, whisk together the pumpkin puree, egg, milk, and oil.

Pour the dry mixture over the wet and fold gently to combine.

Spoon the batter into 12 portions on the prepared baking sheet. Bake until golden brown, 10 to 12 minutes. You may want to extend the baking time a few minutes if baking with gluten-free flour.
Recipe Notes
Nutritional values are approximate and are based on making 12 biscuits from the recipe. Use within 4 days.
Nutrition Facts
Pumpkin Biscuits
Amount Per Serving
Calories 134
Calories from Fat 54
% Daily Value*
Fat 6g9%
Cholesterol 15mg5%
Sodium 109mg5%
Potassium 182mg5%
Carbohydrates 18g6%
Protein 4g8%
Vitamin A 3214IU64%
Vitamin C 1mg1%
Calcium 65mg7%
Iron 1mg6%
* Percent Daily Values are based on a 2000 calorie diet.