Breakfast for Dinner is a FishFamily Favorite. It's quick and easy, super delicious, and everyone does the happy dance when I serve it.
Can you believe it that we're at the end of the Quick Dinner Ideas series? October went by fast. Hopefully, I didn't overwhelm you with so many posts (over twice what I normally write in a month) or the topic.
I find dinner prep to be one of my highlights of the day — if I can squeeze it in without sacrificing too much of the evening. Having an arsenal of quick dinner ideas on hand helps me make it happen. I hope you've been encouraged and found new ways to get in and get out of the kitchen, while still enjoying economical, home cooked meals.
Remember that you can read through the whole series here.
I thought I'd end the series with our family's favorite, do-the-happy-dance-even-though-mom-had-no-clue-what-to-make-five-minutes-ago meal: Breakfast.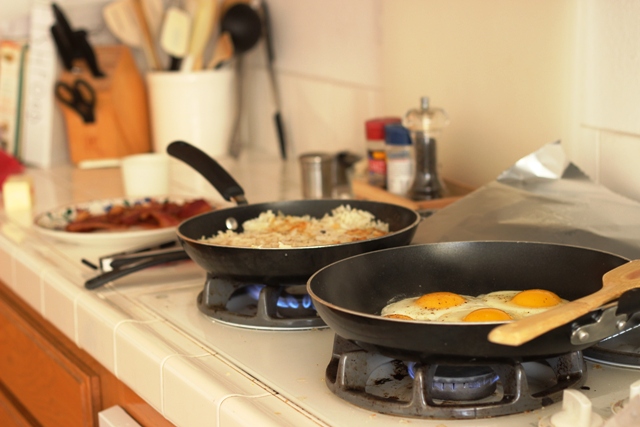 Breakfast for Dinner
I'm not sure if it comes from the fact that my family just likes breakfast foods or if it's because going out to breakfast has been a family tradition for a long time. One of my first dates with my husband was for breakfast.
It's his favorite meal, in fact: diced ham in his scrambled eggs, biscuits, home fries, salsa on the side. When his parents divorced, the special time he had with his dad was going out to breakfast, so that's a big deal in our family still.
Breakfast for dinner is always a big hit around here. And it's quick to make.
While I love fancy egg dishes with vegetables, my family prefers standard breakfast fare, so I present to you their top choices for brinner. 😉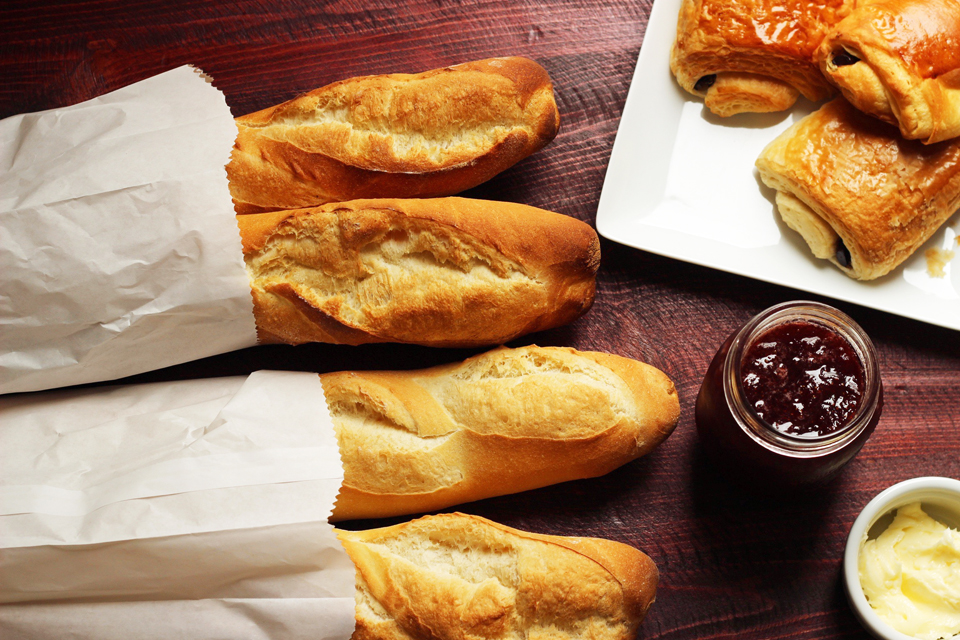 Petit Dejeuner
Petit Dejeuner – baguette with butter and jam. Bonus points if you get chocolate croissants. We ate this every day during our month in France and usually have this one weekend day each week.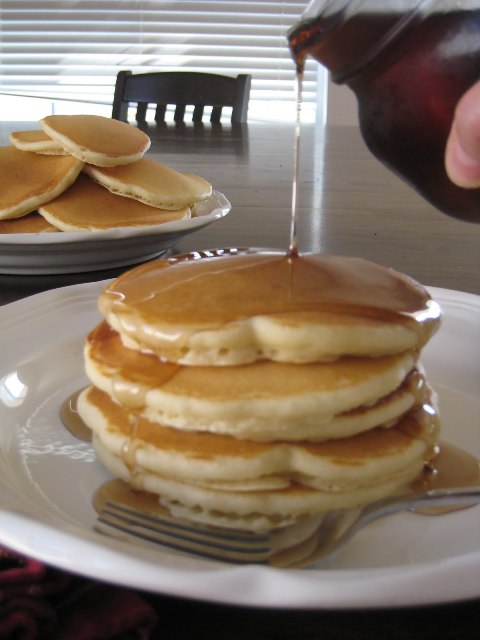 Pancakes
Basic pancakes – our tried and true, straight up recipe for homemade, from scratch pancakes. Serve with lots of butter and real maple syrup. Bonus points for bacon and eggs on the side.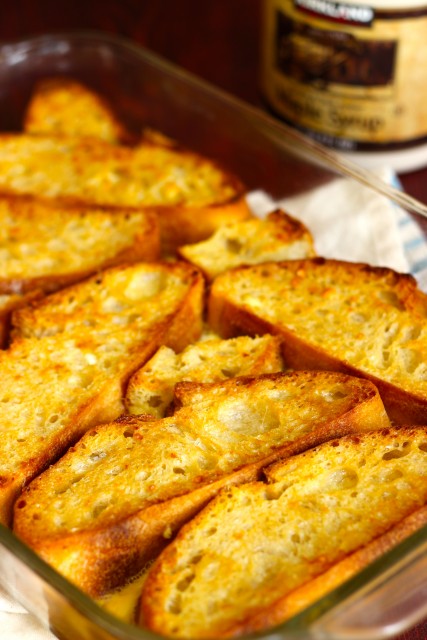 French Toast Casserole
Buttered Maple French Toast Casserole – We are now a two-pan family. The secret is in the buttered tops. They get really crisp while the bottom is soaked in rich custard. Yum!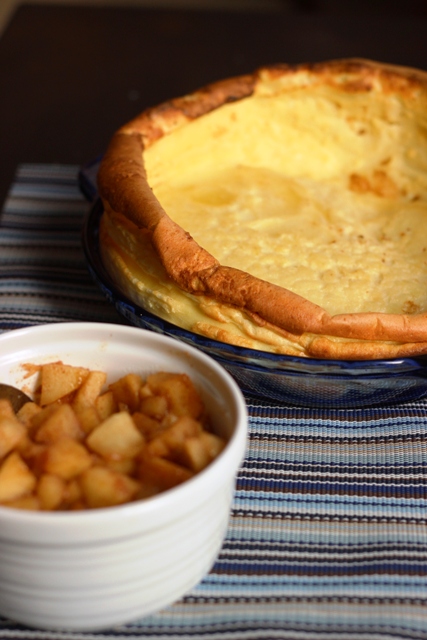 Oven Pancakes
Oven Pancake with Cinnamon Apples – We are now a three-pan family for oven pancakes. Or is it four? This is a great way to make pancakes casserole-style.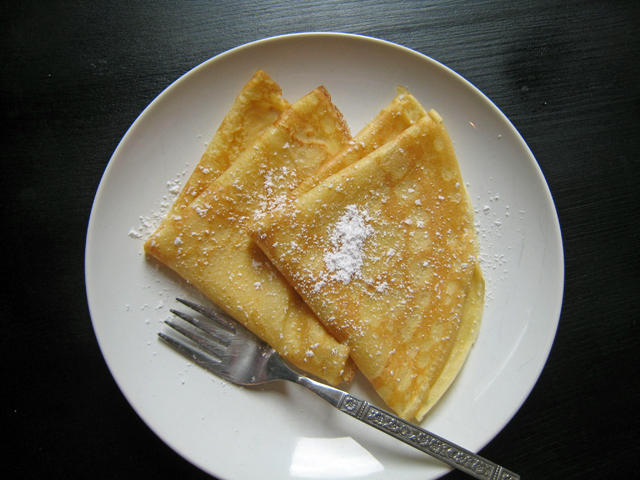 Crepes
Crepes – My November birthday girl has already requested crepes for her special day. They are easy to make. Just try to mix the batter a few hours in advance for best texture.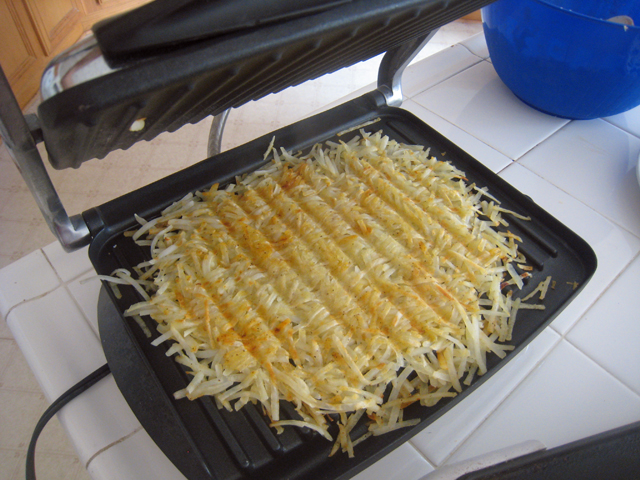 The basics
Eggs, ham, bacon, or sausage, hash browns or home fries, and biscuits with jam. If I make the hash browns in the panini press, I'm freed up to do the work of a full breakfast. 😉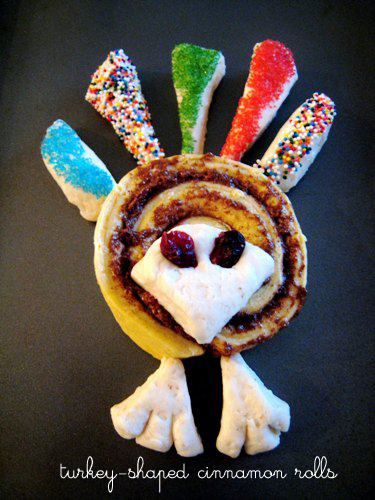 Turkey-Shaped Cinnamon Rolls
With Thanksgiving coming up, consider serving these Turkey-Shaped Cinnamon Rolls for "breakfast dessert", as it's called around here. 😉
What's YOUR favorite breakfast for dinner?
Be sure to read the entire series: Quick Dinner Ideas.