Hash Brown Breakfast Stacks come together easily with simple and affordable ingredients to create a tasty and filling breakfast or vegetarian meal anytime of day.
Jump to:
I love simple but hearty meals. They are comforting, affordable, and please the masses. You really don't need complicated recipes to enjoy great food. These Hashbrown Breakfast Stacks are proof positive.
What are breakfast stacks?
I'm not honestly sure where the term breakfast stack came from. I think it's probably a riff off the vintage savory haystack which is basically a pile of yummy things that you can mix and match as you please.
My guess? Stacks is code for layered, easy recipe, like in my Chili Stacks.
Breakfast Stacks are just that, layered breakfast ingredients, such as hash brown patties, scrambled eggs, shredded cheese, pico de gallo, sour cream, and avocado.
The beauty of this recipe is that it comes together quickly using only a few ingredients and it tastes great. It's a super filling way to start the day.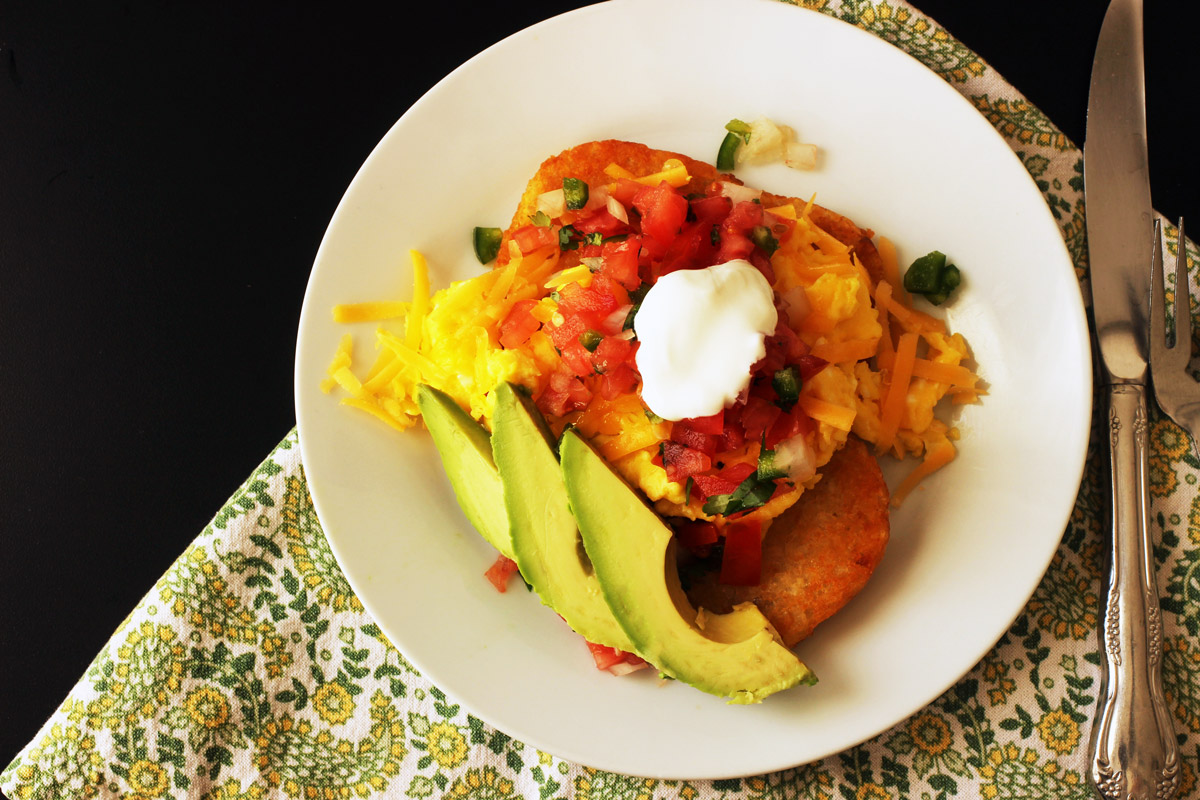 Serving suggestions
Breakfast Stacks are basically an all-in-one dish. You don't really need any accompaniment or side dishes. You can certainly provide a bread basket of biscuits or muffins if you like. A seasonal fruit tray would not go amiss.
Flavor adaptations:
Obviously, I've given my Breakfast Stacks a south-of-the-border twist with the pico, sour cream, and avocado slices.
You could take it in a different direction, of course. Consider these other adaptations: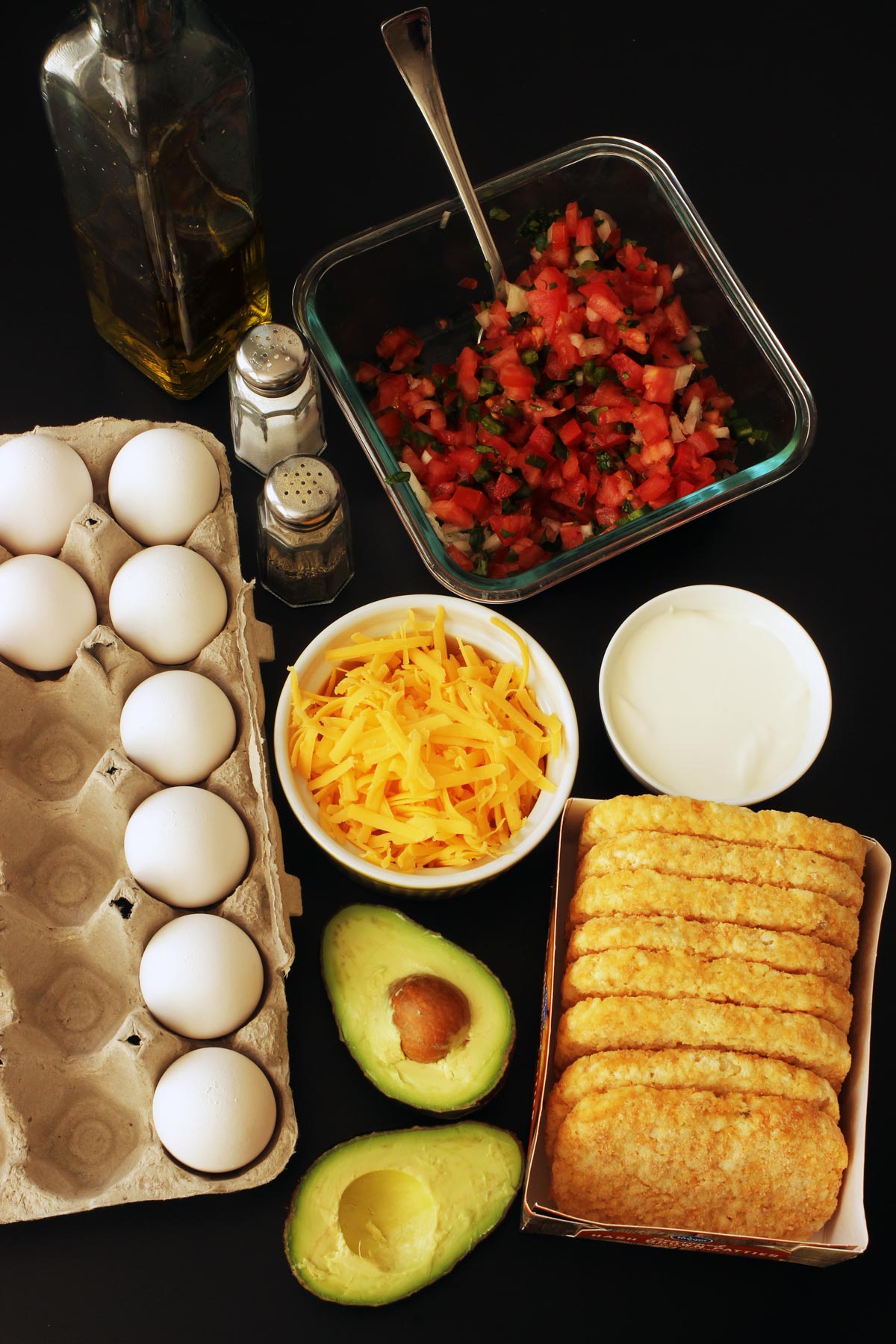 Ingredients
Most of what's included in this recipe is pretty standard fare, making it a simple recipe you can make anytime without too much advance prep work.
Here's what you'll need:
Hash brown patties – This is probably the only "specialty item" on the ingredients list. You can find these in the frozen food aisle of most supermarkets. You could easily use these homefries, Panini Press Hashbrowns or even a baked potato for the base, if you prefer.
Eggs – We scramble ours but you could fry them if you prefer. If you eat more plant-based, you could do a tofu scramble instead.
Cheese – A little bit of cheese adds a nice contrast of texture and flavor. As mentioned above, you can vary this depending on what flavor profile you're going for.
Toppings – This is totally up to you. If you've got bits of this and that leftover from previous meals, by all means, toss them on! For a Mexican-inspired breakfast stack, add pico de gallo, sour cream and sliced avocado.
Instructions
This is so simple!
Bake the potato patties according to the package instructions.
Meanwhile, cook the eggs in a hot skillet according to your preferences.
Lay out all the toppings and let folks pile on what they like.
Promptly refrigerate leftovers and consume within 3 days.
Make-ahead instructions
This isn't a meal that lends itself to freezing, but you can prep the toppings up to 2 days in advance.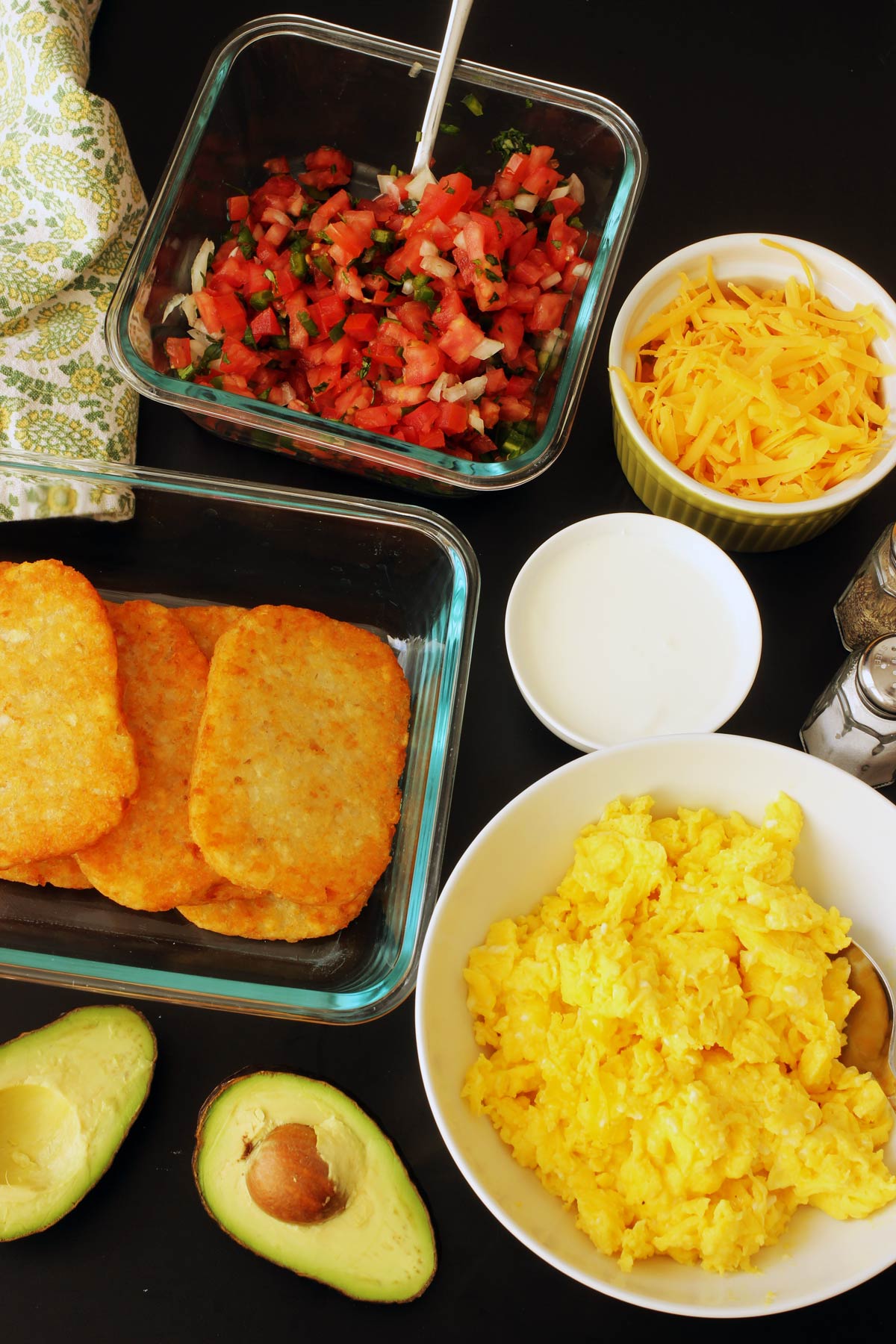 Recipe costs
Knowing how much it costs you to prepare a recipe can help you decide if it's the type of recipe to make regularly or one you might want to save for special occasions. Let's crunch some numbers and see how this recipe pencils out.
hash brown patties – $1.28
eggs – $1.28
cheese – $1.00
pico de gallo – $0.75
sour cream – $0.25
avocado – $1.00
Purchased at a mid-range store at non-sale prices, this recipe pencils out to $5.56 or $1.39/serving.
Compared to eating breakfast out, this is an incredible deal! Why eat out when you can cook at home for less?
Kitchen equipment
This recipe really couldn't be easier than it is, but having the right kitchen tools can really make your time in the kitchen more enjoyable. Over time, I've honed my collection so that they are perfect for my needs.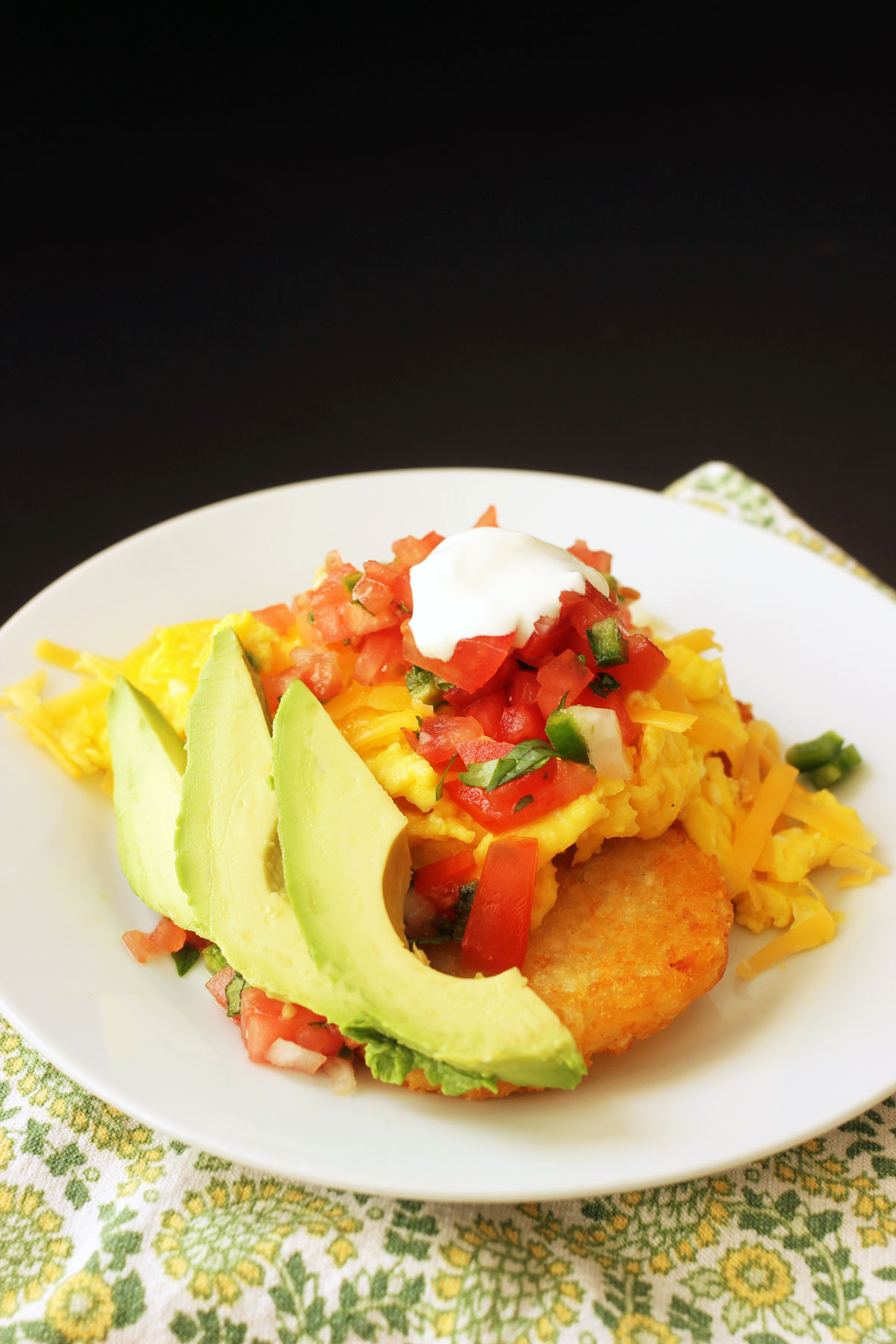 If you prepare this recipe, be sure to share a picture on social media and hashtag it
#GOODCHEAPEATS
. I can't wait to see what you cook up!
Hashbrown Breakfast Stacks Recipe
Hashbrown Breakfast Stacks come together easily with less than 10 ingredients to create a tasty and filling breakfast or meal anytime of day.
Ingredients
8

frozen hash brown patties

8

egg

1

tablespoon

olive oil

or butter

salt

black pepper

4

oz

cheddar cheese (shredded)

(1 cup)

½

cup

pico de gallo

4

tablespoon

sour cream

1

avocado

sliced
Instructions
Bake the frozen hashbrown patties according to package directions.

Meanwhile, in a medium bowl beat the eggs lightly.

In a frying pan, heat the oil or butter until hot. Add the eggs, season to taste with salt and pepper. As the eggs lighten in color around the edges, begin to stir the eggs lightly, bringing the edges to the center, and flipping as needed to cook the "scrambled" eggs on all sides. Remove from heat.

Place two hashbrown patties on each of four plates. Divide the eggs among the four plates. Top with shredded cheese, pico de gallo, dollops of sour cream and slices of avocado. Serve immediately.
Notes
Promptly store leftovers in an airtight container in the refrigerator, for up to 3 days.
Nutritional values are approximate and based on ¼ the recipe.
Consider other flavor profiles for the toppings, such as:
French – Swiss cheese, sautéed spinach and mushrooms, and a béchamel sauce
Italian – mozzarella, pancetta, and bruschetta
Greek – feta cheese, sautéed spinach and mushrooms, and a dab of tzatziki
Nutrition
Calories:
349
kcal
|
Carbohydrates:
8
g
|
Protein:
19
g
|
Fat:
27
g
|
Saturated Fat:
11
g
|
Cholesterol:
363
mg
|
Sodium:
512
mg
|
Potassium:
288
mg
|
Fiber:
2
g
|
Sugar:
4
g
|
Vitamin A:
1004
IU
|
Vitamin C:
4
mg
|
Calcium:
270
mg
|
Iron:
2
mg
This post was originally published on September 13, 2012. It has been updated for content and clarity.