A full breakfast is a weekend treat. Use some of these tips for saving time and having it all hot at the same moment.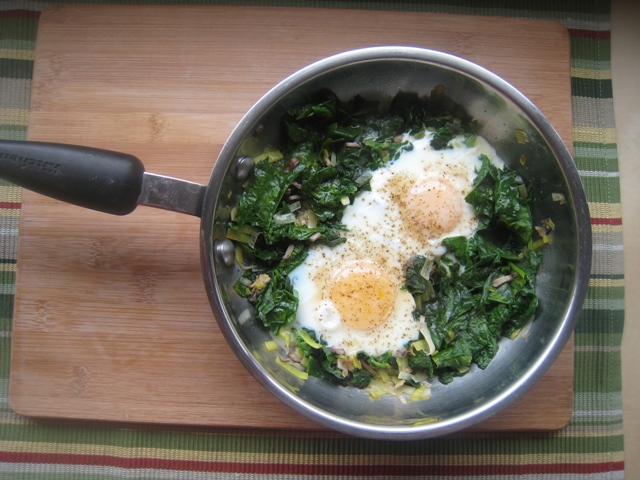 If it were up to me, coffee and a slice of toast would be breakfast. I'm good with that most days. Unless I have the makings for those skillet-poached eggs and greens. Oh my! I could eat those every single day. Yum!
Years of having babies and nursing babies have taught me to eat a better breakfast, so I now usually lean toward some kind of dairy and fruit to add to my toast.
The fam? They want the whole deal. For them that means eggs, a meat, a baked good, and potatoes.
Enjoying breakfast at a local diner is one of our favorite pastimes. But the cost can add up. So, if I cook it all at home, it's a reasonable substitute.
I don't cook full breakfasts everyday, but I try to do it at least once on a weekend. Since I want to be able to serve everything reasonably hot at the same time, I use a few tricks to save time while I'm cooking to feed a small army.
(Psst… the same techniques work really well for those nights when you serve breakfast for supper.)
1. Make your mixes ahead of time.
I can't tell you how much time I save when I prep baking mixes ahead of time and store them in the freezer. It's always pretty sad when we run out. Thankfully, it doesn't take more than a few minutes to mix up more.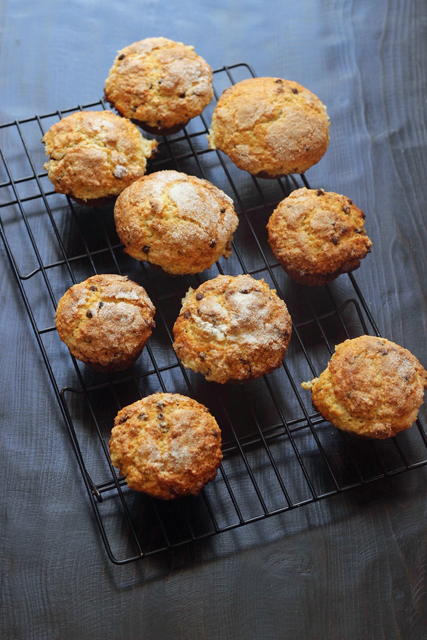 2. Bake in bulk.
Don't spend your time baking small batches of things. I can't imagine the patience of Ma Ingalls cooking every child a pancake on Christmas morning — in one cast iron skillet!
We've got a huge waffler as well as a large electric griddle for cooking up breakfasts. These are huge time-savers when I want to make many of one thing. I can make four waffles or eight pancakes at a time with these two small appliances.
Make enough for everyone to have his fill. My Mix and Match muffin recipe makes 24 regular size muffins. If you don't have a large toaster oven, you can use your regular oven to toast bread or English muffins. Get as much bang for your buck as you can!
3. Bake many things at once.
If you're heating the oven, make it do double duty. Bake your bacon and your egg dish and your muffins all at once — provided that you have a regular size oven. For years we had a Holly Hobby oven and it was hard to make it multi-task.
But, if you can make use of the space and the heat that you've got going.
4. Limit your stove time.
I don't know about you, but standing at the stove first thing in the morning trying to keep track of frying eggs, splattering bacon, cooking hashbrowns and flipping pancakes is not my idea of a sunshiny morning.
Instead, I limit the stove time so I can avoid that hot and bothered feeling. The pancakes are relegated to an electric griddle where an older child can do the flipping. The bacon goes to the oven. I cook the eggs. And the hashbrowns?
Well, the panini press takes care of that!
I've done this a few times recently with great success! The hashbrowns turn out nice and crispy and no one needs to babysit them. Love that!
Panini Press Hashbrowns
Cook hashbrowns quickly and easily and almost hands-free when you use a Panini press. This recipe is excellent for breakfast.
Ingredients
1

30-ounce package

frozen shredded potatoes

no need to thaw

⅓

cup

olive oil

1

teaspoon

salt

or more to taste

½

teaspoon

paprika

¼

teaspoon

black pepper
Instructions
Heat your panini press.

In a large mixing bowl, combine the potatoes, olive oil, salt, paprika, and pepper. Toss to combine.

In two or three batches, depending on the size of your press, spoon potato mixture onto the press and close tight. Allow to cook for 5 to 10 minutes, until desired crispness.

Remove from press and continue with the rest of the potato mixture.
Notes
Promptly store leftovers in an airtight container in the refrigerator, for up to 4 days.
Nutritional values are approximate and based on ⅙ the recipe.
Nutrition
Calories:
223
kcal
|
Carbohydrates:
25
g
|
Protein:
3
g
|
Fat:
13
g
|
Saturated Fat:
2
g
|
Sodium:
419
mg
|
Potassium:
404
mg
|
Fiber:
2
g
|
Sugar:
1
g
|
Vitamin A:
82
IU
|
Vitamin C:
12
mg
|
Calcium:
14
mg
|
Iron:
1
mg