This simple pancake recipe is easily to prepare and perfect for feeding a crowd. There are several ways to make it freezer-friendly as well.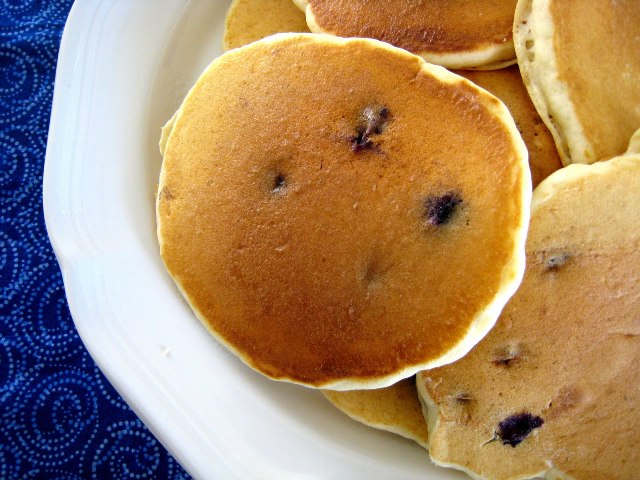 From tortillas to lefse to crêpes, flatbreads are popular in every culture. And for good reason. Not only are they quick to prepare and simple to eat, they are also very satisfying. This makes them winners for a family menu. Economical and easily made from scratch, they can also feed a crowd with very little work. Plus, they taste great!
In the United States, pancakes or flapjacks are the name of the game. For our family, they are a regular feature on our weekly menu. The kids refer to it as Pancake Saturday. They like to see how many they can devour in one sitting.
One thing that I love about this dimple pancake recipe is that although they are so simple, I can vary the batter recipe as well as the toppings to suit my mood or whatever's in the pantry.
And, I've been known to prepare them for a quick pickup dinner when my other plans don't pan out. Talk about the perfect item to add to your Pantry Challenge menu!
Don't forget to read my Tips for Making Pancake Night a Success. And check out these other pancake recipes:
:: Multi-Grain Blueberry Pancakes
:: 5-Grain Pancakes with Flax
:: Pancakes with Apples and Whipped Maple Butter
Basic Pancakes
This simple pancake recipe is easily to prepare and perfect for feeding a crowd. There are several ways to make it freezer-friendly as well.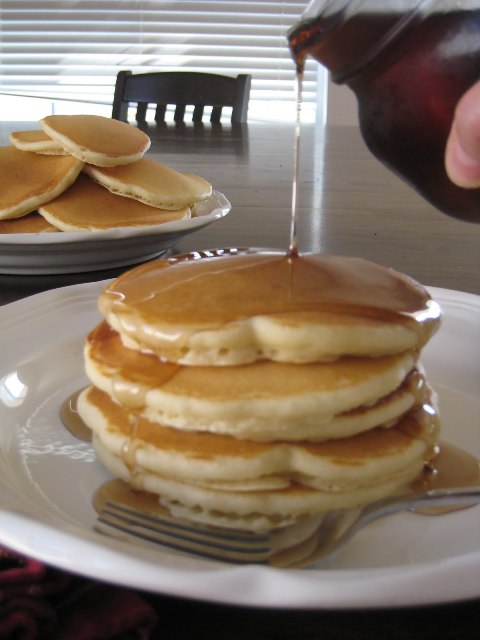 Preparation Time:10 minutes
Cook time:15 minutes
Total time:25 minutes
Serves 6
Ingredients:
3 1/3 cups milk

2 eggs

1/3 cup oil

3 cups flour

3 tablespoons sugar or sucanat

1 tablespoon baking powder

1 teaspoon baking soda

1 teaspoon fine salt

melted butter for frying
Instructions:

Combine all ingredients, except butter, in a large mixing bowl, whisking until smooth. There may be a few lumps, but that is fine.
Heat large skillet or griddle until droplets of water sizzle when sprinkled onto cooking surface. Brush griddle with melted butter. Pour batter, about 1/3 cup at a time onto griddle. This should spread itself into a medium circle. Cook until bubbles form in batter and start to pop. Flip with a pancake turner. Brush the cooked tops of cakes with more melted butter. Cook a minute or two more. Stack on a plate until all are cooked. This should make about 24 pancakes.
If preparing this as a mix to use later, place the dry ingredients in an airtight container such as a quart-sized mason jar or a ziplock bag. Mark the container with the wet ingredients to add later and cooking instructions. Store in pantry or freezer until ready to use.
For freezing: Either prepare the recipe as a mix (dry ingredients only) and store in the freezer for longest shelf life OR bake and cool the pancakes. Bundle them in stacks of three to four, wrap with plastic wrap and store in a ziptop freezer bag in the freezer.
Tools I use to make this recipe:
What's YOUR favorite way to enjoy pancakes?