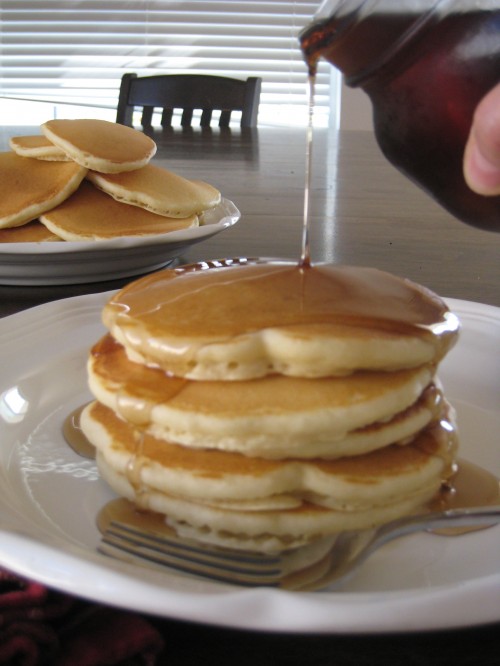 As we "eat-from-the-pantry" this month, I anticipate some creative cooking and menu planning. However, one regular feature on our menu that also makes good use of pantry staples is one that my kids will gladly embrace: Pancakes! My husband is usually the pancake chef around here, creating all sorts of cool designs.
Whether you serve pancakes for breakfast, lunch or dinner, they are sure to be a hit with everyone in the family. Here are some tips to make your next pancake breakfast (or dinner) a success.
Start with a great recipe.
If you don't have a favorite, try our favorite pancake recipe.
Give it a boost.
To boost the batter's nutritional content, consider using any of these ingredients as substitutions:
Replace an equal amount of flour with 1/4 to 1 cup whole wheat flour, 1/4 cup quick oats, 1/4 cup cornmeal, 2 Tablespoons flax seed meal.
Replace some of the milk with buttermilk or plain yogurt.
The consistency of the batter will very depending on your substitutions, so make adjustments accordingly. If too thin, add a little more flour. If too thick, add more milk. With some experimenting, you'll find the perfect combination for your family.
Use a large electric griddle to speed up your cooking time.
A good one can be purchased new for about $20 or found in a thrift store for less. Since pancake baking is definitely an assembly-line activity, the more you can make at one time, the better. Otherwise, the line of kids at your side will never end. Trust me.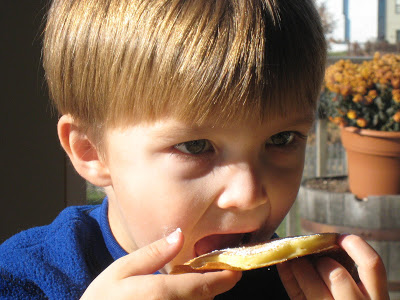 Vary the toppings.
While real maple syrup is absolutely delicious, it can also be expensive. You can make some quick, frugal toppings with just a few pantry staples.
Warm 1 cup fruit jam or jelly until it thins to a syrup consistency.
Make your own maple-flavored pancake topping by combining 1 cup sugar, 1/2 cup boiling water and 1/4 teaspoon maple extract. Bring to a boil and serve.
Sprinkle with powdered sugar, brown sugar, or colored sprinkles.
Top with whipped cream and sliced fruit, such as bananas, strawberries, or peaches.
Sprinkle pancake batter with blueberries or chocolate chips just prior to flipping.
Make pancakes ahead of time.
Cooked pancakes freeze very well for a make ahead breakfast. They can be reheated in the microwave or toaster oven. Or, you can measure out several batches of the dry ingredients and place each batch in a ziploc bag. Make sure to label the bags with the name of the recipe and what wet ingredients need to be added. With homemade mixes in the pantry, you'll be ready for fresh pancakes anytime.
Serve them with some protein.
Scrambled eggs or sausage make great accompaniments. They also offset some of the sugar intake.
Let the kids help.
Breakfast is a great meal to work together in the kitchen. With assistance, young ones can help you prepare the batter by measuring ingredients and stirring the mixture. Older children might be able to mix the batter all by themselves while you handle some other tasks. Not only will you be teaching them valuable kitchen skills, but you'll make some fun memories in the process.
Pancakes made from scratch definitely work for me!
Got a pancake trick? I'd love to hear it!