This Breakfast Sandwich Recipe is not only an easy meal on the go, but it's also one that you can stash in the freezer for those super busy mornings. Check out how simple it is to make a batch for yourself!
Love eggs? Got extras that need using? Be sure to check out our recipes for what to make with eggs.
You know that breakfast is the most important meal of the day, but mornings…, well, sometimes mornings are rough. Perhaps you didn't sleep well. Perhaps you overslept! Perhaps it's just not a day when you feel like you can hop, skip, and jump out the door.
So breakfast…?
Breakfast ends up being an afterthought. Or nonexistent.
However, research suggests that people who eat breakfast tend to have been appetite control and sustained energy throughout the day than people who don't. So, it's in your best interest to eat breakfast, right?
What if you had a stash of breakfast sandwiches in your freezer, ready to go when you woke up in the morning? That's a quick and easy fix that don't cost much time, money, or hassle.
What goes on a breakfast sandwich?
A breakfast sandwich is typically just that, a sandwich made of breakfast foods, such as eggs, bacon, cooked breakfast sausage, cheese, etc. These are usually placed between two halves of an English muffin or biscuit or between two pancakes or slices of bread or toast.
You can really put whatever you like on it. Avocado, sliced tomato, sautéed vegetables are all good as well.
How do you make easy breakfast sandwiches?
The easiest way to make breakfast sandwiches is to make a bulk batch at one time and freeze them. Cook sausage patties in the oven, cool, and chill them. Assemble the breakfast sandwich with a slice of cheese and a sausage patty between two halves of an English muffin. Wrap with foil or deli paper, and then stash in the freezer.
When you want to serve, you can reheat the breakfast sandwich in the oven or microwave and add a fresh cooked egg if you like. So easy and so good!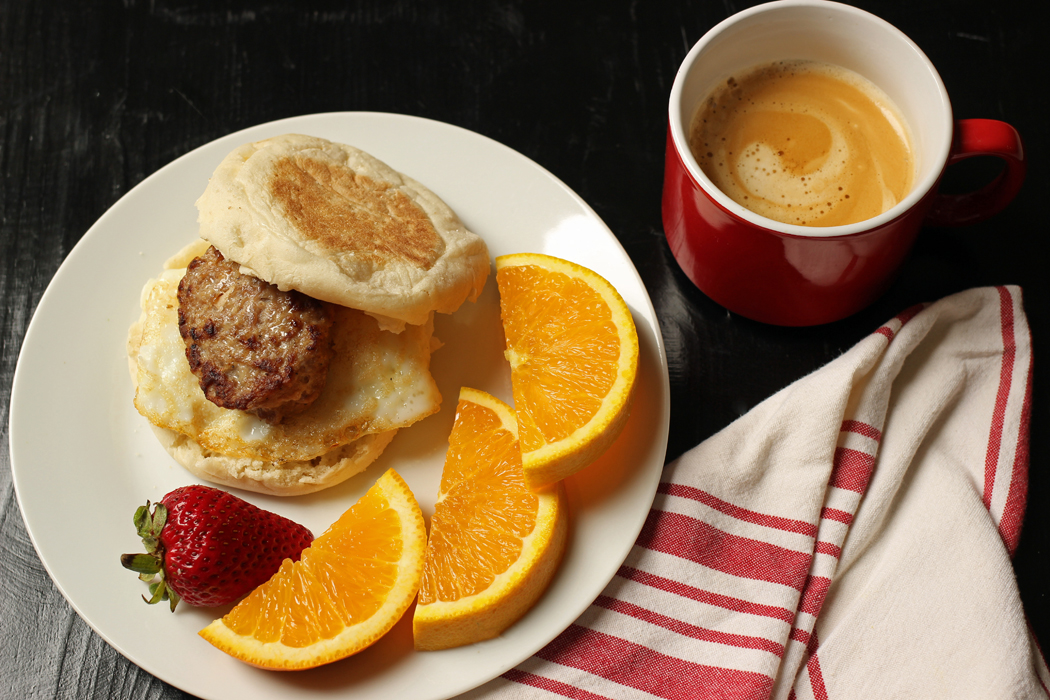 One day a few years back, my husband asked if breakfast sausage patties ever went on sale. He had a hankering for Sausage Egg McMuffins, but didn't want to pay the McPrice it would cost to feed our family at the Golden Arches.
I started to keep my eyes open and began snatching up sales and markdowns to stash in the freezer for when we wanted breakfast sandwiches.
Turns out that while I can find good pricing on sausage patties occasionally, I more often find a good price on sausage links.
No problem, you can pretty quickly turn a couple sausage links into a sausage patty. It's a great way to stretch a purchase to suit your purposes! You could also make this homemade turkey sausage recipe as well. It's just one great way to use ground turkey.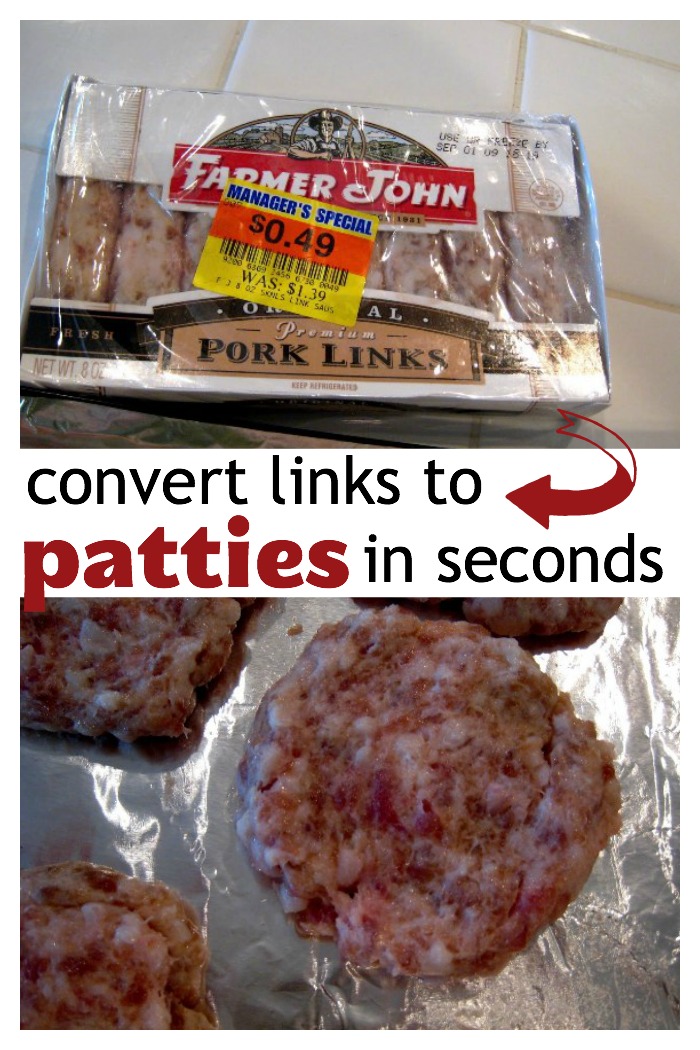 Shopping the sales and buying in bulk via Costco, you should be able to make a breakfast sandwich for about 50-70 cents/serving!
How you can make this cheap:
Here are some of the strategies you can use to make this recipe economical:
Do a price comparison. I know that Costco is the best place to buy ingredients like eggs and sausage when there isn't a great sale elsewhere. I keep track of prices so that I know who has the best deal where.
Stock up on ingredients when they are on sale. For instance, when I see a great price on eggs, I buy a lot. This often happens at Ralphs where I'll find organic eggs marked down for less than $2. I recently found organic sausage on manager's special. I loaded up my freezer with all that was there.
Use a lower priced alternative. Sausage out of your target price? You can sub a cheaper meat like ground turkey, beef, or pork.
Make a really big batch! On a monthly basis we make about four dozen breakfast sandwiches to stash in the freezer. This makes the morning meal so easy, particularly for those of us with busy mornings.
Tools to use to make this recipe easy:
This is a pretty straight-forward dish. You don't need any fancy equipment. However, having some good basic kitchen tools can really make your time in the kitchen more enjoyable. Over time, I've honed my collection so that they are perfect for my needs. Here are the tools that I like to use in this recipe.
Breakfast Sandwich Recipe
A Breakfast Sandwich is not only an easy meal on the go, but it's also one that you can stash in the freezer for those super busy mornings. Check out how simple it is to make a batch for yourself!
Ingredients
8

oz

breakfast sausage patties

or breakfast links, casings removed

4

English Muffins

4

slices

cheddar cheese

4

egg

cooked according to your preferences
Instructions
Line a rimmed baking sheet with foil and spray it with nonstick cooking spray. Preheat the oven to 375°.

Lay the sausage patties out on the sheet pan and bake until cooked through, about 15 minutes. If using breakfast links, form patties by combining two links together and patting very thin. There will be a lot of shrinkage, so make them as thin and wide as you can.

Assemble the sandwiches by layering one sausage patty, slice of cheese, and cooked egg between two halves of an English muffin. Serve immediately.
Notes
To make for freezing: cool the sausage completely before assembling the sandwiches. Omit the eggs. Assemble the sandwiches with English muffins, sausage, and cheese. Wrap tightly in foil or deli wrap and place in a ziptop freezer bag in the freezer. To serve: bake or reheat in the microwave. Add a cooked egg before serving.
Nutrition
Calories:
572
kcal
|
Carbohydrates:
25.9
g
|
Protein:
37.3
g
|
Fat:
34.9
g
|
Cholesterol:
291
mg
|
Sodium:
1018
mg
|
Potassium:
388
mg
|
Fiber:
2
g
|
Sugar:
2.5
g
|
Calcium:
3270
mg
|
Iron:
0.7
mg
Tried this Recipe? Tell us what you think!
Your reviews help us develop better recipes and give newcomers the confidence to try your favorites. Scroll down to leave a starred comment.