Run into a really good sale on ground beef? Do you have to cook it up right away or can you freeze ground beef? Can you freeze it cooked?
Follow these go-to strategies for saving time and money and making good on that sale find.
Estimated reading time: 7 minutes
Jump to:
Here at Good Cheap Eats, we love a good sale. In fact, sale shopping is step number 5 in the Good Cheap Eats System. By stocking your pantry with grocery staples you find at good prices, you'll better stretch your grocery dollar.
For example, instead of paying $5/lb when I want a certain item, I wait for a sale. When I see a deal, I buy several packages and store them in my pantry, fridge, or freezer. Later when I want it, I have it! I can shop the kitchen and use what we already have it on hand.
Stocking up wisely is the name of the game.
Such was the case last week when I found a ground beef/pork mixture on sale at my local Ralphs for 50 cents/pound. Yes, really. Normally, this blend is $5.99/2-lb package. I got it for ⅙ that price!
Since I knew we were low on ground beef—my family of 7 can easily go through 2 to 3 pounds in a meal—I stocked up!
Now, I was careful not to clear the shelves. It's considered grocery deal ettiquette to leave some for others when you can. I bought six packages but there were many left, and the cashier told me that she'd already seen plenty go through.
My guess is that the meat department found more than a few cases near their best-by dates and had to unload them quickly. Marking it down by 83% will work; that's for sure!
Here are some strategies to help you take advantage of sale ground beef when you find it.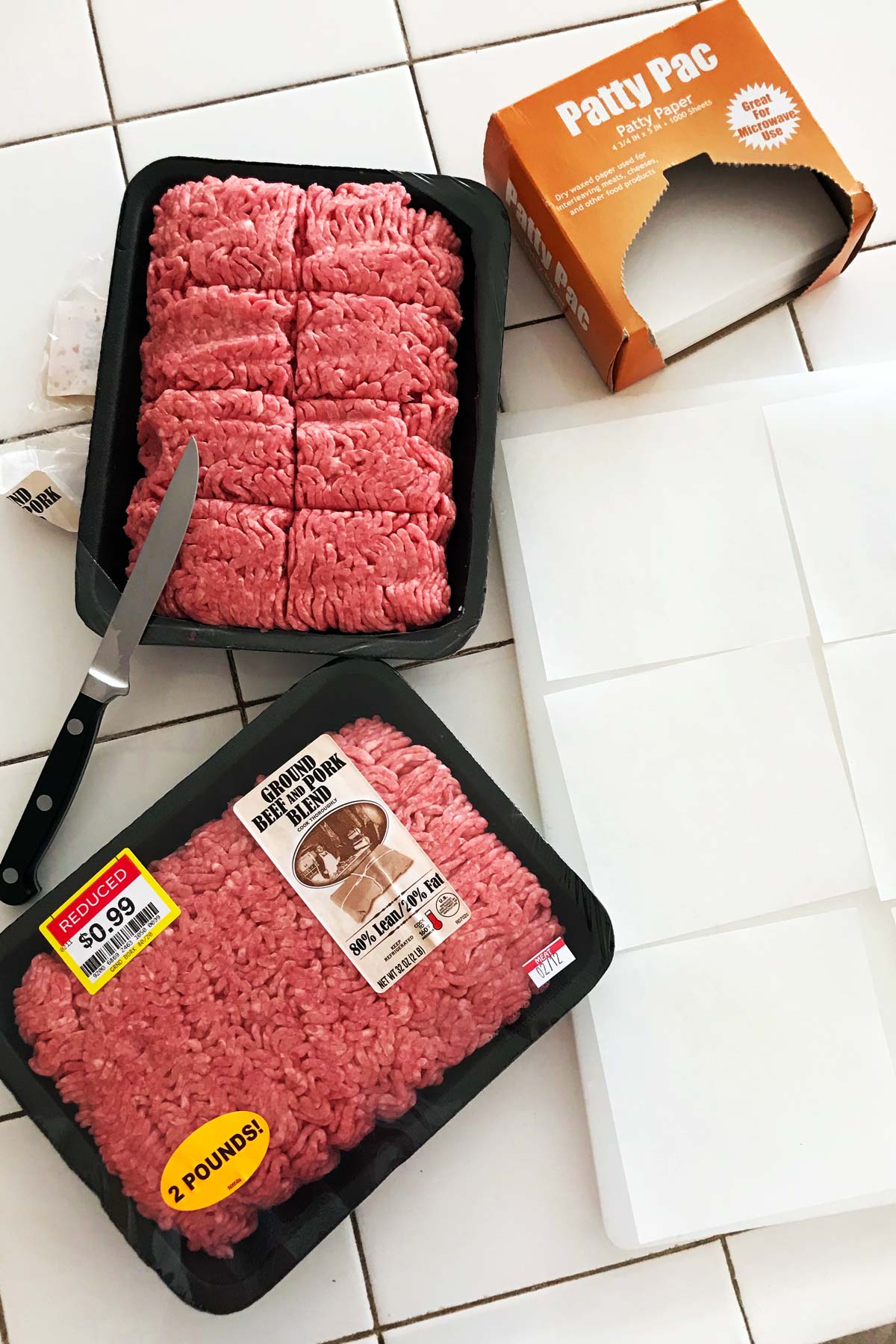 How do you know if it's a good price?
Knowing how to identify a good price is an important factor in stocking up.
What's the regular price and the regular sale price?
You'll need to know the regular price as well as the usual sale price. Keeping a price book can help you track sales seasonally.
A killer deal will be lower than both. In my example, I know that a package marked $0.99 is a killer deal compared to its regular price of $5.99.
What's the price per pound?
However, often times things won't be marked as clearly. Meats are priced per pound, but not all packages of a certain type are uniform size.
Sometimes a store will slap a "save $2" sticker on variable-sized packages. In those instances, you'll need to do some math.
Subtract $2 from the item price.
Divide by the number of pounds in the package.
That will give you your price per pound and you can assess if it's a good deal. It may be advantageous in those instances to buy the smaller sized packages for the greatest discount.
What's your target price?
Having a target price is helpful to guide your sale shopping. This is the price that you feel is a good deal for sale ground beef.
Regular sale prices in my neighborhood hover around $4/pound. So for me, anything under $3/pound is a great deal for ground beef. Clearly, $0.50/pound hit the mark.
*Technically, what I bought is ground beef and pork, but I know that ground pork is already over $5/pound and rarely goes on sale, so working with beef sale prices makes sense in this scenario.
How much should you buy?
Once you've identified that this is, indeed, a sale, you need to decide how much to buy. Remember that it's only a sale if you know you will use it. If ground beef isn't a popular item at your table, then don't buy too much.
If you've determined that it is worth your while, then consider these factors:
Check the best-by dates.
While best by dates are generally suggestions more than they are hard-and-fast rules, where raw meat is concerned, it's good to follow them.
If the ground beef is dated today, then you'll need to take care of it (ie cook or freeze it) right away. There are lots of great ways to use ground beef, so if you can be flexible in your meal plan, go for it.
If the package is dated a few days from now, that gives you some time to plan and prep it, either for eating soon or freezing for later. There are lots of good options for freezer cooking.
If the meat is past its date, do not buy it. A sale just isn't worth it, and a reputable meat department won't sell stuff past its prime.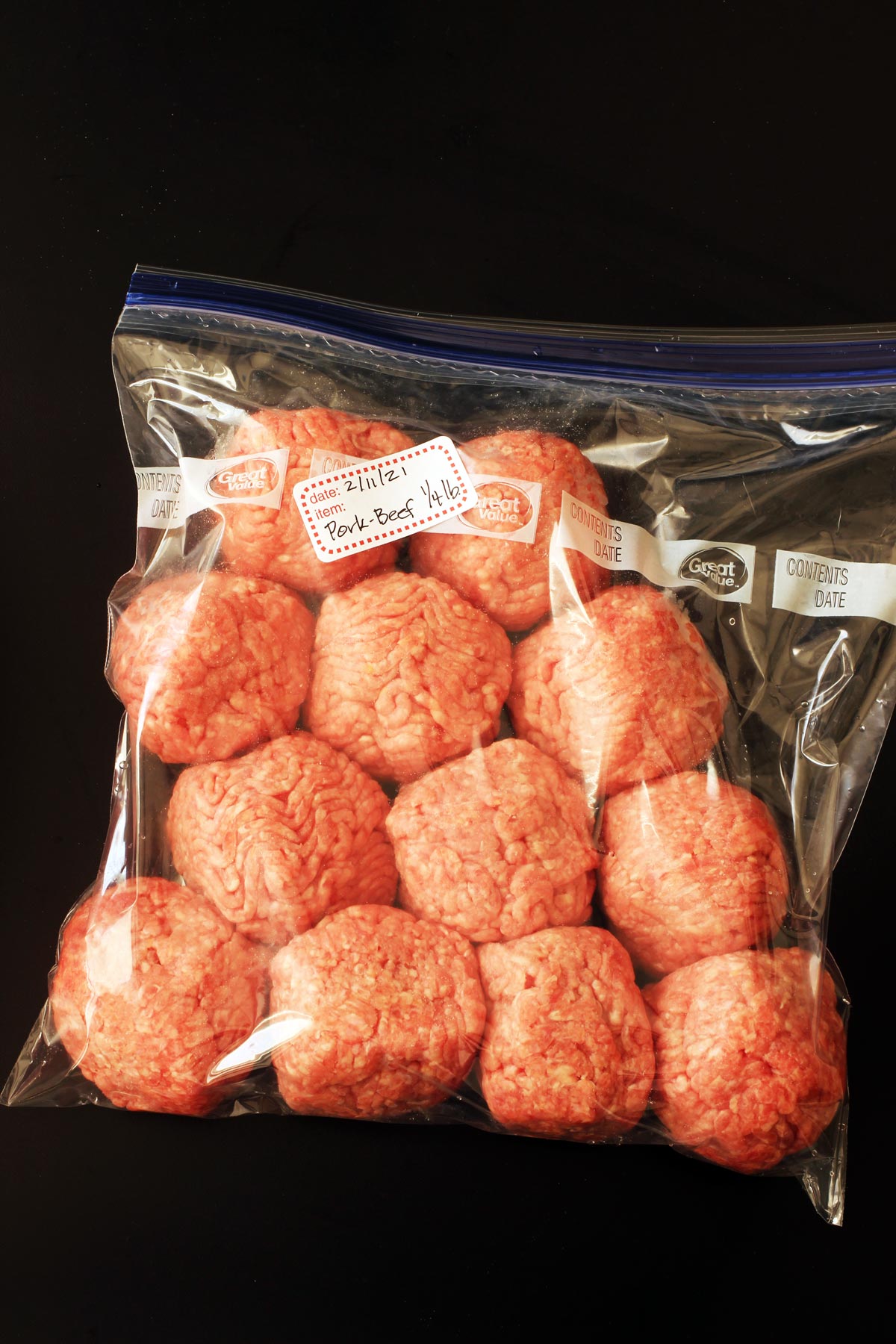 Buy only as much as you can afford.
Now, as good as the deal is, you may be tempted to buy a freaking ton. While I'm with you there, short of clearing the shelf, remember that you have other groceries to buy.
Allocate your grocery budget so that you can cover the necessities and do a little advance stocking up. You probably don't want to eat ground beef for every meal if you don't have to.
Buy only as much as you can store.
Again, there are limits to what we can buy. Consider what storage space you have at home. Unless you're experienced at pressure canning, you will need to store the meat in the fridge or freezer.
Don't buy more than you can easily store at home. Remember you can always text a friend and share the bounty of a good sale instead!
How long can you store ground beef?
You can safely store the ground beef in the refrigerator until the date marked on the package. If you can't use it within that time frame, be sure to freeze it.
Check the USDA guidelines for food safety for more details.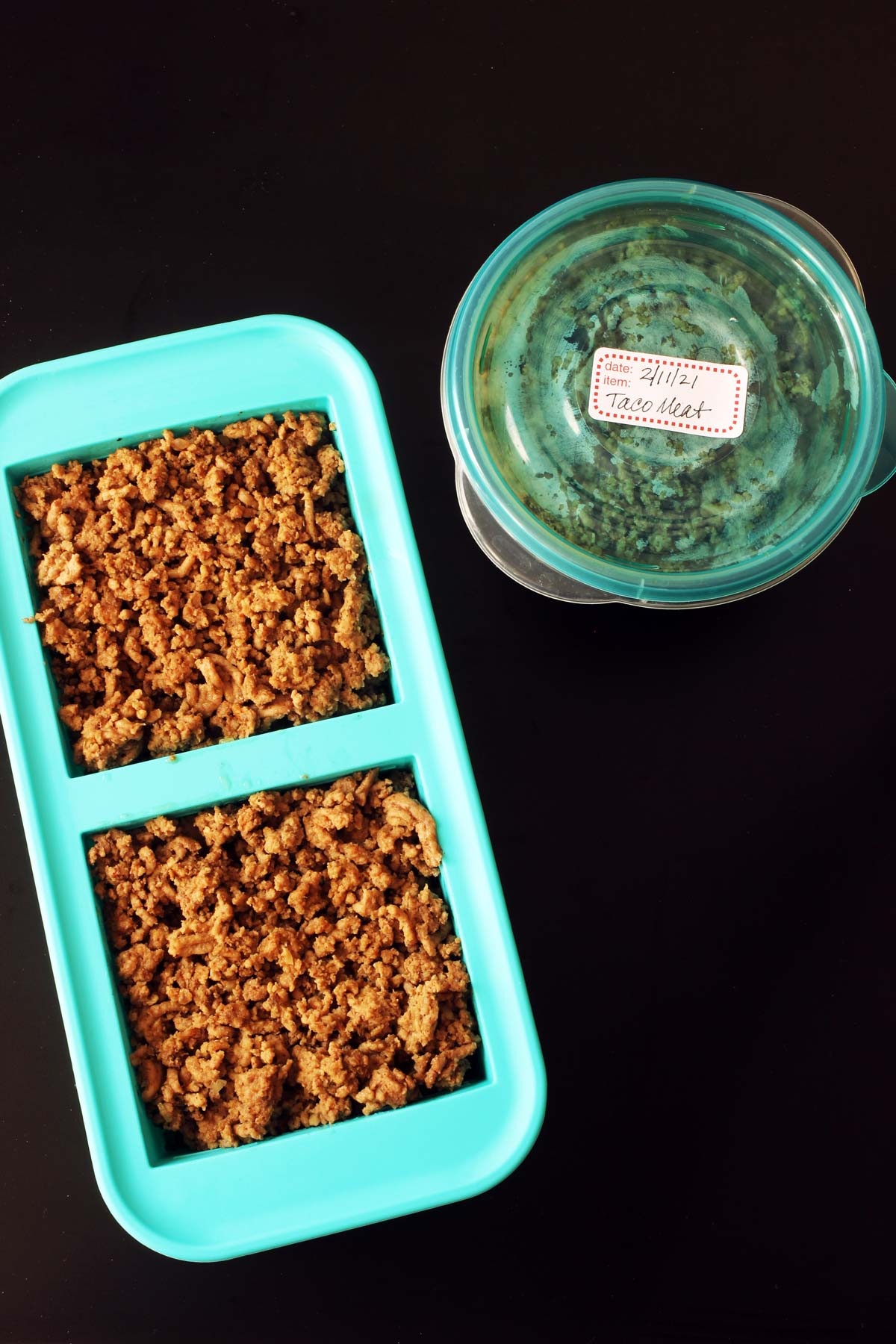 Freezing methods for ground beef
When I find a great deal on ground beef, pork, chicken, or turkey, I like to prep it for freezing right away. When I do this, I get a double-win. I save time and money!
By prepping the meat as soon as you bring it home, you've got some proteins already for quick meals. Be sure to add these items to your freezer inventory and make a plan to use them within the next two months.
Consider these options for freezing your sale ground beef:
Make burger patties.
Portion the beef into ¼-pound sections and form into patties. You can flash freeze these on a tray and then bag them up or you can separate the patties with patty paper or parchment squares and store in an airtight container.
With these two methods, you can easily cook the burger patties from frozen.
Cook up taco meat and seasoned ground beef.
If you enjoy tacos or meat sauce on a regular basis or casseroles, like Lawnmower Taco that use cooked or seasoned ground beef, save yourself some time and hassle by precooking the meat. This will bring dinner together quickly!
Cook and season the meat, divide into 2-cup portions, and freeze. Soupercubes work well for this purpose or you can use ziptop bags or plastic containers with lids.
Make meatballs or meatloaf.
Love meatballs or meatloaf? These are easy dishes to mix up, especially if you follow my Versatile Meat Mixture. It's a dual-purpose recipe that can be shaped for both loaves or meatballs. Easy peasy.
You can even freeze the mixture uncooked if you're undecided which you want. You'll still cut out a lot of work in the process.
Portion for easy thawing and serving.
If you're not sure what you want to make with the meat, you can portion it for easy thawing. I chose to make ¼-pound balls of beef. These will thaw more quickly than a 2-pound brick of meat and they're ready to be made easily into smash burgers or regular patties.
You can also try this trick of making small portions with a chopstick and a ziplock bag.
What do you do when you find a good sale on ground beef?