Stir up a pot of this quick meat sauce that is perfect on pasta or spaghetti squash. Quick to prepare and freezer-friendly, it's a great addition to your meal rotation.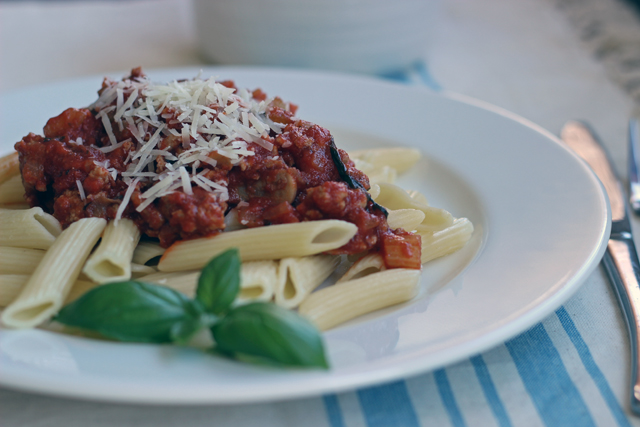 Pasta is a regular go-to meal at our house, particularly when all other meal plans fly out the window. I almost always have a couple of bags of pasta, a can of some kind of tomato product, some onion or other vegetables, and maybe some fresh basil.
A quick meat sauce pulls together on the stove in about 30 minutes. Served over hot penne or spaghetti alongside some bread and salad, it makes a great, fast meal to feed my small horde of children.
This sauce reminds me of one that my friend Elly made in college based on the recipe her mom made. Mrs. Shinohara was a great cook. I don't have her recipe any longer, but this is my recreation of it. If you have time, you can allow the sauce to simmer longer to meld the flavors more. But, in a pinch, it works as a fabulous 30-minute meal.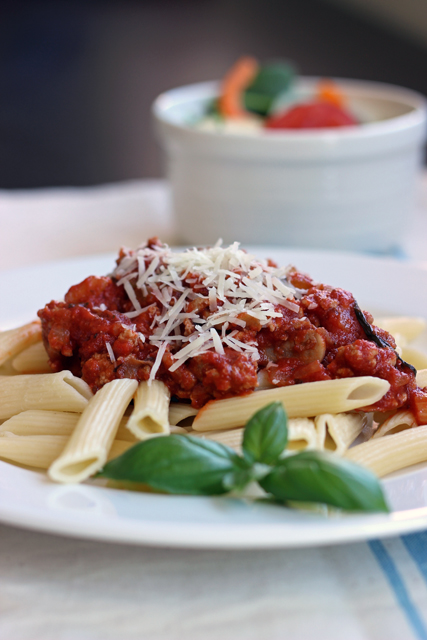 Feel free to quadruple this recipe and stash the extras in the freezer. That will make you three quicker dinners to enjoy later. This batch will feed four adults generously. I cheated and stretched it over two pounds of pasta to feed eight, but I wished I'd had more. I don't normally prefer red sauce, but this one made me want to keep eating it.
I used Trader Joe's ground turkey (it doesn't have anything weird added to it), but you could use ground beef, pork, or chicken if you have that. You'll need some Jamie's Spice Mix. If you don't have that on hand, you could use Italian Seasoning or another favorite Italian style blend.
Recipe: Quick Meat Sauce for Pasta
Ingredients
2 tablespoons olive oil
1 cup sliced mushrooms
1/2 cup chopped onion
1/2 cup chopped celery
1 pound ground turkey, beef, pork, or chicken
15-ounce can tomato sauce
1/4 cup chopped fresh basil
2 Tablespoons tomato paste
1 teaspoon Jamie's Spice Mix or other favorite seasoning blend
Instructions
In a medium sauce pot, heat the oil until shimmering. Add the mushrooms, onion, and celery, and cook until the onions go clear and the vegetables are tender, about 7 minutes.
Add the turkey and brown it, breaking it up with the back of a spoon, about 5 minutes.
Stir in the tomato sauce, basil, tomato paste, spice mix, and enough water to achieve the consistency you prefer. Simmer for 10 minutes.
Serve over hot pasta or spaghetti squash.
Preparation time: 5 minute(s)
Cooking time: 22 minute(s)
Number of servings (yield): 4