Turkey spiced with spices and chiles is enrobed in a creamy egg mixture. This egg bake is perfect for holiday brunches.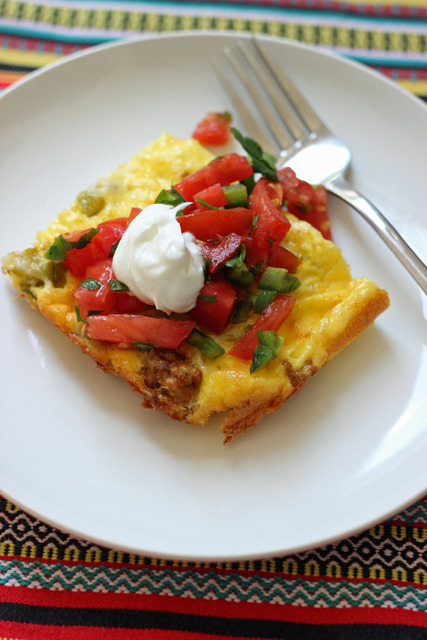 I was never a huge fan of ground turkey as a kid. My mom started buying it The Year We Stopped Eating Red Meat. For a whole year our family ate nothing but turkey or chicken. Or at least that's how it went down in my mind.
It could have been a month. Who knows?
Two of my dad's brothers had some health issues that were attributed to an overconsumption of red meat. So, we kicked it to the curb in a panic to prolong our lives and preserve all our organs.
I've been a reluctant ground turkey fan since then. My editors are the ones to request turkey recipes in the The Cookbooks, so I've obliged. Over time, I've realized that I like it.
Reading Salt, Sugar, Fat, and finding out that the cautions of red meat are not just a figment of my dad's imagination has made me reconsider. And now that I've tried Trader Joe's ground turkey that has only two ingredients: ground turkey and rosemary extract, the latter being a welcome change to 5% strangeness solution.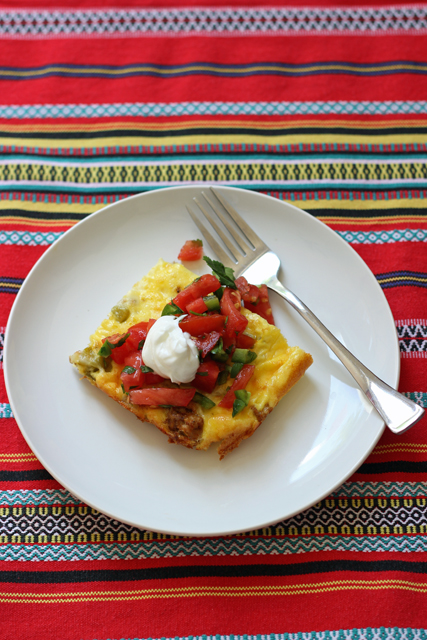 This egg bake was an experiment with turkey. My kids are seemingly hungry all the time, so I wanted to provide a breakfast that stuck to the ribs and gave them staying power. This was it: an egg casserole stuffed with meat, chiles, and pepper jack cheese.
FishBoy13 who typically resists all egg dishes said something like, "You know, I don't typically like egg dishes, but that one was actually pretty good."
There you have it, folks, out of the mouths of babes!
If you're looking for a dish to make an egg dish hater into an egg dish lover, this may be the one. Be sure to serve it with fresh tomato salsa. It's really not that spicy, but you can use regular jack cheese if you prefer.
I normally would have served it with sour cream as well, but we were out, so I used Greek yogurt. Apparently, we've found a new favorite. Since the girls pile their plates high with sour cream, I consider it a welcome change.
If you want to make it ahead, cool the meat before adding the other ingredients. Then either stash in the fridge overnight or freeze it to bake at a later date. Simply thaw completely before baking.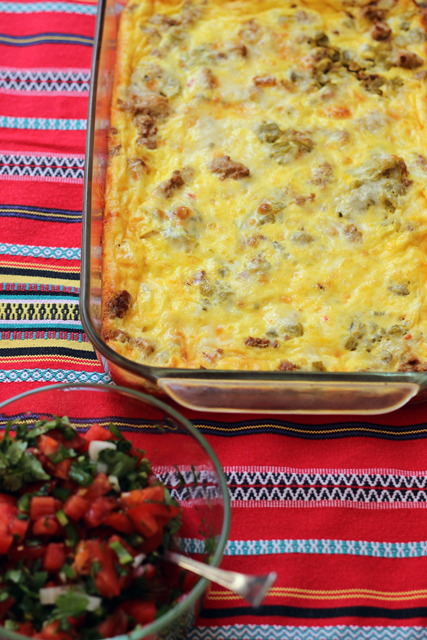 Recipe: Spicy Turkey Egg Bake
Ingredients
1 pound ground turkey (you can use sausage or beef, if you prefer)
1/2 cup chopped onion
1 tablespoon taco seasoning (get a recipe here)
2 tablespoons chopped green chiles
1 cup shredded pepper jack cheese
6 eggs, beaten
1 cup heavy cream
sour cream, Greek yogurt, and salsa, for serving
Instructions
Preheat the oven to 400°. Grease a 9×13-inch baking dish.
In a large skillet over medium high heat, brown the turkey and onion, about 5 to 7 minutes. Season with the taco seasoning mix. Spread in the prepared pan.
Sprinkle the chiles over the meat.
Sprinkle the cheese over the chiles.
In a large mixing bowl, combine the eggs and cream. Pour that over the layers in the pan.
Bake for 25 minutes or until puffy and browned in spots.
To freeze: Cool the meat before adding the eggs and cream. Prepare the dish up through step 5. Cover and freeze before baking. Thaw overnight in the fridge and continue with the baking step.
Preparation time: 15 minute(s)
Cooking time: 25 minute(s)
Number of servings (yield): 8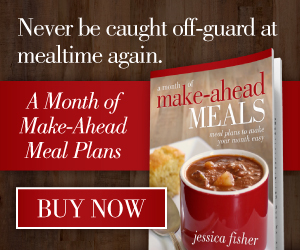 Make-ahead meals can make your month!
Grab this month's meal plans
to take it easy and enjoy great home-cooked meals.