You've enjoyed it at the taco shop, but did you know how easy it is to make homemade pico de gallo? With tomatoes, cilantro, jalapeno, onion, lime juice, and salt, you can mix up this fresh tomato salsa in less than ten minutes!
Perfect for dipping or topping tacos and nachos, this homemade pico recipe is sure to be a favorite at your table.
Jump to:
If you enjoy Mexican food, then you're going to want some salsa or pico de gallo to top your taco salad or for dipping with tortilla chips. While you can certainly buy it at the grocery store, making it at home is simple to do and definitely more affordable.
Why make this
It's quick. You can mix up a homemade batch of pico de gallo in less than ten minutes.
It's easy. There's no fancy tools or techniques required, just a knife and a cutting board.
It's delicious. Fresh tomatoes and cilantro dotted with chopped jalapeños make for a homemade salsa that can't be beat.
Ingredients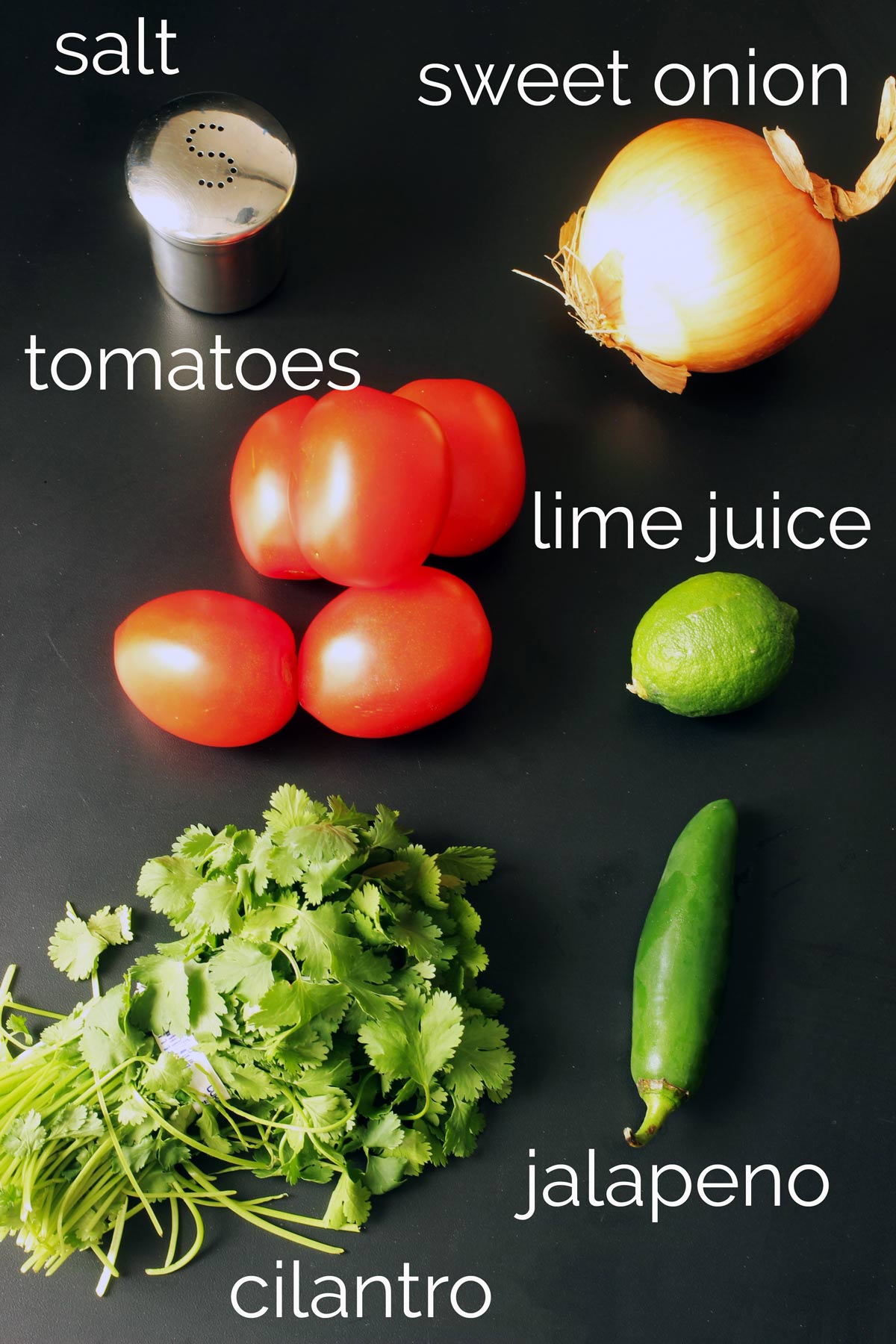 It's easy to make homemade pico de gallo since it contains just six ingredients. Here's what you'll need:
fresh tomatoes – While you can make salsa with canned tomatoes, pico de gallo is better made with fresh tomatoes, such as roma. Even better are the tomatoes that are fresh from the garden. They will really take this recipe over the top.
fresh cilantro – Cilantro is an aromatic herb that is often used in Mexican and Asian dishes. It has a very distinct flavor. Try not to omit it if you can as it gives so much flavor to your pico.
fresh jalapeño – Chopped jalapeño is what adds a spicy kick to the dip. If you want more heat, use a serrano pepper instead.
sweet onion – Try to get a sweet onion if you can as brown or white onions can sometimes be bitter or spicy. To deflame a hot onion, rinse the chopped onion in cold water and see if it doesn't taste a bit better.
lime juice – Lime juice adds a sweet-tart flavor to the pico. You can use lemon juice or even white wine or apple cider vinegar if you don't have limes.
salt – Salt is key. Add and taste until you get the right level of flavor.
Variations
While pico de gallo made with tomatoes is certainly the traditional way to go, you can also make it with other fruits or vegetables, including:
pineapple
nectarines
mango
corn kernels
You can also stir in black beans for a type of Cowboy Caviar or chopped cactus for a Cactus Salsa.
Instructions
It's super easy to make homemade pico de gallo.
Chop the tomatoes, cilantro, onion, and jalapeno, and place those in a large mixing bowl. Season with the lime juice and salt.
Stir gently to combine. Taste and add more lime juice or salt to suit your preferences. Serve immediately or refrigerate, up to 24 hours, until ready to serve.
FAQs
How do you chop tomatoes for pico de gallo?
The texture of your pico will be best if you seed and chop the tomatoes. This reduces the amount of liquid in the dish.
What is the difference between salsa and pico de gallo?
Salsa means sauce in Spanish. Tomato salsa is what we typically think of when we hear the word salsa. It's usually a mixture of tomatoes, cilantro, jalapeno, onion, lime, and salt. It is often quite liquidy. Pico de gallo is a type of salsa prepared with finely diced ingredients and less liquid.
Recipe Cost
Knowing how much it costs you to prepare a recipe can help you decide if it's the type of recipe to make regularly or one you might want to save for special occasions. Let's crunch some numbers and see how this recipe pencils out.
tomatoes – $0.75
fresh cilantro – $0.25
sweet onion – $0.10
jalapeno – $0.10
lime – $0.10
salt – $0.01
When the ingredients are shopped at non-sale prices at a mid-range grocery store, a batch of homemade pico de gallo (about 2 cups) costs just $1.31/batch!
Comparatively speaking, the same amount purchased pre-made from the grocery store costs $2.99. Clearly, homemade is better and cheaper.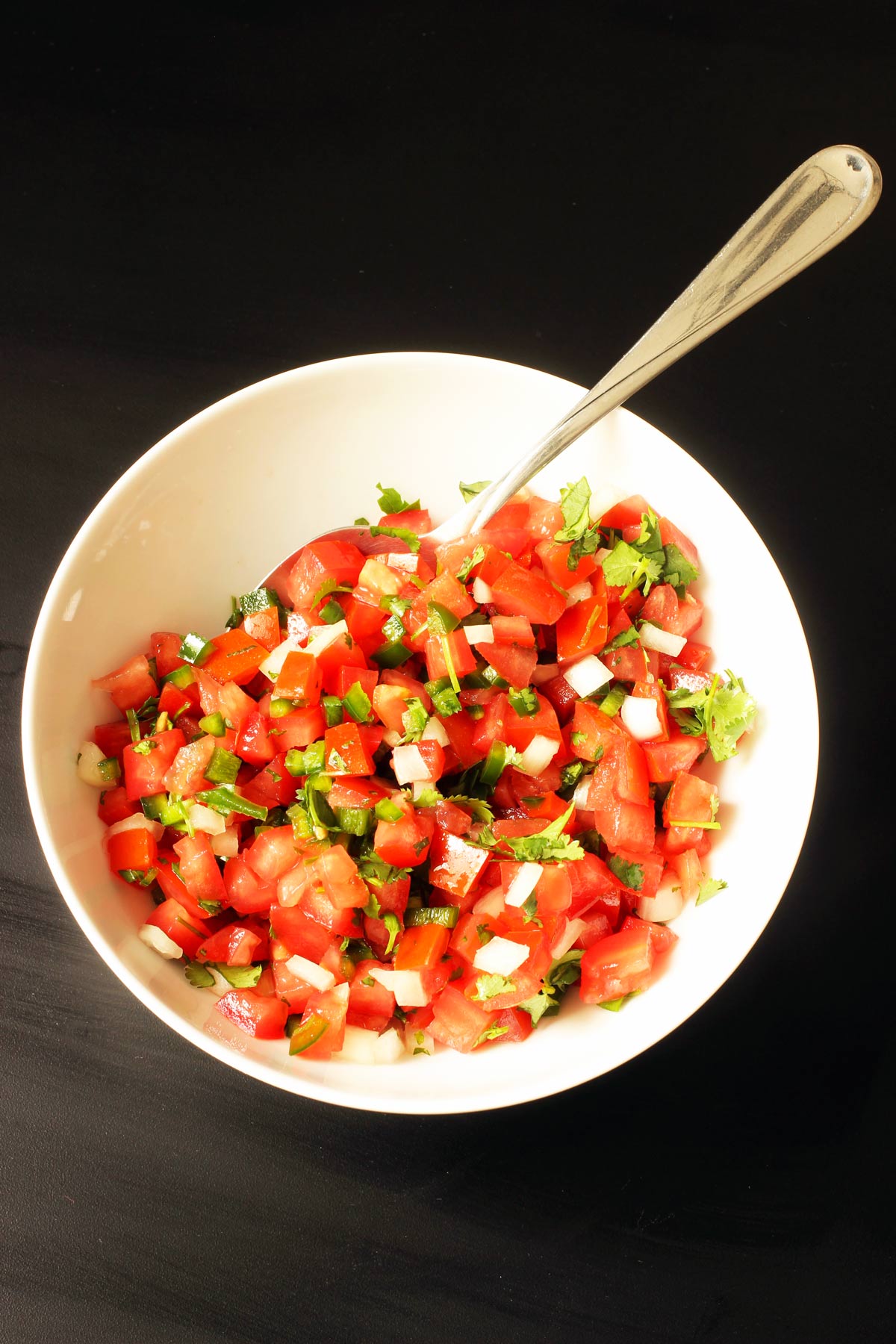 Mexican food recipes to try
Easy Homemade Pico de Gallo Recipe
Pico de gallo is nothing more than a salsa made with fresh tomatoes, onions, herbs, and chiles. It comes together so quickly, you'll wonder why you don't make it more often.
Ingredients
2-3

tomatoes

(2 cups seeded and chopped)

¼

cup

fresh cilantro (chopped)

¼

sweet onion

(¼ cup chopped)

1-2

tablespoon

finely minced jalapeno or serrano chile

start with less and work your way up in heat

juice of 1 lime

¼

teaspoon

coarse salt
Instructions
Combine all ingredients in large mixing bowl. Chill until ready to serve.

Serve with chips or with your favorite Mexican Food dishes.
Notes
Nutritional values are based on ¼ cup pico de gallo. Promptly refrigerate leftovers and use within 2 days.
Choose tomatoes that are firm, heavy-for-their-size, and deeply colored without any noticeable bruises, cuts, or blemishes. Core, seed, and chop them for the best texture in your pico.
If you'd like a spicier pico de gallo, use more than one jalapeno or a hotter serrano chile, finely chopped. The ribs and seeds of the chile will add more heat. Adjust to your preferences.
If you don't have tomatoes, you can make a pico de gallo with fresh chopped strawberries, mango, or pineapple, or corn kernels.
Nutrition
Calories:
13
kcal
|
Carbohydrates:
3
g
|
Protein:
1
g
|
Fat:
1
g
|
Saturated Fat:
1
g
|
Sodium:
159
mg
|
Potassium:
125
mg
|
Fiber:
1
g
|
Sugar:
2
g
|
Vitamin A:
124
IU
|
Vitamin C:
8
mg
|
Calcium:
19
mg
|
Iron:
1
mg
This post was originally published on August 24, 2010. It has been updated for content and clarity.