Taco Night is the highlight of the week. Make this week's taco feast good and cheap with this spicy turkey and bean filling.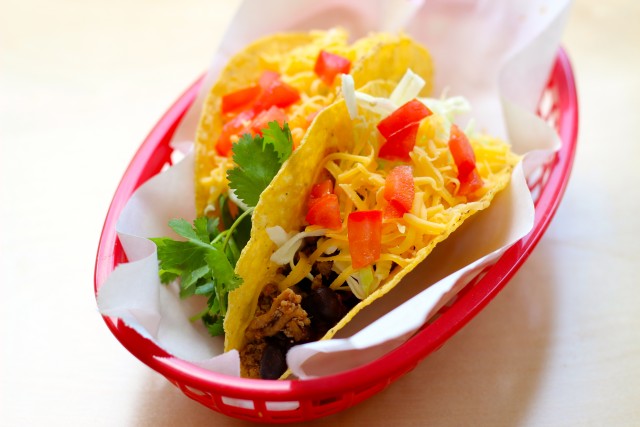 Tacos make my people very, very happy. I've sort of banned the taco fast food places from our list of approved good cheap eats, so the responsibility lies with me to make tacos happen at home. FishBoy13 told me that one of his dream dinners is all-you-can-eat tacos made with home-fried corn tortillas. You know, Paso Mom Tacos.
I might consider it if I had one of these doodahs. How cool is that?! I'm also on a mission to have some taco racks like they have at Mexican food restaurants. This weekend when I was making tacos, I asked FishPapa to go find me a piece of sheet metal so he could make one. He actually went to the garage to look. What a guy!
As you can imagine, our family goes through two dozen tacos in one sitting. That's a lot of fried tortillas and a lot of metal taco racks to store. We may have to wait. In the meantime, I'll have to settle for boxed shells and plastic burger baskets.
I've been on a ground turkey kick. Part of it is an effort to reduce our red meat. It's probably not that good for us to eat it as often as we were, plus it's getting more expensive. I just can't swing it when the kids could easily eat two to three pounds in one sitting. We're enjoying it twice a week, which is good and filling the gap with ground turkey.
I didn't used to like ground turkey, but since I tried Trader Joe's, I'm hooked. (Sorry to all you people who don't have TJ's or don't like it. I fell out of love with Trader Joe's a few years ago, but I'm finding ways to make their products and prices work for me, and it's working really well. I'm back in love.)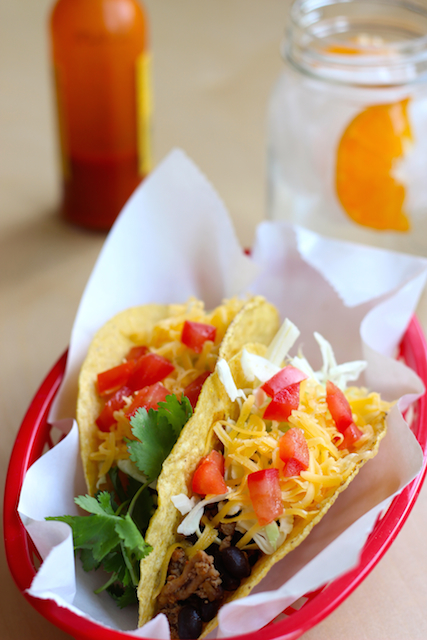 Anyway, this dish is the antithesis of what I would have made five years ago when I was a sworn beefeater because I also didn't like to mix fillers into my standard taco meat. Even though we ate plenty of beans, I just didn't want to mix them on purpose. It was pretty silly, actually, considering how well beans stretch a dish both in bulk and in economy.
All this to say, this dish is a departure for me, even though the concept has been around since the dawn of time, or close to. My family loves this filling. It makes delicious tacos, but my family likes to get creative. This weekend FishPapa folded it into a burrito; one of the boys made a chimichanga; another made a quesadilla like concoction.
Basically, you can't go wrong with this. If there are leftovers, which I doubt, know that you can easily freeze them for another time. Your best bet is to make a bulk batch and freeze that. It's super yum, as we say.
And if you really want to beef it up, go for it. Beef works with these flavors just as well as turkey. Pork does, too.
Turkey & Black Bean Tacos
Keyword:
taco, turkey & black bean tacos
Ingredients
20

ounces

ground turkey

2

tablespoons

taco seasoning mix

15.25

ounce

can black beans

rinsed and drained

1/2

cup

salsa verde

8

taco shells or tortillas

2

cups

shredded cabbage

16

ounces

shredded cheese

1-2

tomatoes-diced for topping
Instructions
In a large skillet over medium high heat, brown the turkey until no longer pink, breaking it up with the back of a wooden spoon. Stir in the taco seasoning mix. Add the beans and salsa. Simmer for 5 to 10 minutes or until hot through.

Spoon the meat and bean mixture into the taco shells or tortillas. Top with shredded cabbage, cheese, and tomatoes.

Freezing directions: Cool the meat mixture after step 1 and package, label, and chill throughly before freezing. To serve, thaw in the refrigerator; reheat on the stove top or in the microwave. Continue with the recipe from step 2.
Recipe Notes
Nutritional values are approximate and are based on 1/8 of the recipe. Refrigerate leftovers promptly and use within 4 days.
Nutrition Facts
Turkey & Black Bean Tacos
Amount Per Serving
Calories 370
Calories from Fat 153
% Daily Value*
Fat 17g26%
Cholesterol 84mg28%
Sodium 784mg34%
Potassium 541mg15%
Carbohydrates 21g7%
Protein 34g68%
Vitamin A 693IU14%
Vitamin C 11mg13%
Calcium 328mg33%
Iron 2mg11%
* Percent Daily Values are based on a 2000 calorie diet.