Taco Night is the highlight of the week. Make this week's taco feast good and cheap with these spicy ground turkey tacos with black beans that you can bake in the oven.
Serve these tacos with Quick Seasoned Rice and Homemade Pico de Gallo.
Taco cravings are common around here. I mean, all I need to do is drive by a taco place and instantly I'm hungry for tacos. Even if I've just eaten.
Tacos are the bomb. That is for sure.
But we can't always make a run for our favorite taco stand. Making them at home is a great way to save money and enjoy your taco, too.
While a crunchy beef taco is de rigeur, there are plenty of other taco fillings that will fit the bill. Case in point:
Turkey & Black Bean Tacos
I know, surprised me, too.
This dish is the antithesis of what I would have made ten years ago when I was a sworn beefeater who also didn't like to mix fillers into my standard taco meat. Even though we've always eaten plenty of beans, I just didn't want to mix beans into my tacos on purpose.
It was pretty silly, actually, considering how well beans stretch a dish both in bulk and in economy.
Originally, this dish was a departure for me, even though the concept has been around since the dawn of time, or close to. Turns out it was a huge hit!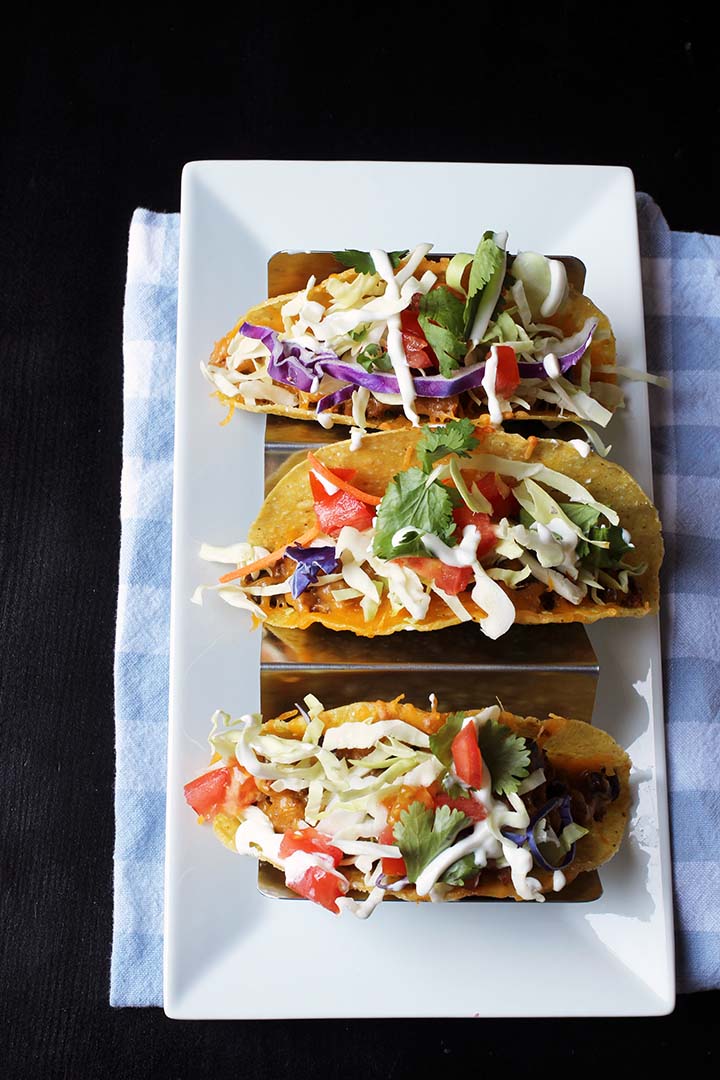 We love this filling. It makes delicious tacos, of course, but my family likes to get creative. Over the years it's been folded into burritos and chimichanga; folded into an enchirito-type concoction, and topped on a taco salad.
Basically, you can't go wrong with this. If there are leftovers, which I doubt, know that you can easily freeze them for another time. Your best bet is to make a double batch and freeze the extra portion. They you can have tacos whenever you like.
Do you have to use ground turkey? Can you use beef?
I use ground turkey in this recipe because it tends to be more economical than beef, allowing me to stretch my grocery dollar further. That said, you can definitely use ground beef, chicken, or pork as well as crumbled tofu or cooked and crumbled tempeh.
Can I use a different kind of bean?
Black beans look beautiful in this recipe, but you can also use cooked pintos or lentils if you prefer.
How do you bake these ground turkey tacos?
One of my favorite ways to assemble a lot of tacos at one time is to bake them! My husband was thrilled when I switched to this method. Not only does it take the work away from the diners having to dish up the meat themselves, but it also ensures you can divvy out the filling evenly.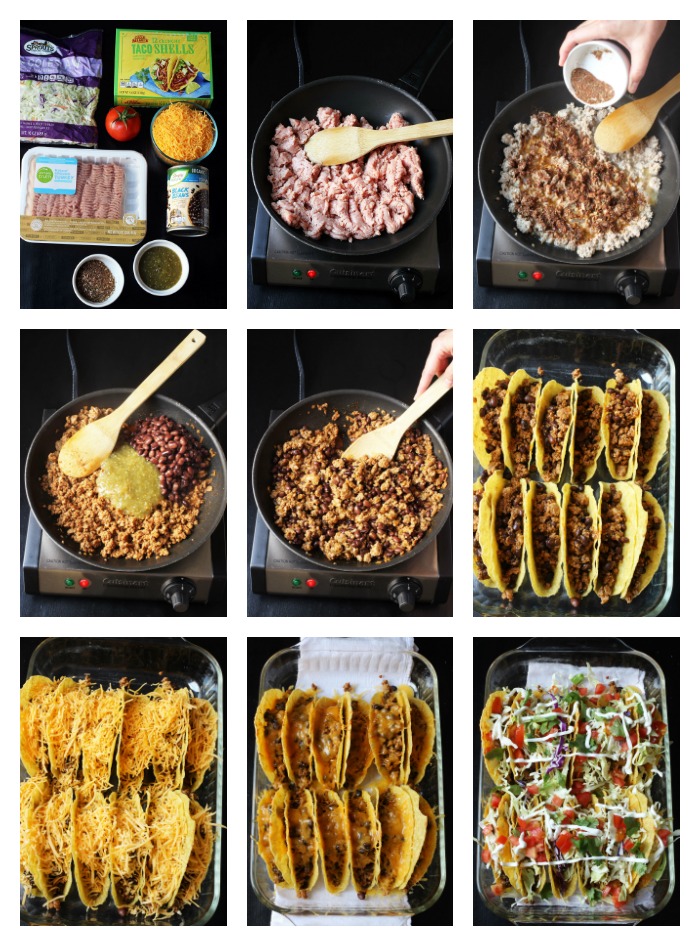 How to bake tacos
This is a super easy process! This recipe makes for 12 very full tacos or 24 moderately full tacos.
Prepare the meat and bean filling in a skillet by cooking the turkey until done.
Add the taco seasoning and stir to combine. Add the salsa and the beans.
Simmer the mixture for a few minutes. Preheat the oven.
Meanwhile, lay out the taco shells in a 9×13-baking dish. It's a little tricky, but 12 will fit in each pan.
Sprinkle the cheese among the tacos and bake in the oven for 5 to 7 minutes or until the cheese is melted.
Fill the tacos with cabbage, chopped tomatoes, and other taco fillings like pico de gallo and this easy guacamole recipe.
Serve immediately.
Do you need any special equipment for this recipe?
This recipe really couldn't be easier than it is, but having the right kitchen tools can really make your time in the kitchen more enjoyable. Over time, I've honed my collection so that they are perfect for my needs.
Here are the tools that I use for this recipe: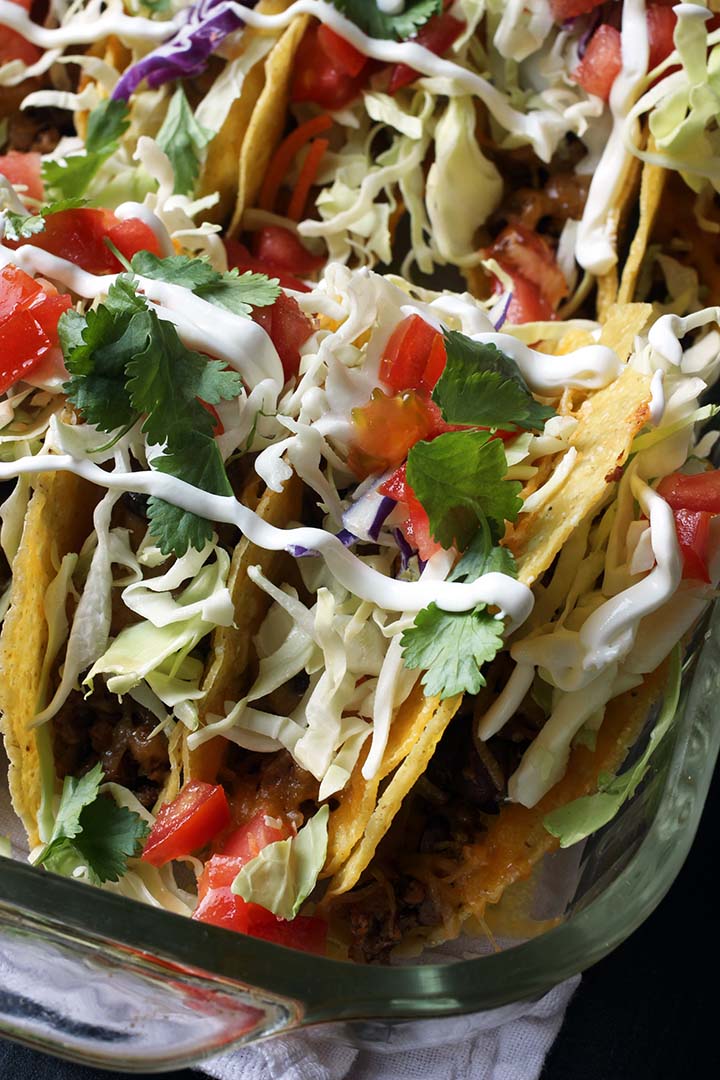 How much do these tacos cost to make?
We always assume that making it at home will cost less money than buying it elsewhere. This is often, but not always the case. Let's see how much that taco really costs, shall we?
These Turkey & Black Bean Tacos are made from some basic ingredients, ingredients that when bought at regular, non-sale prices break down as follows:
ground turkey – $3.99/lb
taco seasoning mix – $0.25 ($1.00/batch)
black beans – $0.99/can
salsa verde – $0.50 ($2.00/16 oz jar)
taco shells – $1.19/dozen
coleslaw mix/shredded cabbage – $0.90 ($1.79/16 oz bag)
shredded cheese – $2.40 ($4.79/lb)
diced tomatoes – $0.60 ($0.99/lb)
The total comes to $10.82 for a dozen tacos, making them about 90 cents a piece. If you stretch the recipe with another box of shells, your cost comes down to 50 cents each!
As low as 50 cents a serving!
In comparison, check out these taco prices; pricing will vary based on region, but so will grocery prices.
Taco Bell crunchy beef taco – $1.19 each
Taco John's crunchy beef taco – $1.29 each
While these aren't exactly the same as what you'd get at the taco shop, they're super tasty and they are a lot cheaper — and probably healthier, too.
Plus, the people you feed will think you're a rockstar. So yummy!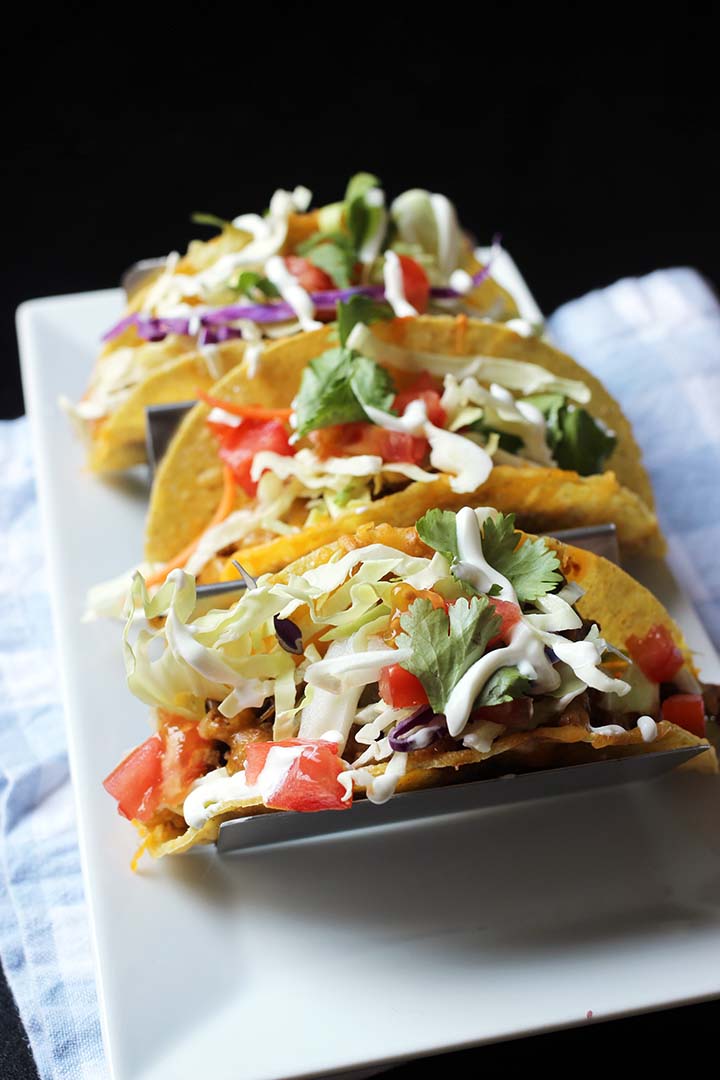 How can you make this more economical?
The prices I've quoted are based on a mid-range grocery store's non-sale prices. You can probably do better.
By their very nature, bean dishes are very budget-friendly. However, here are some of the strategies you can use to make this recipe even more economical:
Stock up on ingredients when they are on sale. When you see a good price on beans or cheese, buy a few extra to stash for later. You know you'll use them. The cheese and turkey are the high priced items in this dish, so look for these items on sale.
Cook your own beans. It's a lot cheaper to cook dry beans than to buy canned. Recently I've started using my electric pressure cooker for beans and it is a game changer.
Buy spices in bulk. I regularly buy larger containers of spices I use frequently, like pepper, sea salt, garlic powder, and chili powder. I store excess dried herbs and ground spices in the freezer if I know it will be awhile before I go through the large container. Making my own taco seasoning is much more economical.
Buy a whole cabbage and slice it. A whole cabbage is about $0.79/pound. More than half the price of the bag of shredded cabbage. You can bring down your costs by shredding your own cabbage.
Use corn tortillas instead of crunchy shells. Depending on how many you buy in a package, corn tortillas cost as low as three cents a piece. Again, bring down the cost of dinner by using plain corn tortillas instead of crunchy shells. Check out this tutorial on how to reheat commercial corn tortillas so they taste really good.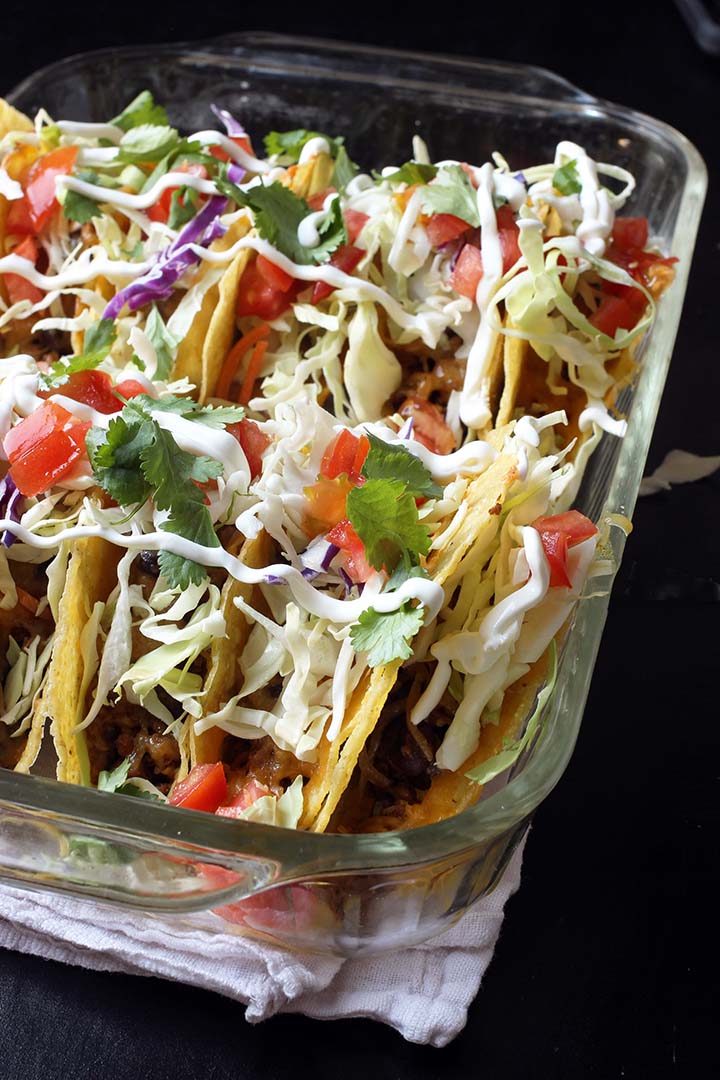 If you prepare this recipe, be sure to share a picture on social media and hashtag it
#GOODCHEAPEATS
. I can't wait to see what you cook up!
Turkey & Black Bean Tacos
Taco Night is the highlight of the week. Make this week's taco feast good and cheap with these spicy ground turkey tacos with black beans that you can bake in the oven.
Ingredients
1

lb

ground turkey

1

tablespoon

taco seasoning mix

15.5-ounce can

black beans

rinsed and drained

½

cup

salsa verde

12

taco shells

or tortillas (can stretch into 24)

2

cup

shredded green cabbage

8

oz

cheddar cheese (shredded)

, 2 cups

1-2

tomato

seeded and diced
Instructions
In a large skillet over medium high heat, brown the turkey until no longer pink, breaking it up with the back of a wooden spoon. Stir in the taco seasoning mix. Add the beans and salsa. Simmer for 5 to 10 minutes or until hot through.

Spoon the meat and bean mixture into the taco shells or tortillas. Top with shredded cabbage, cheese, and tomatoes.

Freezing directions: Cool the meat mixture after step 1 and package, label, and chill throughly before freezing. To serve, thaw in the refrigerator; reheat on the stove top or in the microwave. Continue with the recipe from step 2.
Notes
Promptly store leftovers in an airtight container in the refrigerator, for up to 3 days.
Nutritional values are approximate and based on 1 taco, when made with 12 taco shells
Nutrition
Calories:
255
kcal
|
Carbohydrates:
16
g
|
Protein:
20
g
|
Fat:
12
g
|
Saturated Fat:
6
g
|
Cholesterol:
51
mg
|
Sodium:
511
mg
|
Potassium:
342
mg
|
Fiber:
4
g
|
Sugar:
2
g
|
Vitamin A:
440
IU
|
Vitamin C:
7
mg
|
Calcium:
222
mg
|
Iron:
1
mg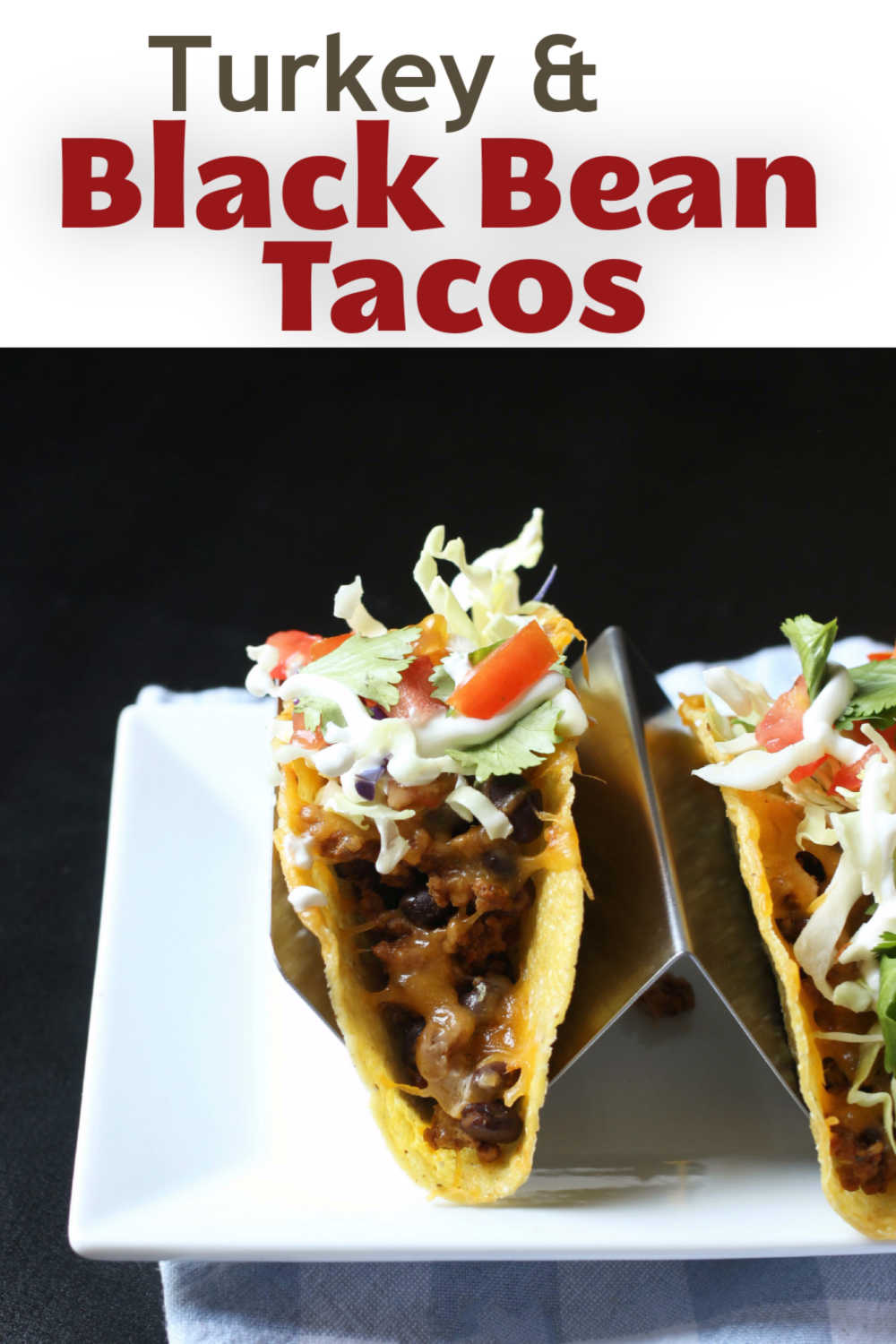 This post was originally published on April 28, 2014. It has been updated for content and clarity.