What do you do when you've got the leftovers of a spaghetti dinner? Well, besides having spaghetti again?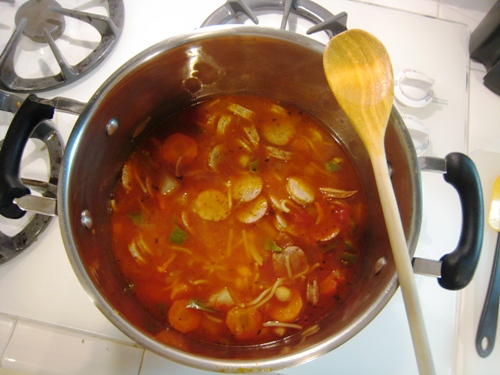 I know some folks would mix up a Baked Spaghetti dish, but my people aren't fans of that. So, I needed a different option to make the most of our leftovers.
If you're doing the Pantry Challenge with us, you'll understand the importance of making the most of last night's supper. Not only are you being a good steward in not wasting the food, but you're also saving money by stretching that meal and the effort it took to make it.
My solution to my leftover spaghetti dilemma was to make minestrone. I call it Minute Minestrone because it really did take just a few minutes to pull together since the pasta, sausage, and sauce were already made.
Soup is a great way to make the most of what you have.
If I were a different kind of food blogger I might have used a different cooked pasta, like a shell. It would have been prettier. But I'm not that blogger. I made a choice between pretty and "using what we got". If you're going to make this soup without the leftovers (which you can totally do), consider using a smaller, prettier pasta. If you've got spaghetti, just chop it into bite-sized pieces.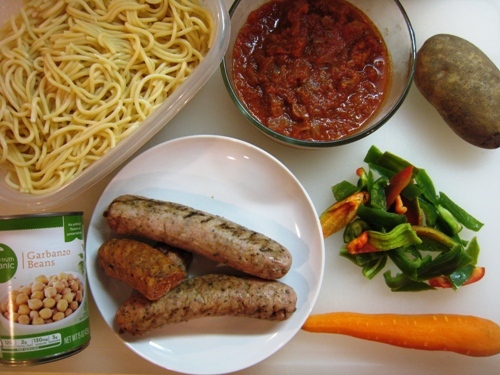 You can transform almost any leftovers into a great tasting soup. Really, you can. Try Thursday Night Soup to get you started.
Recipe: Minute Minestrone
Ingredients
6 cups water or broth
2 cups pasta sauce
1 potato, peeled and chopped
1 carrot, peeled and sliced into rounds
2/3 cup chopped bell pepper
1 can garbanzo beans, drained
2 to 3 Italian sausages, cooked and sliced
4 cups cooked noodles
kosher salt
freshly ground pepper
ground sweet paprika
Instructions
In a large stockpot combine the water and pasta sauce. Add the potato, carrot, pepper, beans, and sausages. Simmer until the vegetables are tender, about 20 minutes.
Stir in noodles and cook another 5 minutes until soup is hot. Adjust seasonings to taste, using salt, pepper, and paprika.
Preparation time: 5 minute(s)
Cooking time: 25 minute(s)
Number of servings (yield): 8