Got leftovers from pasta night? No problem. In less than 30 minutes, you can transform them into this delicious Quick Minestrone.
What do you do when you've got the leftovers of a spaghetti dinner? Well, besides having spaghetti again?
Making the most of last night's supper is a great way to make the most of your dollar. Not only are you being a good steward in not wasting the food, but you're also saving money by stretching that meal and the effort it took to make it the first time.
In the case of leftover spaghetti, you can:
heat and reheat
bake a Frittata di Spaghetti (a spaghetti omelette)
make baked spaghetti
or turn it into soup!
You can transform almost any leftovers into a great tasting soup. Really, you can. Try Thursday Night Soup to get you started.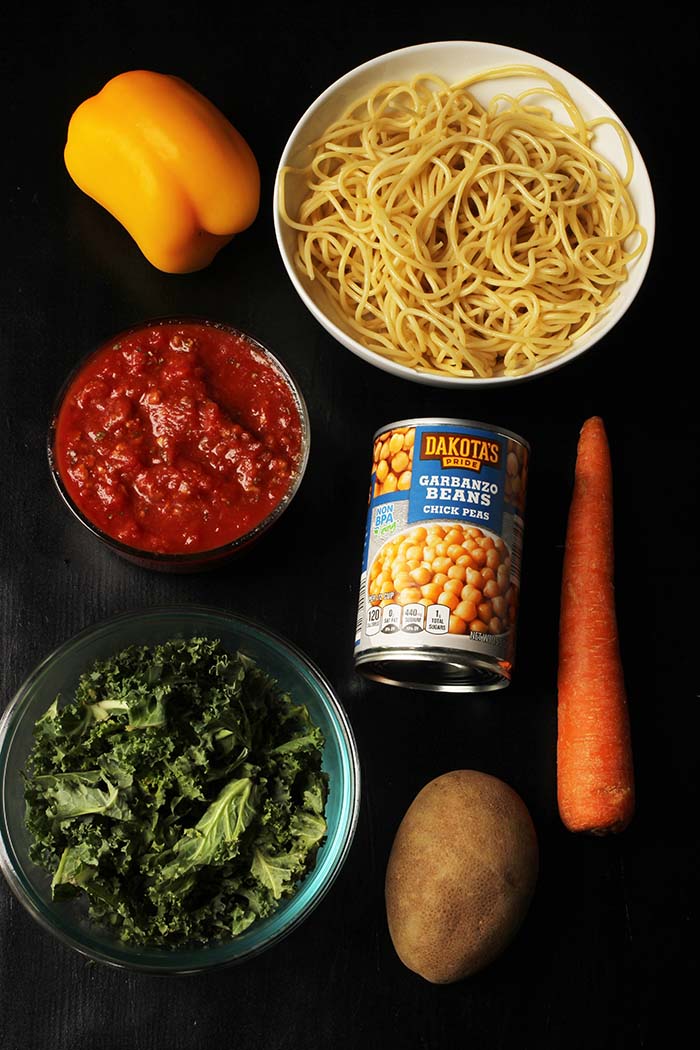 Quick Minestrone – a great way to use up leftovers
My solution to my leftover spaghetti dilemma was to make quick minestrone. I call it Quick Minestrone because it really does take just a few minutes to pull together since the pasta, sausage, and sauce are already made.
If I were a different kind of food blogger I might have used a different cooked pasta, like a shell. It would have been prettier. But I'm not that blogger. I made a choice between pretty and "using what we got".
If you're going to make this soup without the leftovers (which you can totally do), consider using a smaller, prettier pasta. If you've got spaghetti, just chop it into bite-sized pieces.
What is minestrone?
Minestrone is a thick, Italian soup made with vegetables and pasta. It commonly includes beans, carrots, and tomatoes. Vegetarian and meat-based versions are both possible.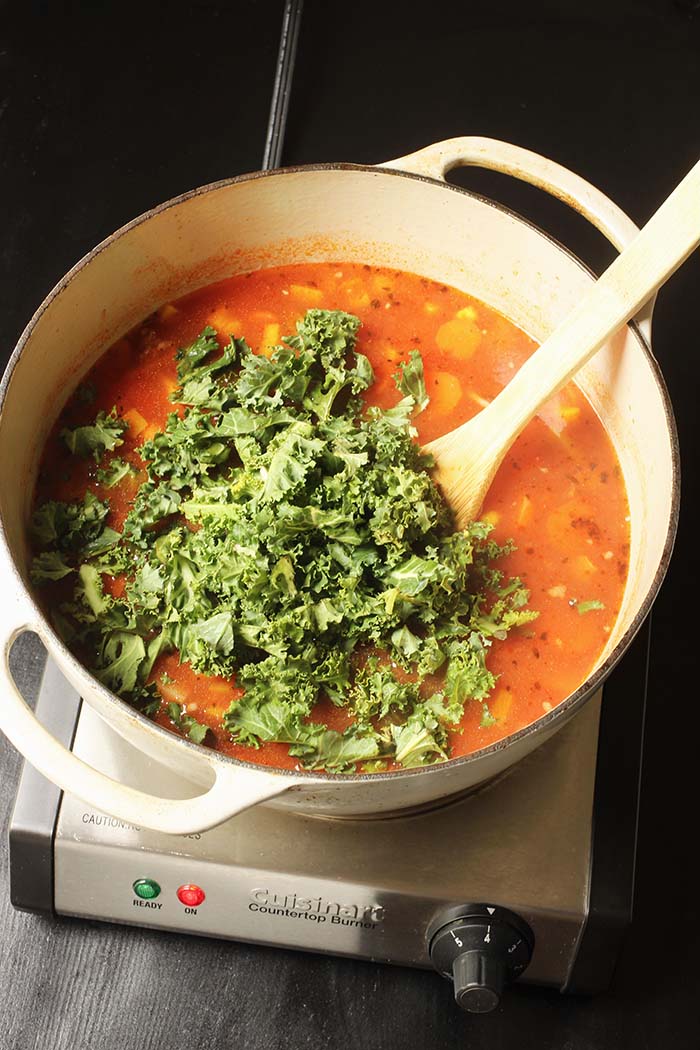 What is the difference between minestrone and vegetable soup?
Minestrone includes beans, potatoes, pasta, and sometimes rice, while Vegetable Soup often is limited to just veggies.
How do you make quick minestrone from stratch?
Often a slow-simmering soup, this version of minestrone takes some shortcuts using cooked pasta and a previously simmered sauce to achieve a similar depth of flavor.
Combine the bolognese and stock. Bring to a simmer.
Add the longer cooking vegetables, the potato and carrot. Simmer until tender.
Stir in the peppers and beans and allow these to cook for a bit longer.
Stir in the leftover pasta and the kale.
Adjust the seasonings and serve.

Is it expensive to make your own soup?
This Quick Minestrone is made from some basic ingredients, including leftovers that might otherwise go to waste. That right there tells you it's going to cost less than other options.
For the sake of argument, let's see what this would cost made with ingredients bought at a midrange grocery store with regular, non-sale prices:
bolognese – $2.80 ($4.19/24 oz)
potato – $0.87 (per potato)
carrot – $0.25 (per carrot)
bell pepper – $1.49 (per pepper)
garbanzo beans – $0.99 (per 15.5 oz can)
spaghetti – $0.50 ($1.00/lb)
seasonings – $0.05
This batch of soup that serves 8 costs about $6.95 or 87 cents per serving. A can of mediocre minestrone soup costs $2.29 or $1.15 per serving.
As is, this is an incredibly affordable dish, so just think of the possibilities for saving money! You can further reduce the cost of the dish by shopping the sales, cooking dried beans, and making your own meat sauce.
Do you need special equipment for making quick minestrone?
Soup has been on the menu plan of good cheap eaters for centuries. While you really only need a sturdy pot, it is helpful to have this equipment: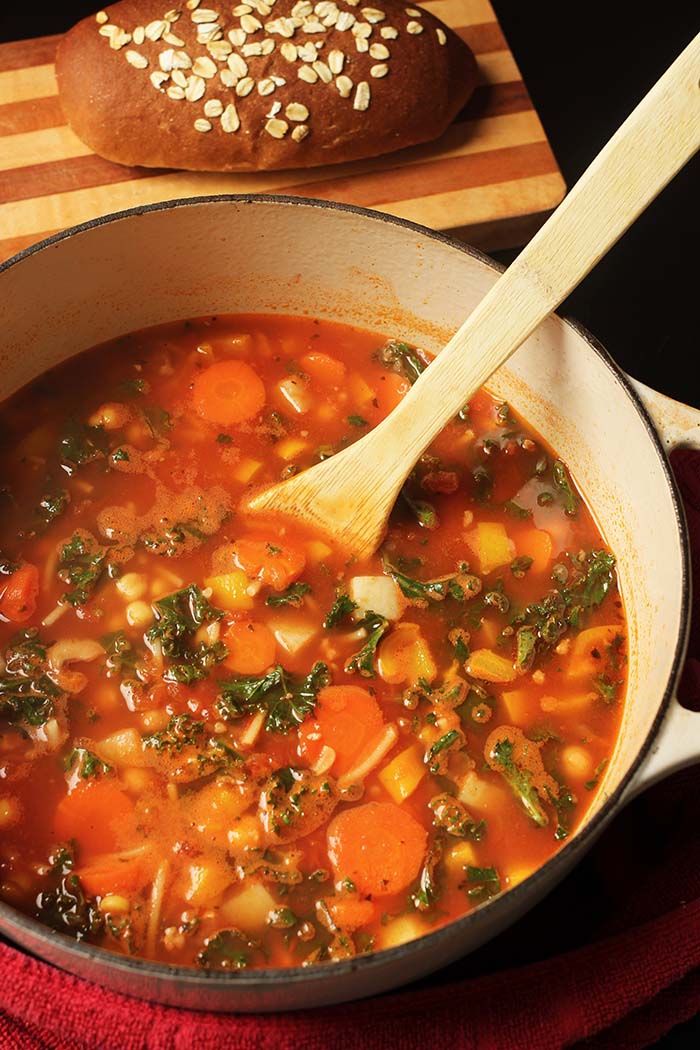 If you prepare this recipe, be sure to share a picture on social media and hashtag it
#GOODCHEAPEATS
. I can't wait to see what you cook up!
Quick Minestrone
Got leftovers from pasta night? No problem. In less than 30 minutes, you can transform them into this delicious Minute Minestrone.
Ingredients
6

cups

water

or broth

2

cups

bolognese

1

russet potatoes

peeled and chopped

1

carrots

peeled and sliced into rounds

1

bell pepper (any color)

(for ⅔ cup chopped)

1

can

garbanzo beans

drained

4

cups

spaghetti

cooked and chopped

3

cups

kale (chopped)

coarse salt

black pepper

paprika
Instructions
In a large stockpot combine the water and pasta sauce. Bring to a simmer.

Add the potato and carrot and simmer until the vegetables are tender, about 15 minutes.

Stir in the pepper and beans, and cook another 5 minutes.

Stir in the noodles and kale and cook another 5 minutes until the kale is wilted and the noodles are hot.

Adjust seasonings to taste, using salt, pepper, and paprika. Serve immediately.
Notes
Promptly store leftovers in an airtight container in the refrigerator, for up to 3 days.
Nutritional values are approximate and based on ⅛ the recipe.
If you don't have leftover cooked spaghetti, you can use another cooked noodle or add the pasta to the pot about ten minutes prior to serving. You can use small pasta, fideo, or broken spaghetti.
Nutrition
Calories:
459
kcal
|
Carbohydrates:
92
g
|
Protein:
17
g
|
Fat:
2
g
|
Saturated Fat:
1
g
|
Sodium:
31
mg
|
Potassium:
443
mg
|
Fiber:
4
g
|
Sugar:
4
g
|
Vitamin A:
4250
IU
|
Vitamin C:
50
mg
|
Calcium:
70
mg
|
Iron:
2
mg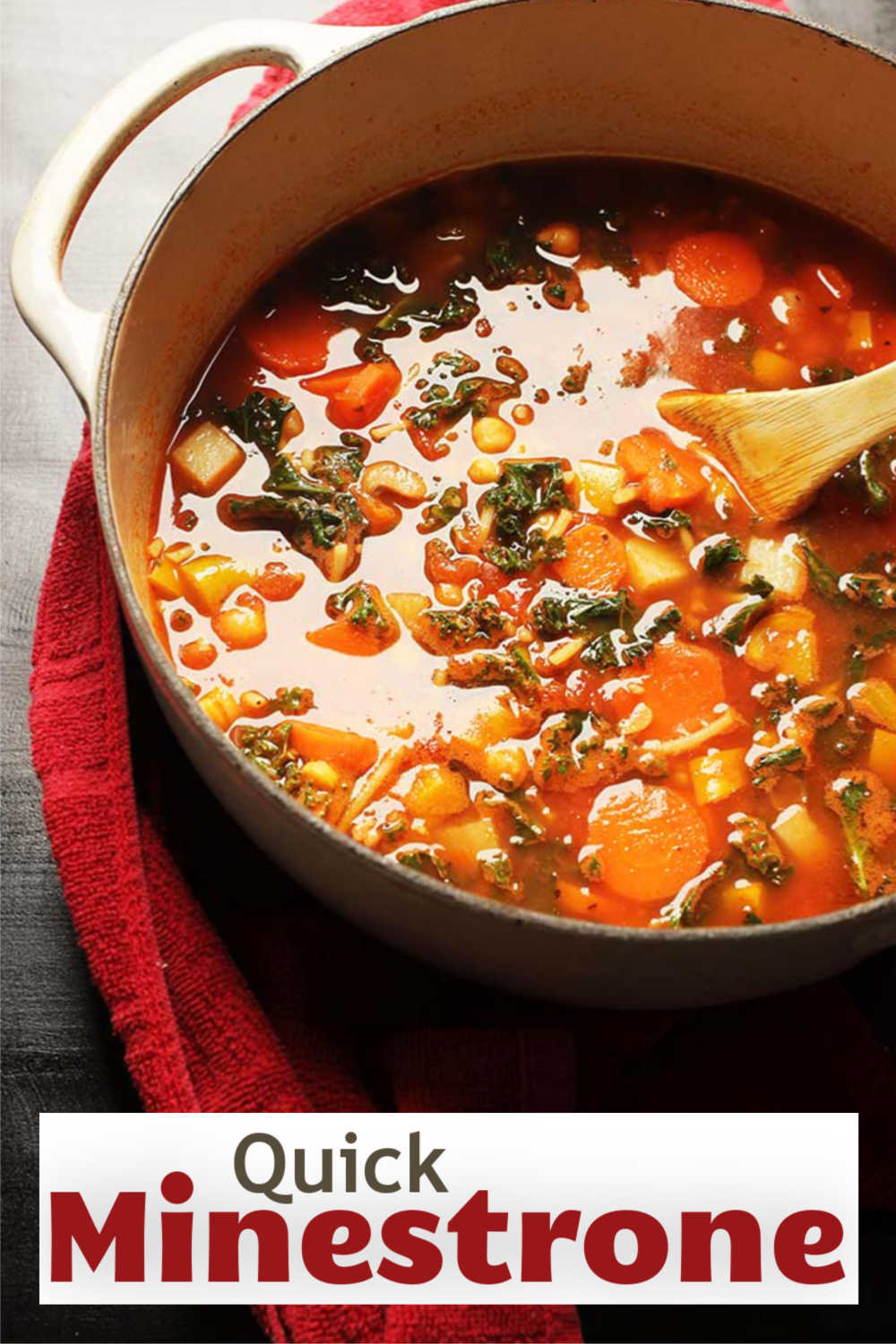 This post was originally published on January 3, 2013. It has been updated for content and clarity.