We're all looking for ways to trim the budget. Meal planning and working around sales are great ways to save money.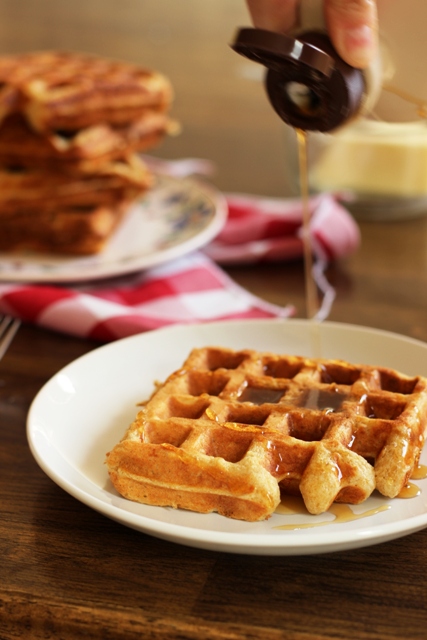 Food keeps us alive. Cheap meals keep us solvent. Good cheap eats keep us happy.
And really, that is the order of the day. We don't need great food to live, but it sure makes the journey a lot more enjoyable. Staying solvent? Well, that's pretty cool. I learned that the hard way.
When we first looked at our debt straight in the face — circa 2007 — it was pretty humbling.
In the months leading up to our wake-up call, I'd been buying whatever I wanted at the store. We lived in Kansas City, a climate really different than my native California. We were hosting regular church get-togethers at our home, prompting me to justify spending excess at the store. And I had gotten the idea that we should eat healthier, so I was paying whatever it cost to buy expensive, organic food items at a time when and a locale where it wasn't easily or cheaply procured.
I don't blame my circumstances for getting me in debt. I blame me. I had thrown caution to the wind in order to make myself feel more comfortable in a crazy season of life. When I woke up and saw what I had done, it was time to get to business.
We had a serious money meeting, agreed not to use our credit cards, and proceeded to cut every possible expense that we could. That first month, we ate up almost every last crumb in the house and spent just a few hundred dollars that month on groceries.
By necessity I reclaimed the things that I already knew about thrifty living and started to get serious. And that meant planning our meals very carefully. Every meal mattered.
I needed to stretch our dollars as far as humanly possible. And yet, I knew food was a comfort.
We were discouraged living so far from home. We were bereft at being such poor stewards of our money. What we wanted/needed was a nightly dose of comfort and here we were with a bare bones food budget. One of the things that helped us bridge that gap was learning — or relearning, as the case may be — how to shop the sales.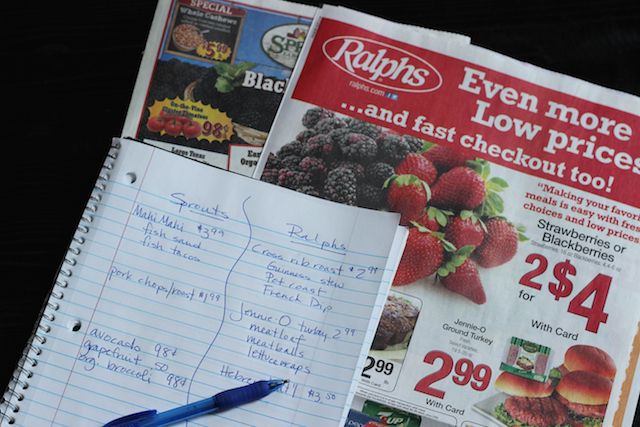 If you find yourself in a similar situation, or simply want to free up resources for other things, careful meal planning can help you. So can shopping the sales.
How to Shop the Sales to Save Money on Groceries
1. First, check what you already have.
Now, this may seem like a difficult step, particularly for those folks who love to plan new meals and hit the grocery store. Ahem. But, you need to see what you already have. All too often, we plan a meal, buy the stuff, and then something happens. Something comes up that prevents us from preparing that meal and the ingredients languish in the cupboards.
If you've got a lot of this going on, then it's probably time for a pantry challenge where you'll just eat what you've got and shop minimally.
Even if that's not your regular habit, my guess is that you can plan at least one, if not two or three meals based on what you already have on hand. Do this first.
Then, see what partial meals you can create from your food storage. What do you need to complete that meal? Add those items to your grocery list. Bonus points if they are typically cheap items or are currently on sale.
2. Scan the reliable sales ads.
Next, after you've already got several meals planned based on what you have, you can scan the sales flyers. The sales in my neighborhood start on Wednesdays and end the following Tuesday or Wednesday. Each week I receive about half a dozen grocery ads from various stores. I immediately chuck all but two of them. Yes, really.
I've decided that there are only two shops with weekly sales that I want to frequent: Ralphs (a Kroger affiliate) and Sprouts. Part of this is determined by their location and how well I know and like the stores, but the larger part of my reasoning is based on cost and advertising reliability.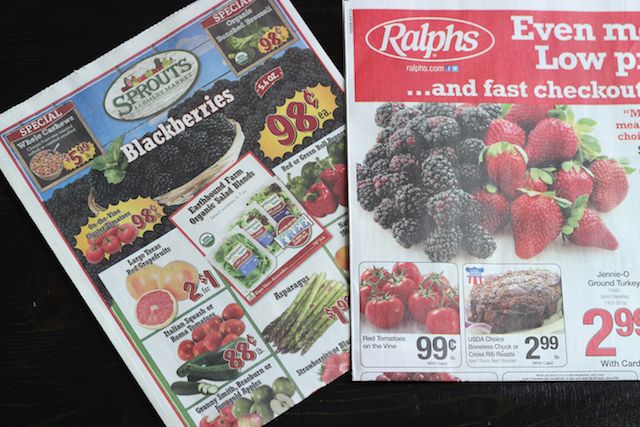 I can't tell you how many times I have gone into their competitors based on the sales flyers and found that the ad really didn't tell the whole story. Too many times there were limits or small details about the sale that were conveniently left out of the ad.
You might not know which of your sales ads are the reliable ones. Trial and error will teach you this. But keep in mind that just because you read it in print, doesn't make it so.
3. Scan the ads for sale proteins.
Now check out the ads for proteins that are on sale. The protein tends to be the more expensive item on the list. I tend to jot down on a sheet of paper the cuts of meat that are on sale at each store and then mark the prices.
Next I brainstorm what meals I can make with those. If you need help, go to the top of this page and hover over Main Dishes. A drop down menu will show you all the main dish proteins featured in recipes on this site. You can also do a simple google search.
4. Scan the ads for side dish ingredients that are on sale.
You should have a list of sale proteins now as well as recipe ideas to go with. You can narrow your choices by matching your main dishes with the side dish ingredients that are on sale.
Remember, want what is on sale; don't just buy what you want. The latter is what got me in big trouble so many years ago.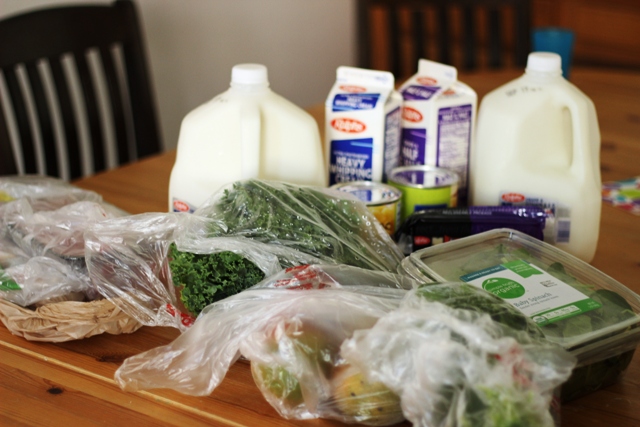 5. Lastly, build your pantry with sale-priced staples.
If you've got any grocery money left, stock up on the items that you know you will use in a short amount of time. It's foolish to pay $5/pound for chicken when it goes on sale for $2. If you've got room in the budget, buy a few extra packages to stash in the freezer for farther down the line.
You'll use this little stash to plan meals via step #1 above in the coming weeks and months.
Some caveats to consider:
These are some easy steps that you can take to spend less at the grocery store. Granted, there are things on "sale" that aren't really sale prices. It might be a great deal to get filet mignon for $7.99/pound, but you can get pork chops for a buck ninety-nine. Use discretion as well as restraint when you do your "sale shopping".
Also take note that meatless meals are a great way to save money. You don't need to buy a ton of proteins. You are getting plenty of nutrition if you're eating lots of leafy greens, fresh fruits and veggies, and whole grains. While you may need to supplement if you truly go meat-free, you can get by with eating less and saving more money in the process.
Lastly, it's not a sale if you don't have the money for it or won't use it. The same goes for the sweater at Ann Taylor as the roast beef at Ralphs. Don't spend money you don't have. Don't buy things you won't use.
Do YOU meal plan from the sales?
Did I forget anything? Chime in with your favorite tips for meal planning from the sales.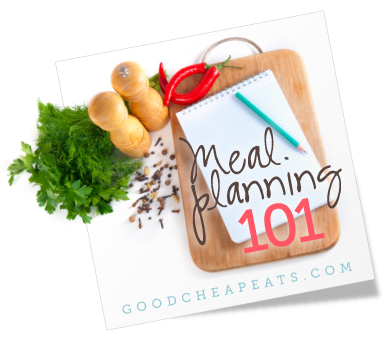 This is part of the Meal Planning 101 series.