A Pantry Challenge is an excellent time to accomplish a number of great things for your kitchen as well as your pocketbook.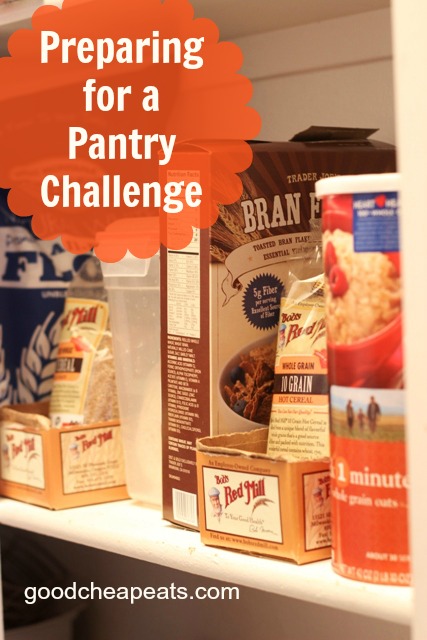 This is the month for the Pantry Challenge. Every January and July here at Good Cheap Eats, we take some time to focus on our food storage, use it up and set some better habits in order. I've found that this helps me to be a better steward of my resources and helps me be more mindful of how I shop and cook.
In using up what you already have, you clean out the cupboards, getting a chance to tidy and declutter while you're at it. Once those shelves start to empty, wipe them down and even do new shelf paper if that's your thing. By eliminating excess, you will free up space, both physical and mental, making cooking more fun.
It seems that I look forward to cooking more when there's white space in the fridge or freezer. When it's packed to the gills, I just feel overwhelmed.
By focusing on what you have you will save money in not buying more. You also avoid the grocery store which means you reduce your impulse purchases, again saving you money. You learn what not to buy when you force yourself to use the things that have been there for a very long time.
I bought several cases of canned pumpkin on clearance a few Christmases ago. They lasted for years. Years. They hit their expiration date this fall and I had not used them all up. Note to self: two or three cases of pumpkin is a little too much.
Here are some tips to help you make your pantry challenge a success:
1. Clean out the fridge, freezer, and pantry.
It may take some time, but you'll find that clean storage areas will make your cooking and your pantry challenge that much more enjoyable. If feasible, pull everything out, consolidate duplicates, and dump stuff that is no good.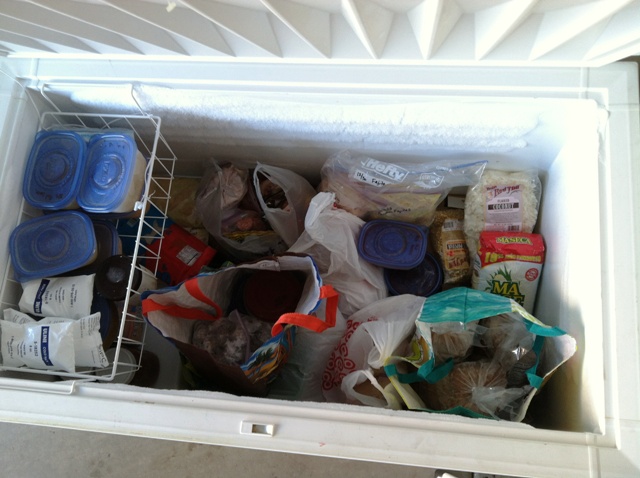 While I didn't love doing it, I threw away several old and unlabeled items from my freezer. Oops! It just wasn't worth it to me to figure out what they were and hope they weren't five years old. But, it's reminded me anew to keep a sharpie at hand in the kitchen so that I can label things more accurately.
I found several small bags of homemade spice mixes, most of them different. I collected them all in a plastic food box so that I'll know where they all are. Now, I have a system for where to store them, I can (hopefully) eliminate some of the hodge-podge going forward.
Generally, I reorganized the fridge-freezer according to shelf: opened vegetable bags and spice mixes, ice cream/frozen treats, breads and baked goods, breakfast items, and our smoothie drawer.
In the deep freeze, I sorted out the different proteins: chicken, pork, beef, and ground meat are all divided in different grocery bags, per a reader's suggestion. Frozen vegetables and fruit in other bags or boxes. All the frozen broth is in one basket, and all the freezer meals are in another area. I know what we have AND I know where to find it now. Yay!
I followed the same general methods with the fridge and pantry, consolidating like items and moving the opened stuff toward the front so that we can use it up sooner.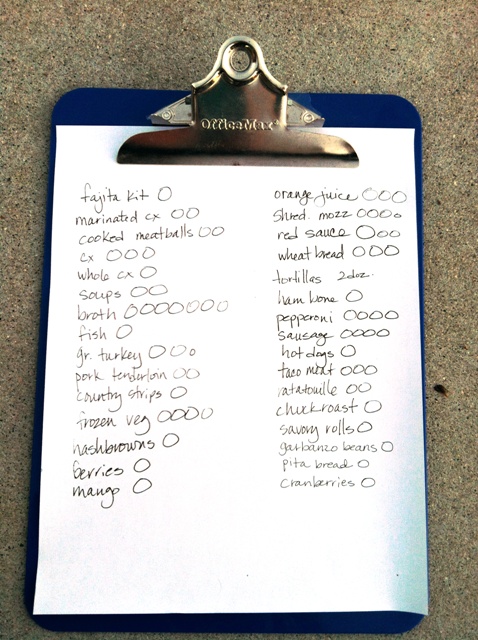 2. Take inventory.
Once you've cleaned and organized and discarded the icky stuff, take stock of what you have. It's really important to know what you have so that you can plan great meals from it. This post from the Meal Planning 101 series, Take Inventory explains how to create an inventory of what you have and includes a free inventory printable.
Obviously, I'm not organized enough to print the inventory sheet. You can use a plain piece of paper, too. 😉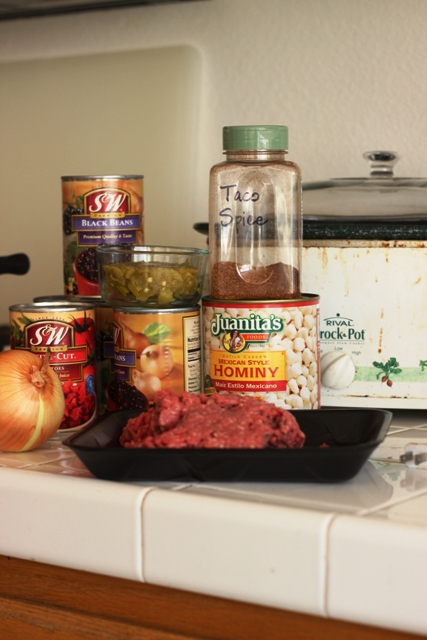 3. Plan meals.
If you've cleaned up and organized your food storage and taken inventory of what you have, you should be able to make a meal plan. I sat down with my inventory list and just started brainstorming meal ideas of things I could make with what I had on hand.
If you can plan easy meals, like recipes that use the slow cooker, then you'll spend less time in the kitchen. Well, less time than you would if you were making time-intensive meals. For a Pantry Challenge to be really successful, there's a lot of cooking and eating at home. The easier you can make it on yourself, the better.
Looking for ideas in using up certain proteins or bulk ingredients? Scroll through the Good Cheap Eats recipe database here: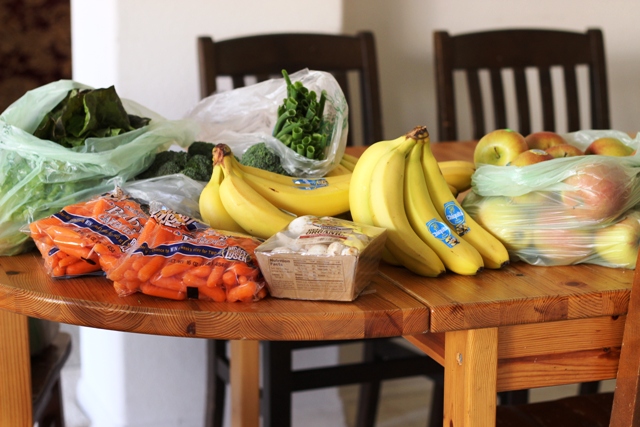 4. Fill in the gaps.
You have a clean storage space, an inventory of what you have, and a list of meal plans. Now, it's just a matter of filling in the gaps. Most of us have enough to make all of some meals, but not all of all meals. I needed a few odds and ends to make the meal complete. In some cases, we could do without. In other cases, it's nice to have a certain ingredient to make the meal complete.
When push comes to shove, it's remarkable what we really can do without. And in very dire circumstances, you will amaze yourself. If we really didn't have the money, I would just make do. In this season, I'm good with filling in the gaps with a few things, namely, fresh produce, milk, and cheese.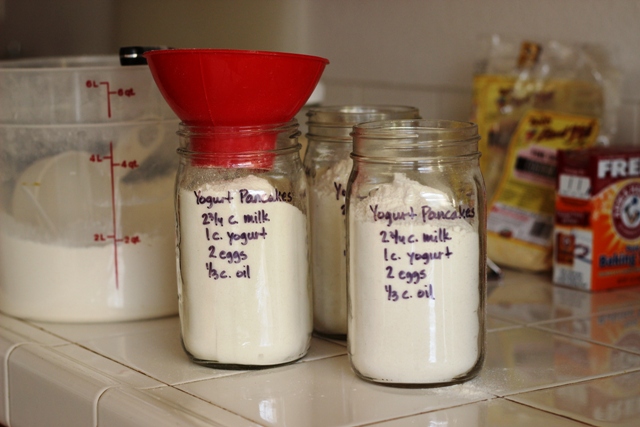 5. Start prepping make-ahead items.
While advance prep is not absolutely necessary to a pantry challenge, I've found that baking a bunch of snacks and treats ahead of time really makes this experience successful. If my kids have freshly baked bread or cookies, they have no idea that there's no cheese in the casserole or no sour cream for their quesadillas.
Preparing a few make-ahead items also makes it easier on me because it reduces my temptation to run to the store or through the take-out lane. It makes the challenge more fun and definitely more delicious.
Are you ready for a Pantry Challenge?
If you're the type of person who stocks up on bargains and doesn't like to let the cupboards go bare, a Pantry Challenge might be in order. It's a little outside the comfort zone, I admit, to let white space creep into your food storage, but it's a good thing to help you pare down, save a little coin, and consider how to make the most of what you have. Those who keep stocking up without using up run the risk of their food storage going bad. That defeats the purpose of bargain hunting.
If you have all that you need and money to spare, why should you make things hard on yourself? Having lived a season of fighting debt and a very, very small grocery budget, I know that keeping my skills sharp during my twice-yearly Pantry Challenge is good insurance toward the possibility of future tough times. I don't anticipate their coming, but I like to prepared just in case.
If you find yourself on tough times, here's hoping that the Pantry Challenge will help you know you're not alone. It's my hope that you'll find recipes, tips, and resources here on Good Cheap Eats to help you weather a tough season. And I'm sure you can help us learn to be better stewards of our resources as well.
How do YOU prepare for a Pantry Challenge?