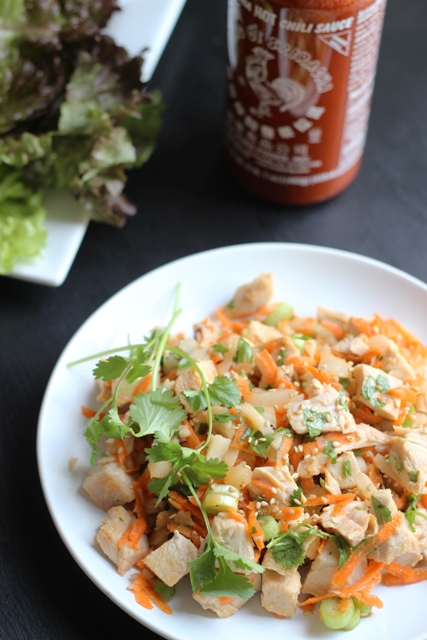 One of my favorite sandwich fillings is Chicken Salad. I have a few different favorites, like this one with cubed cheddar or this chicken salad with with apples and almonds or this chicken salad with apples, grapes and dried cranberries. When I was thinking about the flavors of a new salad to make, I decided to go Asian.
This salad, which you can make with turkey or chicken, is full of sesame, ginger, and soy. It's delicious served in lettuce or cabbage leaves for a low-carb option. My kids liked it wrapped up in tortillas. You could also serve it on a salad or in a roll. I'm thinking a Hawaiian sweet roll would be a nice choice.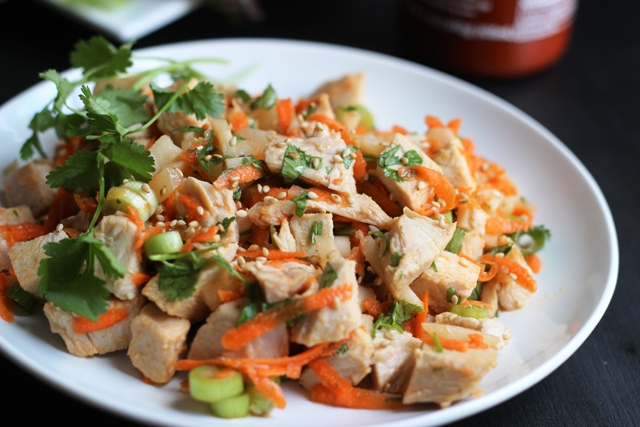 Recipe: Ginger-Sesame Turkey Salad
if making for whole 30: substitute coconut aminos for the soy sauce; use light olive oil for the dressing. Obviously, use lettuce wraps, not tortillas.
Ingredients
4 cups cooked, cubed turkey or chicken
8 ounce can water chestnuts, drained and chopped
1 medium carrot, shredded (about 1 cup)
1/2 cup sliced scallions (aka green onions)
1/3 cup chopped cilantro leaves
1/4 cup rice vinegar
2 tablespoons soy sauce
1 tablespoon sesame oil
1 tablespoon grated ginger
1/8 teaspoon red pepper flakes
1/3 cup sunflower oil
toasted white sesame seeds for garnish
lettuce leaves or tortillas for wrapping
sriracha for topping, optional
Instructions
In a large mixing bowl combine the turkey, water chestnuts, carrot, scallions, and cilantro.
In a small jar with a lid, combine the vinegar, soy sauce, sesame oil, ginger, red pepper flakes, and sunflower oil. Cap the jar and shake to combine.
Toss the turkey mixture with enough dressing to coat.
Sprinkle sesame seeds for garnish.
Serve the salad with lettuce leaves or tortillas for wrapping with sriracha on the side.
Preparation time: 10 minute(s)
Number of servings (yield): 8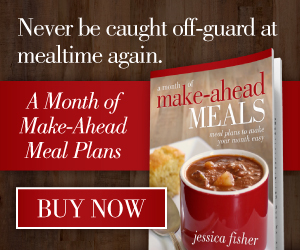 Make-ahead meals can make your month!
Grab this month's meal plans
to take it easy and enjoy great home-cooked meals.