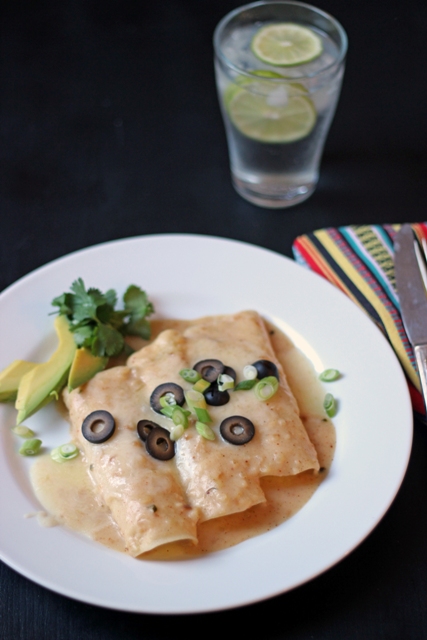 We love enchiladas around here. For years I've been making four main kinds: Poblano Chile Enchiladas, Crockpot Enchiladas, Cheese Enchiladas, and Beef Enchiladas. I'm a little particular about my tortillas. In my book, enchiladas are meant to be made from corn tortillas. I'm not a fan of flour tortillas getting all gummy in the sauce.
So there you have it.
A couple of years ago during a pantry challenge, I had a craving for enchiladas. We had cheese, corn tortillas, and chicken, but no sauce. I decided to make my own creamy sauce, adding a different type of enchilada to our repertoire.
I've since tested it a number of ways, varying the chile that goes in the sauce and the cheese that is used. I prefer finely chopped jalapenos or canned green chiles to roasted poblanos. The poblanos didn't enhance the sauce. Pepper jack is perfect for offsetting the creaminess of the sauce. You can use regular monterey jack, but it doesn't give quite the oomph.
If you're not a fan of spicy, you can disregard all those comments. Ha! Feel free to experiment, using what you have. This recipe was, after all, born from a pantry challenge.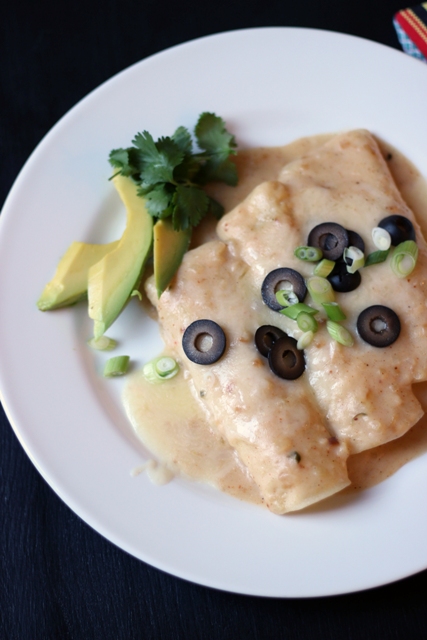 These enchiladas are a great way to use up leftover turkey from a holiday meal, but you can use cooked chicken or pork as well. You could even fill the enchiladas with rice and beans or just cheese. Whatever you like will work.
Recipe: Creamy Turkey Enchiladas
Ingredients
1/4 cup butter
1/2 cup finely chopped onion
1 clove garlic, chopped
1/4 cup flour
1 cup milk
1 cup chicken stock
1 jalapeno, finely chopped or 7 ounce can chopped green chiles
1/2 teaspoon cumin
1/2 teaspoon chili powder
kosher salt and freshly ground black pepper to taste
12 corn tortillas
2 cups pepper jack cheese
2 cups cooked and chopped turkey or chicken
Instructions
Preheat the oven to 350&deg. Grease a 9×13-inch pan with non-stick cooking spray.
In a medium saucepan, melt the butter. Add the onion and garlic and cook, stirring for 5 minutes over medium high heat.
Stir in the flour and cook for 1 minute.
Slowly whisk in the milk and chicken stock. Simmer until thick, stirring occasionally, about 10 minutes. Stir in jalapeno or chiles, cumin, chili powder, salt, and pepper.
Lay out the tortillas on a work surface. Divide the turkey and 1 1/2 cups of cheese among the tortillas. Roll them up and place seam-side down in the prepared baking dish.
Pour the sauce over the top. Sprinkle with remaining 1/2 cup cheese.
Bake for 15 to 20 minutes until the filling is hot and sauce and cheese are bubbly.
Preparation time: 20 minute(s)
Cooking time: 15 minute(s)
Number of servings (yield): 4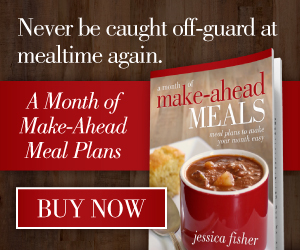 Make-ahead meals can make your month!
Grab this month's meal plans
to take it easy and enjoy great home-cooked meals.