Want to enjoy smoothies more easily and with less mess? Build a smoothie station to streamline your process and to help you enjoy more smoothies more often.
Don't you just love a good smoothie? Cool and creamy, sweet and tart, packed with all kinds of good things. Spinach? check. Kale? why not? Chia seeds? sure.
Smoothies, particularly those with a stealthy dose of greens and nutritional supplements, can serve as a great breakfast, lunch, snack, or even dessert. And yes, I know plenty a mom who's served her family smoothies and popcorn on a Sunday night when she's just done with cooking.
However, the downsides of smoothie making is
They're expensive to buy at the fancy pants shop.
There's a fair amount of stuff to haul out when making them at home.
Either option can seem a little too much sometimes. That's when it's too your advantage to build a smoothie station.
What is a Smoothie Station?
A Smoothie Station is a centralized location in your freezer to store the ingredients for making smoothies. Pretty simple, right?
Why build a Smoothie Station?
If you make something easy to do, you'll do it more often — and likely better. By building a Smoothie Station you make it easier to make smoothies. You also make it easier for others in the household to make their own smoothies.
"I love hearing, 'Where's the XYZ?'," said no one. Ever.
Make it easy on yourself as well as those you live with. Create a dedicated drawer or shelf in your freezer to hold smoothie supplies.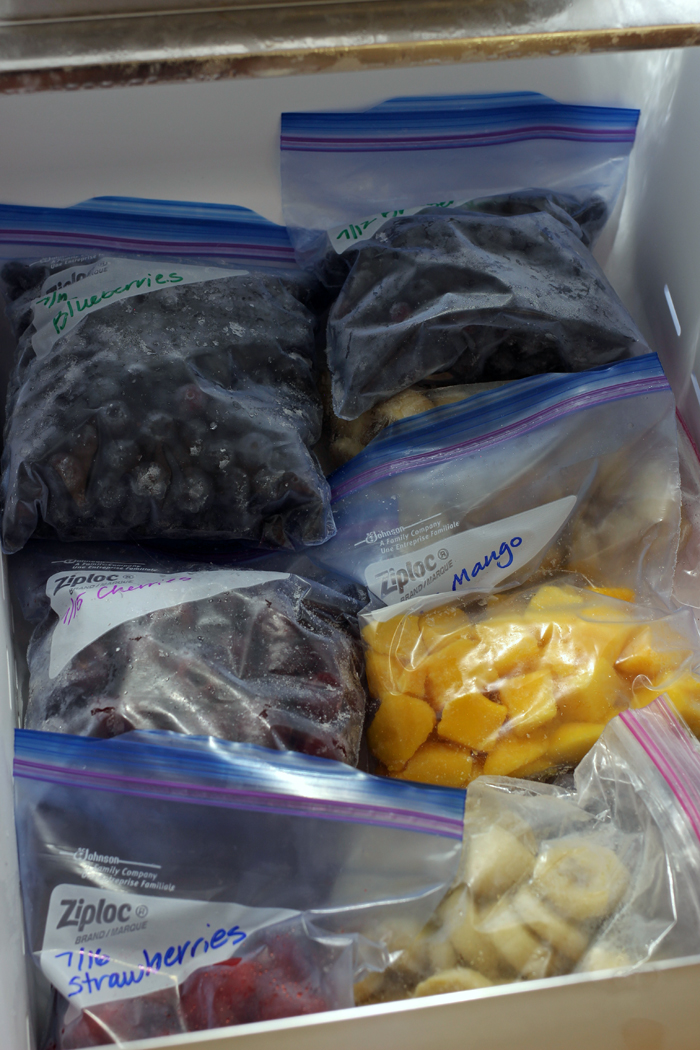 What should you put in your smoothie station?
You can fill your Smoothie Station with anything that you like to include in smoothies:
frozen stone fruit, like cherries, peaches, or plums
sorbet, gelato, frozen yogurt, or ice milk
frozen spinach or kale
lonely popsicles that need to get used up
ice cubes
freezer smoothies all ready to go
pre-measured packets of fruit and greens for easy dump-and-go blending
I typically chop and "flash freeze", though really, it's called open freeze, any fruit that we have that is getting very ripe or those that I find a great deal on. I also freeze little lumps of plain Greek yogurt when I find a great sale. Yogurt acts as a great thickener, especially when frozen.
How to make frozen yogurt lumps:

You can make your own frozen yogurt lumps in ice cube trays, but it's easier and less messy just to dollop your yogurt onto a piece of plastic wrap on a tray. Slide it into the freezer. Once the yogurt is frozen, it pops right off the plastic wrap and you can store all your little yogurt lumps in a freezer bag in the freezer.

This is a great use for yogurt you find on sale, but also a nice way to use up yogurt that might be too close to the "best by" date.
It's often a good idea to keep your dry ingredients together in the same cupboard, so think about a nice place to stash these smoothie add-ins:
rolled oats
nut or seed butter
honey or agave nectar
coconut oil and coconut milk
Making smoothies at home is a great way to save money as well as enjoy smoothies that are truly custom-made, right down to how the berries were sourced. Make it easier on yourself by building a smoothie station at home.