A meal planning series about the basics, the secret tricks, and ideas to tweak meal planning to suit you and the way you live.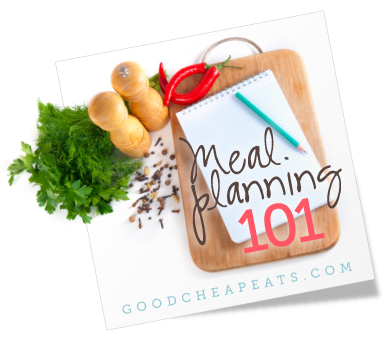 Last month, I received two emails in the span of five minutes that were on the same topic: Meal Planning.
Both readers were writing asking for help in how to improve their meal planning. Both were very eager to learn. And both desperately needed and wanted help, meal planning ideas, and other instruction.
I turned to readers on Facebook and they concurred. Meal planning is something we all need. Ya gotta eat! And yet, it's an area that we can all struggle in from time to time. And there are folks who really don't know where to start.
Enter: Meal Planning 101
I dunno, the teacher in me just woke up. So, we'll be holding a little seminar on meal planning here on Good Cheap Eats in the coming weeks. We'll talk about the basics, the secret tricks, and ways to tweak meal planning to suit you and your current situation. Diets, habits, and tastes change over time and there's always something new to learn.
Let me know in the comments section all your peeves, questions, and concerns about meal planning. I'm taking careful notes. And we'll address them all in the coming weeks.
I'll also be updating this post with the series posts as they happen. Consider this the mother ship for meal planning.
What are your feelings about meal planning?