Here are 6 ideas to get you cooking when there's "nothing" to eat. They call for simple pantry ingredients that are easy on the budget.
Last year, I shared my list of stand-by meals to turn to when Plan A fails. Oh, Plan A fails a lot around here. I get distracted. I forget to thaw. Time gets away from me.
I called it my 12 Easy Meals to Make When There's "Nothing" to Eat. The list has served me well. I'm back today with 6 more easy meals to make when you think you should go get take-out. No, no, no!
Chances are if there's food in your house, you can probably pull together something. If you truly don't have much on hand, these 1-meal grocery lists can guide you to pick up a few things at the store to make a great dinner for much cheaper than take-out.
Here are 6 ideas to get you cooking. They call for simple pantry ingredients, nothing too exotic for your average 21st century household:
Burritos/Chimichangas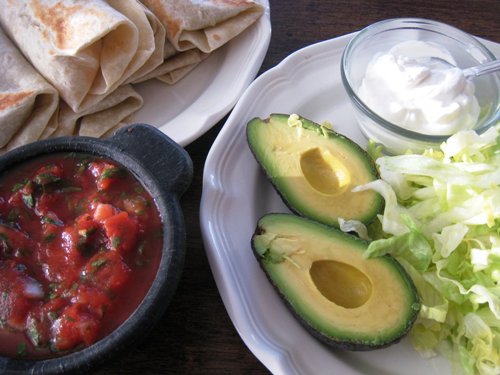 I try to keep a package of tortillas in the freezer at all times. I buy them in 2-dozen packs at Costco for super cheap (around $3 for the 24 burrito-size tortillas). We can make quesadillas, tortilla pizzas, or burritos and chimichangas.
I read a book last year that said burritos were too expensive and complicated to make on your own. Say what? I don't get that. Burritos are easy peasy. Shred some cheese, open a can of beans (bonus points if you've got some homecooked beans frozen in the freezer), add shredded lettuce, chopped tomatoes, sour cream, and salsa, and you're good to go.
(Confession: I have a box of Taco Bell taco sauce packets in the pantry that we rely on in times such as this. Someday the supply will dwindle, but for now, if I'm too lazy to make salsa, it works in a pinch.)
If you want to get fancy, heat your burritos on a hot griddle to make them all toasty, low-fat chimichangas.
Ingredients to keep on hand: flour tortillas, beans, shredded cheese, optional extras like shredded lettuce, chopped tomatoes, salsa, and sour cream.
My cookbook Good Cheap Eats is filled with recipes that can be made with regular pantry staples. It will more than pay for itself in giving you direction to making dinner homemade — and affordable.
Your purchase helps support this site. Thanks so much!
Bread and Cheese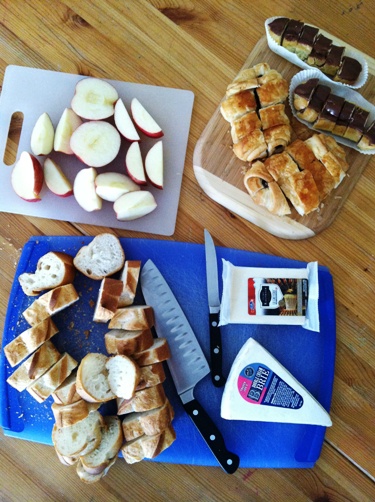 Easy and Elegant Cheese and Bread Tray
Last weekend after a day of working on projects, I noticed the clock was ticking rapidly toward dinnertime. It was just a matter of seconds before someone started badgering me about a dinner plan. I pulled out salami, cheese, and bread, as well as some grapes and pears. Voila! Dinner is served.
Our family is happy to subsist on bread and cheese. At least I think we are. That meal prompted me to ask: Can you guys eat this meal every day during our vacation in France? We shall see.
You can store French bread and baguettes, wrapped well in foil, in the freezer, so that you can bust out the cheese course anytime. Packaged cheeses should store well in the deli locker of your fridge. Serve with seasonal fruit.
Ingredients to keep on hand: baguette, assorted cheeses and charcuterie, seasonal fruit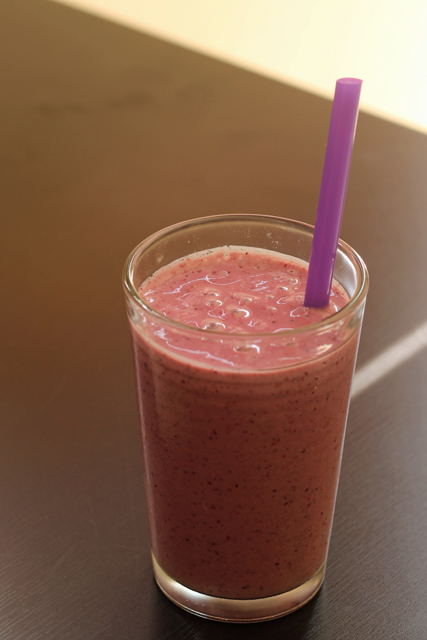 Smoothies
Some people don't count smoothies as a dinner. That's fine. Let's call it fuel, if you'd rather. Packed with yogurt, fruit, milk, and maybe even greens, smoothies can hold all the nutrients you need. Add popcorn for a side dish if you really want something to munch on with your drink.
Did I just say smoothies and popcorn were dinner?!
Why yes, yes, I did. Add a straw. Dinner is served.
Set up a DIY Smoothie Bar so your people can create their own concoctions. Or try one of these:
Ingredients to keep on hand: yogurt, milk, juice, frozen fruit, baby greens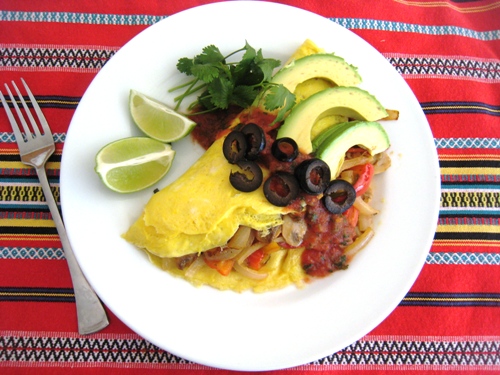 Omelets
It's amazing what an omelet can be… cheap, easy, filling, and a great vehicle for extra flavors. Two eggs and a little water and oil will get you an egg disk that you can fill with whatever tidbits you have in the fridge: shredded cheese, cooked meats, and leftover vegetables. Lay out an array of fillings and let your diners create their own flavor combinations.
Ingredients to keep on hand: eggs, butter or oil, fillings like shredded cheese, meats, vegetables.
Sloppy Joe's
Flour, water, and a few other things combine to make the best hamburger buns you ever ate. Use storebought hamburger or hot dog buns, too. Fill them with cooked ground beef, a can of tomato sauce, and a few tablespoons of Jamie's Spice Mix. Add a little brown sugar if you like your Joe's on the sweeter side. Top with shredded cheese and pickles for extra flavor.
Ingredients to keep on hand: ground meat, hamburger buns (or ingredients to make your own), spices, tomato sauce, optional extras like pickles and cheese.
Mac and Cheese
Who needs a box when you can make a better mac and cheese with just a few household staples. Melt butter, add flour and create a roux. Whisk in milk for a thick white sauce, stir in cheese. Add cooked and drained pasta and your mac and cheese is ready to go. Cheap, delicious, and pretty much as easy as opening a box. Without all the Yellow #5, too.
This Stovetop Mac and Cheese is pretty fab.
Ingredients to keep on hand: tube pasta, flour, butter, milk, cheese
What's one of YOUR go-to meals?