Chimichangas are crispy burritos that are easy to make at home! While frying is traditional, you can also crisp them on the griddle or bake them in the oven. This easy recipe for Beef Chimichangas can be made in bulk so you can freeze extra for later.
Serve them crispy and topped with Red Enchilada Sauce and cheese, alongside Mexican Rice for a deluxe dinner that could rival your favorite restaurant. This is one of the best 5-ingredient ground beef recipes.
Jump to:
Have you ever had a chimichanga? Basically it's a crispy burrito, usually deep fried. It's considered Tex-Mex, Southwestern fare, but it may just be Cal-Mex as well since growing up my husband and I both saw them frequently at our local taquerias.
Chimichangas are one of my husband's all-time favorite Mexican food meals. When we were dating and would go out for Mexican food, he would inevitably order whatever Chimichanga was on the menu. In fact for years, in Bryan's eyes, the measure of a Mexican food restaurant was the quality of its chimichanga.
Learning to make them at home was a game-changer, not just for our wallets, but also for our bellies. Fried is pretty amazing, and of course, authentic, but we've come to prefer baked or toasted chimichangas as an easier and little bit healthier alternative.
Why Make This
They're delicious. There are few meals as satisfying as a beefy burrito with a crispy outside, topped with sauce and cheese, and loaded with your favorite toppings.
There's easy to make en masse. It's so simple to make dozens (yes, dozens) or burritos or chimichangas at once that they make perfect party food as well as an easy Lunchtime Meal Prep.
Ingredients
Here's what you need for this simple beef chimichanga recipe: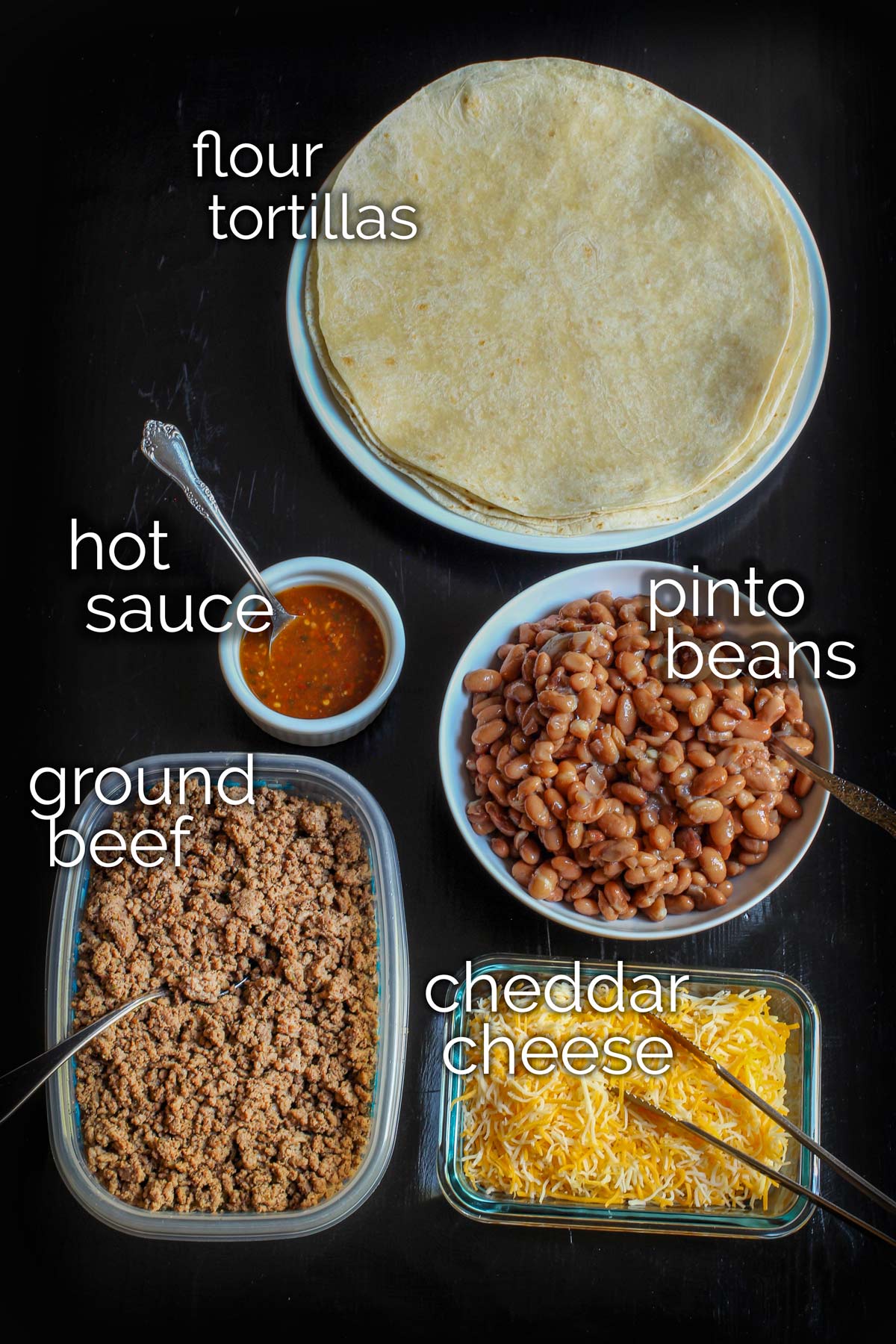 tortillas – Choose burrito-size tortillas for best rolling. You can use whole grain as well as regular white flour tortillas.
seasoned ground beef (ground beef plus taco seasoning) – You can also use a plant-based grind or ground turkey, chicken, or pork.
pinto beans – Use canned or cook your own pintos. You can also swap in refried beans or cooked black beans.
shredded cheese – Use shredded cheddar, jack, pepper jack, or a mixture.
hot sauce – This can be optional. Use your favorite hot sauce or enchilada sauce.
Variations
While this recipe calls for seasoned ground beef and beans, there are kinds of other taco fillings you can use for chimichangas. Consider these :
Toppings
Typically, beef chimichangas are served crispy and then topped with both hot and cold toppings. Consider these options for serving:
enchilada sauce (red or green)
shredded cheese
shredded lettuce
chopped tomato
sour cream
Step-by-Step Instructions
Beef chimichangas are so easy to make. If you know how to make a burrito, you can make a chimichanga.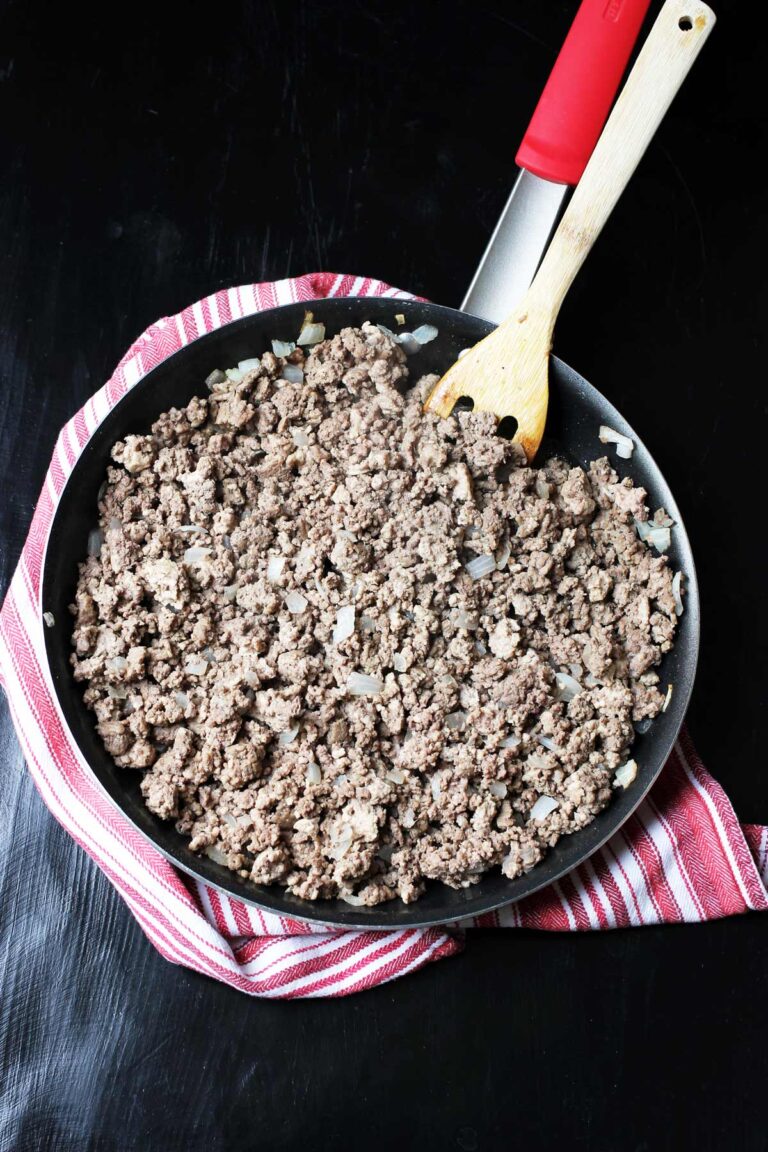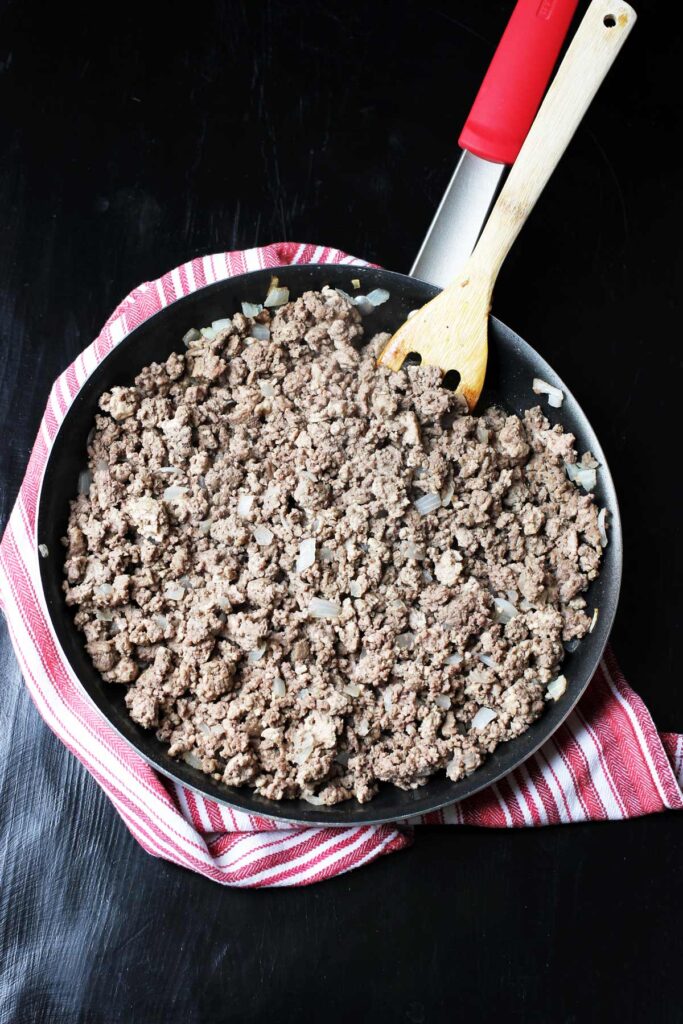 Cook the ground beef in a hot skillet over medium heat. Season with the taco seasoning.
Assemble the fillings. Layer the beans, meat, cheese, and hot sauce across the center of the tortilla.
Roll over one side of the tortilla over the filling, tucking the edge under if you can. Fold in the sides at the ends of the filling, and then roll it up.
Cook the chimichanga on a hot dry skillet until the filling is hot and the exterior is browned and crispy.
Not sure how? Watch my burrito-folding video.
Freezing Instructions
I make a lot at one time, sometimes several dozen at once. I can freeze some for later as well as cook some right away.
To freeze, I just fill a ziptop freezer bag with rolled burritos/chimichangas and label the bag. I use cold ingredients when I know I'm going to freeze them so I can place the bag into the freezer right away and not risk the tortilla turning soggy.
Be sure to label the bag so you know when you made them and what's inside.
Crisping Instructions
As I mentioned before, chimichangas are traditionally fried. It's not the easiest method, but it's classic.
How to fry chimichangas:
Make sure that your fillings are not cold. If you're using frozen burritos, you'll want to make sure they thaw completely prior to frying. The outsides will burn before the inside is warmed through. In fact, you may want to heat the chimichanga slightly in the microwave prior to frying to make sure everything is hot through.
Fill an electric fryer or heavy pot on the stove with several inches frying oil. Be sure to read the manufacturer's directions for deep frying. Can't find them? Read these deep frying tips.
Turn on the heat until very hot, about 375 to 400 degrees.
Submerge the burrito in the hot fat, and cook, turning once until golden brown, about 3 to 5 minutes.
Drain on paper toweling and serve with toppings.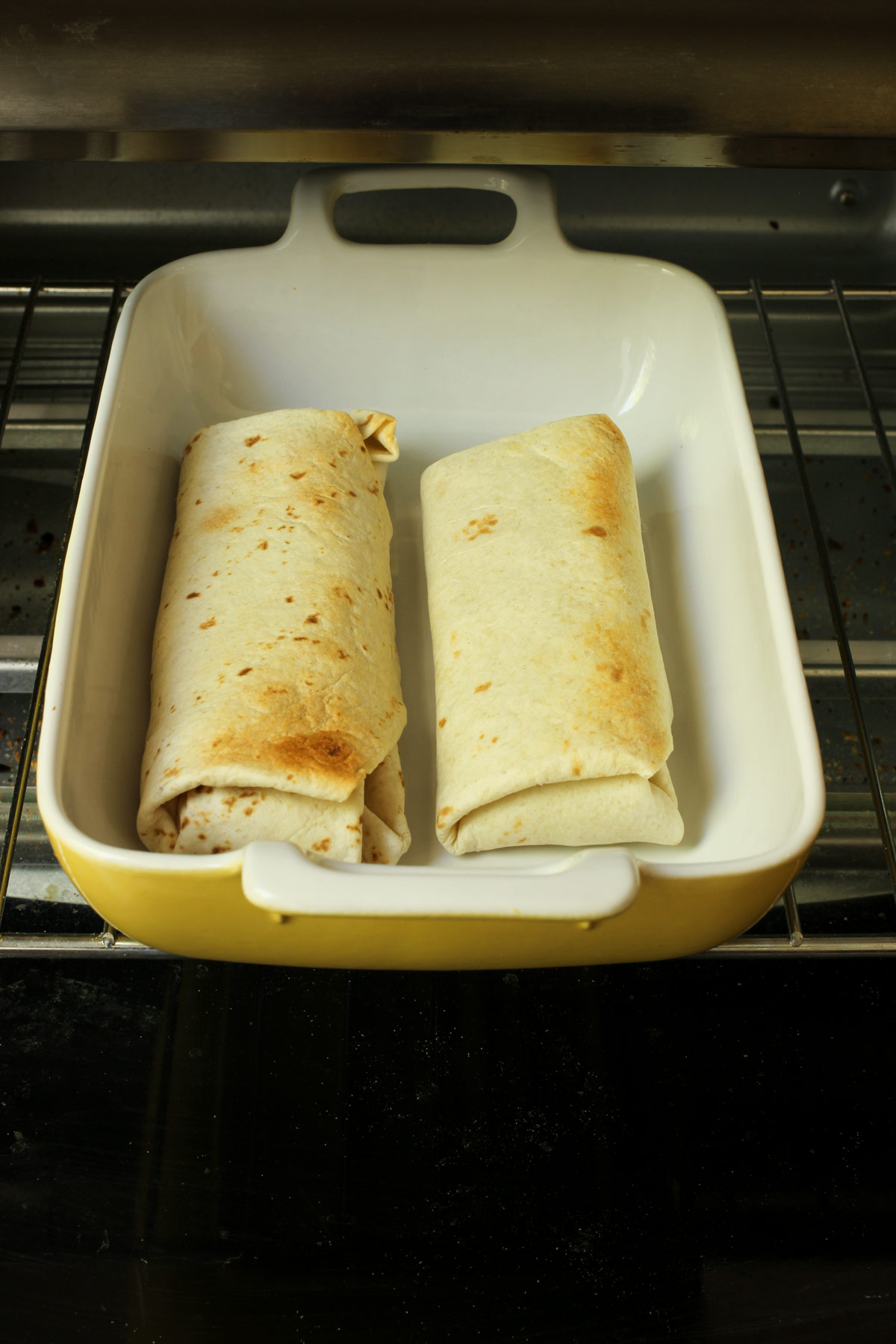 How to bake chimichangas:
For most of us, deep frying is not an option, either for time, logistics, or health reasons. I much prefer to bake or toast my chimichangas.
Frying limits you to cooking one or two chimichangas at a time. Not fun. Using the griddle or the oven is a great way to make many at one time. They're not as deliciously fatty as a truly fried chimichanga, but they are still incredibly good.
Preheat the oven to 350 degrees.
Place the chimichangas (thawed, if using frozen) on a baking sheet.
Bake for 25 minutes or until golden brown.
Serve with toppings.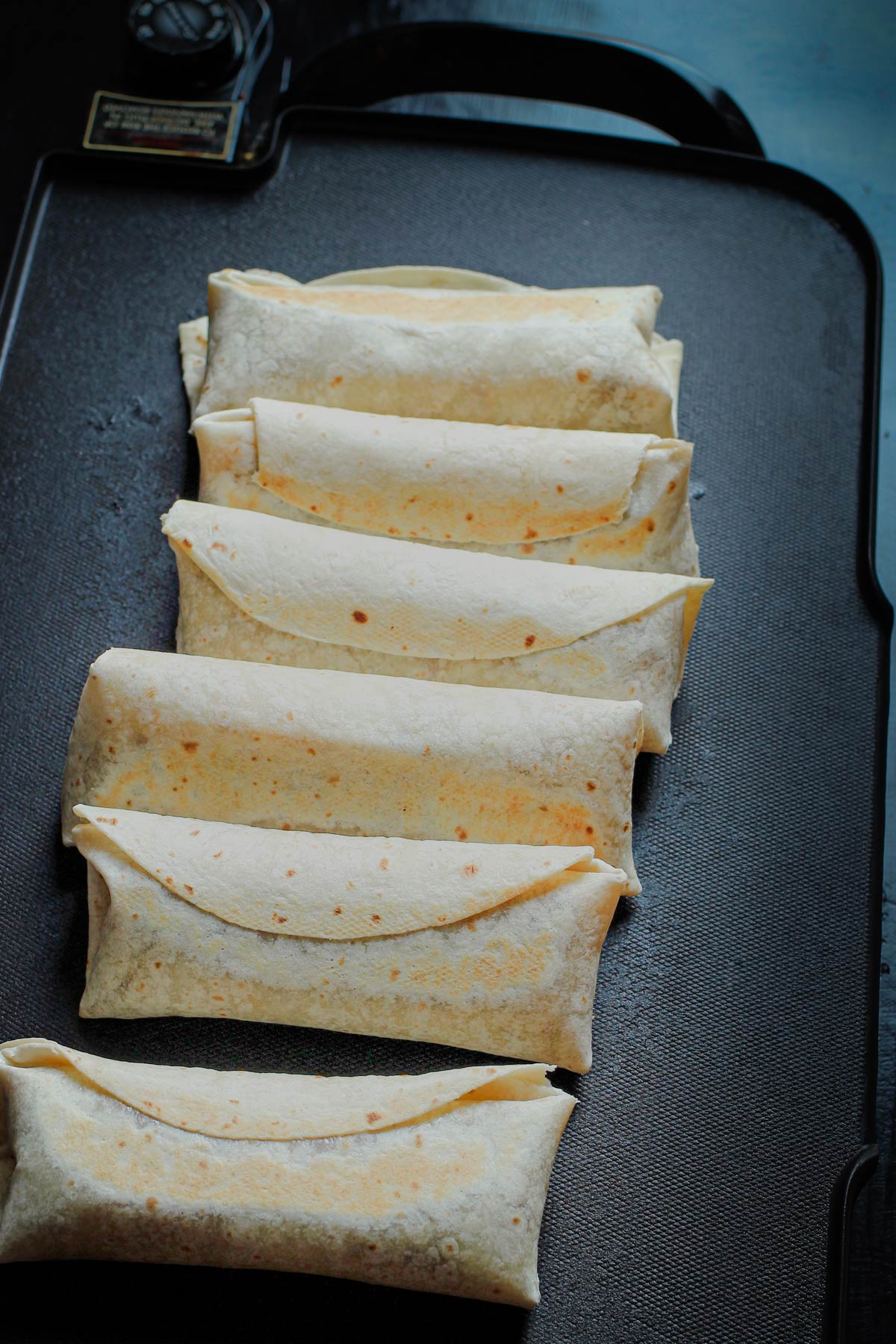 How to crisp chimichangas on an electric griddle:
Using an electric griddle allows you to crisp many chimichangas at once, perfect for large groups or parties. You can also crisp the beef chimichangas on a dry skillet.
Heat an electric griddle to 350 degrees.
Place the chimichangas (thawed, if using frozen) on the griddle.
Cook for 10 to 15 minutes, turning every minute or two so that all sides brown evenly and the filling is hot.
Serve with toppings.
Recipe Costs
Knowing how much it costs you to prepare a recipe can help you decide if it's the type of recipe to make regularly or one you might want to save for special occasions. Let's crunch some numbers and see how this recipe pencils out.
ground beef $2.99
taco seasoning mix $0.45
pinto beans $0.88
shredded cheese $1.50
tortillas $1.50
It costs roughly $7.32 to make a dozen chimichangas, not counting the optional toppings. This works out to 61 cents each! A lot cheaper than the local taco shop. As affordable as it is to make your own beef chimichangas, you could easily splurge on some fun toppings or you can serve them plain which is almost as good.
FAQs
What is the difference between a burrito and a chimichanga?
The burrito and the chimichanga are pretty similar, the main difference being that the chimichanga is deep-fried. Secondly, a burrito contains ingredients that are meant to be cold, such as lettuce or sour cream, while a chimichanga, or "chimi" as we call them at our house, has only hot fillings. To compensate, chimichangas are often topped with enchilada sauce, salsa, lettuce, cheese, and sour cream.
Can you freeze chimichangas?
You can freeze chimichangas before you crisp them. For best results, allow the tortillas to come to room temperature so that they roll well without cracking. Chill the fillings so that the tortilla won't get soggy. Wrap well and store in an airtight container in the freezer.
What do you top chimichangas with?
Top chimichangas with your favorite cold "fillings", such as lettuce, tomato, avocado, salsa, and sour cream. You can also pour warmed enchilada sauce over first. Yummy!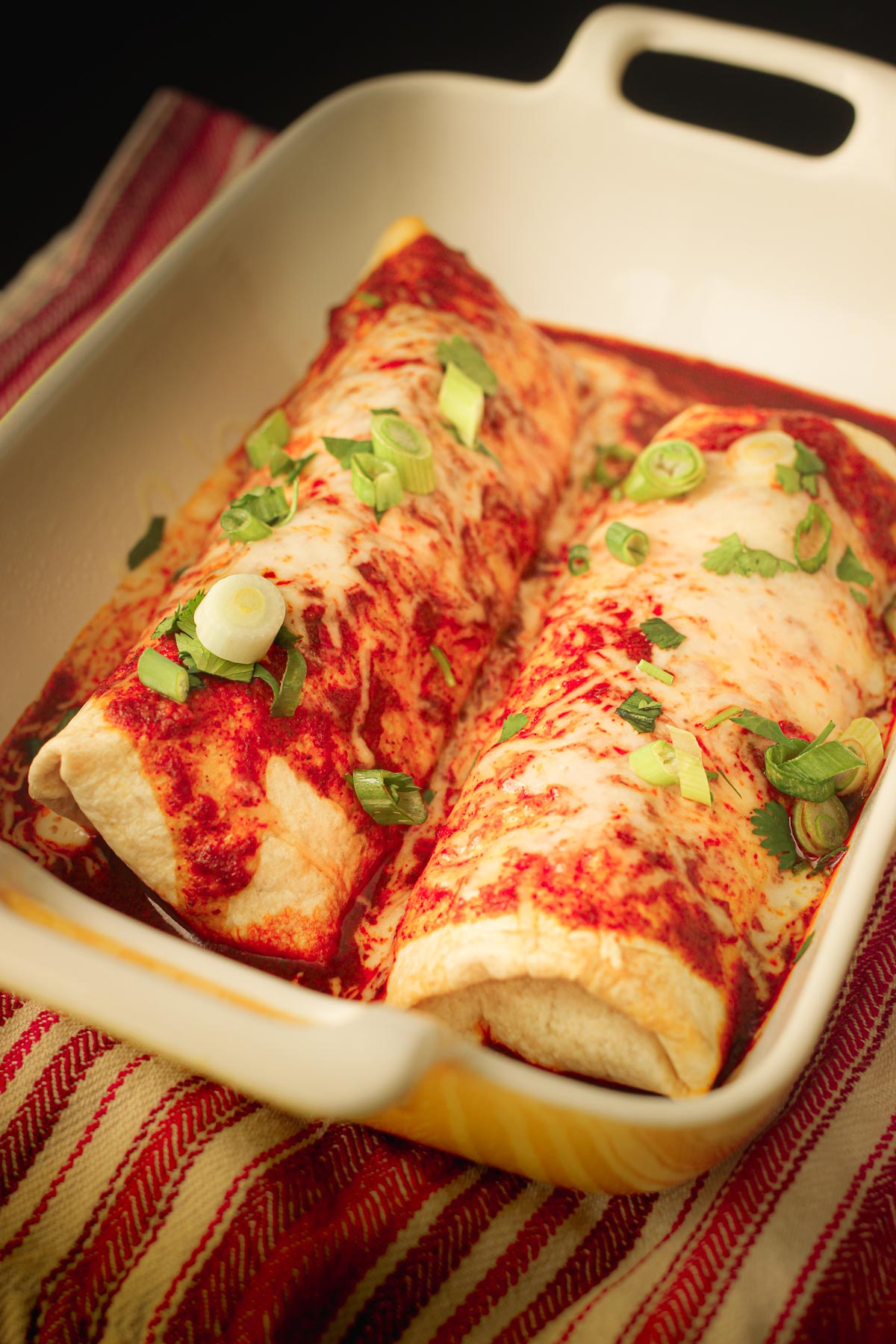 More Great Mexican Food Recipes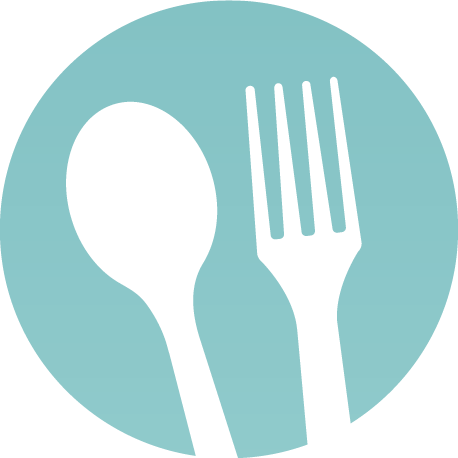 Tell us what you think!
We love to hear your experiences with Good Cheap Eats. Click the STARS on the recipe card or leave a STARRED comment to let us know what you think of the recipe.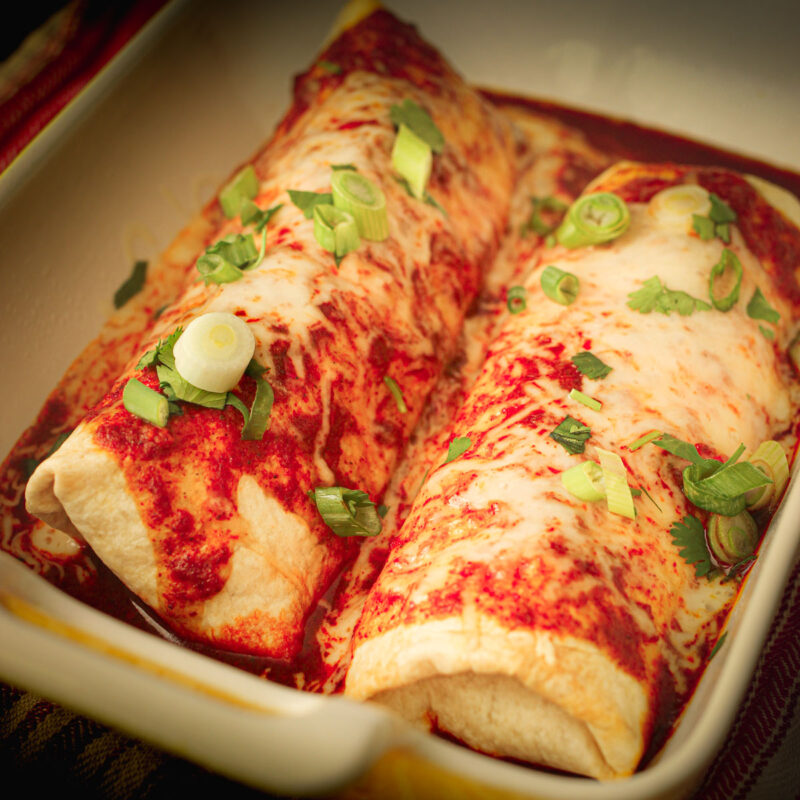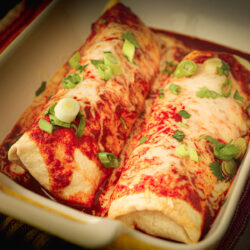 Beef Chimichanga Recipe
Chimichangas are crispy burritos that are easy to make at home! While frying is traditional, you can also crisp them on the griddle or bake them in the oven. These are loaded with beef and beans.
Print
Pin
Rate
Ingredients
1

lb

ground beef

2

tablespoon

taco seasoning mix

12

burrito-size flour tortillas

2

15-ounce cans

pinto beans

(4 cups)

8

oz

cheddar cheese (shredded)

(2 cups)

hot sauce

optional

toppings for chimichangas

, such as: shredded lettuce, salsa, enchilada sauce, guacamole, sour cream
Instructions
In a large skillet, cook the ground beef over medium heat, breaking up the chunks with the back of a spoon. Season with the taco seasoning mix and cook, stirring, until browned. Drain any fat.

Lay out the tortillas and divide the beans, meat, and cheese in a line across the bottom third of the tortillas.

Roll up the tortilla tucking in the sides as you go.

Heat the griddle and place the rolled burritos. Cook, turning occasional until all sides are crisp..

Serve with toppings
Notes
Chimichangas can also be fried. Heat several inches of hot oil in an electric fryer or heavy pot. Place one or two thawed burritos at a time in the hot oil and cook 5 minutes, turning. 
To make frozen chimichangas: Chill the meat mixture prior to assembling the burritos. Wrap in deli wraps and place in a ziptop freezer bag. Store in the freezer until ready to serve.
To bake: place thawed burritos on baking sheet and bake for 25 minutes at 350 degrees.
Toppings for chimichangas: These are typically served crispy (either baked or fried) and then topped with enchilada sauce, melted cheese, and something like sliced olives, chopped green onions, chopped fresh cilantro. Sometimes, they are also topped with shredded lettuce.
Promptly store leftovers in an airtight container in the refrigerator, for up to 3 days.
Nutritional information is approximate and does not include hot sauce or toppings.
Nutrition
Calories:
335
kcal
|
Carbohydrates:
39
g
|
Protein:
15
g
|
Fat:
12
g
|
Saturated Fat:
5
g
|
Cholesterol:
31
mg
|
Sodium:
692
mg
|
Potassium:
315
mg
|
Fiber:
4
g
|
Sugar:
3
g
|
Vitamin A:
190
IU
|
Vitamin C:
0.4
mg
|
Calcium:
229
mg
|
Iron:
3.3
mg
Tried this recipe?
Tell us what you think! Your reviews help us develop better recipes and give newcomers the confidence to try your favorites. Scroll down to leave a starred comment.
This post was originally published on July 12, 2010. It has been updated for content and clarity.