This post is part of a series in which I divulge my secret love of small kitchen appliances. This week is the electric griddle! The electric griddle is one of the handiest tools for cooking for a crowd. It cooks up many pancakes, tortillas, or sandwiches easily at one time.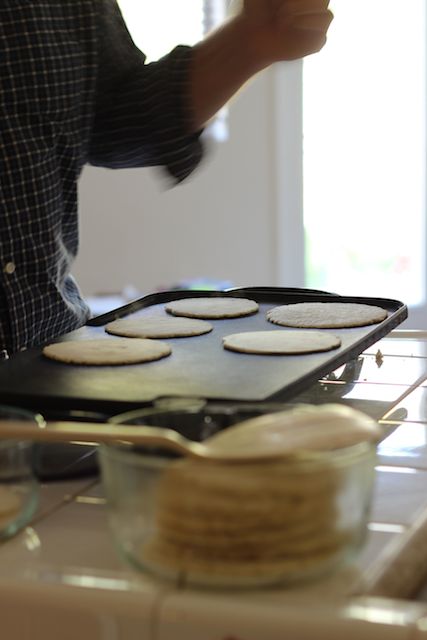 Once upon a time, I would mix up pancake batter to feed my family pancakes on a Saturday morning. I cooked the flapjacks in a skillet. There were two or three of us diners at the time. And it worked.
Eventually, as our family grew, I realized I was standing at the stove for a full hour, trying to bake enough pancakes to feed the masses. Cooking three at a time just wasn't going to cut it.
I bought a stovetop griddle and tried that out for a time. Within a few months it went the way of a garage sale. It just didn't cook evenly and was more hassle than it was worth.
A short time later I was shopping in Bed, Bath, and Beyond. I had both a 20% off coupon and a gift card to spend. Electric griddles were on sale. That baby could cook eight pancakes at once, cutting my pancake time in half!
I brought it home to the sound of my husband's complaints. Despite the fact that I only spent $5 out of pocket, he protested that it was too big and bulky.
He ate his words, stacked with butter and maple syrup about a week later when he hosted the next Pancake Saturday.
"That baby cooks a lot of pancakes!" he said.
Why, yes, yes it does.
Since then our electric griddle has been put into service to toast grilled cheese sandwiches, melt quesadillas, and crisp chimichangas in addition to the regular rotation of pancakes.
The electric griddle has taken the drudgery out of cooking these foods, vying us time in the kitchen. Having many sandwiches, quesadillas, chimis, or pancakes ready at one time also allows our family to eat together rather than in shifts as was often the case when we cooked these items in a single frypan.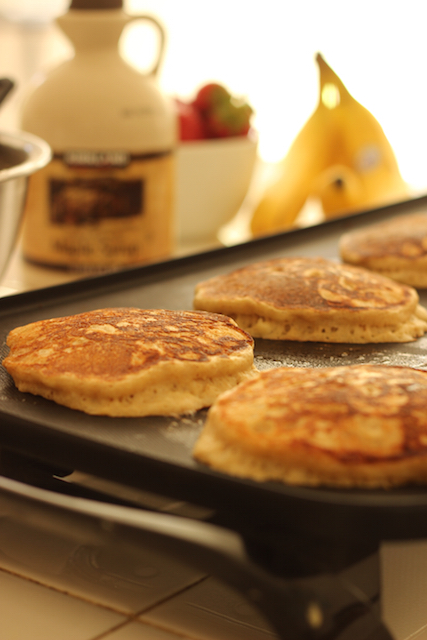 Some of my favorite recipes include:
Egg-free Pancakes with Apples and Whipped Maple Butter
Care and storage
I try to avoid cooking greasy foods on our griddle. Aside from a swipe of butter for pancakes or grilled cheese, I cook on it dry; no frying sausages on it or anything. Afterward I wipe it well with soapy cloth or spray it with vinegar and wipe it down. We store it over the fridge, not the prettiest of displays, but it works.
It also keeps me from stacking too many other things atop the fridge.
Purchasing a machine
I think we've owned two electric griddles over the years, each lasting at least five years. I bought both at Bed, Bath, and Beyond with a coupon. I didn't read any reviews or do any research. I made my purchase based solely on price. The model we currently have is similar to this one.
Like I've said before, if you're not absolutely sure you want a machine, borrow one! If it's a pain to use or to store, then it might not be worth it to you. If you're cooking for just a few people, it might not be a valuable purchase. For us, it's a game changer.
If a small kitchen appliance can be a game changer, that is.
Of course, it's just a question of how often do we want to enjoy pancakes? (Often.)
What's your experience with an electric griddle?
Love it or hate it? Do tell.
Disclosure: This post does include Amazon affiliate links. If you make a purchase through those links, I am paid a small amount in way of advertising fees.
(Check out past posts in which I wax eloquent about the bread machine, the food processor, the immersion blender, the waffle maker, and the Keurig.)