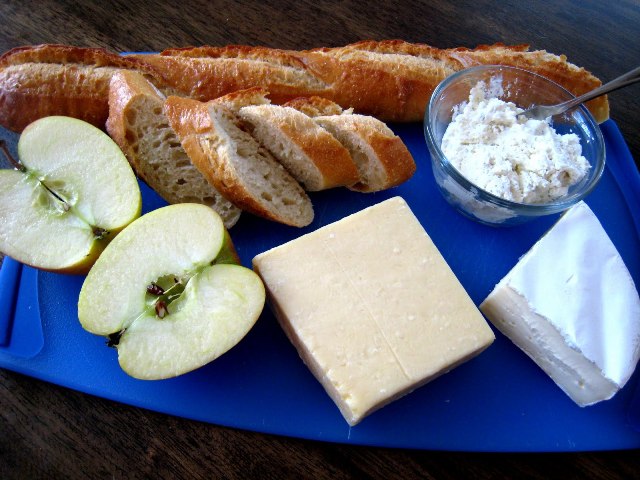 I spent a year of my college days living in France. It was a wonderful experience. Especially the eating part. I ate some of the best meals of my life in France. I loved the meals that lasted several hours and consisted of 3-4 courses.
A standard French meal will consist of a first course appetizer, like a green bean salad, followed by the main dish of meat and carbs, such as impeccably roasted chicken and mashed potatoes, then a green salad, and then possibly fruit and cheese — if you still have room. Sliced baguette accompanies all courses.
My husband and I have loved this way of eating since our engagement days, shortly after my return from Europe. Today we still enjoy a cheese and fruit course even if I don't serve the other three courses. (Yes, it can be a meal in itself!) Our kids love this as well. And while the French don't watch too much football americain, this is a great addition to any tailgate party or picnic.
Want to serve a cheese and fruit plate at your next gathering or simple family dinner? Here are some serving suggestions:
breads – serve a French baguette and whole grain artisan breads, sliced on the diagonal. You can bake your own or buy some at a bakery, like Panera.
cheeses – choose three cheeses with different textures and strengths, like Brie, gruyere, and something like Boursin. Experiment with different varieties and see which ones you like best. Grocers with a cheese counter, like Whole Foods, will sell you just a small bit.
fruit – select fruits that are easy to eat and serve and that compliment cheese well, such as apples, strawberries, or grapes. Clementines are a nice addition as they are so easy to peel.
What's your favorite fruit and cheese combination?