Chicken Fajita Burritos are filling, flavorful, and packed with peppers, onions, and jalapeños. They make a great lunch, snack, or dinner that you can make ahead and freeze.
If you're looking for a delicious, make-ahead lunch, dinner, or snack, then look no further than these Chicken Fajita Burritos. Trust me.
Bryan has been packing these to work every week for months. Even on his day's off, they are his go-to quick meal or snack.
My husband has discerning tastes, in his women and his burritos, so you know this is good.
Chicken Fajita Burritos
When I developed this recipe I was looking for a way to include more vegetables in our diet without losing the convenience of a freezer meal.
I decided to ditch the beans that you would normally find in burritos and add in a pepper, onion, jalapeño mixture that still has a lot of fiber, but much more flavor.
I swapped a whole wheat tortilla for a plain flour one. And I included pepper jack for extra spice and flavor. Whole wheat can tend to dominate if you let it.
The resulting burrito is fiber-filled and lower in carbs and calories than a bean burrito. If you're into that kinda thing.
What's the difference between fajitas and a burrito?
Fajitas are typically a beef or chicken filling with sliced peppers and onions. The mixture is often sautéed quickly on a hot skillet and served with tortillas alongside.
A burrito is made of a flour tortilla filled with beans, meats, cheeses, and possibly a sauce.
Obviously, I've morphed the two dishes here into one. Combining the characteristic peppers and onions with jalapeños and shredded chicken.
Make burrito fillings easy to bite into.
Like sandwiches, burritos are something that you hold in your hands and take bites of. You want the filling to bite easily else you risk all the filling coming out of the wrapper as you eat.
You know what I'm talking about?
While traditional fajita vegetables are sliced, I've chopped them for this burrito to make them easier to eat.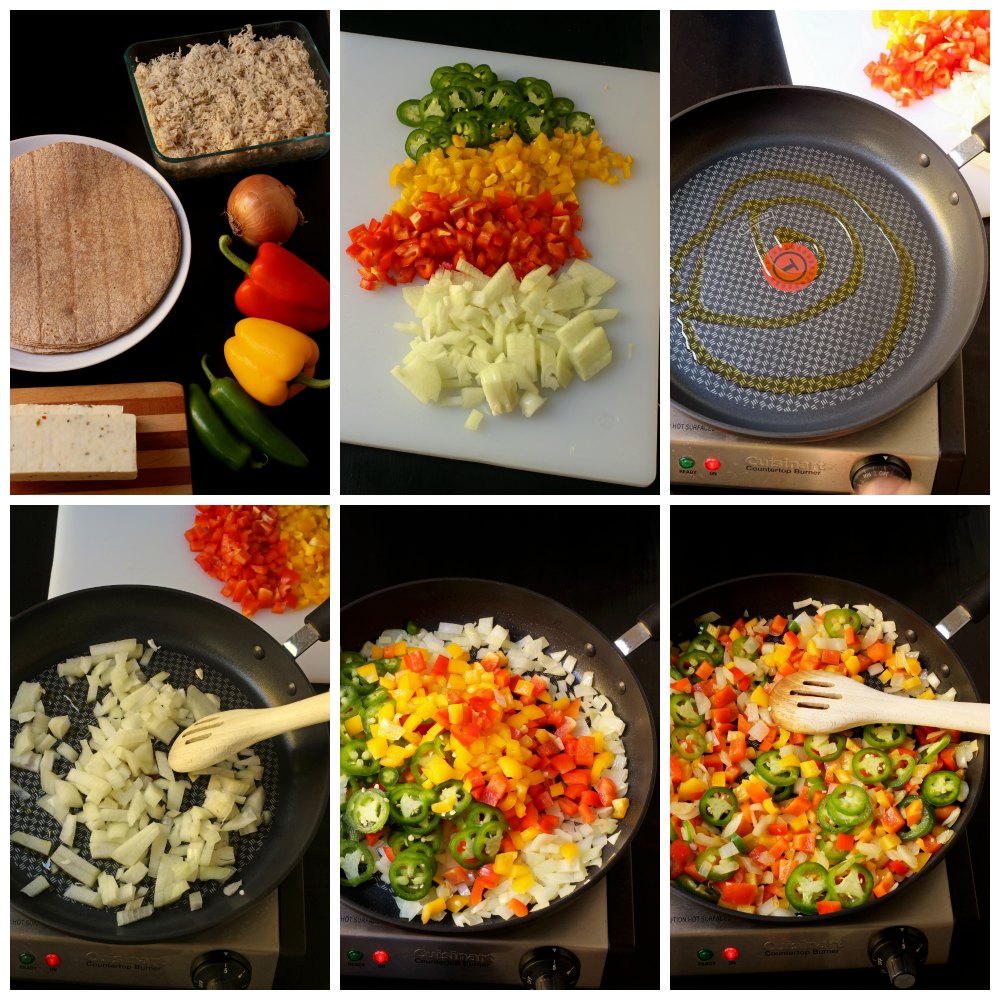 Chicken Fajita Burritos for the Freezer
To make burritos for the freezer, you'll need several components:
Tortillas at room temperature so that they're easier to roll without cracking
Cooked filling that has been chilled. Cold food freezes more quickly and you want these burritos to freeze quickly for best taste and texture afterward.
Deli papers to wrap the filled burritos. I buy mine at Smart & Final. These are similar.
To prepare the chicken:
You can use a rotisserie chicken that you shred by hand, or cook up a batch of Perfectly Poached Chicken. I place the chicken in the bowl of my KitchenAid with the paddle attachment. A few minutes on low and the chicken is perfectly shredded.
Chill the chicken until you're ready to assemble your burritos.
To prepare the vegetable filling, you will need to:
Chop the peppers, onions, and jalapeños.
Heat olive oil in a skillet. Add the onions and cook for 4-5 minutes until the onions are tender and start to turn translucent.
Add the peppers and jalapeños and cook until all the vegetables are tender.
Transfer this mixture to a dish and chill it in the refrigerator.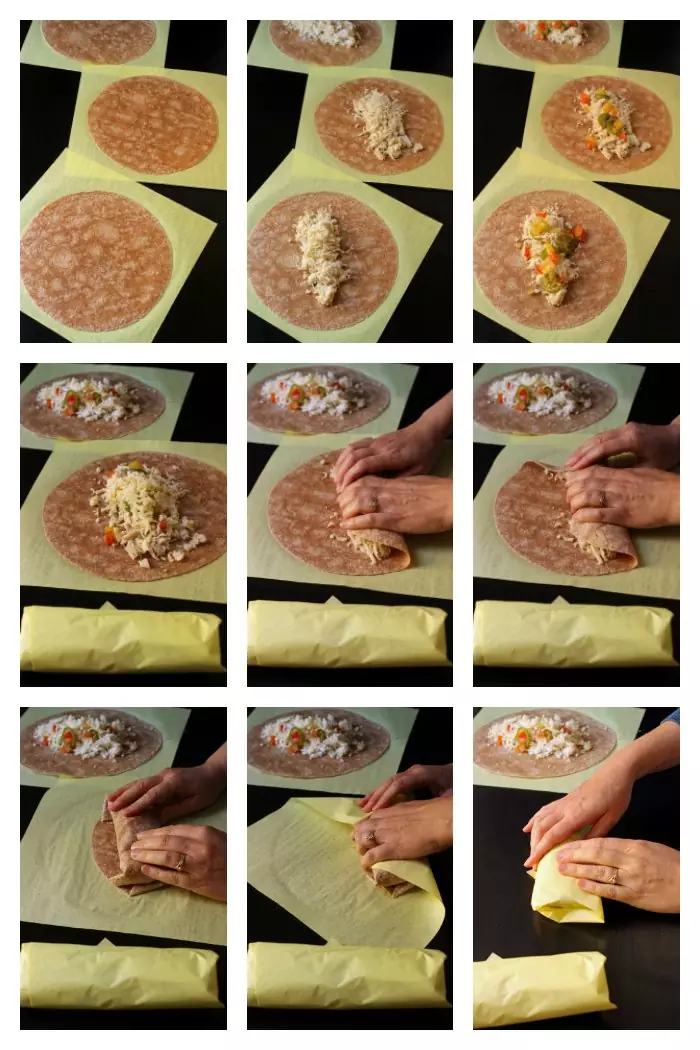 To roll the burritos for freezing:
It's easiest to assemble many burritos at once if you form an assembly line.
Lay out the deli papers on a large surface.
Lay a tortilla on each deli paper.
Place 1/2 cup of shredded chicken in a line down the center of each burrito.
Divide the pepper mixture among the burritos.
Divide the cheese among the burritos.
Fold up one side of the tortilla and tuck it under the filling slightly. Fold up the two sides, and continue to roll until you have a tight burrito.
Wrap the burrito in the deli wrap and place in a ziptop bag. Store in the freezer.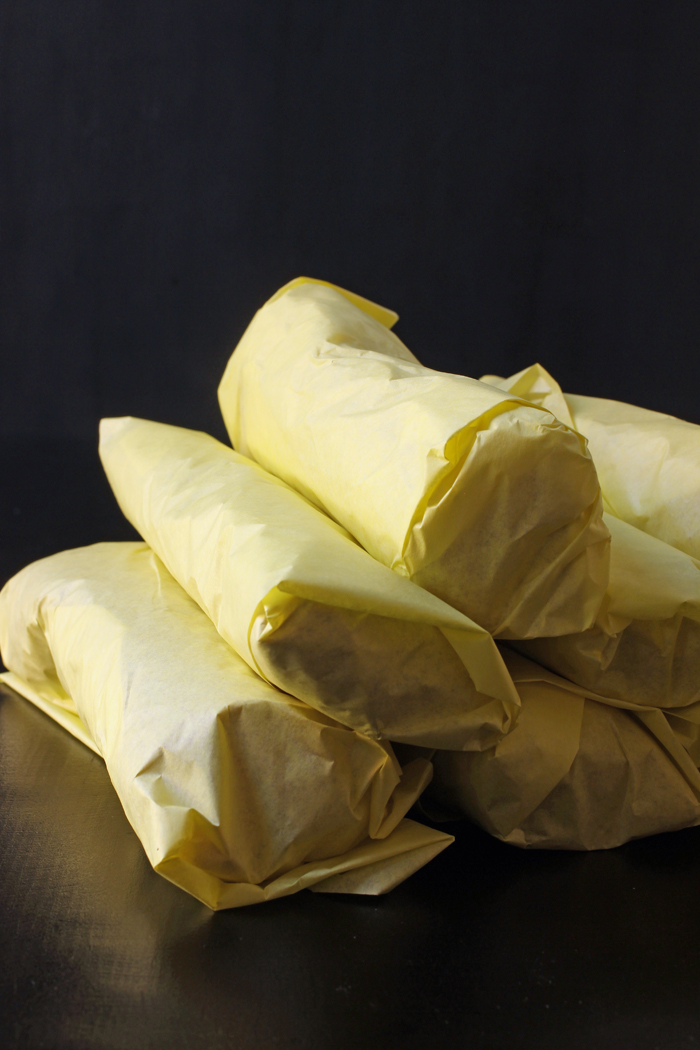 Real Food Real Easy
Making homemade food easier and more affordable is my passion. Here are some things you can do to make this recipe easier on the wallet:
How to make this cheap:
Meal plan around what's on sale. Don't decide to make this when chicken breast is $7/pound and you have none in the freezer.
Stock up on ingredients when they are on sale

. For instance, when I see a great price on chicken breast, I buy a lot. The same goes for jack cheese. In some ways jack is a specialty item around here, so I shoot for buying it at less than $3/pound.

Do a price comparison. I know that ALDI is the best place to buy ingredients like whole wheat tortillas or boneless, skinless chicken breast when there isn't a great sale elsewhere. I keep track of prices so that I know who has the best deal where.
Tools I use to make this recipe easy:
This is a pretty straight-forward dish. You don't need any fancy equipment. However, having some good basic kitchen tools can really make your time in the kitchen more enjoyable. Over time, I've honed my collection so that they are perfect for my needs. Here are the tools that I like to use in this recipe.

If you prepare this recipe, be sure to take a picture and hashtag it
#GOODCHEAPEATS
. I can't wait to see what you cook up!
Chicken Fajita Burrito
Chicken Fajita Burritos are filling, flavorful, and packed with peppers, onions, and jalapeños. They make a great lunch, snack, or dinner that you can make ahead and freeze.
Course:
Main Course, Snack
Cuisine:
American, Mexican
Keyword:
burrito, burritos, burritos for the freezer, chicken burritos, fajita burritos, fajita vegetables, fajitas, freezer burritos
Ingredients
1

tablespoon

olive oil

1

medium onion

chopped

1

bell pepper

cored and chopped

1

jalapeno

cored and sliced

salt and pepper

8

whole wheat tortillas

2

cups

shredded chicken

4

ounces

shredded pepper jack cheese
Instructions
Heat the oil in a large skillet over medium high heat. Add the onion and saute 4-5 minutes, stirring occasionally, until the onions start to go clear.

Add the bell pepper and jalapeno. Continue cooking for 2-3 minutes or until the vegetables are tender.

Transfer the vegetable mixture to a covered dish and chill in the refrigerator until very cold, about 2 hours.

Lay out 8 deli papers on a work surface. Place a tortilla on each deli wrap.

Place 1/2 cup shredded chicken in a line down the middle of each tortilla.

Divide the vegetable mixture and the cheese evenly among the tortillas.

Fold over one side of the tortilla, tucking it under the filling slightly. Fold up the sides and continue rolling until a tight burrito is formed.

Wrap the burritos in the deli papers and store in a freezer bag in the freezer.

To reheat: place one wrapped burrito in the microwave and cook for 1 to 2 minutes until hot. Be careful of hot spots.
Nutrition Facts
Chicken Fajita Burrito
Amount Per Serving
Calories 270
Calories from Fat 99
% Daily Value*
Fat 11g17%
Cholesterol 39mg13%
Sodium 390mg17%
Potassium 143mg4%
Carbohydrates 25g8%
Protein 17g34%
Vitamin A 608IU12%
Vitamin C 22mg27%
Calcium 195mg20%
Iron 2mg11%
* Percent Daily Values are based on a 2000 calorie diet.