Whether it's chicken salad or a noodle soup, it's helpful to have cooked chicken on hand to use in your favorite recipes. Check out these easy five ways to cook chicken perfectly.
From Thai Chicken Pizza to Cranberry Chicken Salad, cooked chicken will make all your meal prep easier. All of these make great salad toppings!
Jump to:
Chicken. It's affordable. It's versatile. It's delicious.
For instance, it's a star player in Chicken Noodle Soup Recipe, a key ingredient in Chicken Bacon Subs, and a must-have for Chicken Enchilada Casserole. Chicken has got your back when it comes to good cheap eats.
Furthermore, it's great to have on hand, already cooked so that you can toss it into your favorite recipe without any extra work. In fact, you can precook chicken in bulk and freeze it so that you can easily assemble meals anytime of day.
Thankfully, you don't need to settle on one way to cook chicken. Different methods will serve you better at different times of year. Roast chicken in winter? Absolutely. Grilled in summer? You guessed it.
In this post you'll learn the in's and out's of purchasing, storing, and preparing chicken, as well as five different ways to cook it, and how to store it once you've done so. As a result, you'll know exactly what to do with chicken when you see a great sale.
Shopping Tips
Where do you buy chicken?
Fresh and frozen chicken is available at the grocery store, some farmer's markets, and directly from some chicken ranchers and suppliers.
If you'd like to purchase from a local rancher, you can check Local Harvest. Otherwise, where you regularly buy groceries is fine.
Keep in mind that lower priced stores have hit or miss quality when it comes to meat; therefore, don't stock up unless you know the quality suits you.
How do you buy chicken?
Choose chicken that has cream- or yellow-colored skin that is soft and smooth, while at the same time avoiding chicken that has an off odor or that has bruised or torn skin.
Some chicken is pumped with a solution that tends to increase its weight and, therefore, its cost. This solution, though unharmful, can effect the taste of the chicken. I've found that some brands taste better than others, therefore, experiment to see what you like best.
Storage Tips
Store raw chicken in the coldest part of the refrigerator, using it within 1-2 days. You want to avoid cross contamination where raw chicken juices may touch other foods, so be sure to store the chicken on a tray to catch any drips and wash the tray well when finished.
Chicken can be stored in the freezer where it will be safe indefinitely. If you're going to marinate your chicken, you can store it with the marinade in freezer-safe bags.
Cooking Tips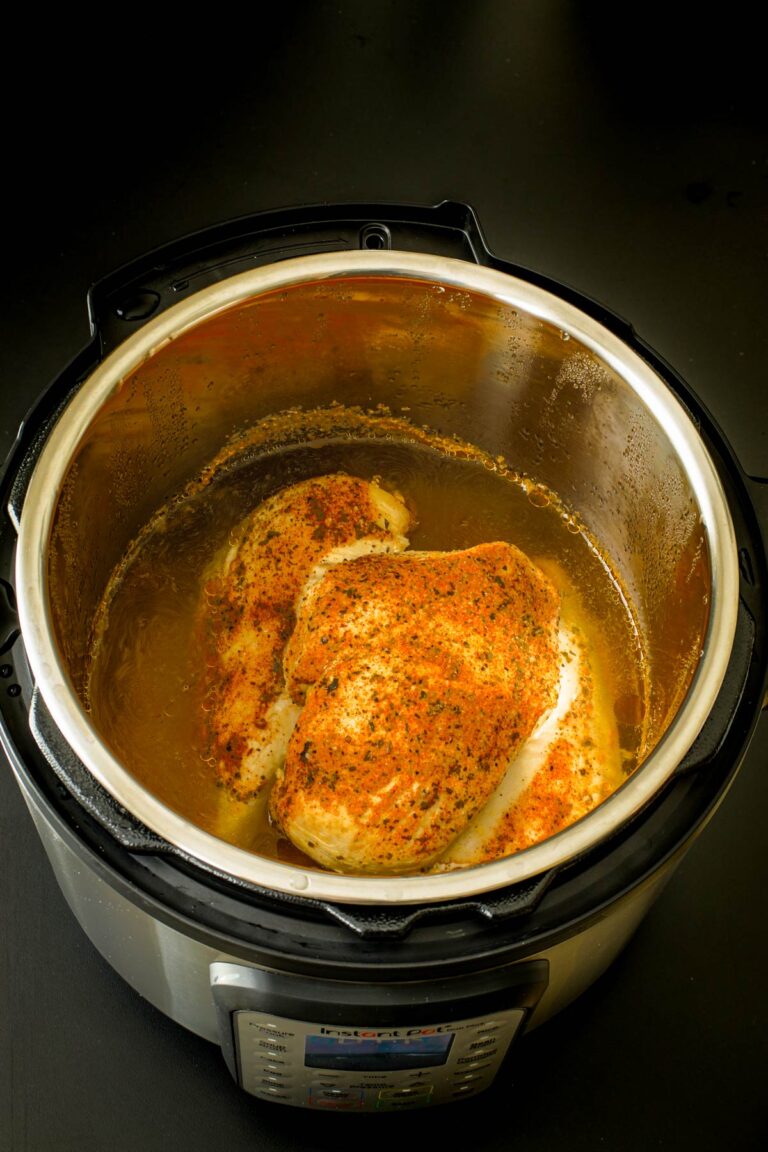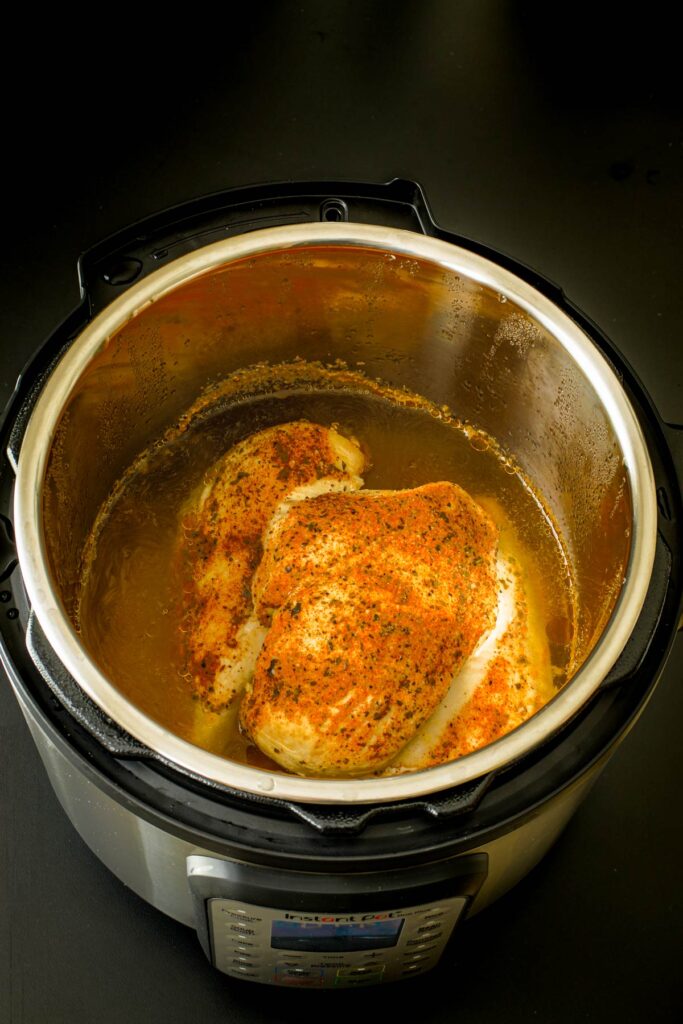 How do you cook raw chicken?
Chicken can be cooked in a number of different ways: baked, roasted, grilled, poached, braised and even pressure cooked. What method you use will depend on the weather where you live as well as how you want to serve it.
Scroll down for five great ways to cook chicken!
Do I have to wash chicken before cooking it?
In the old days (my childhood) is was common to rinse chicken prior to cooking. Nowadays, this is considered not to be a best practice since rinsing can increase the risk of cross contamination.
Instead, open the package, remove the chicken to a cutting board or cooking vessel. Dispose of the packaging and wipe down the counter. Likewise, be sure to wash anything that touches the raw chicken.
How long do you cook chicken?
To be safe to eat, raw chicken must be cooked to an internal temperature of 165 degrees F; use an instant read thermometer to determine this.
How long this will take will depend on the cut of chicken and the method of cooking. While roasting takes longer than grilling, check out these general guidelines:
whole chicken – 60 to 90 minutes
bone-in breast halves – 20 to 40 minutes
boneless breast halves – 12 to 30 minutes
legs or thighs – 20 to 50 minutes
drumsticks – 16 to 45 minutes
Can chicken be slightly pink?
According to the USDA, smoking, grilling, and hemoglobin in the meat can all create a safe-to-eat, pink color. Don't judge the chicken's doneness based on color, therefore, but on the internal temperature, which is safe at 165 degrees F.
Do you need any special equipment to cook chicken?
While you will need something such as a skillet, instant pot, grill, or baking dish to cook the chicken in, the only unique item needed is the instant read thermometer. You can usually buy one for around $15.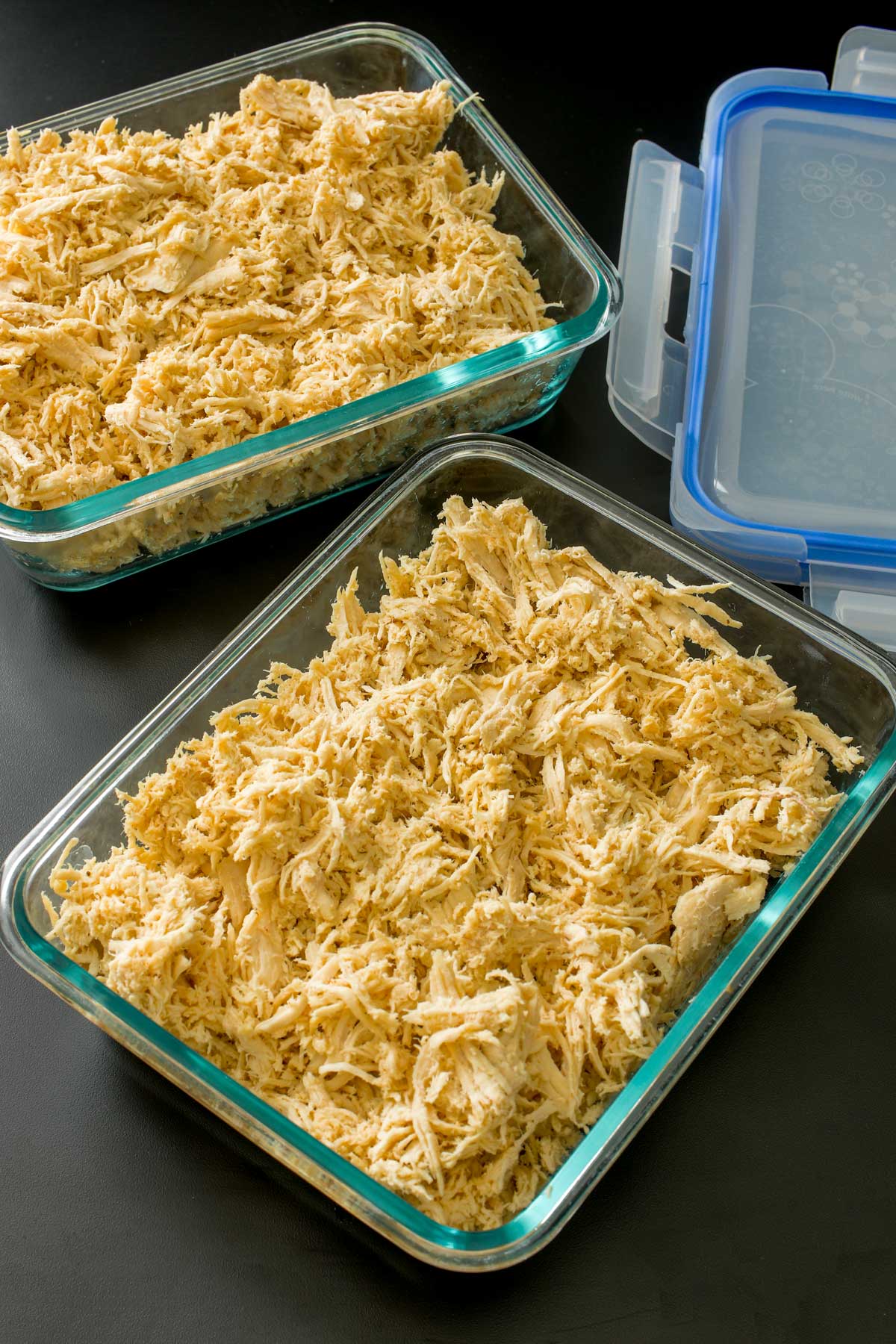 How do you freeze cooked chicken?
It is great to have cooked chicken on hand for recipes which makes freezing a great option. Luckily, the process is super simple.
Firstly, cook the chicken according to your recipe.
Secondly, cool the chicken to let off the steam.
Chop or shred the chicken according to your preferences.
Chill the chicken completely.
Divide into labeled, freezer safe, meal-size packages.
Lastly, place the packaged chicken in the freezer until read to use.
To thaw: place in the refrigerator overnight until thawed.
Is it better to chop or shred cooked chicken?
Whether you chop or shred the chicken to use in recipes will depend on the recipe and your preferences. Typically, I like to use shredded chicken in enchiladas, tacos, and burritos, while I use cubed chicken in soups and casseroles.
Chicken salad can go both ways.
Methods for Cooking Chicken
This post was originally updated on June 3, 2020. It has been updated for content and clarity.