Grilling chicken for the freezer is a great way to save money and time. It also allows you the luxury of tasty grilled meats at a moment's notice. Make a bulk batch of grilled chicken for the freezer and save!
Yesterday we unplugged the deep freeze to allow the ice crystal build-up to thaw. A few hours later when I went to wipe it down, my girls lamented the fact that there was "no more snow." Yes, I think that's a good thing!
I plugged it back in last night and am on a mission to refill it. Our school year is starting this week which means that our days will be busier. In a few weeks we'll be adding swimming, hockey, and science classes into the mix. This means the temptation for take-out will be greater. So, I'm on a mission to fill the freezer.
Power out on freezer cooking.
I'm taking the power session approach to freezer cooking this month. I'll be doing short cooking sessions throughout the week in the hopes of getting the freezer filled with plenty of pre-made meals and meal components to last us for several weeks.
By cooking a bulk batch of something each day, I can feed my family their daily bread as well as squirrel some away for the future. Grilled chicken for the freezer is one of my favorite options. Not only do we enjoy smoky tender chicken for dinner the night I cook it, but then I can slice and freeze cooked chicken in bulk to add to salads, sandwiches, bowls, and pizzas for weeks on end.
Can you freeze cooked chicken?
Let's start with the most asked question when it comes to cooked chicken. Can you freeze it? And the simple answer is yes! It's all about making sure the chicken is completely cool and then wrapped well so the chicken doesn't get freezer burn.
How long can I freeze grilled chicken?
Grilled chicken that's been frozen, as long as it's been stored properly should last easily in the freezer for 4 months, but could last even longer.
How To Grill Chicken For The Freezer
We grilled our chicken, but you could also bake your chicken if need be. You want to make sure to rinse your chicken and pat them dry.
And then we made sure to season it generously. Try using my Spicy Chicken Rub! Since we are grilling them we seasoned just the top for now. If you are oven baking your chicken, you might want to season both sides.
When your grill is hot and ready, go ahead and place your chicken spice side down. You may need to oil the slats, but this just depends on your grill. Once your chicken is on the grill you can now season the other side.
You want to cook the chicken over medium heat, until the chicken is cooked through. The internal temperature should be 165 degrees.
Once the chicken is cooked and removed from the grill make sure to give your chicken a chance to rest to let the juices redistribute. If you cut the chicken too soon all the juice will run out leaving your chicken dry.
How long would I bake the chicken for?
If you want to bake the chicken instead of grilling it, preheat your oven to 450F and season both sides.
Then you would to bake the chicken for about 15-18 minutes until its cooked through to 165 degrees.
How to freeze chicken
Once the chicken has been cooked, it's time to let it cool completely for the freezer.
You can slice, chop, or even leave the chicken whole depending on what you want to use the chicken for later. Be sure to divide the chicken up in to meal-size portions and place in freezer bags or freezer containers.
Be sure to label with the contents and the date!
How to reheat frozen chicken
At some point you are going to want to use all that delicious chicken you froze. When you want to use it, you need to thaw the chicken in the refrigerator overnight.
You can then reheat the chicken and use in your recipe or you can serve it cold if you are serving it on a top of a salad like my Poorman's Chicken Caesar Salad Recipe or in a Chicken Caesar Sandwiches.
What can I use this grilled chicken in?
You can use this grilled chicken in so many easy dishes for a light lunch or hearty weeknight dinner! Here are a few recipes to try:

Ways to save on grilled chicken for the freezer
Here's how it went down this week:
Buy the chicken on sale – This week boneless, skinless breasts and thighs are on sale at Vons, our Safeway affiliate, for $1.97/pound. (The lowest I've seen however, is 99 cents/pound at ALDI.) You can buy packs of just breasts or a combo, so if you don't want dark meat, pay close attention. I bought 8 pounds, knowing that I would be cooking and freezing in bulk. I spent $16 on chicken.
Multitask – Since we were already going to turn on the grill for dinner, I planned it so I cook everything at once. This made best use of the propane that I was using. It also did not really take me that much longer to cook 8 pounds of chicken than it would to cook 2 pounds. But, now so much work is done for me!
Make lunches ahead of time – My husband has requested grilled chicken for his lunches in an effort to improve his diet. While I made meal-size packages of chicken, I also made lunch-sized portions for him, weighing out 4 ounces on a scale and packaging those portions separately. In this way, the main protein of his lunch is made ahead of time to add to sandwiches, salads, bowls, or wraps, and we save money on his lunch budget.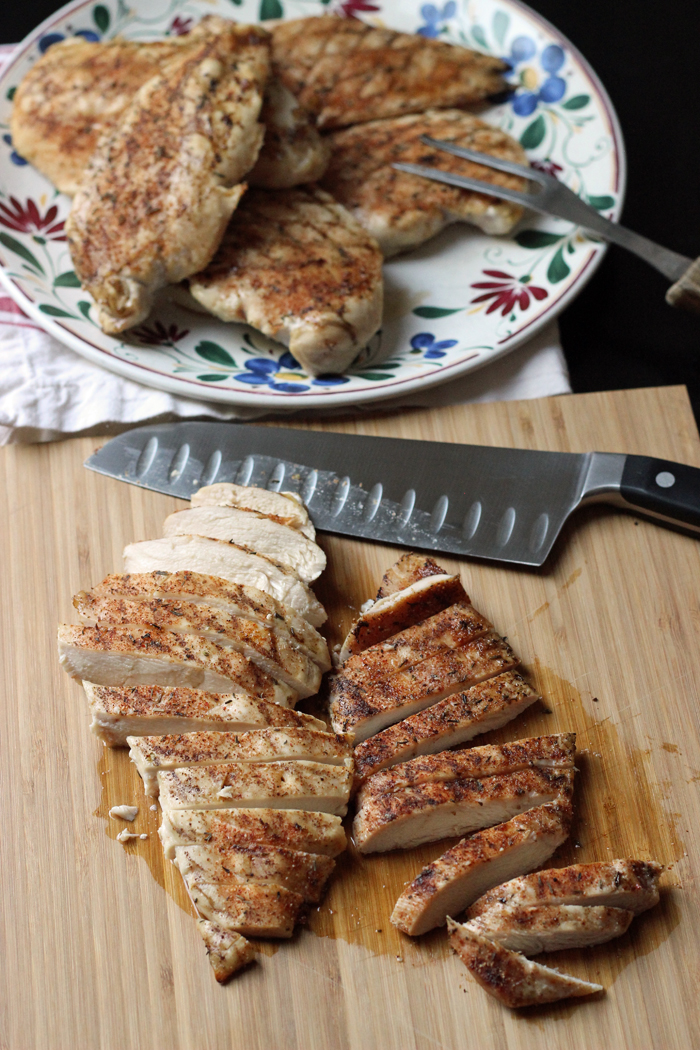 Tools I use to make this recipe:

If you prepare this recipe, be sure to share a picture on social media and hashtag it
#GOODCHEAPEATS
. I can't wait to see what you cook up!
Grilled Chicken for the Freezer
Grilling chicken for the freezer is a great way to save money and time. It also allows you the luxury of tasty grilled meats at a moment's notice.
Ingredients
4

lb

boneless, skinless chicken breast

2

tablespoon

Spicy Chicken Rub

or other favorite spice mix
Instructions
Light your gas or charcoal grill.

Rinse your chicken pieces and lay them out on a large rimmed baking sheet.

Season the chicken generously with the spice rub. Just the tops is fine for now.

Place the chicken on the hot grill, spice side down. (Depending on your grill, you may need to oil the slats first.) Season the back sides of the chicken pieces.

Cook over medium heat, covered, until the chicken is cooked through. The internal temperature should read 165 degrees.

Remove the chicken from the grill and allow it to rest. In this way the juices will redistribute throughout the chicken. You can serve the chicken now or follow note to freeze.
Notes
To freeze: Chop, slice or leave the chicken pieces whole, depending on how you want to use them later. Cool completely. Divide the chicken into meal-sized portions in freezer bags or freezer-safe containers. Label with the date and contents. Chill the chicken in the refrigerator before freezing.
To serve: thaw completely in the refrigerator. Reheat or serve cold.
Promptly store leftovers in an airtight container in the refrigerator, for up to 3 days.
Nutritional values are approximate and based on 1/16 the recipe.
Nutrition
Calories:
129
kcal
|
Protein:
24
g
|
Fat:
3
g
|
Saturated Fat:
1
g
|
Trans Fat:
1
g
|
Cholesterol:
73
mg
|
Sodium:
132
mg
|
Potassium:
420
mg
|
Vitamin A:
34
IU
|
Vitamin C:
1
mg
|
Calcium:
6
mg
|
Iron:
1
mg
Tried this Recipe? Tell us what you think!
Your reviews help us develop better recipes and give newcomers the confidence to try your favorites. Scroll down to leave a starred comment.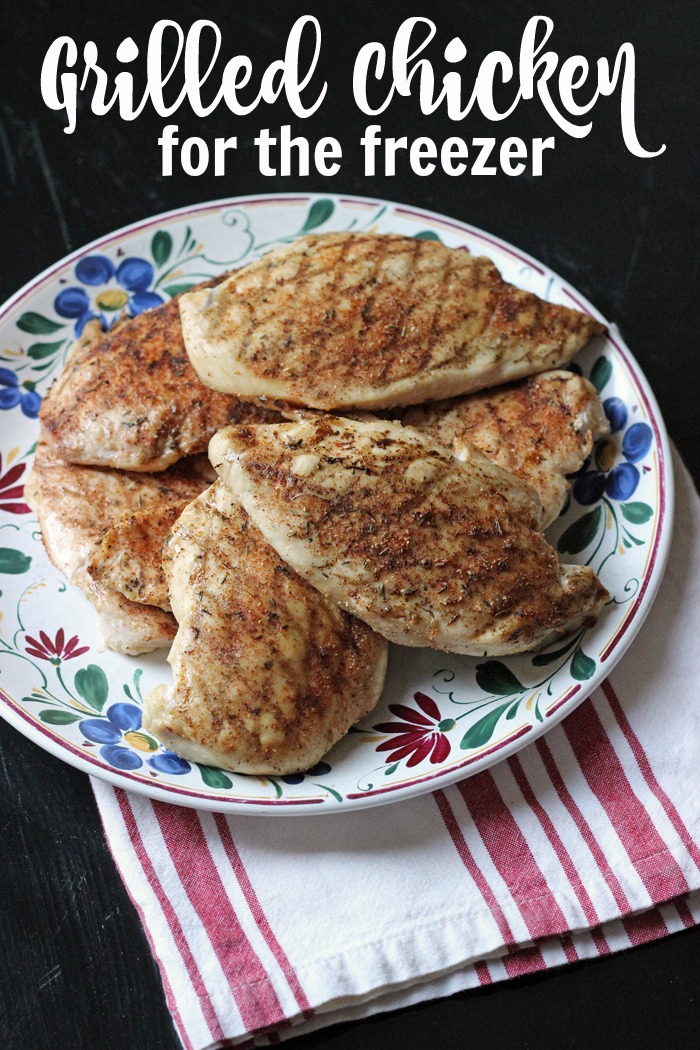 Originally published July 30, 2012. Updated March 17, 2018.