Fire up the grill and enjoy an easy chicken dinner with this Spicy Chicken Rub. Making your own seasoning blend helps you avoid additives and will save you money!
Do you ever find yourself in a pinch for what to make for dinner?
Maybe you found a great sale on chicken but you're stumped for how to season it.
Or maybe you want to cook out tonight but you're bored of the standard hot dogs or hamburgers.
Or maybe you just need a quick, no-brainer, no-fail recipe to save the day.
Good thing is that I have just the thing! A Spicy Chicken Rub that comes together in minutes and flavors your chicken in a mesmerizing way.
I like to be organized at meal times, but despite all my best efforts, I still have the odd night when I'm staring into the fridge wondering what to make. That's usually when the grill comes into play.
If I can get a hold on something to throw on the barbie, dinner can come together pretty quickly. And so can you!
This homemade spice rub is actually hearty enough to stand up to beef and pork, but doesn't overpower chicken, either. It's the all-purpose, perfect flavoring for all your meat-seasoning needs.
It's also great for Quick Seasoned Rice!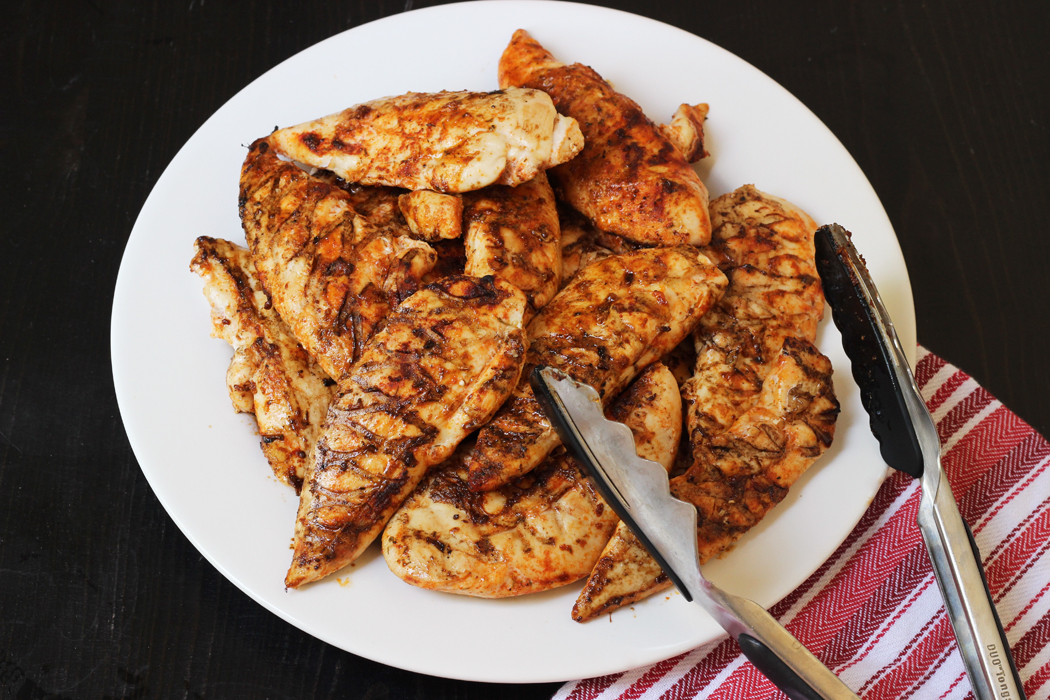 How can I make plain chicken taste better?
Over the last few years, my grilling preparation has become more streamlined and simplified. Instead of taking time to make a lot of marinades, I've been relying on homemade spice blends to add flavor to chicken, fish, pork, and beef.
It takes just minutes to mix up a spice blend, and I've found that it's a very economical way to add great flavor to all our grilling cuts. That's not to say I've abandoned the marinades. I still have my favorite marinade recipes.
But, when I'm in a pinch, the spice rub comes to my rescue.
What spice goes well with chicken?
There are lots of great herbs and spices that go well with chicken. It really depends on what flavor profile you're looking for.
Cumin, oregano, and chile powder offer a southwest flavor while tarragon, thyme, and rosemary hearken to France. Cardamom, turmeric, cumin, and curry offer Indian flavors while garlic and five-spice powder will give it an Asian seasoning.
This Spicy Chicken Rub, with a mix of spices from around the globe, has been a long-time favorite of ours. There's a little bit of heat from the cayenne, but not enough to be overpowering.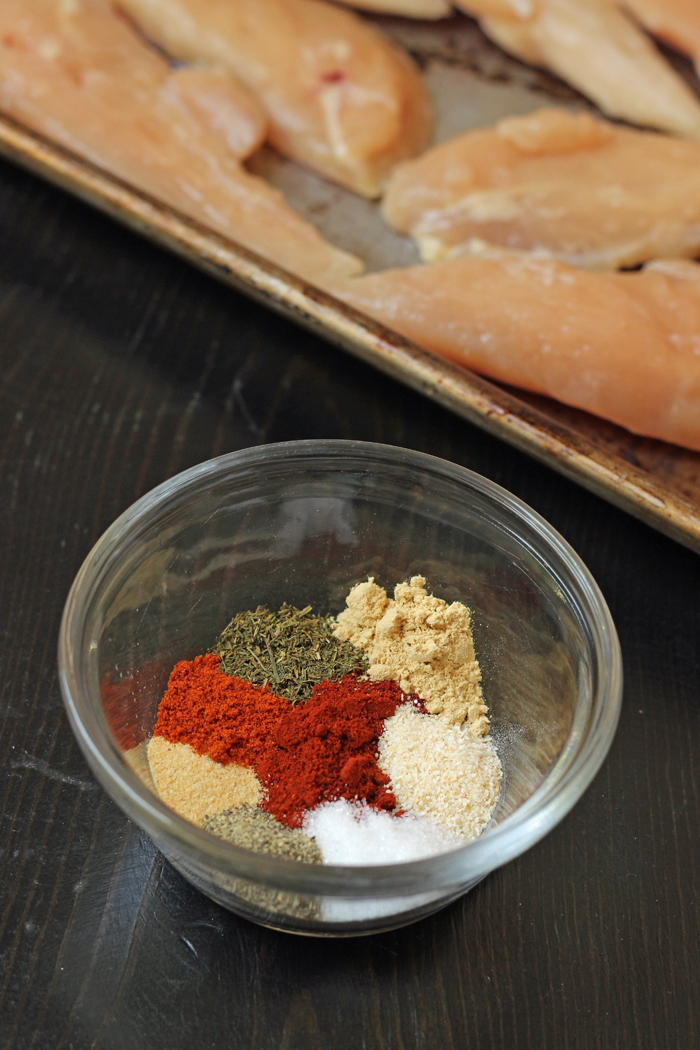 How do you make a spice rub for chicken?
Making your own spice mixes couldn't be easier! Simply blend the herbs and spices together in a small bowl. Season your chicken, taking care not to get any moisture in the spice mix or to contaminate it with chicken juices. Then store the leftover spice rub in an airtight container in the pantry.
You can mix up one batch at a time or make several batches at one time.
It's a wonder spice; what can I say? Keep it on hand for all kinds of quick seasoning jobs.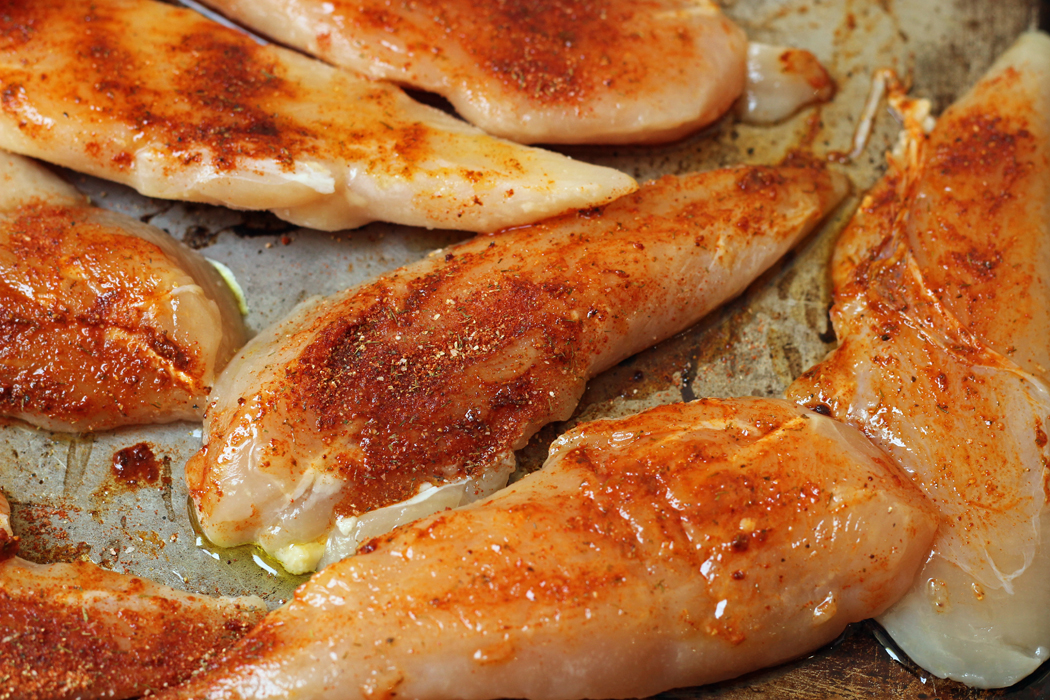 Do you season chicken before or after cooking?
I prefer to season the chicken before I cook it. It helps the spices to adhere better to the chicken and flavor it well.
However, if you'd like to season cooked chicken after the fact, chop or shred the meat and toss it with a few teaspoons of the seasoning. This works really well with a rotisserie chicken.
For a cooked chicken that may already be seasoned with salt, you may want to omit the salt from the spice recipe.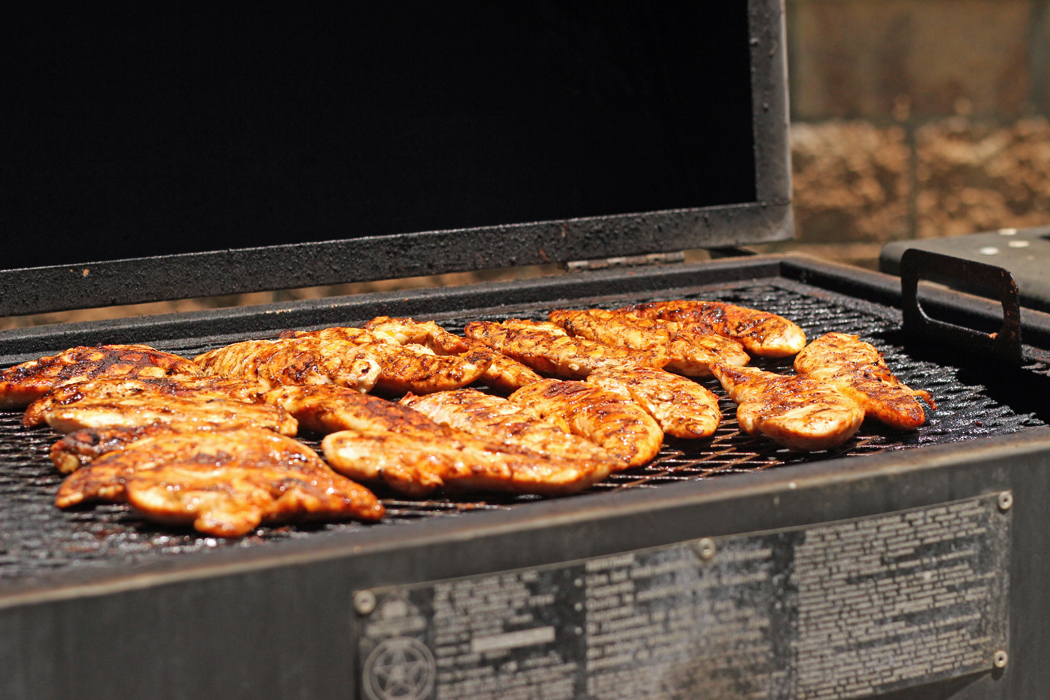 Make enough grilled chicken so that you can add it to salads and quinoa bowls throughout the week or freeze it for a later date. You'll be so glad you did!
If you don't have a grill or aren't in the mood for grilling, you can still use this Spicy Chicken Rub on chicken for baking, broiling, or sautéing.
How do you store cooked chicken?
To store for later: cool cooked chicken and package in an airtight container. Store in the refrigerator for up to 4 days.
If you'd like to freeze the chicken, chill it completely in the fridge before storing it in the freezer for up to 6 weeks.
How to save money making this recipe:
Here are some of the strategies I use to make this recipe more economical:
Meal plan around what's on sale. Don't decide to make this when chicken is $5/pound and you have none in the freezer. Next time you see chicken on sale, add this to your meal plan!
Do a price comparison. I know that ALDI is the best place for me to buy chicken when there isn't a great sale elsewhere. It's normally $1.89/lb! I keep track of prices so that I know who has the best deal where.
Buy spices in bulk. I regularly buy large containers of the spices I use most frequently, like pepper, salt, garlic powder, paprika, onion powder, and dill. I fill small containers to store in my spice cupboard and then store the excess herbs and spices in the freezer to extend their shelf life. It's much cheaper to buy large amounts of spice this way. If you're not sure you can use a large quantity, split it with a friend or Give Spice Mixes as Gifts.
Stock up on ingredients when they are on sale. Buy extra chicken as well as spice ingredients and stash them away in your pantry so you can make this dish whenever you want.
Tools you might need to make this recipe easy:
This is a pretty straight-forward dish. You don't need any fancy equipment. However, having some good basic kitchen tools can really make your time in the kitchen more enjoyable. Over time, I've honed my collection so that they are perfect for my needs. Here are the tools that I like to use in this recipe.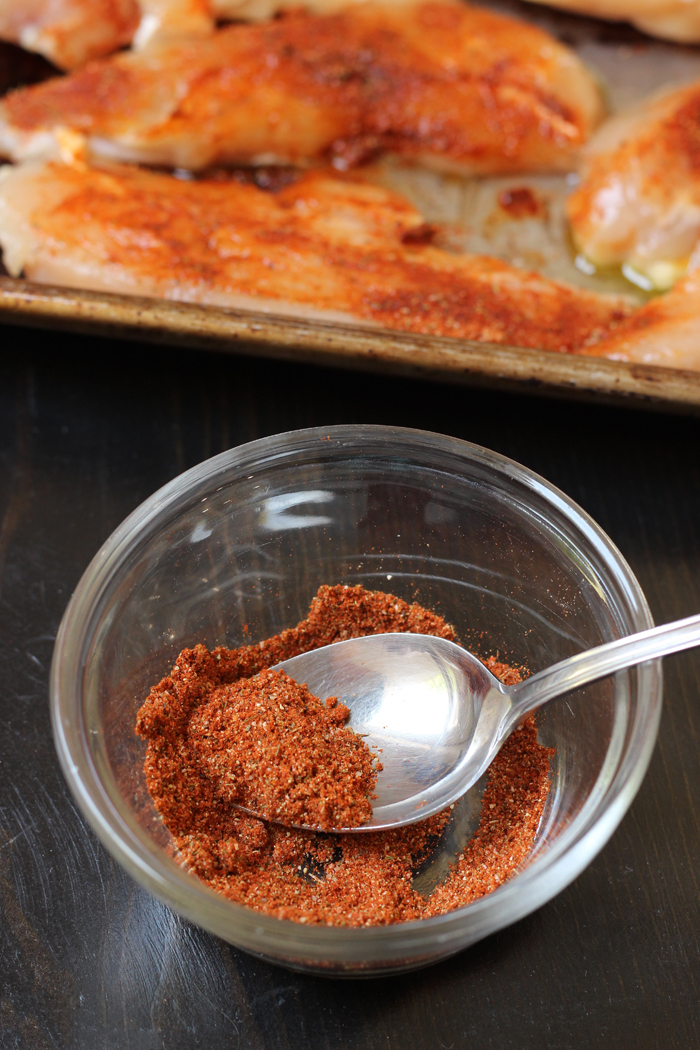 If you prepare this recipe, be sure to share a picture on social media and hashtag it
#GOODCHEAPEATS
. I can't wait to see what you cook up!
Spicy Chicken Rub
Fire up the grill and enjoy an easy chicken dinner with this Spicy Chicken Rub. Making your own seasoning blend helps you avoid additives and will save you money!
Ingredients
1

tablespoon

paprika

½

teaspoon

ground ginger

½

teaspoon

dried dill

½

teaspoon

salt

½

teaspoon

garlic powder

½

teaspoon

onion powder

¼

teaspoon

black pepper

¼

teaspoon

ground cayenne pepper
Instructions
Combine all ingredients in a small mixing bowl. Store in an airtight container in the freezer until ready to use.
Notes
Note: To use spice rub, brush chicken pieces or other meat with olive oil. Season liberally with chicken rub. Rub in gently. Cook over a hot grill until done.
Nutrition
Calories:
18
kcal
|
Carbohydrates:
4
g
|
Protein:
1
g
|
Fat:
1
g
|
Saturated Fat:
1
g
|
Sodium:
585
mg
|
Potassium:
80
mg
|
Fiber:
1
g
|
Sugar:
1
g
|
Vitamin A:
1828
IU
|
Calcium:
8
mg
|
Iron:
1
mg
Tried this Recipe? Tell us what you think!
Your reviews help us develop better recipes and give newcomers the confidence to try your favorites. Scroll down to leave a starred comment.