Meal prep is not just for hipsters and body builders. In fact, all savvy home cooks should be prepping food in advance to use throughout the week. It makes life easier! Bonus: Get a free printable meal prep checklist to help you organize your meal prep and make it happen.
It's been known to happen that you find yourself…
…in a rush at meal times,
…away from home at dinner,
…too scattered or too tired to get a good meal on the table.
It happens, most assuredly. And while there are plenty of fast food joints and convenience products out there to save the day, they don't always work for our nutritional or financial standards.
Let's face it, generally it's overpriced and unhealthy which makes it less than a good value, no matter your budget.
Thankfully, there's a solution and it's something as old as time. No, it's not a romantic fairy tale featuring a beauty and a beast. It's called meal prep.
You know that I love my freezer. Soooo much so that I wrote a cookbook chock full of freezer-friendly recipes.
Make ahead makes me happy.
But "make ahead" does not have to be limited to the freezer. In fact, there's a wealth of things that can be prepped in advance and stored in the pantry or the refrigerator for use later in the week.
These days the hipsters call it, "meal prep". Ironically, they think they've discovered something new, but no, our grandmothers would do as much make-ahead as they could because they were smart like that.
They just didn't have the fancy black plastic boxes.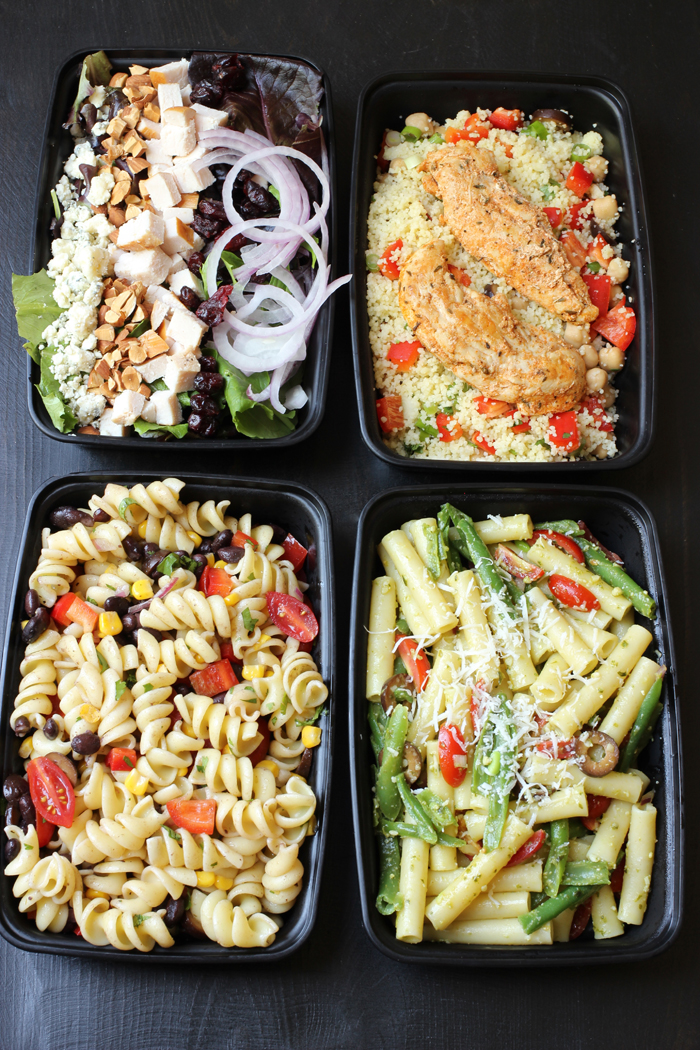 How Meal Prep Can Help You
Weekly meal prep isn't complicated or some fancy art that you need to study. Think about the things that you use every week that you prepare regularly.
I bet you "go through the motions" several times a week to shred or slice cheese, chop veggie dippers, or cook pasta.
I know I do. In fact, for months before I started doing weekly meal prep, I would whisper to myself, "You really should just set aside time every week to do all this stuff, so you have it already done."
About eight years ago I finally put feet to my good intentions. I made a meal prep checklist of food items that needed to be prepped for the week, and then I set aside time during my toddler's nap to knock out the preparation of some of those meal items.
My meal prep practice has evolved over the years so that now, instead of making my husband's lunch every night or at 5 am before he leaves for work, I prepare a week's worth of lunches for both of us.
Now that I've got sons in college, we're making meal prep a family affair. Our eldest recently graduated from college debt-free, in part thanks to meal prep. Instead of spending his money on meals out, he packed a lunch every day he was on campus at lunchtime.
Yep, meal prep can be a game changer.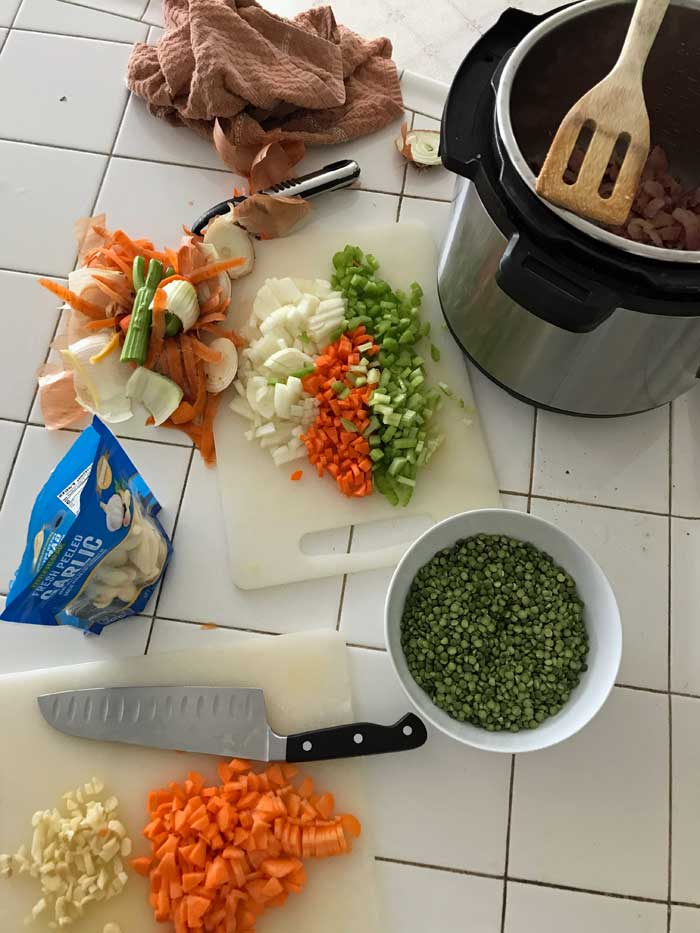 Meal prep can save you time during a busy week. It can help you make the most of your food budget by helping you avoid commercially made foods that bring a poor value.
Meal prep can make it super simple to get a meal on the table after a crazy day.
Yes, I get you. But, how do you really make this happen? you may say.
Get a meal prep checklist.
Having a meal prep checklist is super helpful in organizing your meal prep and helping you see the big picture.
What might you put on your meal prep checklist?
shred cheese for quesadillas, salads, and tostadas
slice cheese for sandwiches and snacky lunches
cut vegetables for snacks, side dishes, and to include in stir-fries or salads
prepare granola or baked oatmeal for breakfasts
hard cook eggs for meals and snacks
prepare salad fixings
bake breads and cakes
assemble lunches and other meals on the go
After I've decided on my meal plan for the week, I divide my meal prep checklist into the regular mise en place items, the ingredients you need to assemble meals throughout the week, as well as which meals I can prepare in their entirety.
This meal prep checklist is very similar to the checklist that I'd use in a freezer cooking session, only I know that I'm probably going to store these items in the fridge, not the freezer.
If you've ever done freezer cooking, you can do meal prep. It's like half-way freezer cooking!
Meal prep is like a dream come true. I have convenience without the high price or questionable ingredients list. Assembling dinner is so much easier. We eat more healthfully. And we shake the crazy that comes at 4 pm.
When I block out a couple hours somewhere in the week to work through my meal prep checklist, I'm making life so much easier on myself!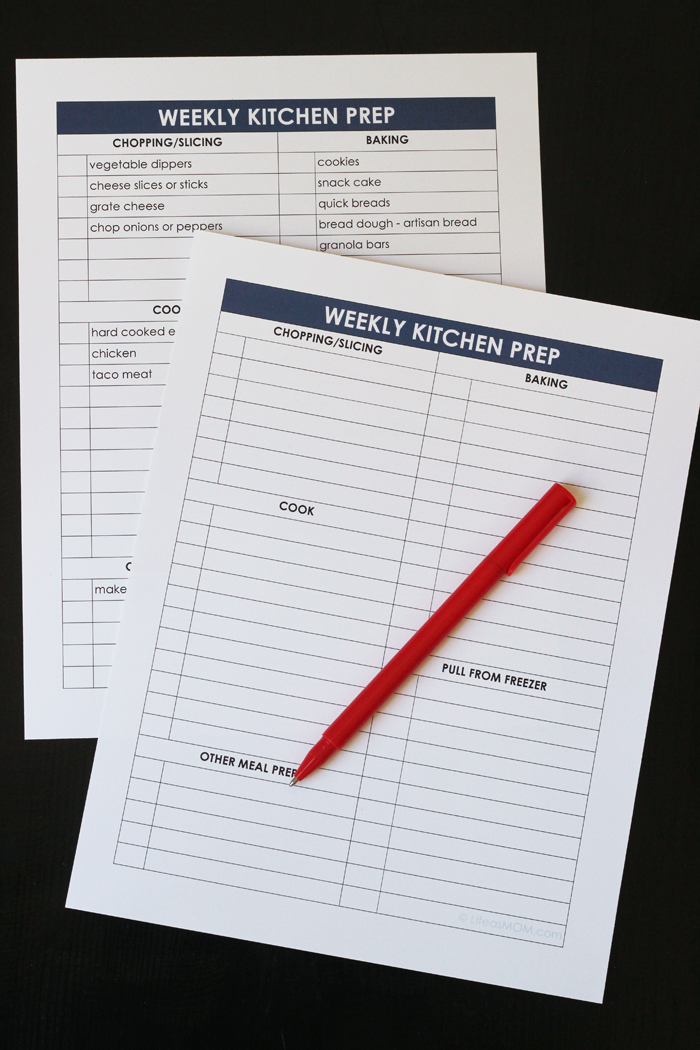 I'm sold on meal prep, and you should be, too. I put together a printable meal prep checklist to make your weekly meal prep much easier. You can laminate it and reuse it each week, using a sharpie or a wet-erase marker or just print a new one each time.
Bonus: I've included a sample meal prep checklist so that you can see
When you subscribe to the free weekly newsletter, I'll send you access to the printable straight away.
Meal prep is, by far, a major sanity saver in my week. Grocery shopping and meal planning are essential. Putting together a meal prep list and following it is the next natural step. You will be so glad you did it. I promise.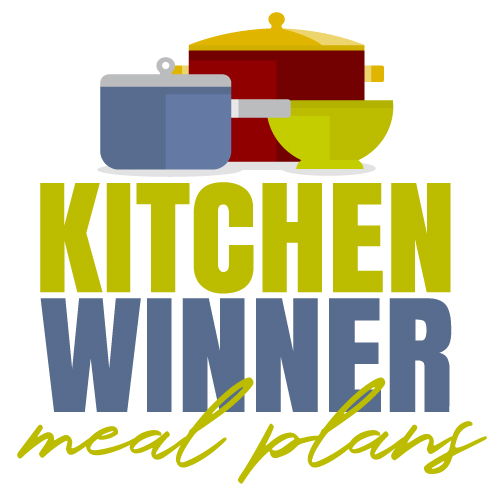 I believe whole heartedly that everyone can (and should!) enjoy delicious meals, regardless of their budget or schedule. I've developed my Kitchen Winner Meal Plans around the concept of meal prep and efficient shopping.
Each weekly plan includes a full week's menus, a coded grocery list in case you want to swap out a recipe here and there, and a complete list of things to prep at the beginning of the week to make the meals super duper simple.
It's like having a subscription to those fancy pants services that bring you a recipe and a box of ingredients — only a whole lot cheaper!
You can subscribe for the Kitchen Winner Meal Plans for a month or a whole year, just depends on what you want to do and how much you want to save.
Check out all the good stuff here: https://fishmama.com/kitchen-winner-meal-plans/
What do YOU do for meal prep each week?