Start the day off right with homemade granola, not too sweet, made with lots of grainy goodness.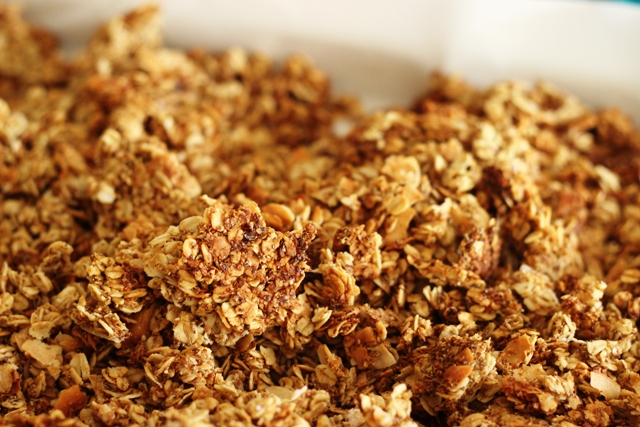 I go back and forth between buying breakfast cereal for its convenience and completely abandoning it for its questionable nutrition. Yes, really. I said that. I'm sorry, mamas, but it's true. That thing that makes our life so easy is really not all that good for us. Call me the bad cop.
Most commercially-made breakfast cereals are full of sugar, salt, and heavily processed grains. My kids love them. Often that's what they will choose for their birthday breakfast. And yes, on your birthday, I will buy chocolate-covered sugar bombs for breakfast.
I just won't let you make a steady diet of it.
For regular days, I often buy Joe's O's from Trader Joe's. At $2 a box it's an okay "fill-the-gap" convenience item, but the ingredients list still has a lot of things I can't pronounce. I'll still buy it. Life is too short to freak out too much. But, when I can, I want my kids to have real food.
(Oh that this resolve will last all year long!)
For our regular breakfast rotation this winter I have the following on the menu, all baked items made with half white whole wheat flour or whole wheat pastry flour:
Eggs and Toast
Granola (either with milk or yogurt and fruit)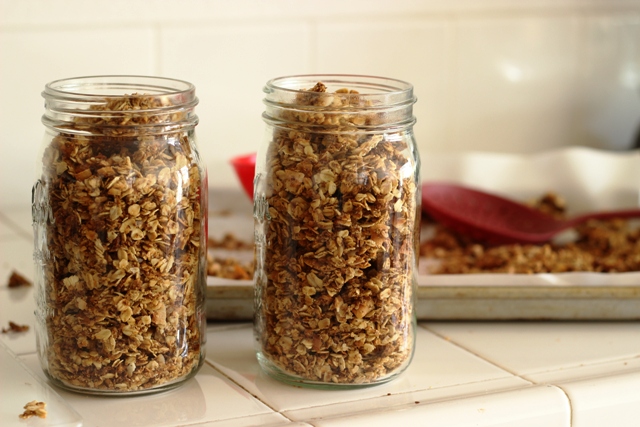 These days, I'm making this granola. It's not too sweet, it's easy to mix up, and it disappears in the blink of an eye. My kids love it. And for the last two weeks, no one has noticed that there are no boxed cereals in the pantry. Win.
This batch fills three quart jars if I move fast enough. My people eat it up pretty quickly.
Demerara sugar is a lesser-processed sugar. You can use 1 1/4 cup honey or maple syrup if you'd rather and omit the sugar and water.
I've had my share of burnt batches of granola. No fun. Over time, I've found some tools that make the process easier, cleaner, and tastier.
Tools that make granola-making easier:
Not Too Sweet Granola
Keyword:
granola, homemade granola, not too sweet granola
Ingredients
5

cups

old-fashioned rolled oats

2

cups

coconut chips

1

cup

wheat germ

1

cup

wheat bran

1

cup

flax seed meal

1/2

teaspoon

sea salt

1

cup

demerara sugar

1/2

cup

water

1/2

cup

sunflower oil

1

tablespoon

vanilla
Instructions
Preheat the oven to 350°. Line a sheet pan with parchment paper or a silicone baking mat.

In a large mixing bowl, combine the oats, coconut, wheat germ, wheat bran, flax seed meal, and salt.

In a small saucepan, combine the sugar and water, stirring until dissolved. Add the oil and vanilla.

Pour the wet mixture over the dry, stirring to combine. Spread the mixture into the prepared pan and press firmly.

Bake the granola for 30 minutes, watching for overbrowning on the edges. If it starts to get too brown on the edges, move the edges to the center with a spatula.

Allow to cool completely and then break into chunks.

Store in an airtight container. For longer shelf life, store the granola in the freezer.
Recipe Notes
Nutritional values are approximate and are based on 1/12 of the recipe. Store leftovers promptly in air tight container and use within 4 days or freeze.
Nutrition Facts
Not Too Sweet Granola
Amount Per Serving
Calories 487
Calories from Fat 243
% Daily Value*
Fat 27g42%
Sodium 110mg5%
Potassium 455mg13%
Carbohydrates 55g18%
Protein 11g22%
Vitamin C 1mg1%
Calcium 64mg6%
Iron 4mg22%
* Percent Daily Values are based on a 2000 calorie diet.