What do you get when you combine greek yogurt, beaten eggs whites, cinnamon, and applesauce into a waffle? A flavorful, light and fluffy, sugar-free breakfast treat.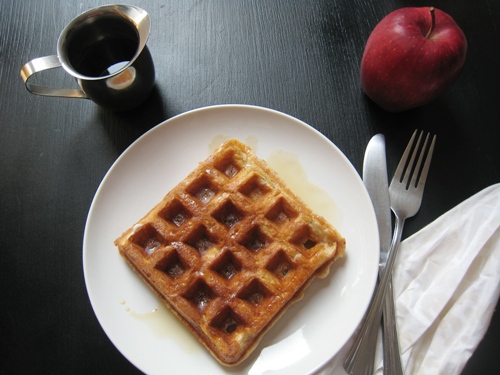 (This post does include Amazon affiliate links. If you make a purchase through those links, I am paid a small amount in way of advertising fees.)
During my Whole30, I abstained from sugar. Today, almost a week after the 30 days ended, I've continued my sugar fast. Okay, I put one teaspoon in my coffee this morning. But, other than that, I've been living sugar-free.
I don't want to. Don't get me wrong. I love sweet stuff. And the Whole30 showed me that. It brought me to the point of eating Larabars which I previously did not like in order to get just a taste of sweet.
But, I found that not having sugar on a regular basis has made a huge difference in my energy levels. I'm not exhausted by noon. I'm even able to pull a late-nighter without being completely trashed the next day. Could it be something else? Maybe, but I'm putting my bet on sugar.
In light of that, I'm on a mission to reduce the added sugar I feed my family. Don't worry, my kids are not being deprived of fun. I figure if I can make a sugar-free or less processed alternative that's just as good…. well, why not?
Last week we talked about the beauties of the waffle maker. And I've been making a lot of waffles lately, like these Buttermilk Corn Waffles and these Oatmeal Waffles. I went to bed one night concocting this recipe in my head. Greek yogurt, homemade applesauce, eggs, cinnamon. I tried it out this week. In the midst of mixing it up, I decided not to add any sweetener. I'd let the applesauce and cinnamon — and maybe a dousing of real maple syrup at the end — add the sweet.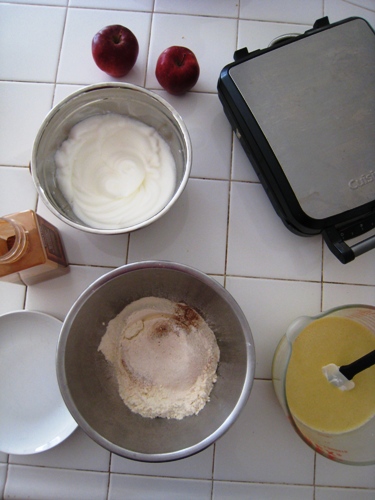 I remembered a technique from The Joy of Cooking where the eggs were separated and the whites whipped into peaks and folded into the waffle batter. I decided to give that a go. While it adds an extra step and another bowl to wash, I found it to be a fair trade off, especially if you're going to make waffles a special memory, as so many of the commenters on this post seem to hold.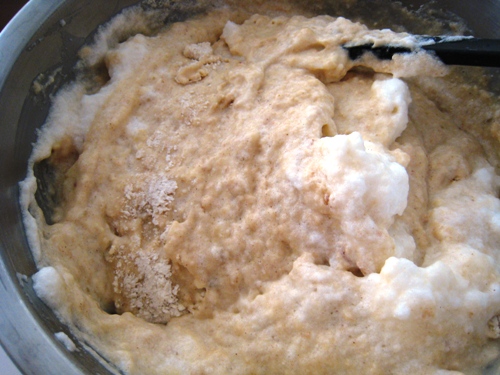 I also learned that I need to make double batches from now on. There were none left.
Sugar-free Cinnamon Waffles
Ingredients
2

cup

unbleached, all-purpose flour

1

tbsp

baking powder

1

tsp

baking soda

1

tsp

salt

1

tsp

ground cinnamon

1

cup

milk

1/2

cup

plain Greek yogurt

regular is fine, too

4

egg

separated

1

cup

applesauce

try homemade

1/2

cup

neutral oil
Instructions
In a large mixing bowl, sift together the flour, baking powder, baking soda, salt, and cinnamon. Set aside.

In another mixing bowl, whisk together the milk and yogurt. Stir in the egg yolks, applesauce, and oil. Whisk to combine well.

In another bowl, beat the egg whites until soft peaks form.

Pour milk mixture into the dry mixture. Stir gently to combine. Some dry bits are okay.

Fold in the egg whites until evenly dispersed.

Cook in a waffle maker according to the manufacturer's directions.

Make-ahead tips: Mix the dry ingredients together and store in a ziptop bag. Make many at one time and label with mixing instructions. Alternatively, cool baked waffles on a rack and freeze them for quick toaster breakfasts.
Notes
Nutritional values are approximate and are based on making 12 waffles from the recipe. Refrigerate leftovers promptly and use within 4 days.
Nutrition
Calories:
204
kcal
|
Carbohydrates:
20
g
|
Protein:
6
g
|
Fat:
11
g
|
Saturated Fat:
2
g
|
Cholesterol:
57
mg
|
Sodium:
319
mg
|
Potassium:
197
mg
|
Fiber:
1
g
|
Sugar:
3
g
|
Vitamin A:
118
IU
|
Vitamin C:
1
mg
|
Calcium:
88
mg
|
Iron:
1
mg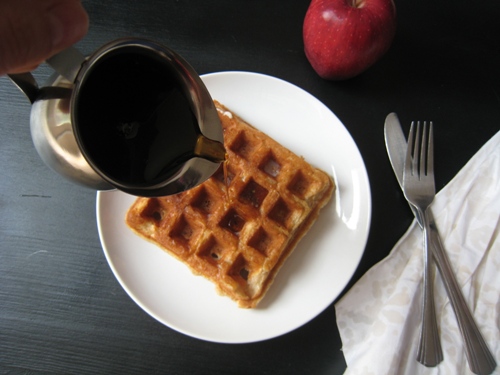 Try these waffles for a fun weekend breakfast. Serving them with maple syrup or homemade whipped cream (lightly sweetened, of course!) and fresh fruit for a slightly sweeter indulgence.
To make them ahead, make a mix or freeze the cooled waffles for easy toaster breakfasts.
Disclosure: This post does include Amazon affiliate links. If you make a purchase through those links, I am paid a small amount in way of advertising fees.