Maple Whipped Cream is one of the simplest of whipped cream recipes. Forget fancy flavorings and loads of sugar! Go light for a delicious creamy topping for fruit and desserts.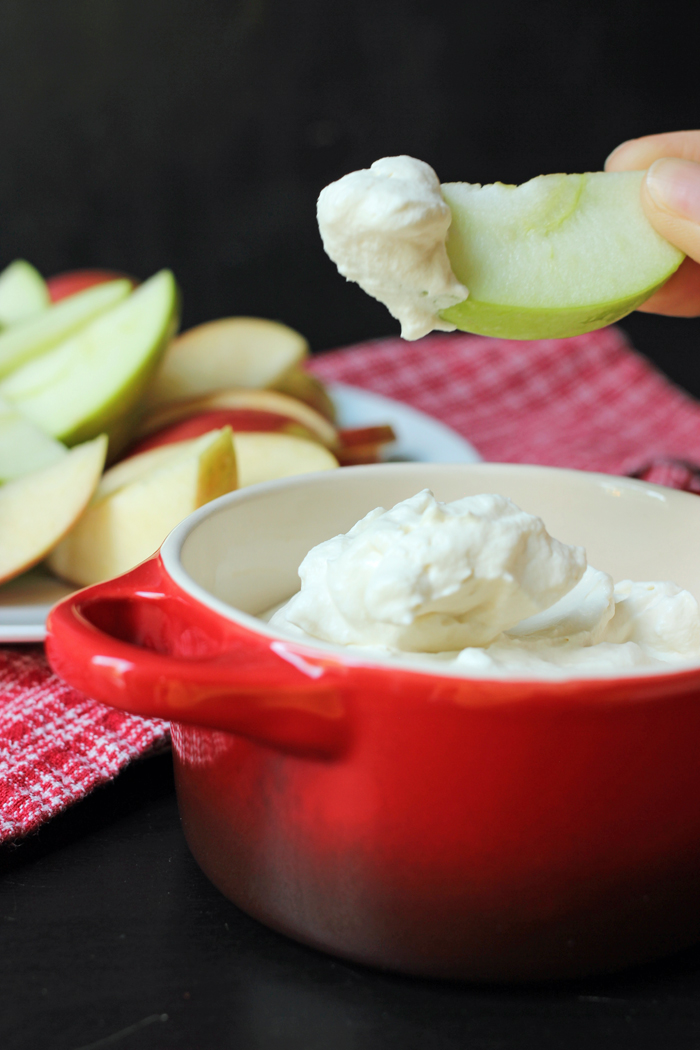 You know how in that 50's TV show where the mother prepares a dessert every single night? And the kids know that dessert will be served…. every. single. night? And going to bed without dessert is the kiss of death?
Well, despite my best intentions to be a healthy, low-sugar mom, we are that family.
Not exactly, of course.
My husband doesn't usually wear a suit to work, and my house certainly isn't as clean as June, Harriet, or Donna kept theirs.
But we are a dessert family.
Not sure how it happened, but it did. Each one of us craves a little sweet — it can be little, as little as a cookie! — to end the evening and make the day complete.
So it may surprise you that one night when my kids asked for dessert, I came up empty handed. I really didn't have a plan.
But I knew we had lots of delicious farm-fresh apples, though.
I could have made a caramel sauce and gone all out with Apple Crowns, but I took a few steps back and simplified. I made whipped cream and sweetened it with maple syrup.
Maple Whipped Cream?
Was that really dessert? Apple slices and Maple Whipped Cream? The kids were skeptical, but oh my! One taste and I had them.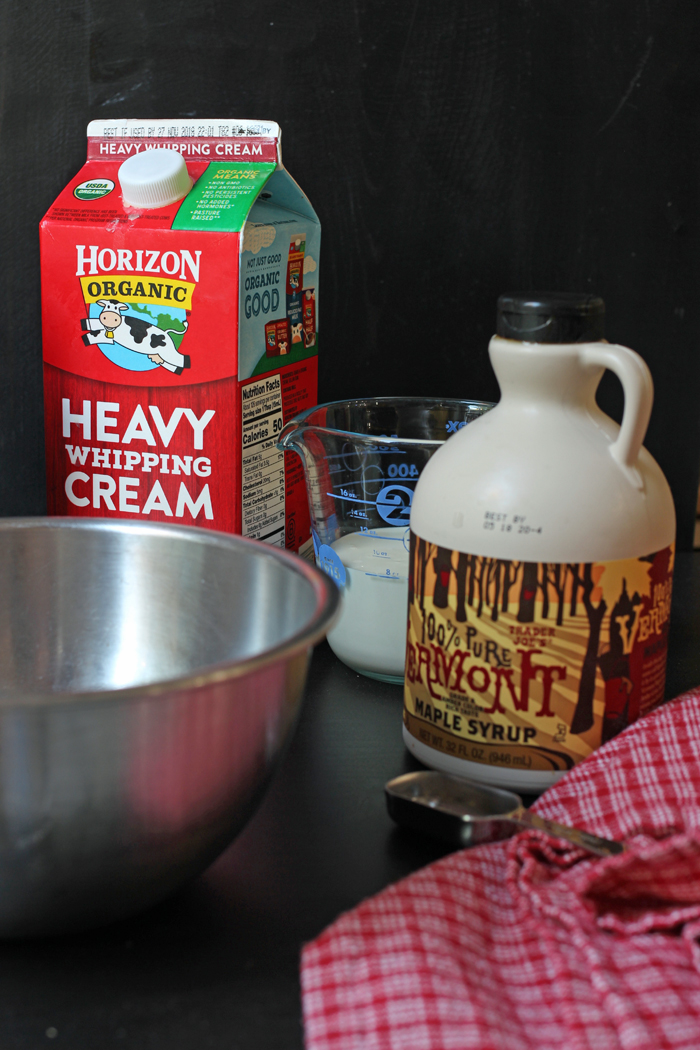 I mean seriously, two ingredients? That's pretty darn awesome for a whole food dessert that comes together in about ten minutes, dontcha think?
How do you make whipped cream?
Maple whipped cream is easy to make, especially if you have a stand mixer or a whipped cream machine. You can actually do this by hand with a whisk, like my girls insist on doing after watching too much Food Network, but your arm will get sore and it takes longer than ten minutes.
If you're making it in a bowl with a mixer, simply follow these quick easy steps:
Pour the heavy cream or heavy whipping cream in the bowl. Bonus points for using a cold bowl.
Add your sweetener, such as maple syrup. But you can also use powdered sugar or honey.
Beat with a hand mixer until the cream thickens and becomes light and fluffy and stiff peaks form. Bonus points for using cold beaters.
Be careful not to overbeat as the whipped cream will become butter. (Ask me how I know.)
Store any unused whipped cream in a covered dish in the fridge. Use before it deflates.
Can you make whipped cream in advance?
Yes! You can make the whipped cream several hours ahead of time and store it in the fridge, covered. Liven it up with a whisk right before serving.
The leftover whipped cream goes great in your morning coffee or atop mugs of hot cocoa.
Can you make whipped cream with milk or half and half?
No. You need a high fat content in order to get whipped cream to thicken.
Does whipped cream count as dessert?
Yes! Honestly, it's kinda the same as ice cream, only not frozen.
However, most people enjoy whipped cream with other things. If you pair it with fresh-from-the-farm apples or other seasonal fruit, you've got a super winner of dessert. And it's fabulous on these other bases: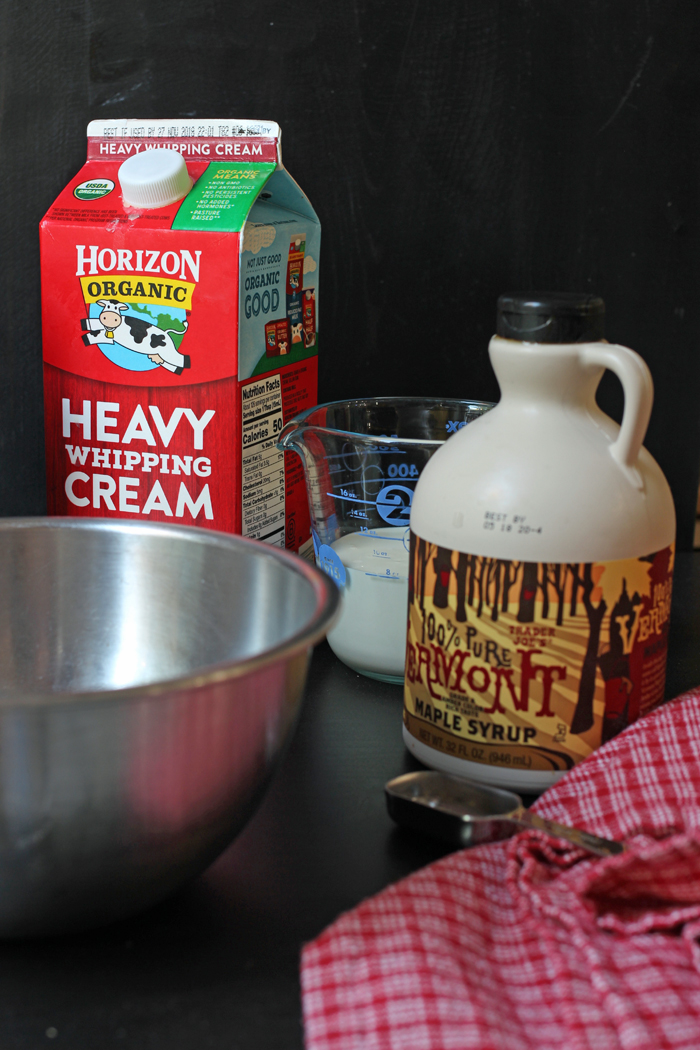 How to make this good and cheap:
To make this recipe more economical:
Stock up on ingredients when they are on sale. With only two ingredients in this recipe, it's not hard to see what sales to watch for: whipping cream and maple syrup.
Buy in bulk. Buying in bulk, particularly at stores like Costco, Sam's, or Smart and Final can greatly reduce your unit cost. If they're items you use frequently, you'll save money over all.
Don't let it go to waste! Food waste is money waste. Make sure that you store real maple syrup in the refrigerator after it's been opened. Buy whipping cream far in advance of its best by date so you have plenty of time to use it.
How I make this recipe easy:
Having the right kitchen tools can really make your time in the kitchen more enjoyable. Over time, I've honed my collection so that they are perfect for my needs. Here are the tools that I use for this recipe:
stainless steel mixing bowl – a good set should last you a lifetime.
hand mixer – My Hamilton Beach version is going on a decade and still kicking.
silicone spatula – I love this two-sided spatula/spoon. It's great for stirring and scraping. I bought it originally to flip crepes, but I've since bought more since it's so handy.
Maple Whipped Cream
Maple Whipped Cream is one of the simplest of whipped cream recipes. Forget fancy flavorings and loads of sugar! Go light for a delicious creamy topping for fruit and desserts.
Ingredients
1

cup

whipping cream

1-2

tbsp

maple syrup
Instructions
Pour the heavy cream or heavy whipping cream in the bowl. Add the maple syrup.

Beat the cream and syrup together with a hand mixer until stiff peaks form. Be careful not to overbeat, else it will turn to butter.

Store leftover cream in an airtight container in the fridge for a day or two.

Notes
The cream will whip best if your bowl and beaters have been chilled prior to preparing the recipe.
What else could you top with Maple Whipped Cream?