Chocolate Whipped Cream is that extra special touch you can add to simple desserts and hot drinks to take them over the top! This simple recipe contains just three ingredients and features a natural sweetener.
Ever find that you spend so much time in the kitchen, time that doesn't seem to match up with the flavorful rewards you're expecting? I've been there, too.
It seems we can spend hours preparing an elaborate meal or dessert only to find out that the ROI just wasn't there.
Some of this depends on why we're cooking, of course. Cooking can be therapy, of course, boosting confidence and general mental health. To which I say, spend all the time you want in the kitchen!
Other times, though, cooking is a means to an end. And if we spend all our time in the kitchen, we want that end to justify the means.
Simple desserts can bring big returns.
That's when simple desserts often bring the best return. You don't spend a lot of time or money, but the end result still has a great result.
Take for example, a Chocolate Dessert Board or a Winter Fruit Tray. Both are super simple, but also intensely satisfying.
The same can be said for Chocolate Whipped Cream. With just three ingredients, it brings the party with it.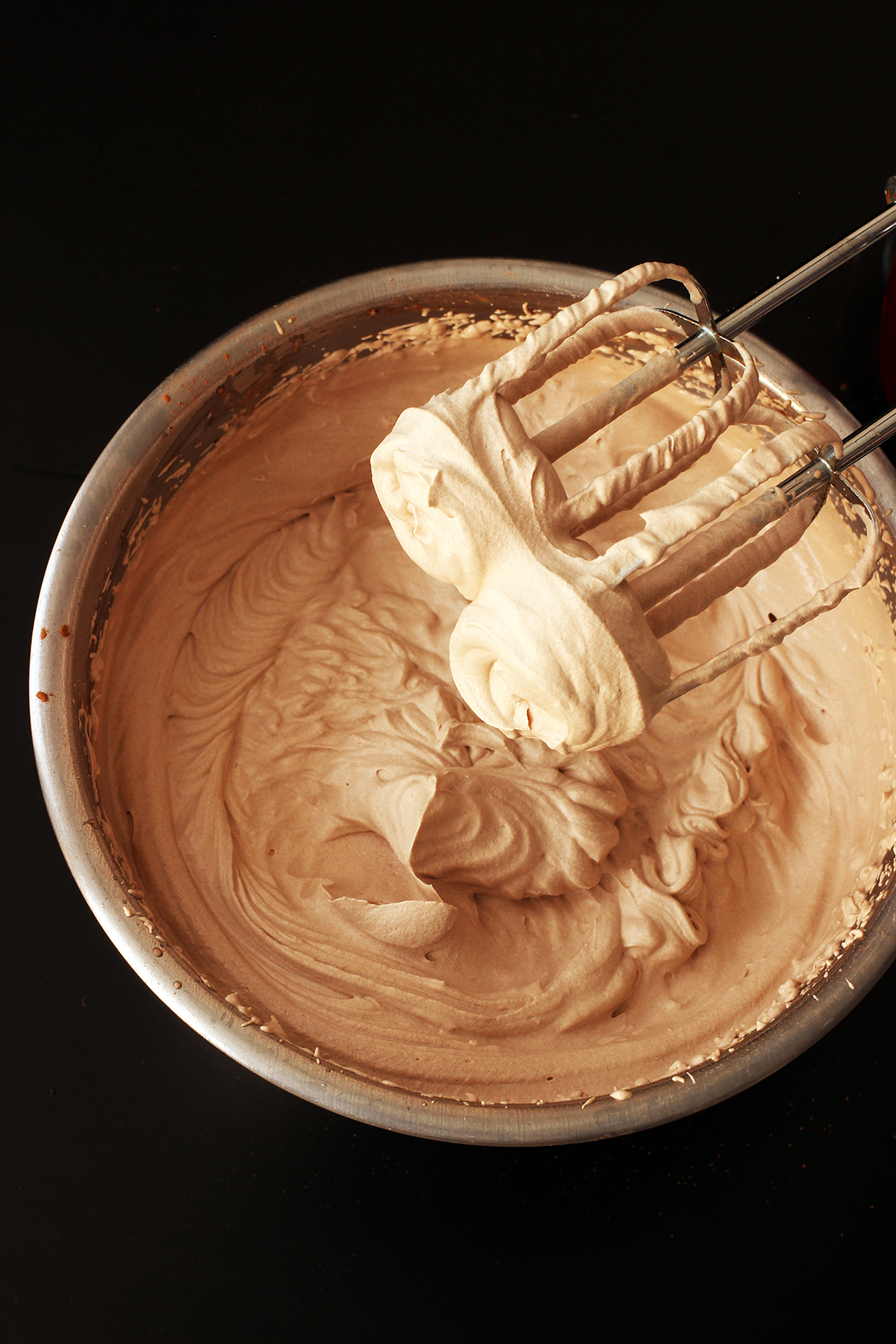 What is chocolate whipped cream?
Chocolate Whipped Cream is heavy cream, sweetener, and cocoa powder that is whipped until stiff. It is a great addition to simple desserts as well as hot and cold drinks.
What do you need to make this?
The ingredients for Chocolate Whipped Cream are:
whipping cream
maple syrup
cocoa powder
This recipe for Chocolate Whipped Cream features maple syrup as the sweetener but you can also use powdered sugar or honey if you prefer.
How do you make chocolate whipped cream from scratch?
It's super simple to prepare chocolate whipped cream.
Assemble your ingredients and measure them out.
Pour the whipping cream in a steel mixing bowl. Add the maple syrup and cocoa powder.
Using a hand mixer fitted with beaters, beat the ingredients together. At first it will look like things won't really mix, but then it will start to resemble chocolate milk.
As you keep whipping, soft peaks will form.
Keep whipping for stiff peaks. Serve or refrigerate in a covered dish.
How long does whipped cream last?
Whipped cream should stay whipped for a day or two when stored in an airtight container, however, it's best to use it right away.
Can you freeze whipped cream?
If you've got leftover whipped cream or find a good sale and need to use it up, you can freeze the whipped cream.
While it won't have the same texture as freshly whipped cream, it's perfect for adding to hot cocoa or coffee.
Frozen whipped cream is good for 2 to 3 weeks.
How do you freeze whipped cream?
Line a baking sheet with parchment paper or plastic wrap.
Dollop the whipped cream onto the prepared pan.
Place the pan into the freezer until the whipped cream is frozen solid
Transfer the frozen blobs to a labeled ziptop freezer bag and return the whipped cream to the freezer immediately.
To serve: just pull the number of whipped cream blobs you want to use and return the bag to the freezer right away.
You can use the same "open freezing" method to freeze yogurt as well as freeze cinnamon rolls.
What other flavors of whipped cream can you make?
The beauty of whipped cream is that you can flavor it any way you like it. Consider these different options:
Add vanilla extract for plain Homemade Whipped Cream.
Whip in ground spices like ground cinnamon or ginger.
Use maple syrup for Maple Whipped Cream
Add a different flavored extract such as peppermint, almond, or lemon.
Fold in cookie crumbs or crushed candies, such as toffee or candy canes.
You can even make a savory whipped cream, using fresh herbs.
What are some uses for chocolate whipped cream?
Got whipped cream? You've got a magic bullet to elevate simple drinks and desserts to something special.
Top pound cake with chocolate whipped cream and crushed candies.
Dollop on top of hot cocoa or coffee drinks.
Spoon on top of ice cream sundaes.
Use as a fruit or cookie dip.
Fold in crushed candies for a vintage candy fluff.
Layer with cake, fruit, and syrup in a trifle.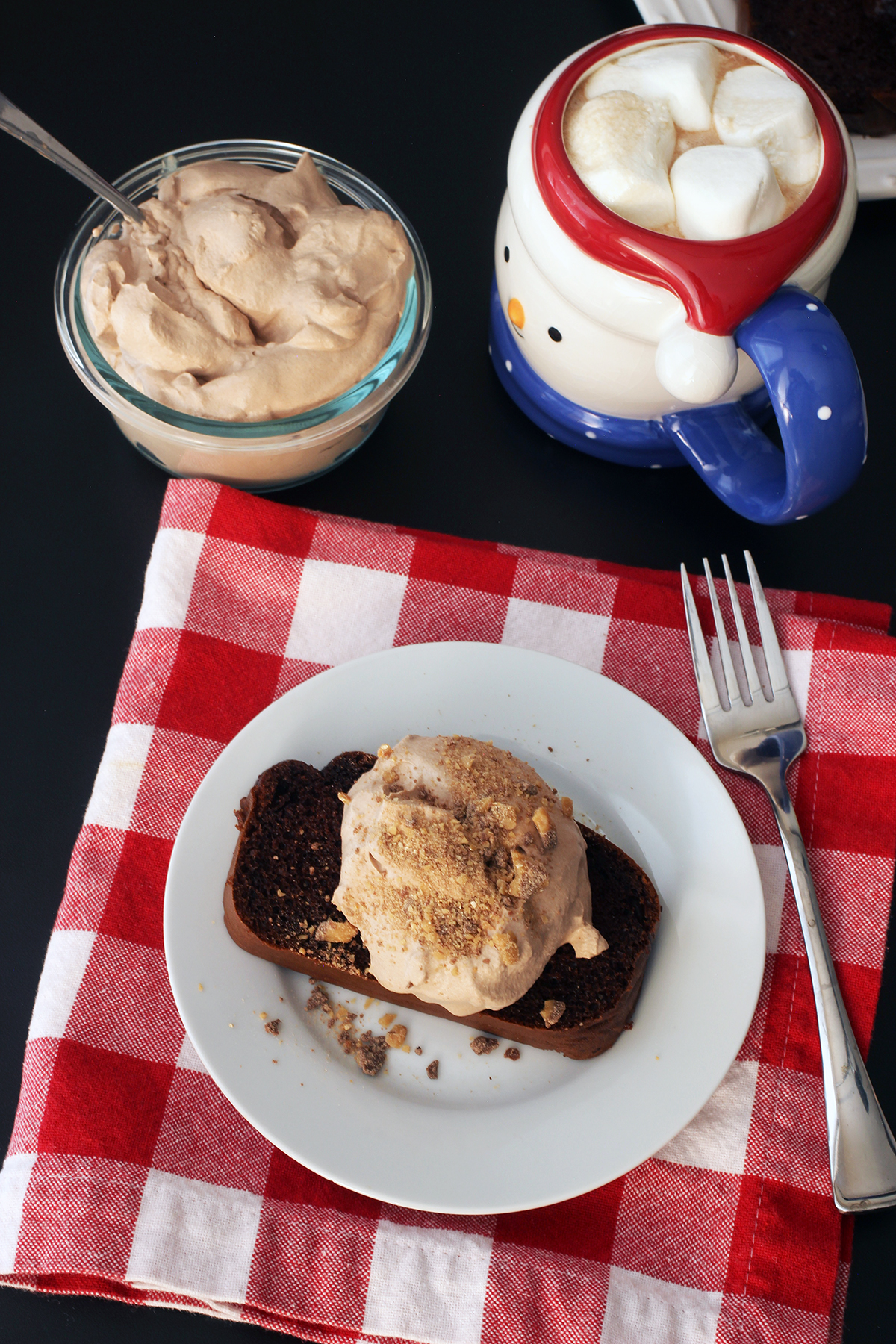 How much does it cost to make homemade chocolate whipped cream?
Here's how this recipe pencils out, priced with non-sale prices at a mid-range grocery store:
whipping cream – $1.37 ($5.49/qt)
maple syrup – $0.50 ($15.99/32 oz)
cocoa powder – $0.08 ($4.79/16 oz)
One batch of chocolate whipped cream costs $1.95.
How can you save money on this recipe?
You can reduce the cost of this recipe even more by working the Good Cheap Eats System.
Make a plan for leftovers – be sure to plan a use for leftover ingredients as well as leftover whipped cream.
Visit the store with the best prices – ALDI and Costco both have great prices on all these ingredients.
Check the sales and clearance – I often see whipped cream marked down because it's near its sale date. This is a great time to snatch it up at a great price and enjoy a sweet treat.
Freeze extra for later – Freezing the whipped cream is a great way to stretch the purchase and enjoy it for a few more weeks.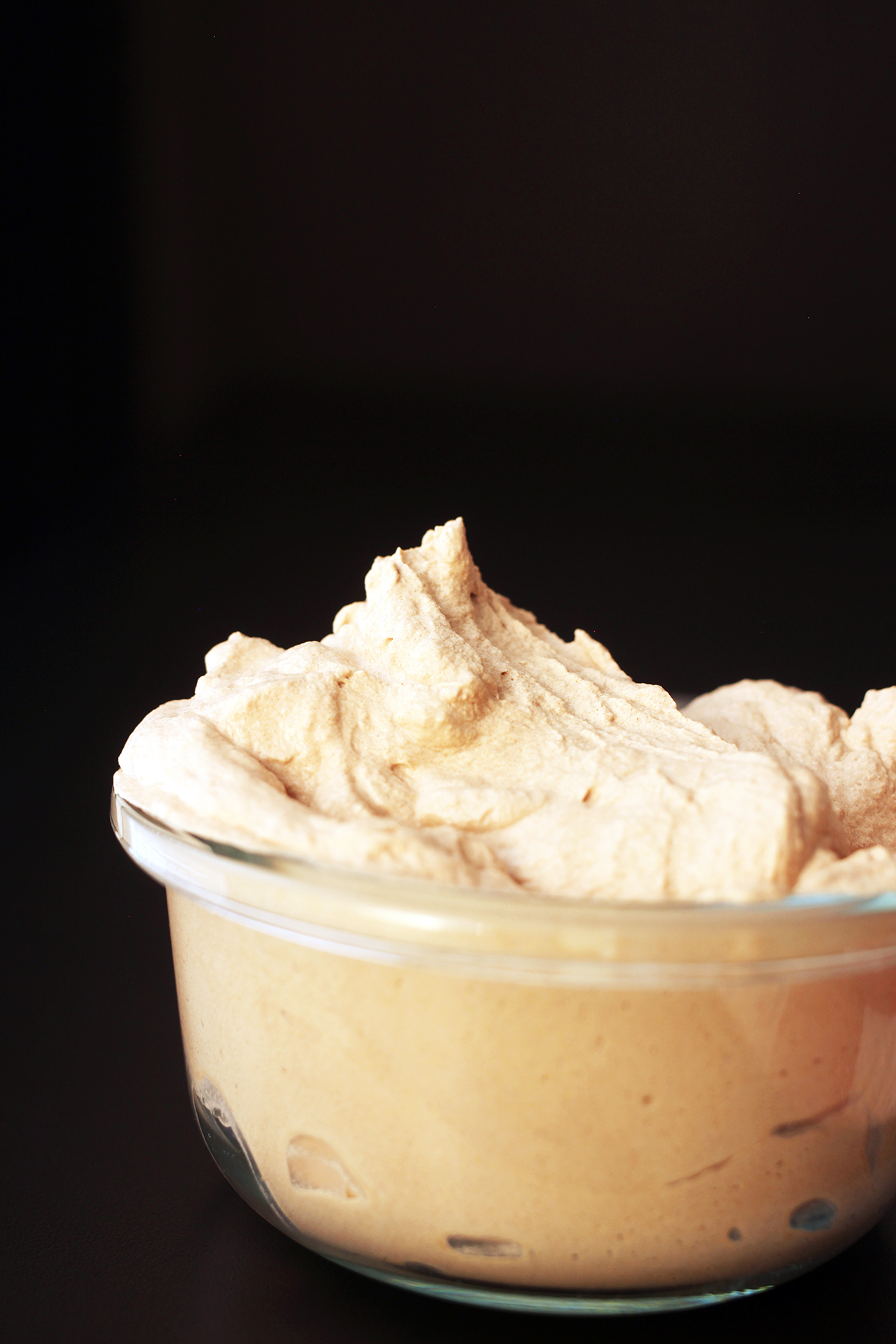 If you prepare this recipe, be sure to share a picture on social media and hashtag it
#GOODCHEAPEATS
. I can't wait to see what you cook up!
Chocolate Whipped Cream
Chocolate Whipped Cream is that extra special touch you can add to simple desserts and hot drinks to take them over the top! This simple recipe contains just three ingredients and features a natural sweetener. 
Ingredients
1

cup

whipping cream

2

tablespoon

maple syrup

2

tablespoon

unsweetened cocoa powder
Instructions
In a mixing bowl, combine the cream, syrup, and cocoa powder. Beat with a hand mixer until stiff peaks form.

Use as a cake frosting or topping for your favorite desserts or sweet beverages. Chocolate whipped cream can also be served as a dip for fruit or cookies.
Notes
Promptly refrigerate leftovers and use within a couple days. To freeze: portion out dollops of cream onto a lined tray and freeze until firm. Remove frozen blobs to a ziptop freezer bag or airtight container. Store in the freezer up to 1 month.
Nutrition
Calories:
238
kcal
|
Carbohydrates:
10
g
|
Protein:
2
g
|
Fat:
22
g
|
Saturated Fat:
14
g
|
Cholesterol:
82
mg
|
Sodium:
24
mg
|
Potassium:
108
mg
|
Fiber:
1
g
|
Sugar:
6
g
|
Vitamin A:
875
IU
|
Vitamin C:
1
mg
|
Calcium:
53
mg
|
Iron:
1
mg