Do you love crispy chocolate chip cookies? Then you'll love Gramma John's recipe for chocolate chip cookies that are crispy and crunchy and tender inside.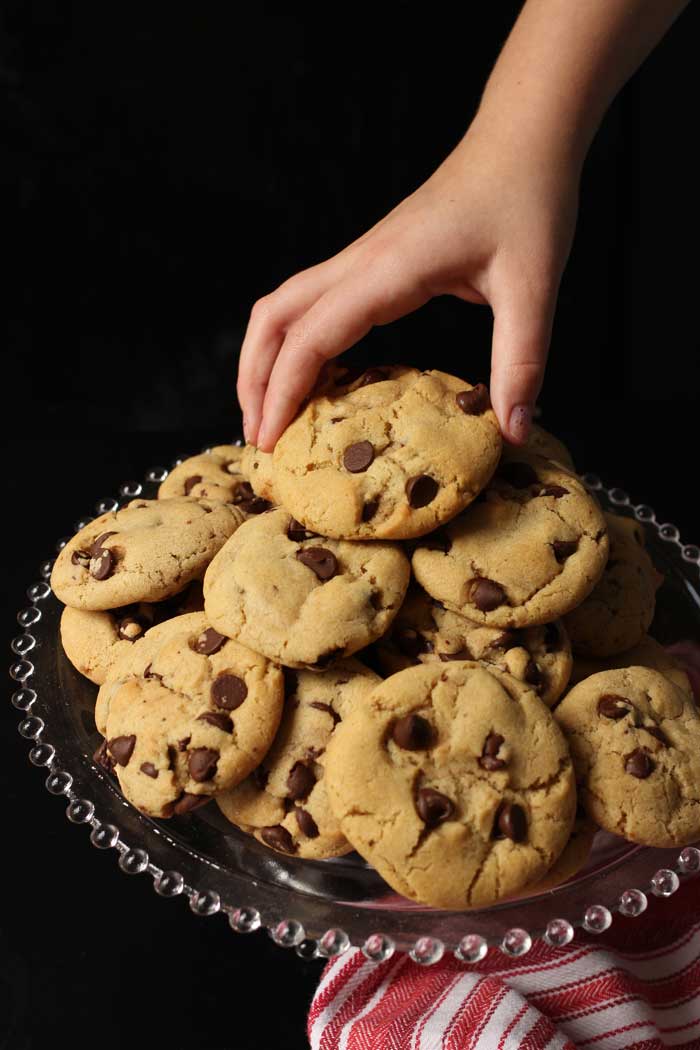 Learning to bake chocolate chip cookies is kind of a rite of passage in my book. And finding your pet, favorite, go-to, ultimo chocolate chip recipe is part of that milestone.
For me, both these experiences are wrapped up in my Gramma John's Crispy Chocolate Chip Cookies, a recipe that I've been baking since I was about 8 or 9 years old.
My Gramma John was born and raised in Minnesota, living most of her life on farms. In her 85 years, she was widowed twice and raised eight kids — six of them boys.
She died right after my second son was born. I think she'd get a hoot out of the fact that I have four boys.
Besides being a brave and somewhat ornery woman — she was very determined to win at cards — she was a fantastic baker.
I loved to bake with her! She taught me, but more importantly, she was just fun to be with.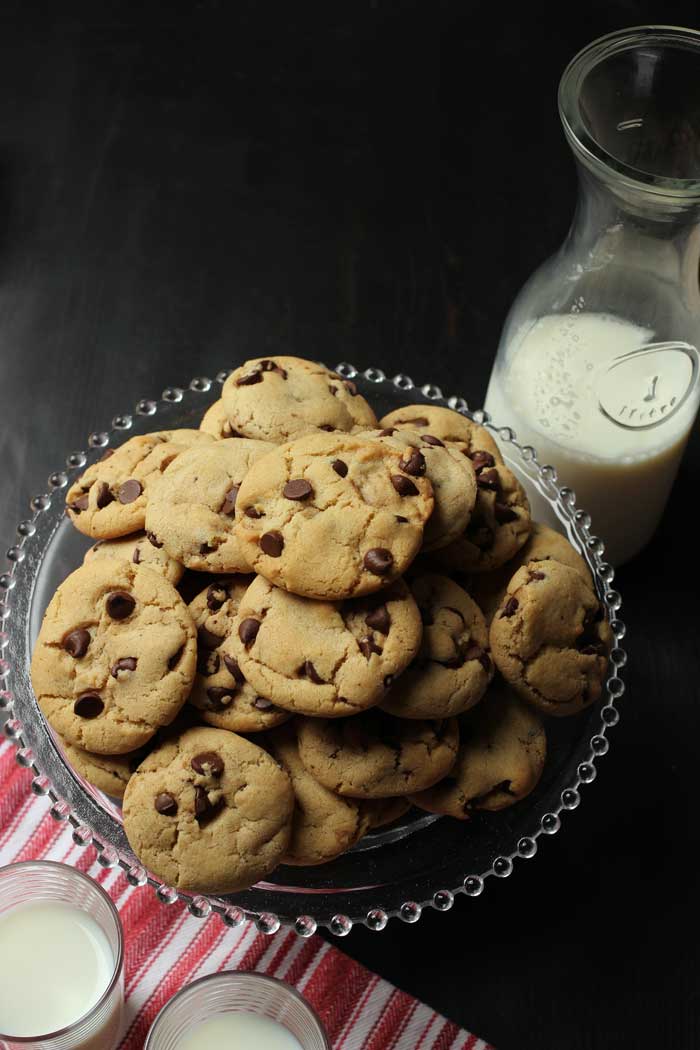 There are a few of her recipes that are also precious to me — her buttermilk donuts, her easy pie crust, and her crispy chocolate chip cookies.
Legend tells that Gramma John, aka Esther Johnson, was sly in sharing her recipes; she would often alter an ingredient in the list before passing it on! My mom says she never knew if the recipes she received were the actual ones that won prizes at the fair.
This recipe for Crispy Chocolate Chip Cookies is the one Gramma John gave my mom, her daughter-in-law. Hopefully, they were on good terms that particular day!
Now, some fifty years later, they are my pet, favorite, go-to, ultimo chocolate chip cookie recipe. They freeze wonderfully, baked or as unbaked dough. So, make all you want — and then make some more!
What are the ingredients to make chocolate chip cookies?
Chocolate chip cookies have a pretty simple ingredients list: a fat (like butter, shortening, or oil), sugar, flour, eggs, leavening, and chocolate chips.
The texture of your finished cookie will depend on the ingredients you choose and what amounts you use them. For instance, using all white sugar will give you a flat cookie while all brown sugar will give you a plumper, chewy chocolate chip cookie.
I never got a chance to discuss these differences with Gramma John, but my guess is that she did some playing with the recipe since she made this recipe to be part butter, part oil and part brown sugar part white sugar.
I imagine there are so many different chocolate chip cookie recipes in the world because there are so many ways you can mix and match the ingredients. The science of cookie baking is fascinating!
How do you make easy chocolate chip cookies?
The easiest chocolate chip cookies are the ones that get the fastest from bowl to oven to mouth. My 12-year old daughter baked up two batches of these on a recent Saturday afternoon while watching reruns of Psych. Trust me when I say this recipe is pretty easy!
But, more specifically, I love the ease of this recipe because the measurements are not complicated. No fiddling with 3/4 cups or 1/4 teaspoons of anything. Full measures make it quick and easy to get the ingredients in the bowl and onto the oven.
Can I freeze chocolate chip cookies?
Yes, you can and should freeze chocolate chip cookies. Especially if your kid makes a double batch. If you don't you'll be tempted to eat them all while watching reruns of Psych.
There are actually several ways to freeze cookies.
I use big plastic containers with lids to store baked cookies in the freezer. Make sure the cookies are completely cooled before layering them between sheets of parchment or waxed paper in the container. The cookies will be good in the freezer for several months — if you can keep from eating them.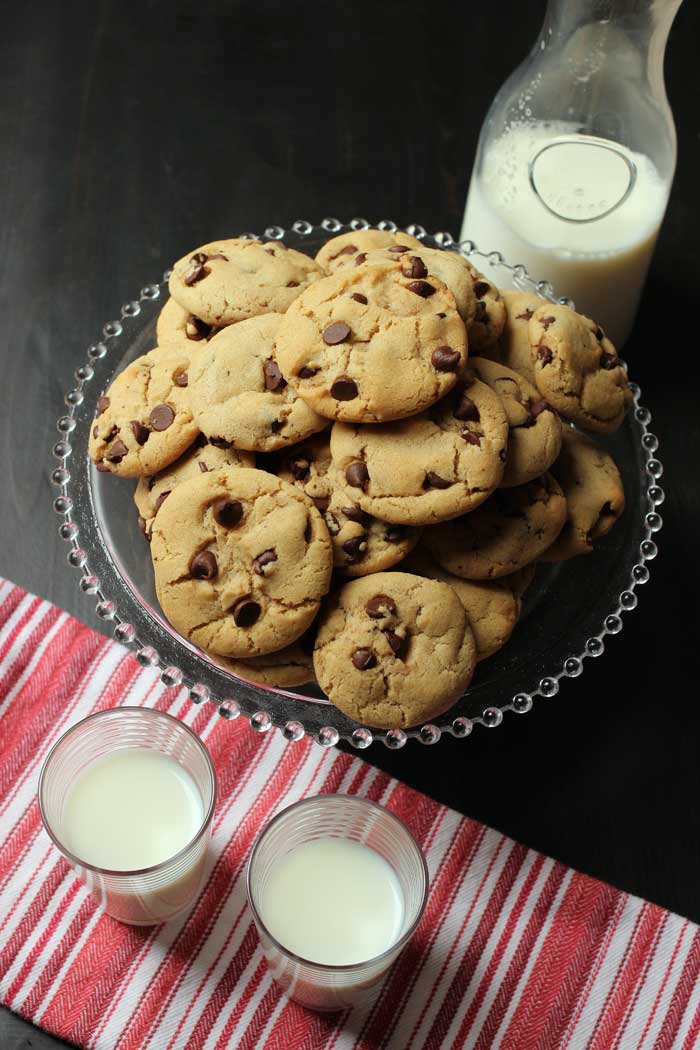 How to make this good and cheap:
Here are some of the strategies you can use to make this recipe more economical:
Stock up on ingredients when they are on sale. When I find regular kitchen staples on sale, I buy a lot. I'm currently using a price book to track prices and that's saving me money. For this recipe, keeping an eye on the price of flour and butter can help keep the price down.
Buying in bulk – It's rare that I would buy just one bag of flour. Instead I stock up when I see a sale. I also have gotten into the habit of buying

cases of flour from Bob's Red Mill. I practice the same bulk buying for spices and other baking ingredients.
Repurpose holiday chocolates — If you've got chocolate leftover from a holiday (Easter? Halloween? Christmas?), just chop it up and use it in place of the chocolate chips. You can often find these novelties candies for a steal after the holidays, so you may want to use them as a frugal alternative all year round!
How I make this recipe easy:
This Crispy Chocolate Chip Cookies recipe really couldn't be easier than it is, but having the right kitchen tools can really make your time in the kitchen more enjoyable. Over time, I've honed my collection so that they are perfect for my needs.
Here are the tools that I use for this recipe:
Gramma John's Crispy Chocolate Chip Cookies
Do you love crispy chocolate chip cookies? Then you'll love Gramma John's recipe for chocolate chip cookies that are crispy and crunchy and tender inside.
Keyword:
chocolate, chocolate chip, chocolate chip cookies, cookies
Ingredients
1

cup

white sugar

1

cup

brown sugar

1/2

cup

vegetable oil

1/2

cup

butter

softened

2

eggs

2

teaspoons

vanilla

4

cups

flour

2

teaspoons

soda

1

teaspoon

cream of tartar

1

teaspoon

salt

12

ounces

semisweet chocolate chips

(1 bag)
Instructions
Preheat the oven to 350 F. Line cookies sheets with parchment paper or a silpat baking mat.

Cream together the sugars, oil, and butter. Add the eggs and vanilla, mixing thoroughly. Blend in the flour, soda, cream of tartar and salt. Stir in the chocolate chips.

Form the batter into walnut size balls and place them onto the prepared cookie sheet. Bake for 8-10 minutes or until set.

Allow the cookies to cool for one minute on the tray before removing them to a cooling rack.

Place baked and cooled cookies in layers separated by waxed paper in an airtight container; cover. Store at room temperature for 3 days or freeze for up to 3 months.
Nutrition Facts
Gramma John's Crispy Chocolate Chip Cookies
Amount Per Serving
Calories 203
Calories from Fat 81
% Daily Value*
Fat 9g14%
Cholesterol 16mg5%
Sodium 93mg4%
Potassium 93mg3%
Carbohydrates 27g9%
Protein 2g4%
Vitamin A 95IU2%
Calcium 15mg2%
Iron 1.3mg7%
* Percent Daily Values are based on a 2000 calorie diet.