Bake someone happy today. Include cookies. Not sure how? You can learn how to make cookies easy, delicious, and pretty at home.
Whether you are looking for Nut-Free Cookies to give to friends, Christmas Cookies to make ahead and freeze, or simply want to soothe a craving for Chocolate Chip Cookies, knowing how to make cookies easily is a great skill.
Jump to:
C is for cookie. It's good enough for me.
Truer words were never spoken. Who doesn't have fond memories of the Cookie Monster gobbling down cookies in a flurry of crumbs? And who doesn't melt when the baker chick hands Harold Crick a warm-from-the-oven chocolate chip cookie?
Cookies are where it's at, people. You need to know how to make cookies!
They are simple to make, freeze beautifully, and are guaranteed to make people happy. While store-bought cookies have certainly improved over the last few years, homemade cookies are almost always better. Cheaper, too.
Why It Matters
You can have all the cookie recipes in the world, but if you don't know how to make cookies easily at home, your efforts may be disappointing. The mixing will be frustrating or your cookies will flatten. Learn the basics of how to make cookies so it's more fun!
Tips for Success
You increase your chances of baking the perfect cookie by following the recipe directions carefully and considering the following kitchen tips:
Soften the butter.
Oh, it's such a pain to make cookies with hard butter. And, yes, butter is in order. It makes everything better. For best pricing, buy it in bulk at Costco or on sale at the grocery store.
You can freeze butter, so don't hesitate to stock up when you see a great sale. (And yes, west of the Rockies, butter comes in short, stumpy sticks like those pictured.)
Leave a package of butter on the counter overnight before you want to bake. This will soften it so that it's ready for using in your recipe.
If it's salted, it will stay good at room temperature. Lots of baking recipes call for unsalted butter, but you can fudge on this point. Just adjust the salt in your recipe if need be.
If your butter is not soft enough to "cream" easily, nuke it in the microwave for 10 to 30 seconds at 10% power. This should speed up the softening process.
Preheat the oven.
You don't really need to preheat for casseroles and savory dishes, but for baked goods, yes, the preheat step is necessary. It matters when you've got chemical reactions going on between leavenings and liquids, so don't cheat on this one.
Get an oven thermometer to make sure your oven is calibrated properly. Some ovens run too hot or too cold, so you'll need to adjust for this.
Buy ingredients in bulk.
If you know you're going to do a lot of baking, particularly at the holidays, build a stockpile from the baking aisle, making sure you have enough flour, sugar, and leavenings to make many batches of your favorite cookies.
Baking items are typically on sale during the winter and spring holidays, so feel free to buy a lot if you've got the room and know you'll use it.
Check "best-by dates" to ensure best texture and flavor.
Butter and flour can be frozen to extend their shelf life.
Pro tip: Print off a copy of our Baking Substitutions List to keep on handy for those days when you run out of something.
Line your baking sheets.
For easy clean up, line your baking sheets with silpat mats or parchment paper.
Lining the tray also makes it easy for you to quickly transfer each batch to the baking sheet and to the cooling rack. Just lift the paper or mat and transfer the whole unit. While one batch is baking, you can get the next batch ready on a mat or piece of parchment.
You won't have to wash baking sheets when you line them! So nice!
You can reuse a sheet of parchment 2-3 times and then chuck it.
The silpat mats can be washed and reused indefinitely. Both serve as an excellent measure to prevent burnt and stuck-on-the-cookie-sheet cookies.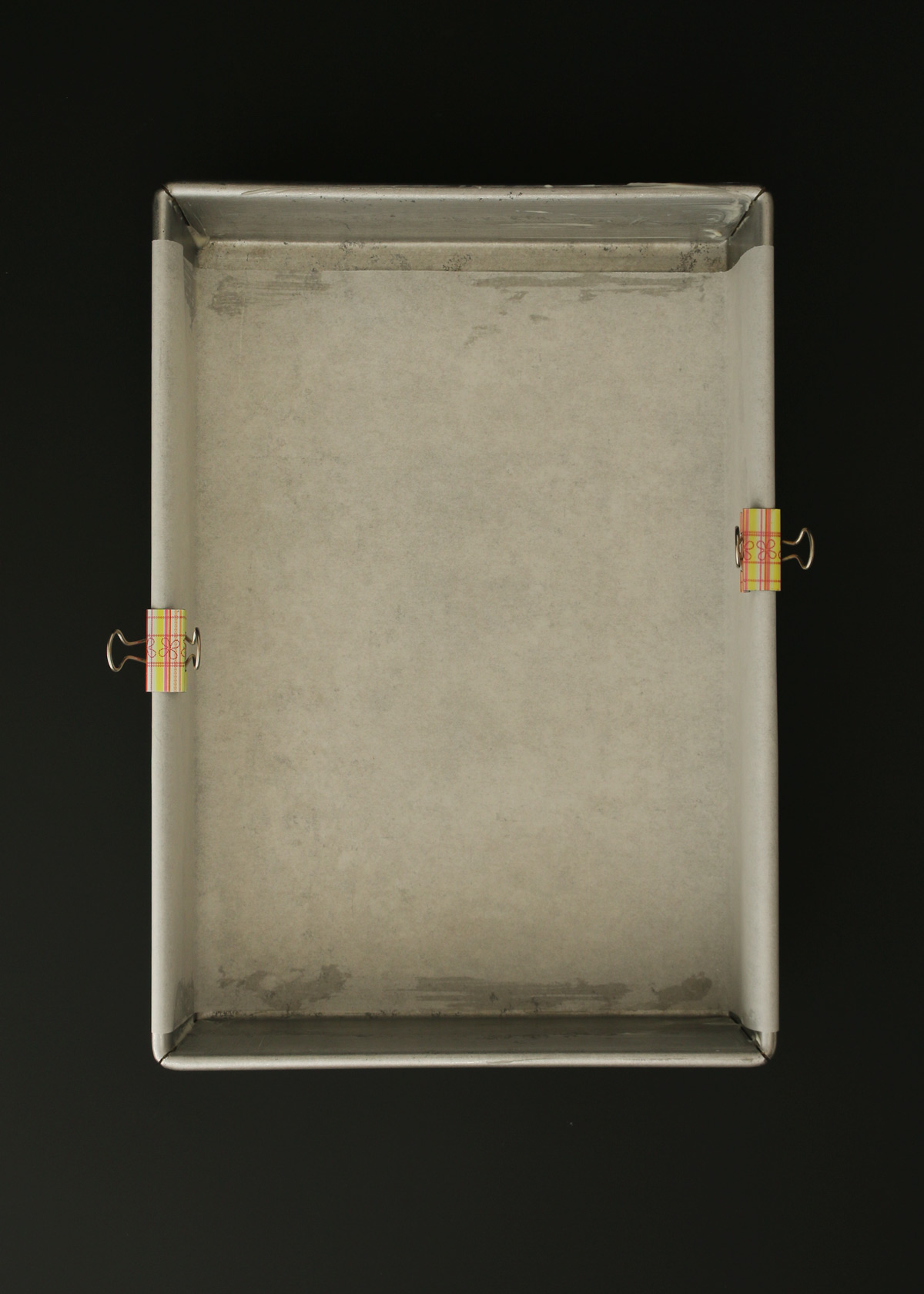 Use parchment paper and binder clips for bar cookie pans.
Even if you're making bar cookies, be sure to line the 9×13 baking dish with parchment. Cookie removal and clean up will be a breeze!
Binder clips will hold the paper in place until you get your dough or batter in the pan. Then remove them prior to baking.
You'd be surprised what office supplies work well in the kitchen.
Make sure the goodies show.
Sometimes, the chocolate, M&Ms, or nuts hide under a layer of dough. That's not a bad thing, but the finished product is much more appealing with that goodie showing.
Add one or two bits to the cookie balls prior to baking. Or top each Lemon Blueberry Cookies with an extra berry before you bake it.
(If you don't already have a quick-release cookie scoop, get some. They make cookie baking so easy for both adults and kids!)
Trim the ugly edges.
It doesn't matter if you're making brownies, magic bars, or these yummy Pepita Cookie Bars. The edges sometimes get ugly. Trim those off so you can cut prettier, sharp-edged bars.
You get to eat the edges so nothing goes to waste. Ahem.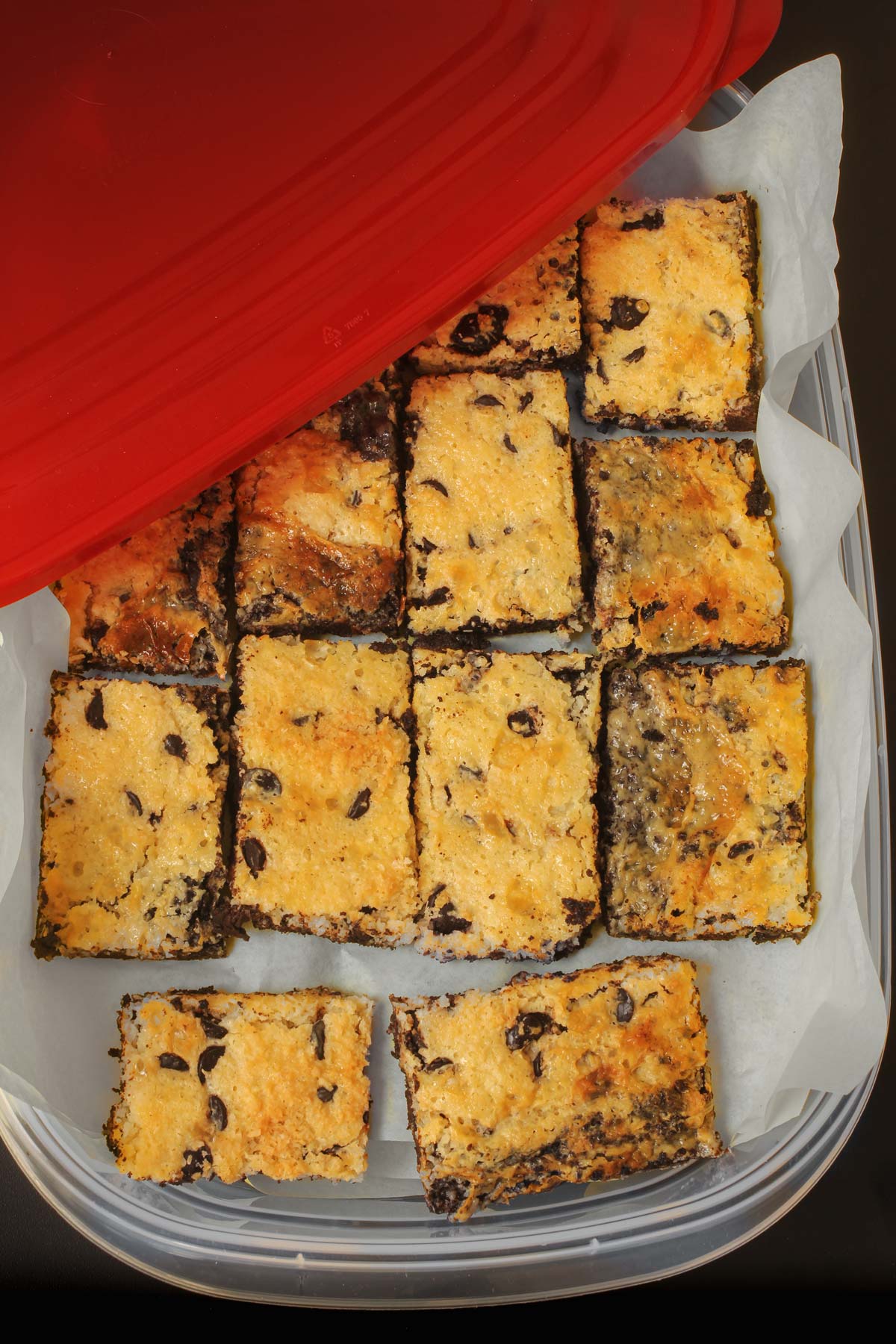 Store them properly.
Store your baked and cooled cookies in an airtight container, such as a pyrex with a lid or even a ziptop plastic bag. You can even freeze cookies, unbaked or baked to enjoy them more often.
FAQs
How do I bake the perfect cookie?
The definition of the "perfect" cookie is a little nebulous. Some folks prefer vanilla sugar cookies while others demand chocolate. Some favor crunchy cookies, while other people choose soft and chewy.
What do you need to start baking cookies?
Typically, you'll need butter, sugar, brown sugar, all purpose flour, baking soda, semisweet chocolate chips, peanut butter, and rolled oats as well as a mixing bowl, rubber spatula, baking sheet, parchment paper, and a wire rack.
What are some cookies to make?
Some classic cookies include: butter cookies, chocolate chip cookies, peanut butter cookies, oatmeal raisin cookies, shortbread, macaron, macaroon, biscotti, gingerbread, and bar cookies.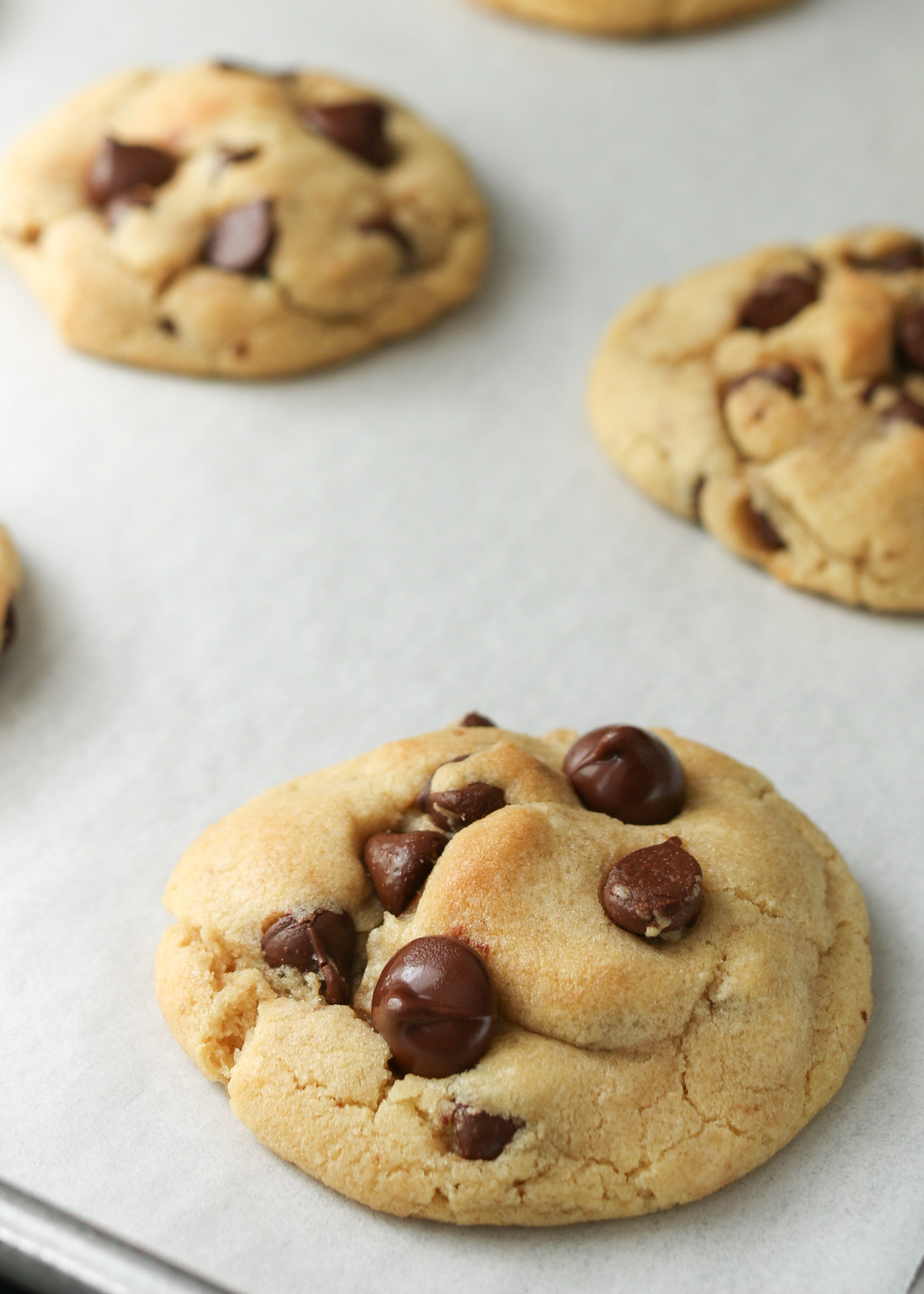 Serve cookies on a tray with a glass of milk, mug of cocoa, or cup of hot tea are so inviting and comforting.
That's what cookies should be. They should welcome you home and bring you comfort on a hard day. So bake a lot of cookies and enjoy them with your peeps!
Best Cookies to Make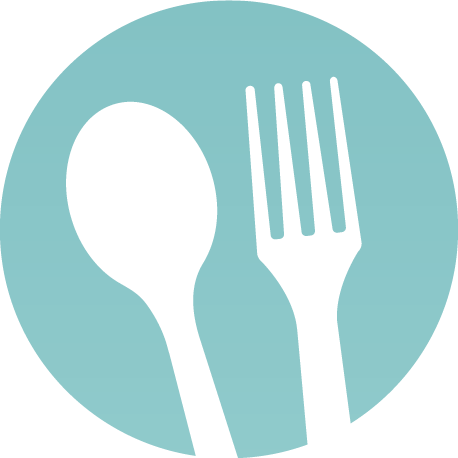 Tell us what you think!
We love to hear your experiences with Good Cheap Eats. Click the STARS on the recipe card or leave a STARRED comment to let us know what you think of the recipe.
This post was originally published on December 7, 2013. It has been updated for content and clarity.