Pepitas, also known as pumpkin seeds can be used as a nut substitute in a number of recipes, including these delicious, caramel-scented cookie bars.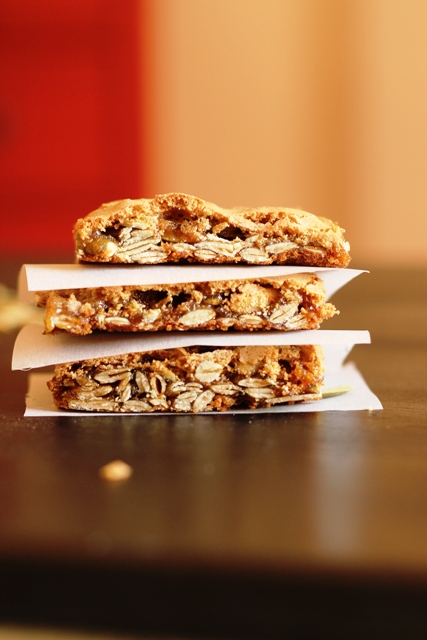 Years ago I borrowed my mom's recipe box and transcribed all the recipes from her collection into a small family cookbook. I made photocopies and bound the pages to give as Christmas gifts one year. Inside were all our family's favorites that I remembered having as a child as well as any recipes that sounded interesting that I had never had.
Walnut Bars was one of those recipes. My sister told me about these bars for years and how they were a Pellowski keepsake, handed down from our great-grandmother, Josephine. That was news to me. Janel made them once for a school project and has since baked them to give as gifts at Christmas time.
Since walnuts are considered to be poison in my kitchen, I knew I couldn't make them with walnuts. Instead, I used pepitas, pumpkin seeds that I buy from Trader Joe's. I use pepitas and sunflower seeds often as a nut-free alternative. My girl isn't allergic to almonds, but the only place I've found almonds that are not cross-contaminated with peanuts or walnuts is at Trader Joe's, and we were out of those. So, pepitas it was.
(All that to say, you can use whatever nut or seed you want to use in these bars. A combination would be pretty fantastic, I think.)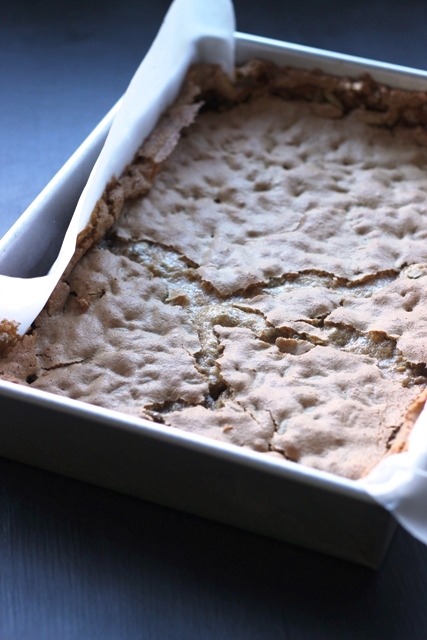 Bake these bars in a 9×13-inch pan lined with parchment. This makes it so much easier to remove the bars from the pan and cut pretty, sharp-edged squares. The mixture bakes up high and puffy and sinks as it cools, leaving a few ridges and ripples. Let them cool completely before slicing.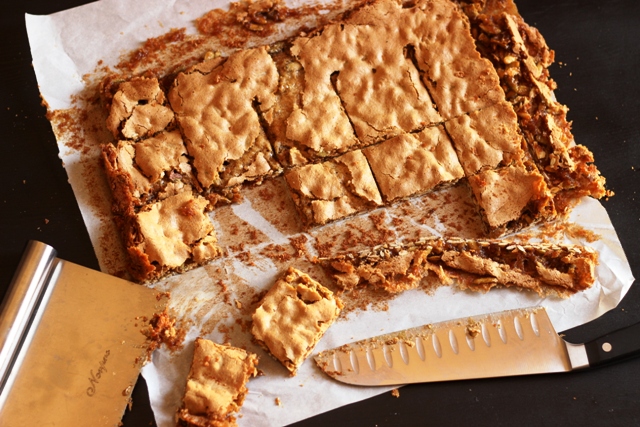 For best results, trim off the ugly edges. You get to eat those yourself!
My sister likes to wrap each bar individually in plastic wrap. I stored them layered in parchment paper in an airtight container. Gobble them down within a week or freeze them for longer storage.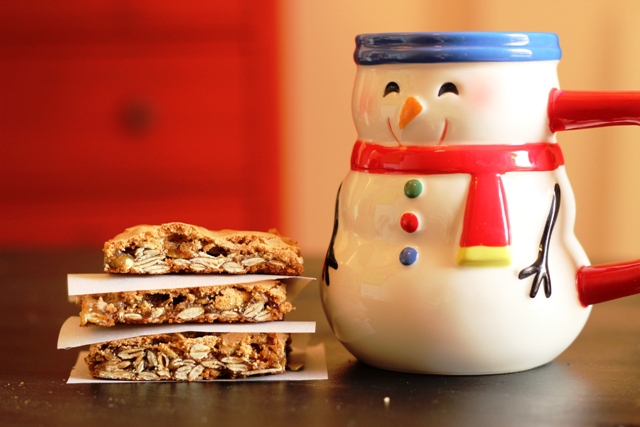 Pepita Bars
Ingredients
2

eggs

2

cups

dark brown sugar

3

tablespoons

flour

2

teaspoons

baking powder

1

teaspoon

salt

1

teaspoon

vanilla extract

2

cups

pepitas or coarsely chopped nuts of your choice)
Instructions
Preheat the oven to 325°. Line a 9x13-inch pan with parchment paper.

In a large mixing bowl, beat the eggs until foamy. Add the sugar and continue beating.

Sift together the flour, baking powder, and salt. Beat this into the mixture. Stir in the vanilla and pepitas or nuts.

Pour the mixture into the prepared pan and bake for 20 to 30 minutes or until the mixture is golden brown and crisp looking on top.

Cool the pan on a rack.

Remove the parchment paper from the pan and trim ugly edges. Eat those right away.

Cut square or rectangular bars. Store in an airtight container, layered with parchment.
Recipe Notes
Store bars at room temperature for up to 2 days or freeze for up to 3 months.
Nutrition Facts
Pepita Bars
Amount Per Serving
Calories 218
Calories from Fat 54
% Daily Value*
Fat 6g9%
Cholesterol 27mg9%
Sodium 216mg9%
Potassium 213mg6%
Carbohydrates 39g13%
Protein 4g8%
Vitamin A 40IU1%
Vitamin C 1mg1%
Calcium 68mg7%
Iron 1mg6%
* Percent Daily Values are based on a 2000 calorie diet.
Got a favorite heirloom cookie in YOUR family?