Nanna's Fantasy Fudge is foolproof. You don't need any special equipment. It's creamy, chocolatey, delicious homemade candy.
The first time I tried making fudge, I was in 2nd grade. I had a crush on a boy named Brian in my class. I read in a book, probably one of the Ginny books, about giving food to boys you liked. And chocolate fudge sounded like a good idea.
I'm a little surprised that my mom and aunties indulged me, but they did. I remember being so excited that they said they'd help me make fudge, that I ran into the kitchen wall because I wasn't looking where I was going.
We followed a fudge recipe in my mom's big yellow cookbook. I'm not sure what happened, but the fudge did not turn out. No, no drop it in a cup of cold water and stay in a ball shape, or whatever the dumb recipe said. My mom wasn't about to waste all that chocolate and sugar so she mixed up impromptu brownies on the spot. They were good, too!
I was so happy to take Brian the brownies we made. He barely looked at them when he grabbed the bag and ran away in the lunch area. Humph.
I ended up eventually marrying Bryan. Bryan with a Y. A different Bryan. One who appreciates my cooking. Ha!
And I eventually found a fudge recipe that worked no matter what. Actually my mom did. She saved the day. Again.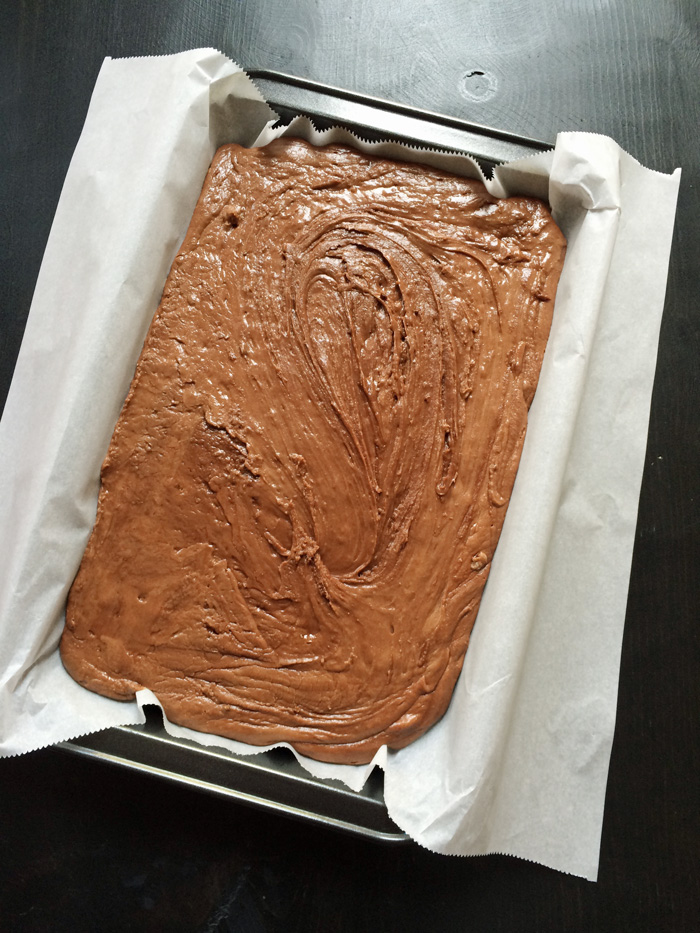 This "fantasy fudge" recipe used to be on the label of Marshmallow Creme. I'm not sure if it still is, but my mom typed it up for us all to make sure we had it.
Now that she eats paleo, I'm not sure if Mom makes this anymore, but in my teen and adult years she made it often, Christmas, New Year's, Valentines. It was our foolproof homemade candy recipe that did not require dropping it in a ball of cold water and waiting for magic to happen.
This recipe works. It tastes great. You can stir in all kinds of different mix-ins. Change up the flavorings or the nuts or add toffee bits or whatever. You will be a winner at fudge making! You may just get so excited, you run into the kitchen wall, too.
Nanna's Fantasy Fudge
Nanna's Fantasy Fudge is foolproof. You don't need any special equipment. It's creamy, chocolatey, delicious homemade candy.
Ingredients
3

cup

granulated sugar

¾

cup

butter

⅔

cup

evaporated milk

1

12-ounce package

chocolate chips

can use a mixture of types

1

7-ounce jar

marshmallow creme

1

cup

chopped nuts

or small candy bits like Heath or M&Ms, optional

1

teaspoon

vanilla extract

or mint or almond extract
Instructions
Line a baking sheet with parchment. My pan is 7x11, but you could use 9x13 or 8-inch square.

In a medium saucepan over medium heat, mix together the sugar, butter, and milk, stirring constantly. Bring this to a full boil for five minutes, stirring all the while.

Remove the pan from the heat and stir in the chocolate chips until melted and completely mixed in. Fold in the marshmallow crème. Stir in chopped nuts and extract. Pour the mixture into the prepared pan and cool completely before cutting into pieces.
Notes
Nutritional values are approximate and are based on 1/20 of the recipe. Use within 4 days.
Nutrition
Calories:
343
kcal
|
Carbohydrates:
52
g
|
Protein:
2
g
|
Fat:
15
g
|
Saturated Fat:
8
g
|
Cholesterol:
23
mg
|
Sodium:
82
mg
|
Potassium:
54
mg
|
Fiber:
1
g
|
Sugar:
48
g
|
Vitamin A:
271
IU
|
Vitamin C:
1
mg
|
Calcium:
50
mg
|
Iron:
1
mg