Run out of brown sugar? No problem. With white sugar and molasses you can make your own to use in your favorite baking recipes.
Brown sugar is sometimes essential to a recipe. You can't make a good Cinnamon Roll without it. And Not Mushy Oatmeal really tastes its best with a sprinkling of brown sugar. Forget about making Chocolate Chip Cookies without it. The flavor and texture just aren't the same.
Sometimes you really need brown sugar.
It was a few pantry challenges ago when we ran out of brown sugar. I didn't want to go to the store to get more, lest I be tempted to buy other things that we probably didn't need while I was there.
So, I figured out a way to create a baking substitution for brown sugar!
Now, it's important to remember that you can't make something from nothing. I can't conjure brown sugar out of thin air. But, I could consider what happens during sugar cane processing.
The sugar cane is shredded and then juiced.
The juice is clarified, concentrated and crystallized.
The crystals have even more liquid removed, resulting in raw sugar.
The raw sugar is purified further, then melted and filtered. Molasses is a by-product at this point.
Then the sugar is crystallized, dried, and packed for shipping.
The amount of molasses left in the sugar determines what type of sugar you have: white, light brown, or dark brown. White sugar has more of the molasses removed while dark brown sugar has more molasses remaining.
So, in the absence of a bag of brown sugar, I can recreate it by adding molasses back into white granulated sugar!
How to make brown sugar:
So, that's what you do.
For every cup you need, measure out 1 cup of granulated sugar and 1 tablespoon of molasses.
Combine the ingredients in a mixing bowl, working the molasses into the sugar with a fork or a pastry blender. This may take a few minutes and seem impossible at first, but it will come together. Trust me.
And voila! Store it in an airtight container at room temperature.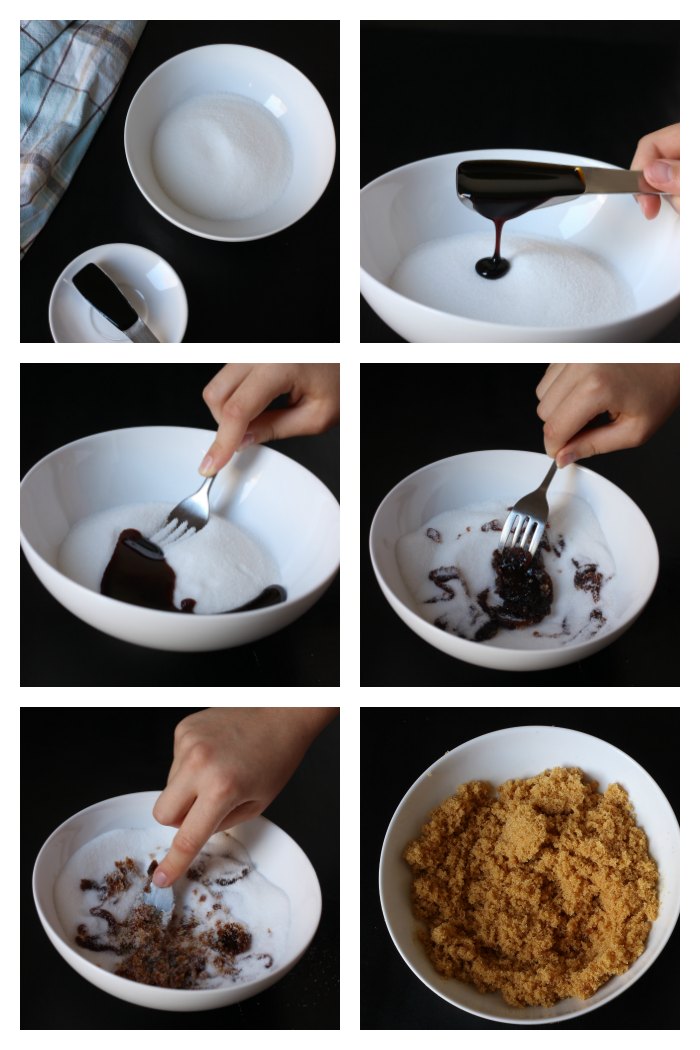 What is brown sugar good for?
Brown sugar can be used as a sweetener in baked goods, sauces, marinades, and beverages as well as a topping for oatmeal or fruit.
Since this sweetener contains molasses it also contains some minerals, such as calcium, iron, and potassium that white sugar is lacking. It also has a deeper flavor than white sugar, thanks to the molasses.

If you prepare this recipe, be sure to take a picture and hashtag it
#GOODCHEAPEATS
. I can't wait to see what you cook up!
How to Make Brown Sugar
This simple mixture of molasses and white sugar approximates real brown sugar, serving as a baking substitute for when you run out of the real thing.
Keyword:
brown sugar, brown sugar substitute, molasses, sugar, white sugar
Ingredients
1

cup

white sugar

1

tablespoon

molasses
Instructions
Combine the sugar and molasses in a bowl. Work the ingredients together with a fork until the molasses is completely distributed throughout the sugar.

Store the brown sugar in an airtight container at room temperature.
Nutrition Facts
How to Make Brown Sugar
Amount Per Serving
Calories 832
Calories from Fat 9
% Daily Value*
Fat 1g2%
Sodium 9mg0%
Potassium 293mg8%
Carbohydrates 215g72%
Calcium 41mg4%
Iron 1mg6%
* Percent Daily Values are based on a 2000 calorie diet.