Slow Cooker Steel Cut Oats make for an easy, filling, and delicious make-ahead breakfast. Learn to cook steel cut oats in the slow cooker for meal prep this week.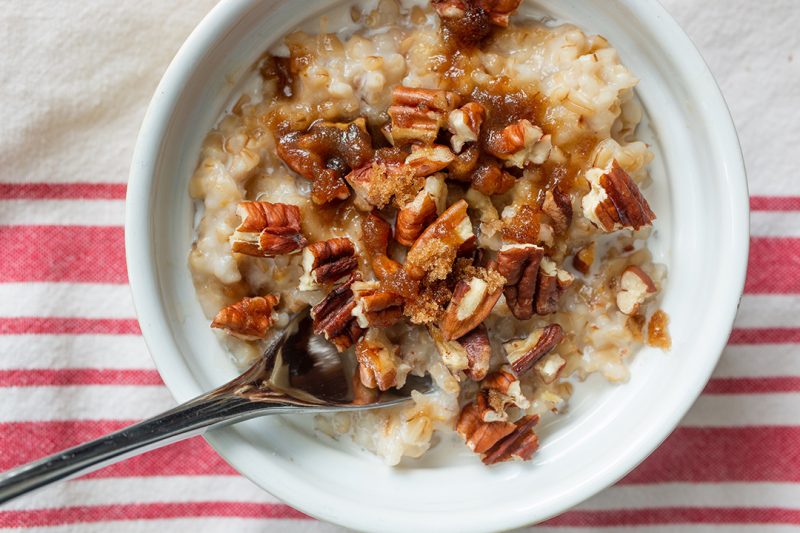 Breakfast can be a simple affair like opening a box of cereal or running through the drive thru for a breakfast sandwich. Both of those options can suit in a pinch, but they tend to be more expensive than something hearty and home cooked.
How about a filling cup of steel cut oats that's ready for you to reheat as soon as your feet hit the ground in the morning?
This is something that I've been making for years: steel cut oats that I cook in advance, portion, and freeze or refrigerate for later. It's been a winner as Apple Cinnamon Oatmeal, but even more so now that I've started cooking the oats in the slow cooker!
Yep, you heard me right: steel cut oats in the slow cooker!
Now it's possible that you, like me, have tried cooking steel cut oats in the slow cooker only to be disappointed in the morning when you find the oats blown to bits and half the batch sticking burnt to the sides of the crock.
Just me?
Well, in case you haven't tried it, that's what happens when you leave steel cut oats to cook all night long. There's a better way, and it's called "cook it just until done".
Slow Cooker Steel Cut Oats
My mornings are busy. Yours probably are, too. We don't have time to fuss with a lot of breakfast prep, which is why I'm a huge fan of make-ahead breakfasts.
And while you can enjoy quick oats or even homemade Instant Oatmeal Packets, the nutty taste and toothsome texture of Irish oatmeal, aka steel cut oats, really can't be beat. The best cooked steel cut oats happen to be the ones that are slow cooked, making the slow cooker a perfect vessel for prepping your oatmeal in advance.
What are steel cut oats?
The oat grain is a called a groat. Steel cut, or Irish oats are the groats chopped into itty bitty bits. When cooked they take on a nutty texture.
Rolled or old-fashioned oats are groats flattened by rollers.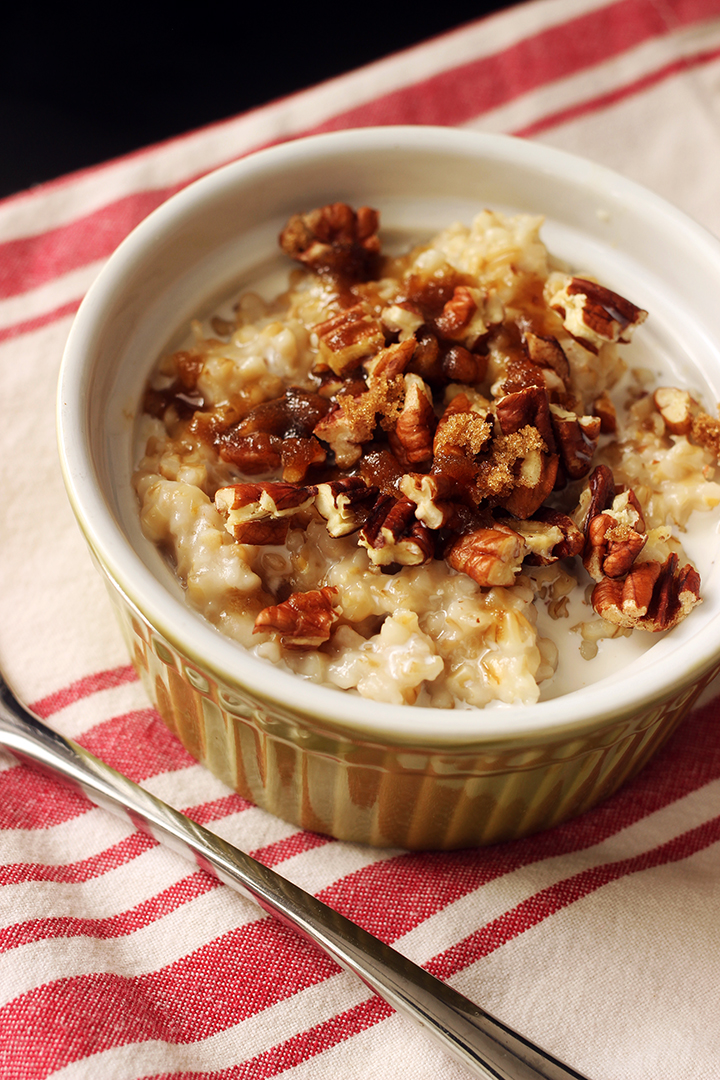 Are steel cut oats better for you than rolled oats?
Both steel cut and rolled oats are made from whole grain. Nutritionally, they are about the same. Their differences lie in their texture and taste once cooked.
The quick-cooking versions of either have been more processed and therefore are quicker to cook and quicker to digest, making them less long lasting in terms of satiety.
I prefer the longer cooking versions of both for these reasons. If rolled oats are what you have on hand, be sure to make Not Mushy Oatmeal.
What are the benefits of steel cut oats?
There's good reason that folks have been eating Irish oats over the centuries: They taste yummy!
But more than that, oats are high in fiber, have a low glycemic index, are a good source of iron and protein, and can fuel us throughout the day.
Having a few bowls of cooked oats on hand in the fridge and freezer makes for quick and easy breakfasts any time of day.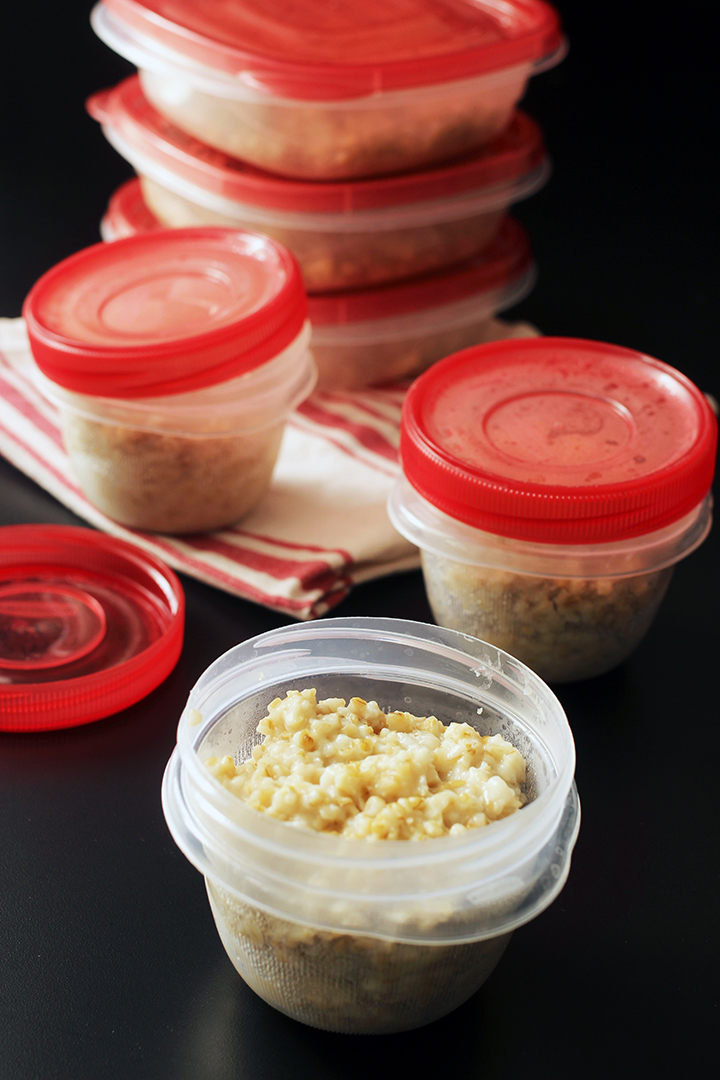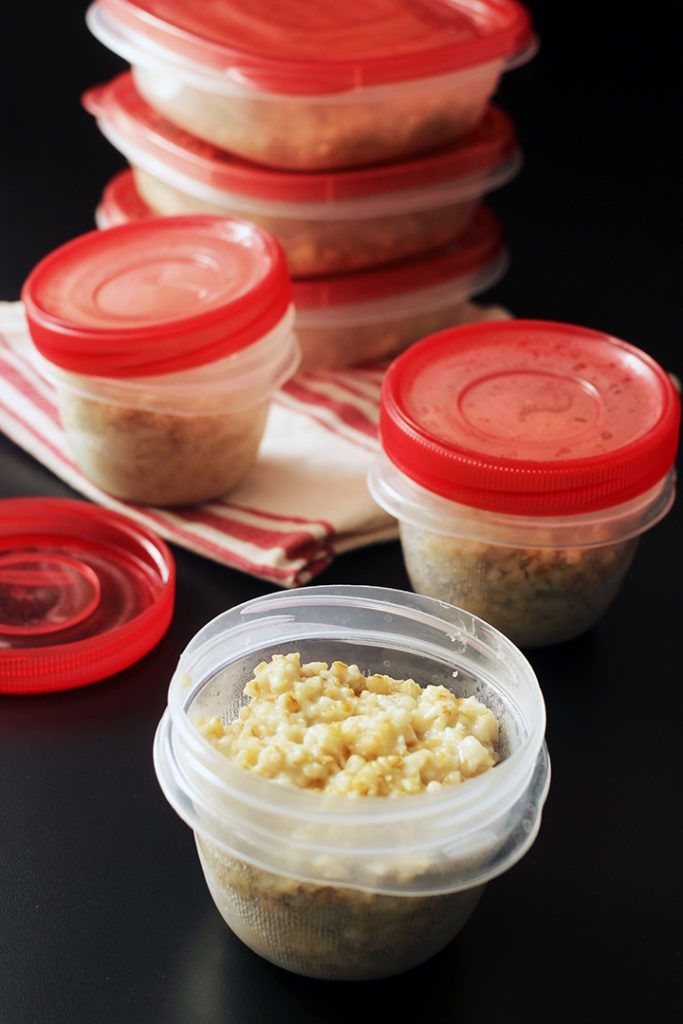 How long do steel cut oats take to cook?
Typically steel cut oats take about half an hour to cook on the stovetop, however, you do risk burning them if you don't stir the pot every once in awhile.
While cooking them in the slow cooker takes a bit longer, it's a completely hands-free process, making it a perfect first step in a meal prep session.
How do you cook Irish Oatmeal in the slow cooker?
Cooking Irish oatmeal in the slow cooker couldn't be simpler.
Measure out 2 cups of oats and ¾ teaspoon salt. Add this to the crock of a slow cooker.
Stir in 6 cups water. You may add up to 8 cups water total, but I prefer a not-mushy oatmeal, remember?
Cover and cook for 2 ½ hours on HIGH or until the water is absorbed. Stir and serve with your favorite toppings. We like nuts, brown sugar, and cream. Dried or fresh fruit is also delicious!
Oats can be refrigerated for up to 4 days or chilled, packaged, and frozen for longer storage. Just reheated in the microwave until hot.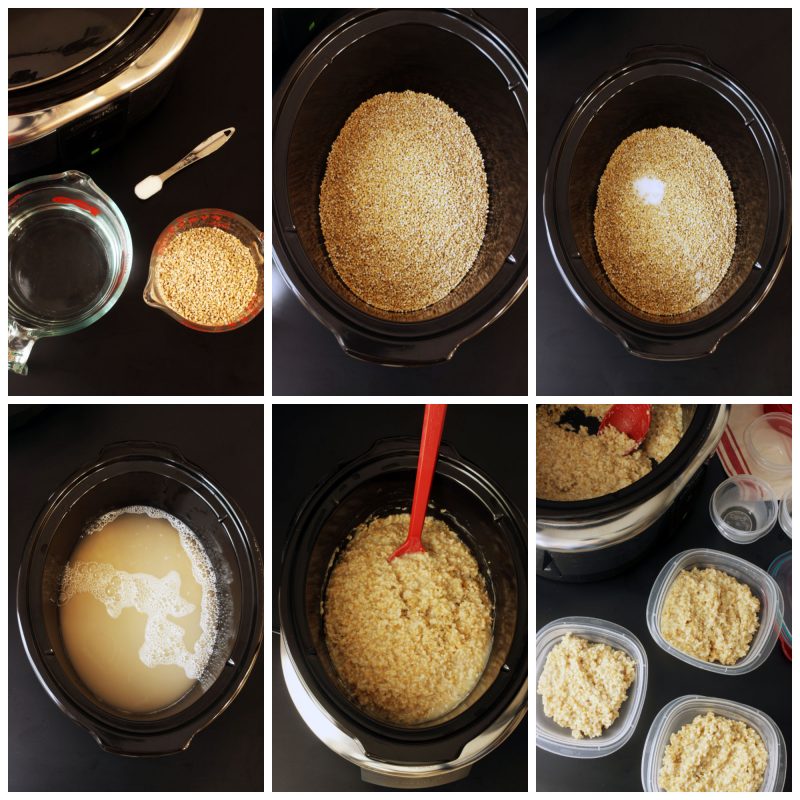 What are some good toppings for Irish oatmeal?
There are lots of good ways to top oatmeal. Since it's an unsweetened grain, you can go sweet or savory with your toppings. Yes, really! Savory oatmeal is a thing!
Sweet oatmeal toppings can include:
sugar, honey, or maple syrup
nuts, such as pecans, walnuts, cashews, or almonds
seeds such as pumpkin, sunflower, or sesame
cooked fruit such as apples or berry compote
dried fruit, such as raisins, cranberries, apricots, plums, figs
fresh fruit, such as bananas, blueberries, strawberries, or raspberries
cream or milk
granola
other fun toppings: shredded coconut, coconut chips, shaved chocolate, chocolate chips, sprinkles
Savory oatmeal toppings can include:
cooked bacon or sausage
fried, scrambled, or soft boiled eggs
sautéed or roasted vegetables, such as sweet potatoes, asparagus peas, broccoli, mushrooms, onions, kale, or spinach
salsa or pico de gallo
avocado or guacamole
pesto or other favorite sauce
shredded or crumbled cheese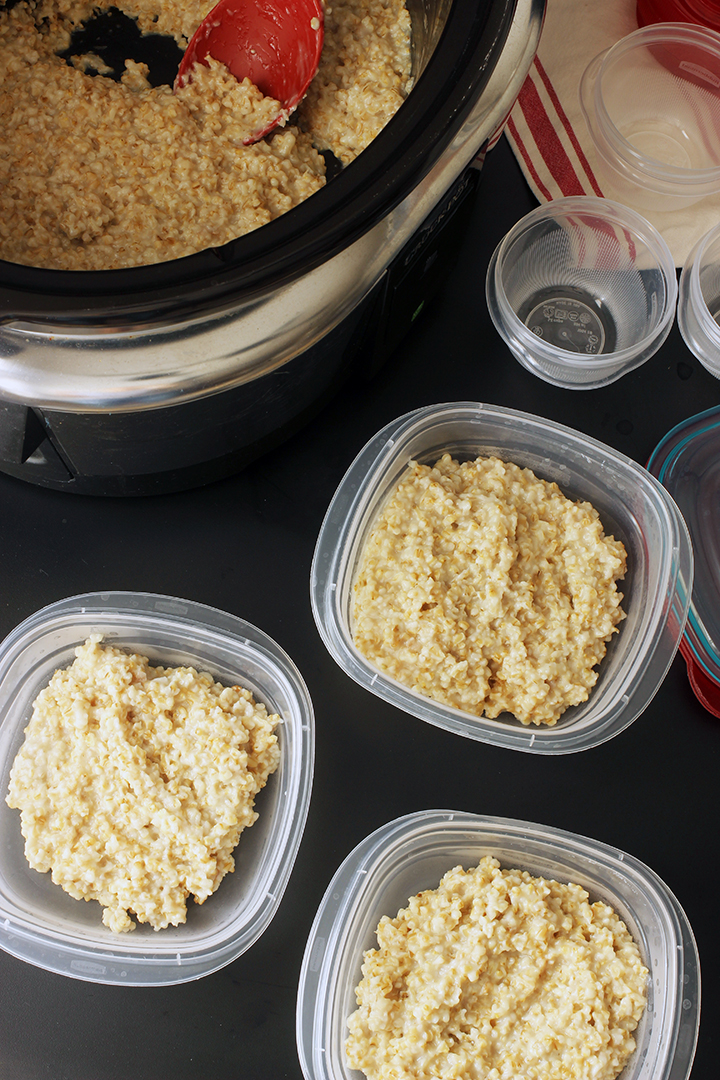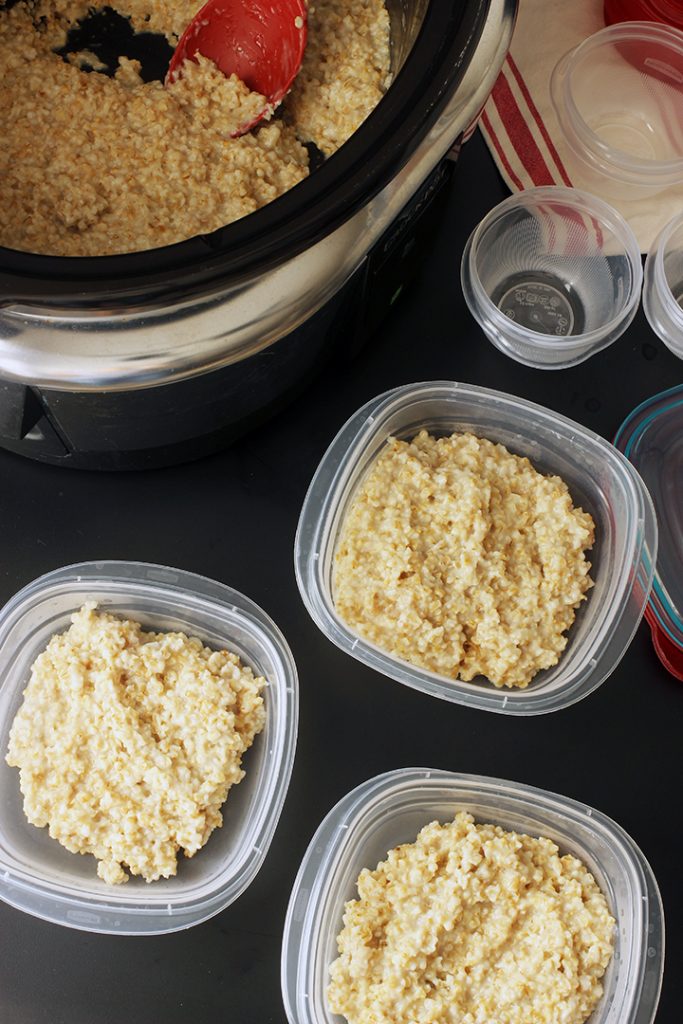 If you prepare this recipe, be sure to share a picture on social media and hashtag it
#GOODCHEAPEATS
. I can't wait to see what you cook up!
Slow Cooker Steel Cut Oats
Slow Cooker Steel Cut Oats make for an easy, filling, and delicious make-ahead breakfast. Learn to cook steel cut oats in the slow cooker for meal prep this week.
Ingredients
2

cup

steel cut oats

¾

teaspoon

salt

6

cup

water

toppings for hot cereal

such as brown sugar, maple syrup, nuts, cream, etc
Instructions
Place the oats and salt in the crock of a 6-qt slow cooker. Add the water and stir.

2 cup steel cut oats,

¾ teaspoon salt,

6 cup water

Cover and cook for 2 ½ to 3 hours on HIGH, until water is absorbed and oats are cooked.

To make ahead: divide the oatmeal into individual servings. Refrigerate for up to 4 days, chill and freeze for longer storage. Microwave to reheat.
Notes
Promptly store leftovers in an airtight container in the refrigerator, for up to 4 days.
Nutritional values are approximate and based on ⅙ the recipe.
Nutrition
Calories:
206
kcal
|
Carbohydrates:
35
g
|
Protein:
9
g
|
Fat:
4
g
|
Saturated Fat:
1
g
|
Sodium:
303
mg
|
Fiber:
6
g
|
Calcium:
34
mg
|
Iron:
2
mg