With steel cut oats, apples, and cinnamon, Apple Cinnamon Oatmeal comes together easily. Make it in advance (and even freeze it!) for quick breakfasts.
Love cinnamon? Be sure to try our Cinnamon Coffee Cake Recipe!
Mornings are busy. Whether it's off to work, school, or the closest computer monitor, there are plenty of things to do in a morning that don't involve cooking breakfast.
Make-ahead breakfasts are where it's at: a homemade breakfast buffet, an overnight egg bake, or make-ahead apple cinnamon oatmeal – these all hit the spot and promise to keep one satisfied until lunch rolls around.
Apple Cinnamon Oatmeal
If you've been a fan of instant apple cinnamon oatmeal in the past, well, you're in for a treat with this Apple Cinnamon Oatmeal Recipe. Made from steel cut oats simmered with spices and chopped apples, it's a one-pot dish that is filling as well as freezer-friendly.
Stir up a pot at the weekend and divide it into serving-sized dishes to stash in the fridge or freezer. Breakfast is just a quick microwave jolt away.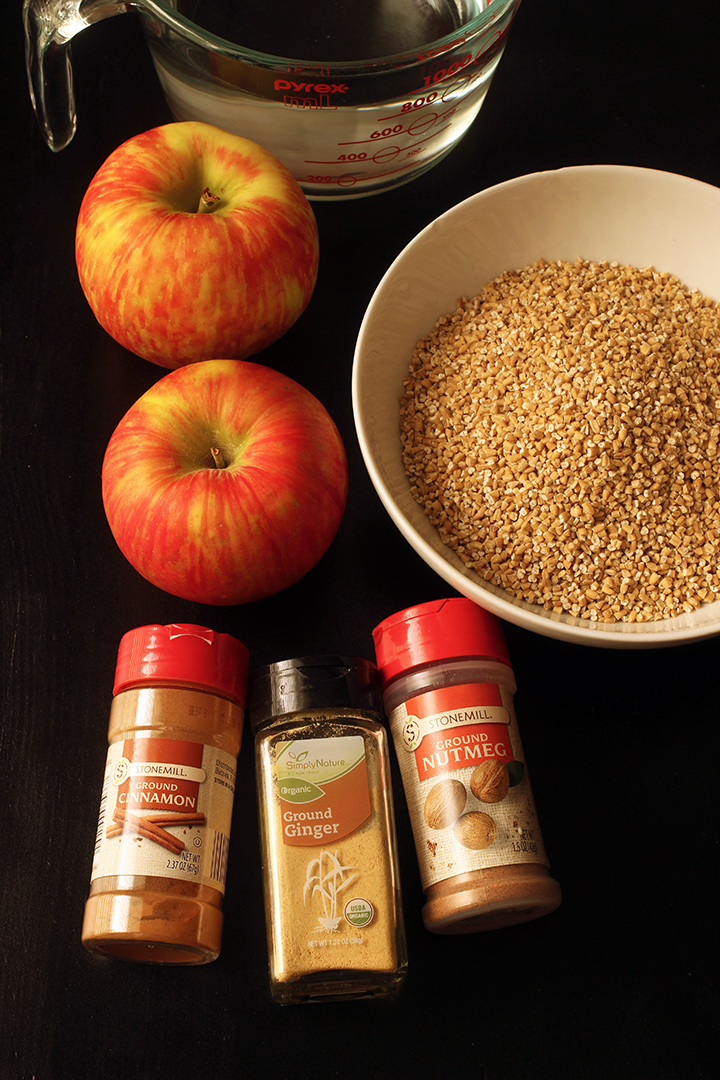 What's in Apple Cinnamon Oatmeal?
This hearty oatmeal recipe is made from steel cut oats, chopped apples, cinnamon, ginger, and nutmeg. It's like an apple pie version of oatmeal.
What kind of apples go in oatmeal?
Believe it or not, all apples are not created equal. Some that are designed for fresh eating will actually disintegrate when cooked, so it's best to use apples that are appropriate for applesauce or pies, such as:
Golden Delicious
McIntosh
Honeycrisp
Fuji
Mutsu
Is it better to make oatmeal with milk or water?
While milk definitely adds creaminess to oatmeal, this recipe is best cooked with water. Add milk or cream when serving to avoid sticky oats.
How can I make oatmeal taste better without sugar?
Crunchy bits of brown sugar are one of my favorite parts of eating oatmeal, but there are times when it's best to avoid sugar. Using a sweeter apple will help this recipe taste great without added sugar. Cinnamon, too, adds a natural sweetness.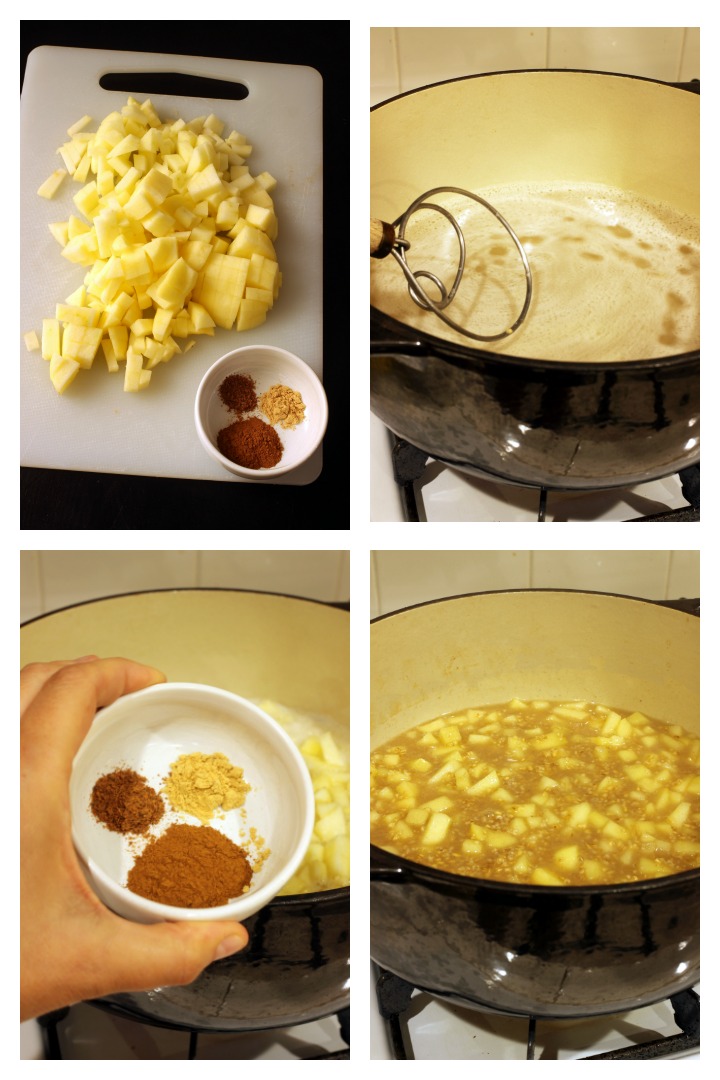 How do you make Apple Cinnamon Oatmeal from scratch?
While you can certainly make your own instant oatmeal packets with dried apples and cinnamon, this recipe allows the heartiness and nutty texture of steel cut oats. The cooking process is simple:
Bring water and salt to boil in a large pot.
Stir in the oats, apples, and spices.
Simmer for 30 minutes, stirring occasionally.
Serve and top with nuts, sugar, milk, or cream.
As you may know, we're big fans of Not Mushy Oatmeal, so you'll notice that this recipe calls for less water than other recipes. If you prefer a more liquidy oatmeal, increase the water by 1 to 2 cups.
Can I make Apple Cinnamon Oatmeal
in advance?
Steel cut oats are a great thing to make in advance. Once the oatmeal is cooked, divide into serving-size containers. Let the steam blow off and secure the lids.
Store the oatmeal cups in the fridge for up to 4 days.
Can I freeze Apple Cinnamon Oatmeal?
Freezing oatmeal cups makes for super convenient breakfasts and snacks. Once you've dished the oatmeal into serving-size, freezer-safe containers, chill them in the fridge for several hours before placing in the freezer.
Store in the freezer for up to 2 months.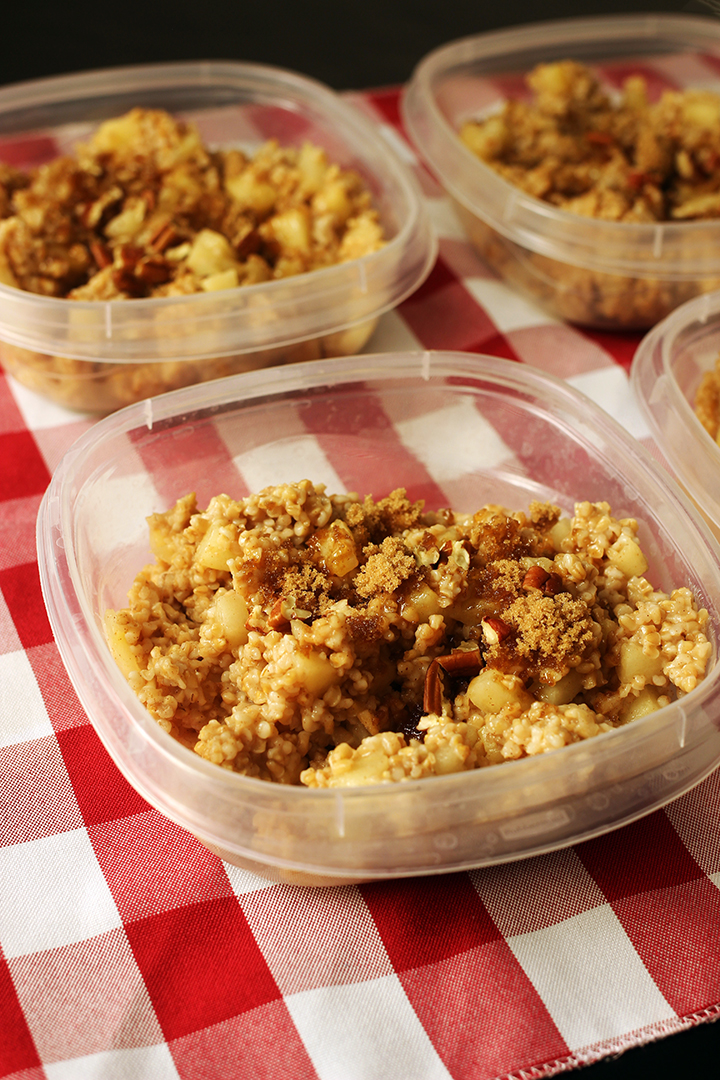 Can you make this gluten-free?
Oats are naturally gluten-free as are the apples and spices. That said, oats sometimes become cross-contaminated with gluten products during processing. To be sure the dish is completely gluten-free, prepare the recipe with oats that are certified gluten-free.
Can you make this vegan?
The recipe, as is, is already vegan. When serving be sure to provide plant-based milk or butter instead of dairy.
Can I use different fruits in this recipe?
The best apples are seasonal for fall, so feel free to use other fruits at other times of the year, such as pears, peaches, raspberries, blueberries, or even dried fruit. Dried fruit such as raisins, cranberries, and chopped apricots will rehydrate during the cooking process and add a nice sweetness.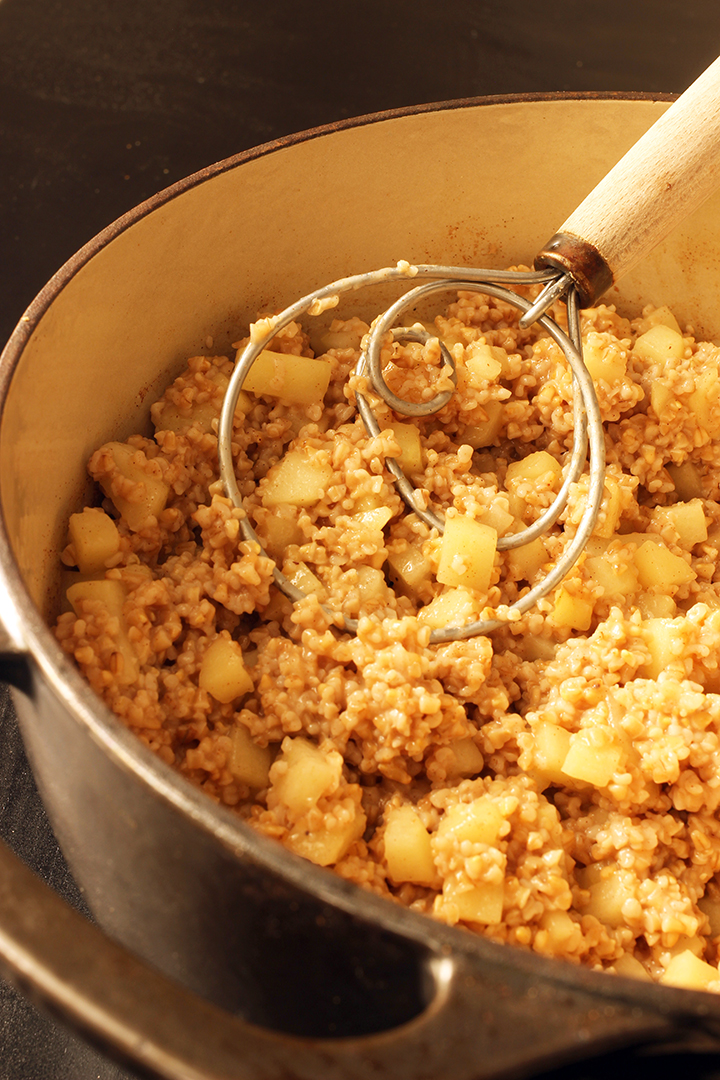 Do you need special equipment to make oatmeal?
Oatmeal has been made by rich and poor for centuries. Remember even Oliver Twist even came back for seconds!
You don't need much more than a sturdy pot and a spoon to make oatmeal, however, I do find that a dough whisk (pictured above) is handy for cooking steel cut oats and other fine grains that might clump.
Is it cheaper to make your own Apple Cinnamon Oatmeal?
Oatmeal is a pretty affordable food. However, it's tempting to grab it to go at fast food restaurants. Starbucks sells it for $3.75 while McDonald's offers it for $2.39.
You can bet it will be better if you make it at home, but how much cheaper? Here's how this recipe pencils out when shopping at a mid-range grocer when the items are not on sale:
steel cut oats = $1.40 ($3.49/28 oz)
apples = $1.50 (2@ $0.75 ea)
cinnamon = $0.05 ($1.25/2.25 oz)
ginger = $0.07 ($3.19/1.46 oz)
nutmeg = $0.01 ($1.25/2.12 oz)
brown sugar = $0.22 ($1.97/2#)
A large batch of Apple Cinnamon Oatmeal costs $3.25. Depending on appetite, this batch makes 4 to 8 servings, making them at least 41 cents a serving!
It is most definitely cheaper and better to make your own.
Save even more by shopping these ingredients on sale or at a lower priced store.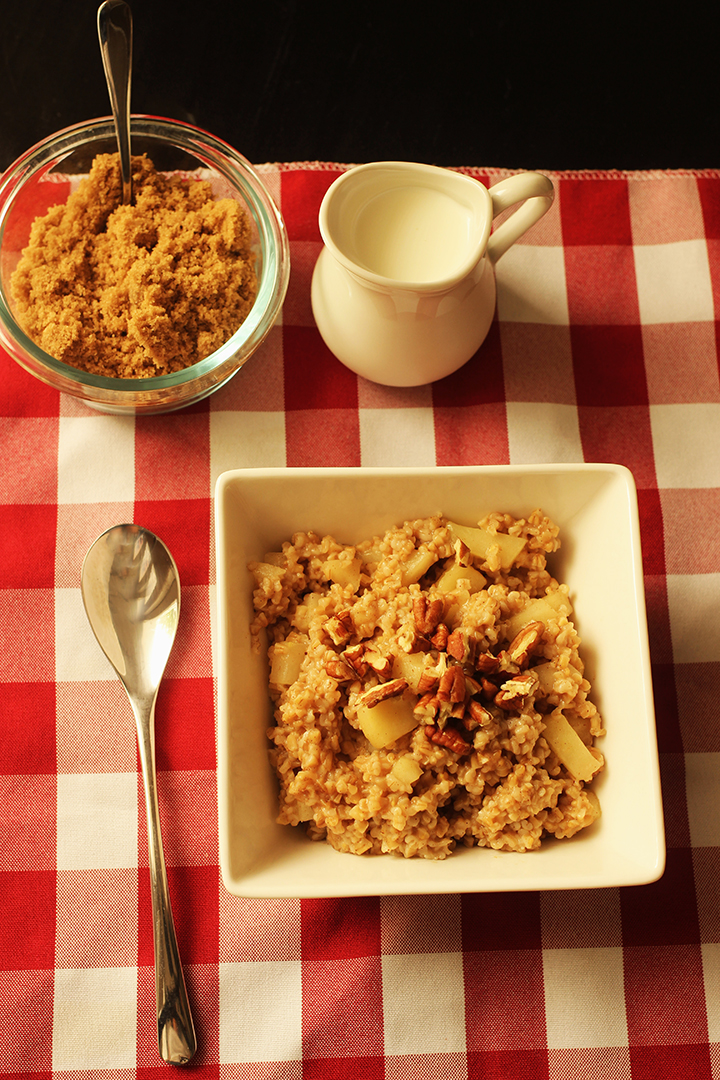 If you prepare this recipe, be sure to share a picture on social media and hashtag it
#GOODCHEAPEATS
. I can't wait to see what you cook up!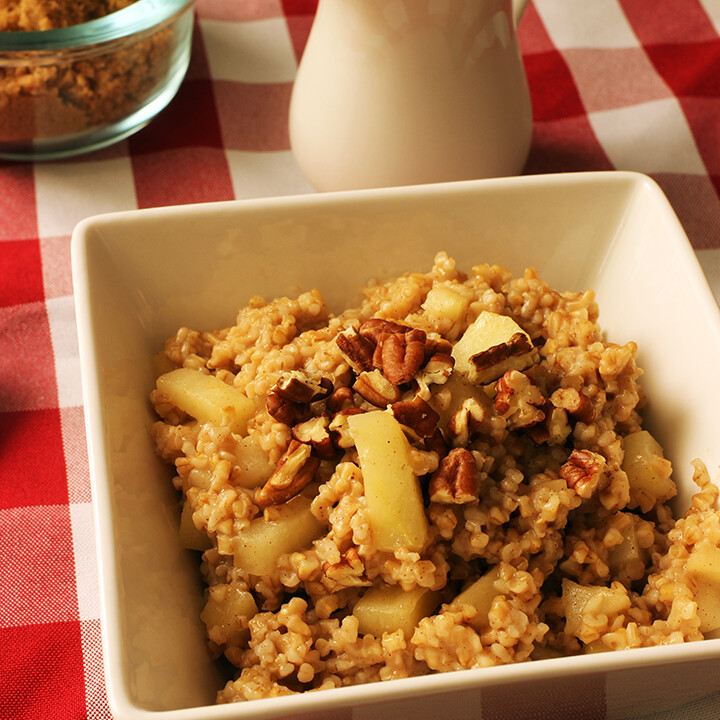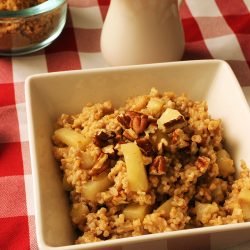 Apple Cinnamon Oatmeal
With steel cut oats, apples, and cinnamon, Apple Cinnamon Oatmeal comes together easily. Make it in advance (and even freeze it!) for quick breakfasts.
Print
Pin
Rate
Ingredients
4

cup

water

or more if you prefer softer textured grains

½

teaspoon

salt

2

cup

steel cut oats

2

apple

peeled, cored, and chopped

1

teaspoon

ground cinnamon

½

teaspoon

ground ginger

¼

teaspoon

ground nutmeg

½

cup

brown sugar

for serving

toppings for hot cereal

such as chopped nut, cream, or butter
Instructions
In a large pot on the stove, combine the water and salt. Bring to a boil.

Whisk in the oats. Stir in the apples. Cook 30 minutes, uncovered, stirring occasionally.

Divide the oatmeal into dishes, season to taste with brown sugar. Add other toppings as desired.
To make-ahead:
Assemble the oatmeal bowls in containers with lids. Add toppings, cover, and store in the refrigerator for up to 4 days. Alternatively, chill the dishes completely and freeze for up to 6 weeks.
Notes
Serving size is dependent on personal tastes and appetites, but one batch should serve 4 to 8 people.
Promptly store leftovers in an airtight container in the refrigerator, for up to 3 days.
Nutritional values are approximate, based on ⅛ the recipe, and do not include additional toppings.
Nutrition
Calories:
232
kcal
|
Carbohydrates:
47
g
|
Protein:
7
g
|
Fat:
3
g
|
Saturated Fat:
1
g
|
Sodium:
156
mg
|
Potassium:
67
mg
|
Fiber:
6
g
|
Sugar:
18
g
|
Vitamin A:
25
IU
|
Vitamin C:
2
mg
|
Calcium:
41
mg
|
Iron:
2
mg
Tried this recipe?
Tell us what you think! Your reviews help us develop better recipes and give newcomers the confidence to try your favorites. Scroll down to leave a starred comment.