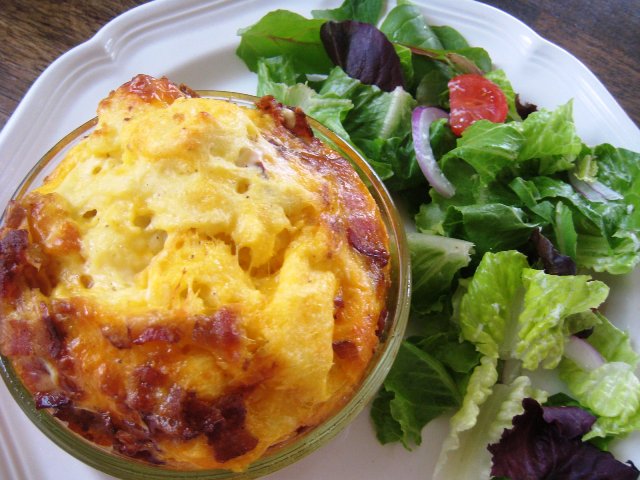 Bakery bread that is close to its "sell by" date is often marked down in order for it to sell quickly before it spoils. You can often nab some fantastic deals on baked goods if you keep your eyes open while shopping. You should try to eat it right away for best quality. But, if you aren't able to eat the bread the day you purchase it, there are a number of dishes that actually taste better with slightly dry bread – perfect use of these bargain purchases.
One of those great recipes is the egg bake. It's basically bread, cheese, meat and/or veggies, covered in an egg and milk mixture that is refrigerated overnight and baked in the morning. This is a great way to feed a crowd early in the morning as well as an ideal dish to take to brunch get-togethers. Sounds like a great holiday meal to me! It also makes an elegant lunch when paired with a salad.
Usually egg bakes are prepared in 9 x 13-inch baking pans. However, I enjoy making things in individual servings. The following is a basic recipe that feeds one. You can customize it however you want and prepare as many as you would like to feed. 2-cup baking dishes are ideal.

Recipe: Bacon Cheddar Egg Bake
Ingredients
1 cup bread cubes
1/3 cup grated cheddar
2 slices bacon, cooked and chopped
2 eggs, beaten
1/2 cup milk
1/16 teaspoon black pepper
Instructions
Grease a 2-cup baking dish. Spread bread cubes across bottom. Sprinkle cheese and bacon over the top. In small mixing bowl, combine egg, milk, and black pepper. Pour over bread and cheese mixture. Cover and refrigerate overnight.
At this point you could also freeze the dish. Thaw in the refrigerator overnight before proceeding with the next step.
In the morning, preheat oven to 350F. Bake for 25 minutes or until puffy, and a tester inserted comes out clean.