Want to fill your freezer the quick and easy way? Check out these easy meals to freeze and download the free cooking plan.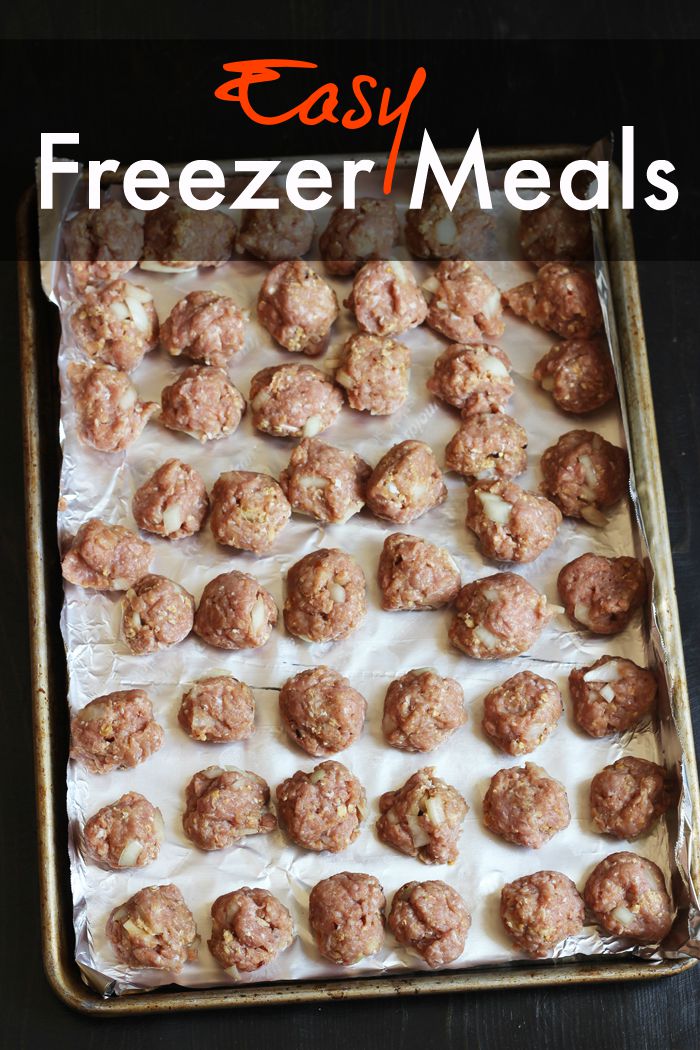 Stashing away some easy freezer meals is one of the biggest favors I can do for myself. Not only am I avoiding fast food and more expensive convenience items, but I'm also making it really, really easy for my family to help me out.
As I type, there's a large container of Vegetable Beef Ragu in the fridge. I have some projects to do today, so I'll be assigning someone else to cook pasta and spaghetti squash as well as reheat the sauce and shred some parmesan.
Easy freezer meals — before and after freezing? Amen. Hallelujah.

Easy Freezer Meals
I kinda have a list of basics when I think about easy freezer meals: meatballs, meatloaf, burritos, enchiladas, chili, and ragu. These items top my list as family-friendly, quick to reheat, easy freezer meals. Plus, they aren't expensive so they help us eat well for less.
I took these family favorites and put them into a freezer cooking plan that I know I'll be doing again soon. It's quick to work through, easy to have kids help, and my family will have eaten through it before I can blink.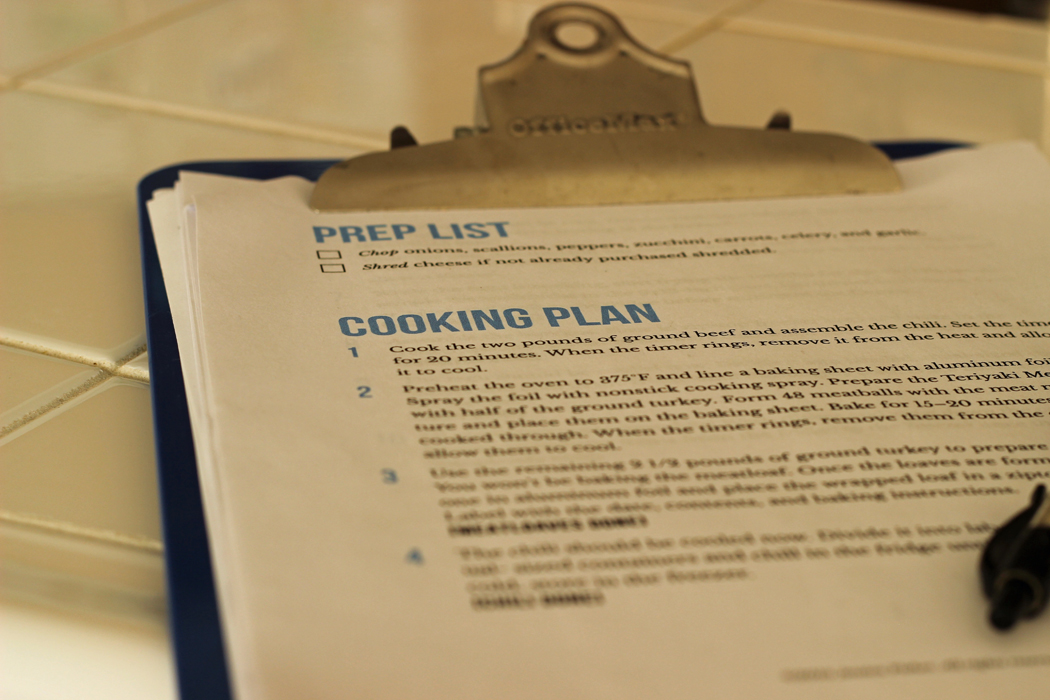 I grabbed the recipes from my new cookbook, Good Cheap Eats Dinner in 30 Minutes or Less. All the recipes are quick to fix, but how much moreso when you have half the work already done and stashed in the freezer? You'll save even more time making 30-minute meals into freezer meals.
Here are the recipes included in this month's plan:
Seasoned Turkey Meatloaf, page 20
Three-Cheese Enchiladas, page 31
Teriyaki Meatballs, page 39
Confetti Chili, page 97
Green Chili Burritos, page 202
Vegetable Beef Ragu, page 243
These easy freezer meals are so kid-friendly, you're really going to be happy cooking through and, more importantly, enjoying these dinners as a family.
My girls were great about helping me with this cooking plan. Of course, we did it in the middle of a heat wave, so we were melting the entire time. We actually had two portable fans brought into the kitchen as well as the ceiling fan going in the adjoining family in order to keep us cool cooler.
Some of us, not all, cooked in leotards.
A couple reminders to help you truly make these easy freezer meals:
Start with a clean kitchen.
Wash dishes as you go.
Take breaks when you need to, but stick to it. You've got 12 meals to make!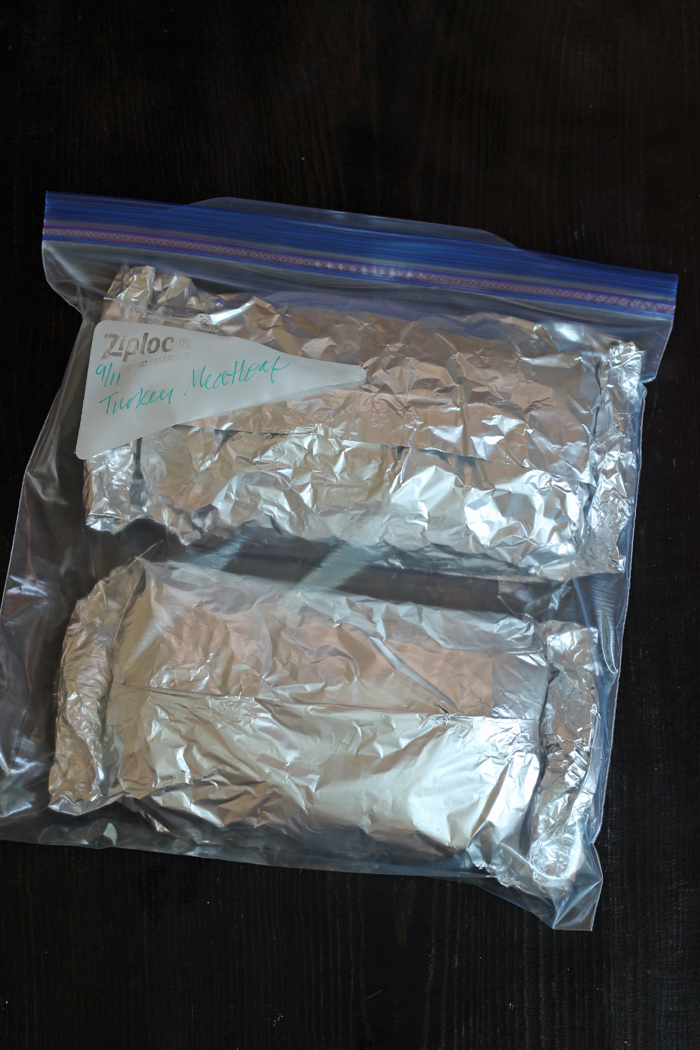 Meatballs and meatloaf are some of my favorite easy freezer meals. They come together quickly, particularly the meatloaf since you don't bake it yet. Just mix the ingredients, form the loaves, wrap and freeze. This Seasoned Turkey Meatloaf is so good! I made it with gluten-free bread crumbs that I made from a bad tasting loaf of gluten-free bread which will now taste delicious, enrobed in turkey and spices.
Speaking of gluten-free, I made the entire freezer cooking plan adaptable to gluten-free. Just be sure to read ingredients labels and buy gluten-free items where applicable.
Here are your easy freezer meals for the month:
Start the chili.
Bake the meatballs.
Form the meatloaf.
Make the ragu.
Assemble the enchiladas.
Roll the burritos.
Each recipe by itself takes less than 30 minutes to make. By making double batches of several things right in a row, you'll save the bulk of the 6 hours it would take if you make all 12 dinners individually.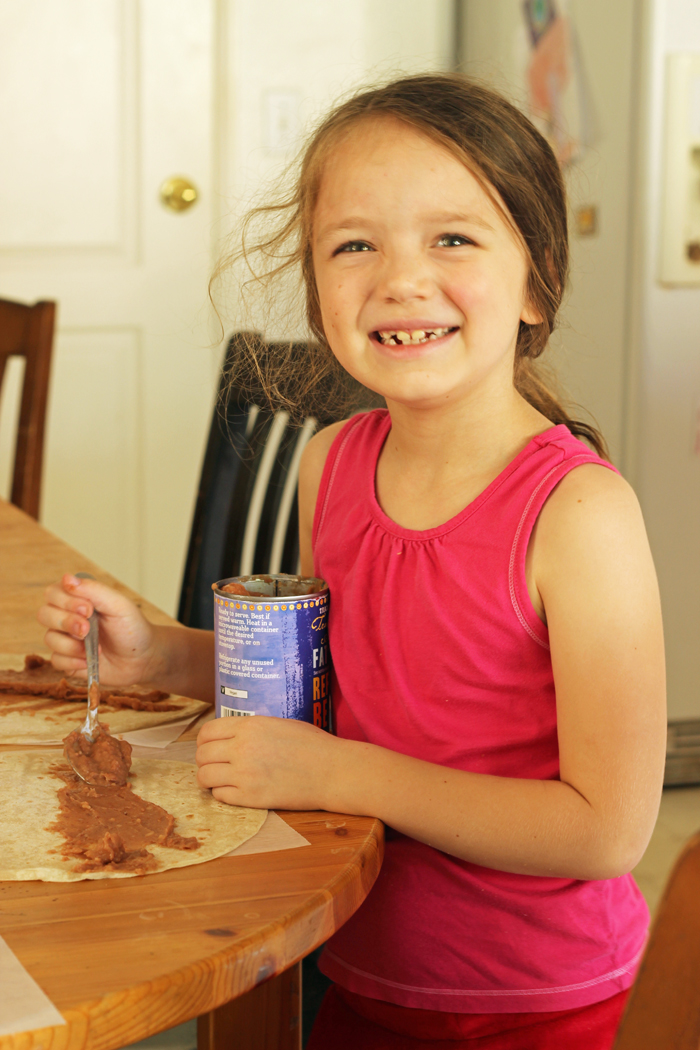 I stopped a lot to take pictures, rest because I was sick, get help from kids, and teach school, so it took me longer this time than it will next time. (Also, doing five things at once is not something I recommend.)
You should be able to knock out this cooking plan in 2 to 3 hours.
Or you can use the grocery list to shop for a week, and cook one double batch every night. Eat half and freeze the rest. At the end of the week, you'll have a free week of dinner in the freezer!
Here's the cooking plan: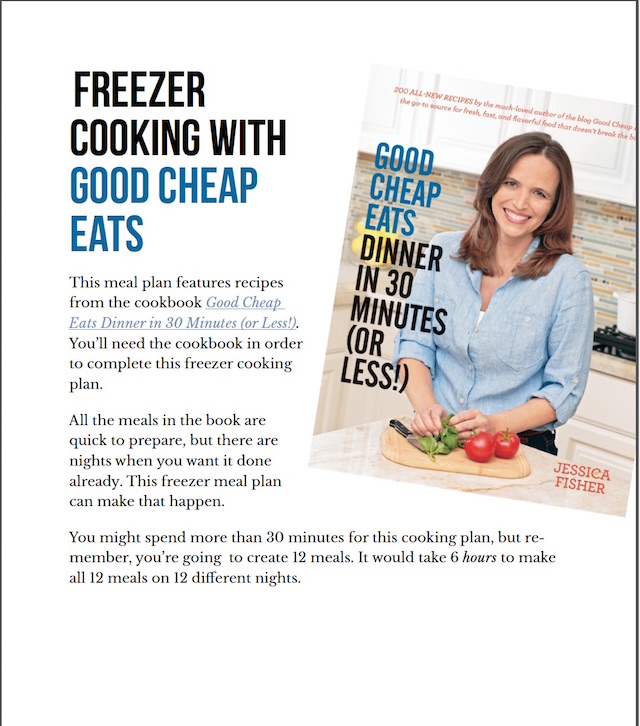 GET THE EASY FREEZER MEALS PLAN
(If you downloaded the plan from the newsletter, be aware that there is one minor mistake in step 1. I've corrected it here, so you can download a clean copy. Once you read the recipe, you'll understand my error. It's not egregious.)
You will need a copy of my cookbook, Good Cheap Eats Dinner in 30 Minutes or Less in order to use this cooking plan. It's my thank you to those of you who have ordered a copy already. I hope this plan helps you make the most of your cookbook purchase! (If you have a minute, I'd love for you to write an honest review of the book. Thanks!)
If you're on the fence about buying the book, you can download a free PDF sample here.