Looking for a quick, hot meal? How about a quick supper to give as a gift? I gotcha covered on both counts with the Quickest Chili in the West.
Quick meals, especially those that can be made ahead, are the name of the game in these here parts. Whether it's a crazy work schedule for me or just a busy day out and about with the kids, it's imperative that meal prep don't take more time than necessary.
This here, pardner, is the Quickest Chili in the West. You can set it and forget in the slow cooker, and hit the trail.
Or you can simply gather all the ingredients in one place and mix it in about 20 minutes before serving. Either way, you can do a lot of the wrangling in advance.
You'll be so pleased to have this chili spice mix on hand. It costs just pennies in comparison to those little brown packets you buy at the store. And you can give this meal as a gift!
In the past I've whipped up this chili in the slow cooker on Sunday morning to go with hotdogs or with chips and toppings later in the day. Everyone was very satisfied, and the next day I added cooked rice and beef broth for a quick riff on Beans and Rice Soup. Yes, yes, I have! Two meals for the price of one.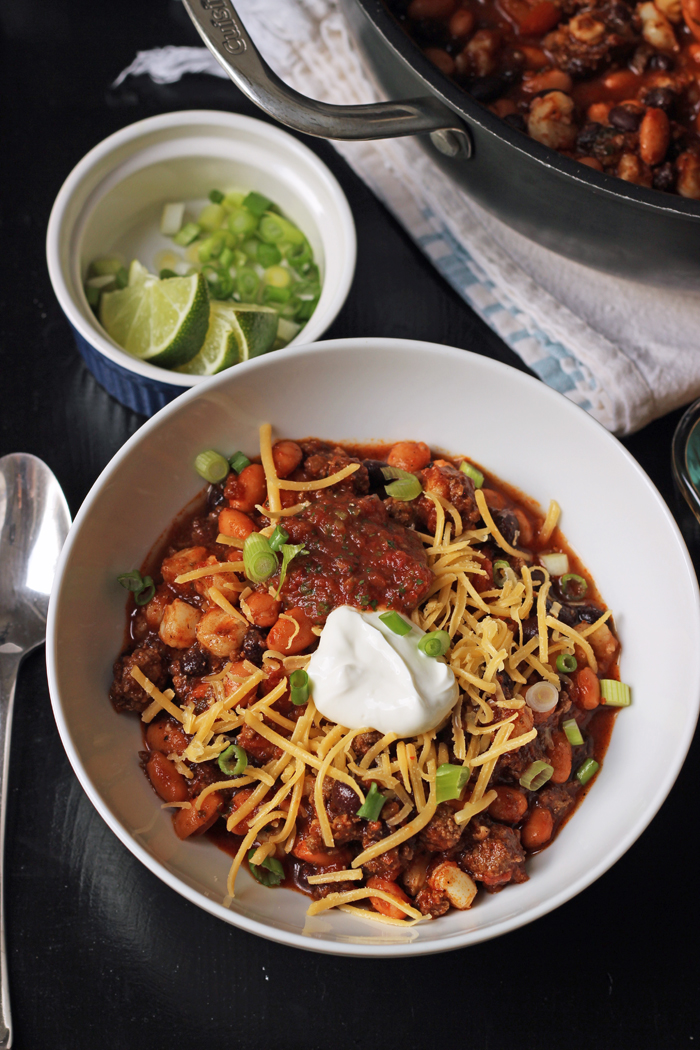 This Quickest Chili in the West is a great one to whip up and take to friends. What a thoughtful way to welcome a baby, celebrate a success, or comfort others during grief.
If you'd like to give it as a non-perishable gift, you can print out this printable recipe card sheet, cut it into fourths, and then combine all the cans, spice mix, and a bag of chips into one bigger bag along with the recipe.
What a wonderful gift for the busy family, allowing them a home-cooked meal when they want one. This is an easy meatless, gluten-free, dairy-free meal that should fit all diets and food preferences. Just double check the food labels to make sure that there aren't some tricky allergens lurking in your cans and bags.
Quickest Chili in the West
Looking for a quick, hot meal? How about a quick supper to give as a gift? I gotcha covered on both counts with the Quickest Chili in the West.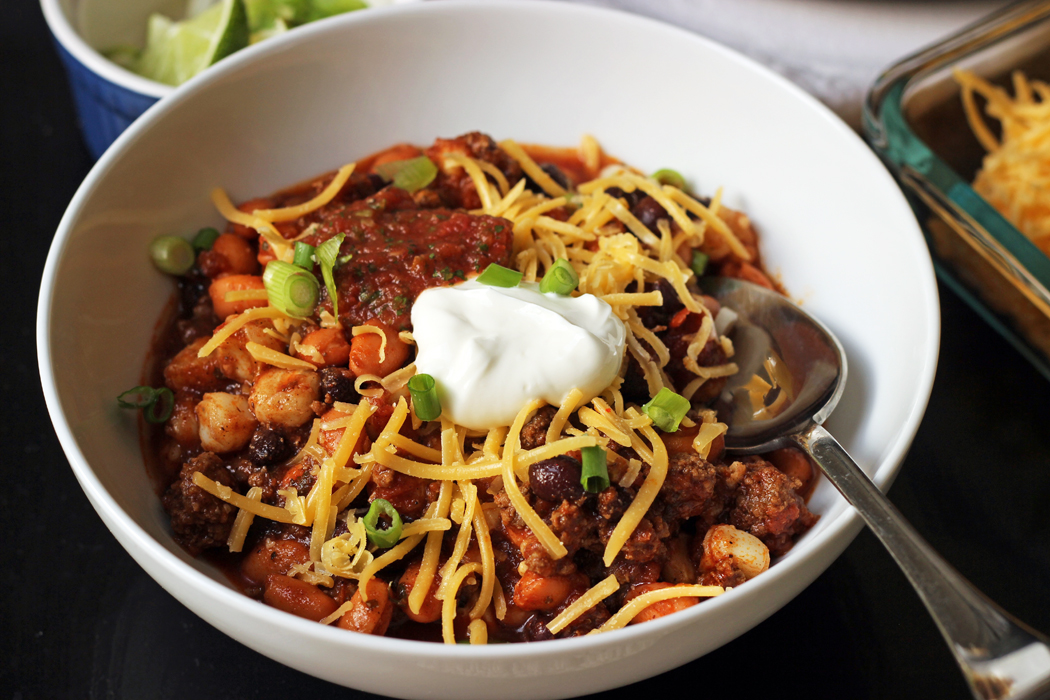 Preparation Time:5 minutes
Cook time:20 minutes
Total time:25 minutes
6 servings
Ingredients:
1 pound ground beef or turkey, browned and drained, optional

one 28-ounce can crushed tomatoes

one 28-ounce can pinto beans, drained

two 15-ounce cans black beans, drained

one 15-ounce can hominy, drained

1-2 cups water (depending on how thick you like your chili)

1/4 cup chili powder

1 tablespoon onion flakes

1 tablespoon dried oregano

1 tablespoon dried parsley

1 tablespoon garlic powder

salt and pepper to taste

Toppings: salsa, grated cheese, sour cream
Instructions:

Combine all ingredients in a 4-quart slow cooker. Cook for at least 4 hours on high.
Alternatively, combine the ingredients in a stockpot over medium heat. Simmer for 20 minutes.
Serve with toppings and chips.
To freeze: Wrap, label, and chill the chili completely before freezing. Reheat before serving.
Originally published December 10, 2011. Updated April 22, 2017.