Make up a batch of these Green Chile Burritos for supper or to stash in the freezer at a later date. Either way, you'll eat good and cheap.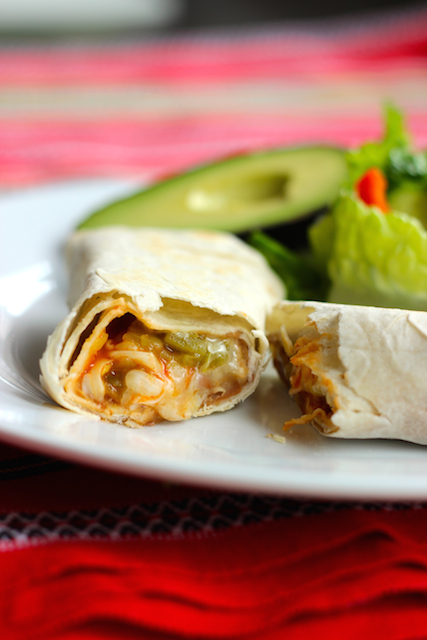 Burritos are the spice of life. Well, if they aren't, they should be. They are one of the easiest, quickest meals to pull together with little work or planning. All the ingredients can be kept on hand in the pantry, fridge, or freezer. Prepared burritos freeze well and reheat easily.
What's not to love?
I've been making a batch of burritos for the freezer on a weekly basis for awhile now. They rarely last the full seven days since we grab them for quick meals and snacks.
FishPapa's eyes have lit up on more than one occasion when I've said, "There are burritos in the freezer."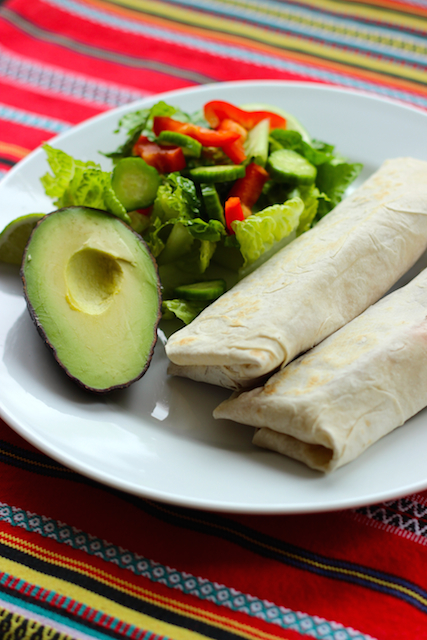 While certain teenage boys in our home prefer meaty burritos, I find that it's quicker and easier to make them meatless. With homemade "refried" beans, abundant cheese, green chiles, onions, and a little hot sauce, these babies will rival whatever the local joint can make. Plus, they're pretty much guilt-free, made of real food and prepared at home.
Did I mention that they are also good cheap eats?
Price breakdown:
dozen tortillas: $1.99
homemade refried beans: $0.50
8 ounces shredded cheese $1.50
chopped green chiles $0.77
chopped onion and hot sauce: $0.15 (if that)
One dozen green chile burritos cost a total of $4.91, or $0.41 each. That's at least half what Taco Bell or Del Taco charge, and this is worlds better in terms of nutrition and taste.
I call that a win.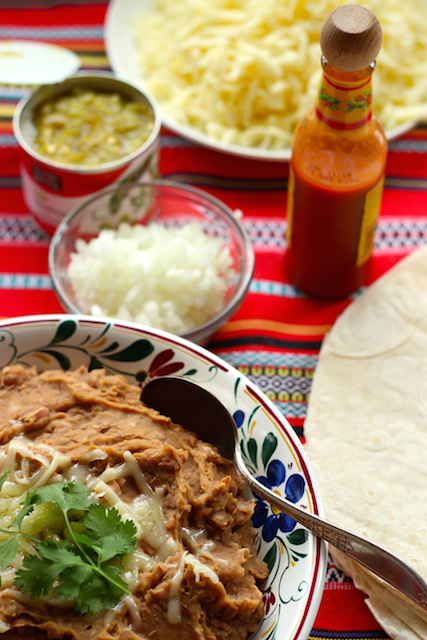 Assembly is easy, particularly if you're preparing many burritos at once. If you're serving a burrito bar, once everyone has served himself, assemble the rest of the burritos, chill, and freeze for easy snacks. You'll be so glad you did.
I package the burritos in a gallon-size freezer bag. I know some folks prefer to wrap them in plastic wrap or foil, but we've never had a problem just stashing them in a bag together. Sometimes a couple stick together, but that's generally not a problem when you're feeding a small army. If you prefer, wrap each burrito before stashing in the bag.
As for reheating, we use the microwave, the griddle, or the oven. Nuke each frozen burrito for a minute or two until hot. You might want to flip them on the plate to distribute the cold spots. If I'm using the griddle (or a hot skillet), I just heat until hot and crispy, turning every once in awhile to prevent burning, about five to 10 minutes, depending on how cold/frozen they are. If I know I'm going to be reheating a bunch, I thaw them for awhile before throwing them on the griddle. I've put frozen burritos in a baking dish in a 350 degree oven for about 20 minutes and they are good to go.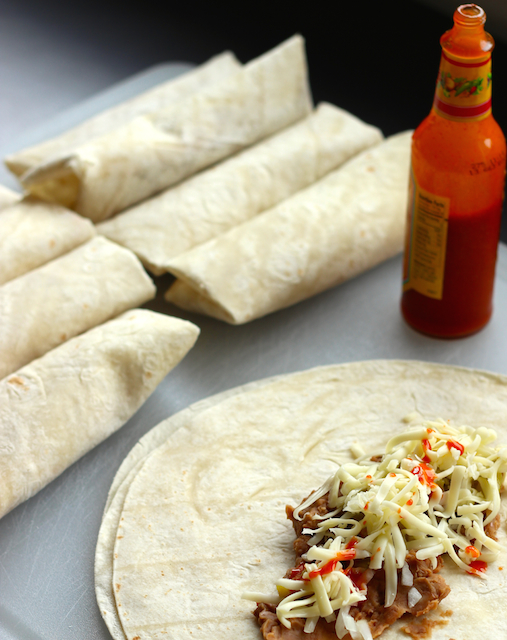 If you're not sure how to roll a burrito that will stay together, you can check out my vlog on making burritos. It's an old video, very homemade, but it does the job.
So do these burritos. When you're hungry and want to eat good and cheap.
Green Chile Burritos
Make up a batch of these Green Chile Burritos for supper or to stash in the freezer at a later date. Either way, you'll eat good and cheap.
Course:
Main Course, Snack
Keyword:
bean burritos, burrito, cheese and bean burrito, green chile burritos
Ingredients
12

burrito-size flour tortillas

3

cups

Healthier Refried Beans or your favorite canned variety

8

ounces

shredded jack cheese

you can use cheddar, too

7-

ounce

can chopped green chiles

1/2

onion

finely chopped (about 1/2 cup)

hot sauce

to taste
Instructions
On a flat working surface, lay out a tortilla. Spread 1/4 cup beans in a line down the center. Sprinkle on a small handful of cheese. Sprinkle a spoonful of chiles over the cheese as well as a teaspoon of onions. Add hot sauce to taste.

Roll up the tortilla over the filling, tucking in the sides as you go.

Continue until all the burritos are filled and rolled.

The filled burritos can be placed in a ziptop freezer bag and frozen. Or you can heat them and serve them right away. We like to heat them on the griddle, turning to crisp all sides.
Recipe Notes
Frozen burritos can be reheated in the microwave, oven, or on the griddle.
Promptly store leftovers in an airtight container in the refrigerator, for up to 3 days.
Nutritional values are approximate and based on 1 burrito.
Related Posts: