Cook up a pot of healthier "refried" beans to serve as a side dish, to fill burritos, or to top nachos.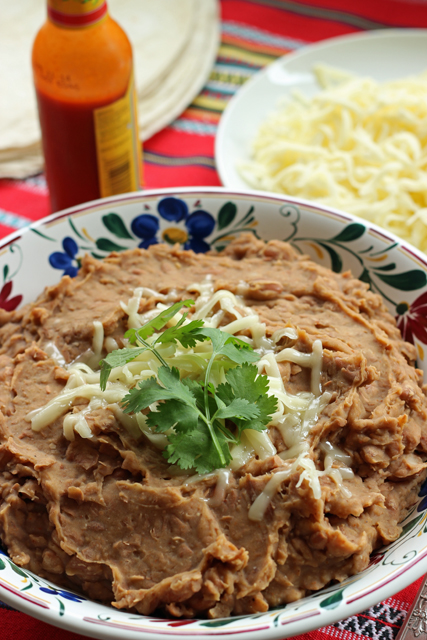 Traditional refried beans are cooked pinto beans that are mashed and fried in oil, often times lard. They are uber-tasty when made homemade; mediocre when they come in a can. But, beans in any form are such a good cheap eat. It behooves you to include them in your pantry.
I've recounted before for you how cooking dried beans is the cheaper alternative. I stand by that statement, also acknowledging that the convenience of the can is one that I love and am drawn to like a moth to a flame. Cooking your own beans can be cheaper, healthier, and just as tasty — if not moreso — than opening a can. Plus, you don't have all the additives/BPA issues that come with canned products.
The trick to tasty beans is long soaking, slow cooking, and a bit of seasoning. You can leave the beans whole or mash them up for refried beans. Sometimes I stir in some olive oil for extra flavor, but I've found that you don't really need it, especially if you're going to serve the beans with other things like cheese, salsa, sour cream, etc.
This recipe for healthier "refried" beans is easy and delicious. It takes time, but virtually no effort.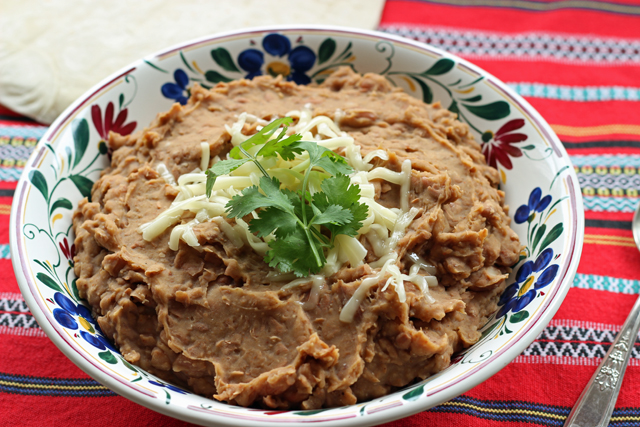 One pound of dried pintos costs less than a dollar at my local store. You can get a lower price if you purchase beans in bulk. That pound makes the equivalent of three to four cans of beans, making it a super great deal, about 33cents/can-size portion.
Store the beans in 2-cup portions in plastic containers with lids or pint-size freezer bags and store them in the freezer. You replace the convenient can with a tastier, cheaper, and healthier homemade alternative.
Recipes for refried beans:
Once you've got your beans, you've got a whole world of recipes to use them in. Here are some of our favorites:
Tools to make the job easier:
Print Recipe
Healthier "Refried" Beans
Cook up a pot of healthier "refried" beans to serve as a side dish, to fill burritos, or to top nachos.
Ingredients
1

lb

dry pinto beans

sorted, rinsed, and soaked overnight or up to 24 hours

1

tbsp

onion powder

1

tbsp

chili powder

1 1/4

tsp

salt

or more to taste
Instructions
Drain and rinse the soaked beans and place them in a 5-quart slow cooker. Add 8 cups of water. The beans should be covered by about 2 inches of water. Cook 6 to 12 hours on LOW. (I like to do this overnight.)

Drain the beans and mash them to the texture you prefer. Add water to thin it to your desired consistency.

Stir in onion powder, chili powder, and salt. Adjust seasonings to taste.
Notes
Beans can be frozen in 2-cup portions, up to 2 months.
Promptly store leftovers in an airtight container in the refrigerator, for up to 3 days.
Nutritional values are approximate and based on 1/2 cup.
Nutrition
Calories:
203
kcal
|
Carbohydrates:
37
g
|
Protein:
12
g
|
Fat:
1
g
|
Saturated Fat:
1
g
|
Sodium:
387
mg
|
Potassium:
818
mg
|
Fiber:
9
g
|
Sugar:
1
g
|
Vitamin A:
297
IU
|
Vitamin C:
4
mg
|
Calcium:
71
mg
|
Iron:
3
mg