Make enchiladas healthier and convenient by mixing up a big batch of enchilada sauce for the freezer.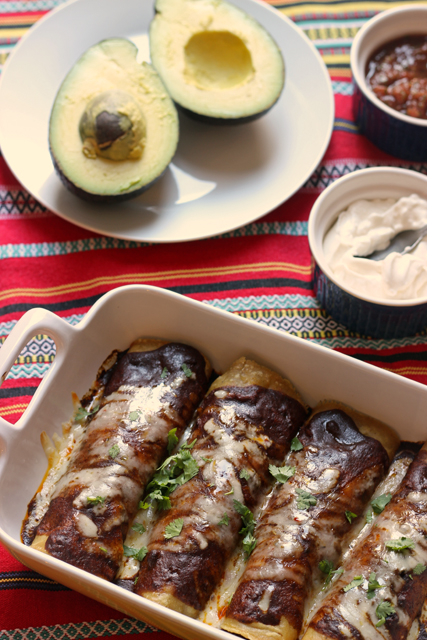 Enchiladas rank high on my list of favorite foods. Whether at a restaurant or at home, I am drawn to corn tortillas wrapped around cheesy fillings and stopped with spicy sauce and more cheese. At least one of my children mandates a meat filling as well, but I could take it or leave it. I'm good with cheese and luscious sauce.
One of the wonderful things about enchiladas is that they are super easy to make-ahead and freeze. Bonus points: if you forget to thaw (cough, cough) they heat well from frozen. This month it's on my menu plan to make a triple or quadruple batch of enchiladas to stash in the freezer for winter. Yum-O.
But, what if you don't have the room to store many pans of enchiladas in your freezer? Well, the next best thing is making a big batch of sauce and stashing it in jars in the freezer.
(Psst, )
Homemade enchilada sauce?
Yes, I'm a firm believer in homemade enchilada sauce. I wasn't always. In fact, when we lived in Kansas, I had my mother-in-law ship me cases of Las Palmas Enchilada or Red Chile Sauces because my local stores didn't carry it. It is, by the way, the commercial brand that I would deem most authentic in flavor and texture.
Note: just as I am a stickler for corn (not flour) tortillas in enchiladas, I don't think tomato sauce has any place in enchilada-making. It must be red chile sauce. That's one thing that makes Las Palmas great — no tomatoes.
However, since those days, I've made some efforts to improve our family's diet. And the ingredients list on the enchilada sauce kinda makes me cringe. Cottonseed oil? Blech.
So, last winter I started exploring my options for homemade enchilada sauce. What I found is that making my own enchilada sauce is really not that difficult; it takes just a little more time than opening a can. Plus, the added flavor and improved ingredient list make it totally worth it.
I experimented with making the sauce from whole ancho chiles. Oh my word! I'll be sharing that recipe soon. It's authentic and tastes real. I don't know how else to describe it. We're going to be doing a big tamale-making/red chile sauce-making extravaganza, FishPapa and me. Details to follow.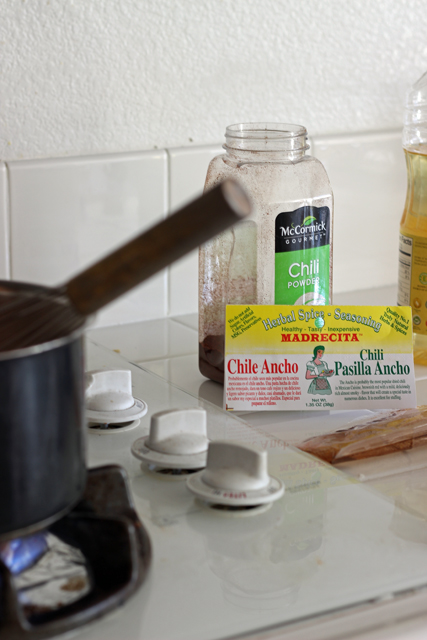 Any who, an even quicker method is to make the sauce from dried spices and broth. I found this Enchilada Sauce recipe from Gimme Some Oven and have been making some version of it for a year now. It's always good. And it calls for NO tomato sauce. Amen. Hallelujah.
The adaptation I've landed on includes ancho chile powder and a doubling of the other spices. The ancho chile powder really gives it a comparable flavor to the sauce made from whole dried chiles. I also like using fresh garlic to up the "fresh" flavor. And I've used water instead of chicken broth to lower the overall price. It's great with chicken broth, but it's nice to keep the cost down. I don't notice a huge difference in flavor when I just use water. I think the ancho chile speaks for itself.
Uses for red enchilada sauce
Red enchilada sauce is not just for enchiladas, though that would be perfectly sufficient. I use it in chili, like my Chihuahua Chili and atop nachos, like 6-Layer Nachos for the Freezer or these skillet nachos. I drizzle it in burritos and over chimichangas. It's even great served over grilled meats.
Red enchilada sauce plays a starring role in these recipes:
Making enchilada sauce for the freezer
The process of making homemade enchilada sauce is similar to making gravy. (Yes, you can freeze gravy, too.) You'll create a roux with hot fat and flour. Add spices and then broth or water. Simmer until thickened. The sauce will then be ready to use in recipes or you can cool it and freeze it to use later.
You'll want large containers of enchilada sauce (about 2 cups) if you're going to use it for enchiladas, but I like to stash smaller portions as well for those times when we want just a splash of sauce.
If you love homemade sauces, then it's in your best interests to make a mega batch of your favorites and store them in freezer-safe containers in your freezer. It's so wonderful to reach in on a busy night and grab a jar of homemade sauce. It makes your meal taste like a million bucks and saves you loads of time. Freezer cooking, in general, has saved my bacon many a time.
As I've moved toward using more glass for food storage, I've wanted to freeze in glass as well. I didn't have much success until I saw this tip for freezing in canning jars, from Aimee at Simple Bites:
Tips for freezing in jars: Leave 2 inches of headspace to allow for expansion. Cool overnight in the fridge. Place on a flat surface in freezer. Freeze with lids off. Add lids when [liquid] is solid and label with the date.
If you don't follow that tip, you're likely to have broken jars. Ask me how I know. And glass jars are great for storing enchilada sauce.
Make a batch of this and you will be set for all kinds of good cheap eats this winter.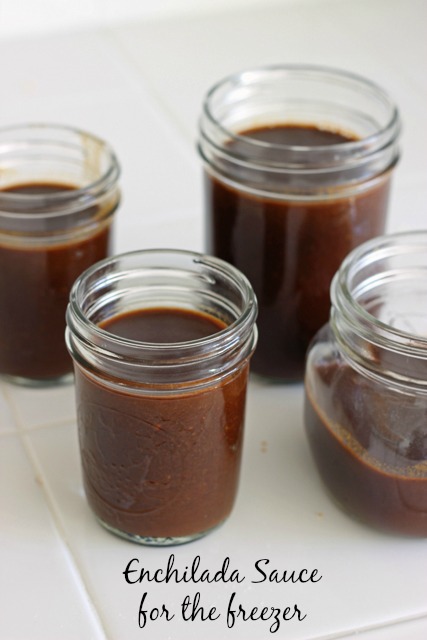 Enchilada Sauce for the Freezer
Adapted from Gimme Some Oven
Ingredients
1/4

cup

olive oil

1/4

cup

unbleached, all-purpose flour

1/2

cup

ground ancho chile powder

or a combination of ancho and regular

1

clove

garlic

minced

1

tsp

ground cumin

1

tsp

salt

1

tsp

dried oregano

4

cup

water
Instructions
In a large stockpot, heat the oil until shimmering. Add the flour and whisk until smooth and bubbly. Whisk in the chile powder, garlic, cumin, salt, and oregano. Whisk in the water.

Simmer the sauce for 10 minutes, whisking occasionally.

Pour the sauce into freezer-safe containers, leaving room for expansion. Chill completely in the fridge. If using glass jars, freeze uncovered until the sauce is firm. If using plastic, go ahead and secure the lids, label, and freeze. Once the sauce in the glass jar is frozen, add a labeled lid.

To use, thaw the sauce completely in the refrigerator and proceed with recipe.
Notes
Tips for freezing in jars: Leave 2 inches of headspace to allow for expansion. Cool overnight in the fridge. Place on a flat surface in freezer. Freeze with lids off. Add lids when [liquid] is solid and label with the date.
Nutrition
Calories:
235
kcal
|
Carbohydrates:
21
g
|
Protein:
5
g
|
Fat:
18
g
|
Saturated Fat:
3
g
|
Sodium:
1080
mg
|
Potassium:
586
mg
|
Fiber:
11
g
|
Sugar:
2
g
|
Vitamin A:
8769
IU
|
Vitamin C:
1
mg
|
Calcium:
118
mg
|
Iron:
6
mg