Add flavor and a kick of spice to your enchiladas with this Easy Red Enchilada Sauce that's better than canned sauce. Just oil, flour, ground chile, spices, and water are needed to make this spicy sauce that comes together in less than 20 minutes!
Enjoy restaurant style enchiladas when you make a homemade sauce, and do yourself a favor and make extra to freeze.
Jump to:
Do enchiladas rank high on your list of favorite foods? Whether at a restaurant or at home, are you drawn to corn tortillas wrapped around cheesy fillings and topped with spicy sauce and more cheese?
It's pretty darn amazing. And while canned sauces, like Las Palmas Enchilada or Red Chile sauces are pretty delicious, homemade sauce will take your enchiladas over the top!
Why make this
It's red enchilada sauce. There's huge debate about red versus green enchilada sauce. If you're team red sauce, this is the recipe for you.
It's better than the can. While it takes just a little more time than opening a canned enchilada sauce, the added flavor and improved ingredient list make it totally worth it.
It's easy. While a more authentic recipe might call for boiling dried ancho chiles and blending them smooth, I find this shortcut to be easier and tastier. This simple red sauce requires no complicated ingredient, tools, or techniques other than a few pantry staples, a pot, and a whisk.
It's quick to make. You can stir up a batch of this easy enchilada sauce in less than 20 minutes.
It's freezer friendly. It's so convenient to have a few tubs of this sauce ready to go in the freezer. It's a fantastic addition to enchiladas but also to any number of dishes that could benefit from red hot chile flavor.
Ingredients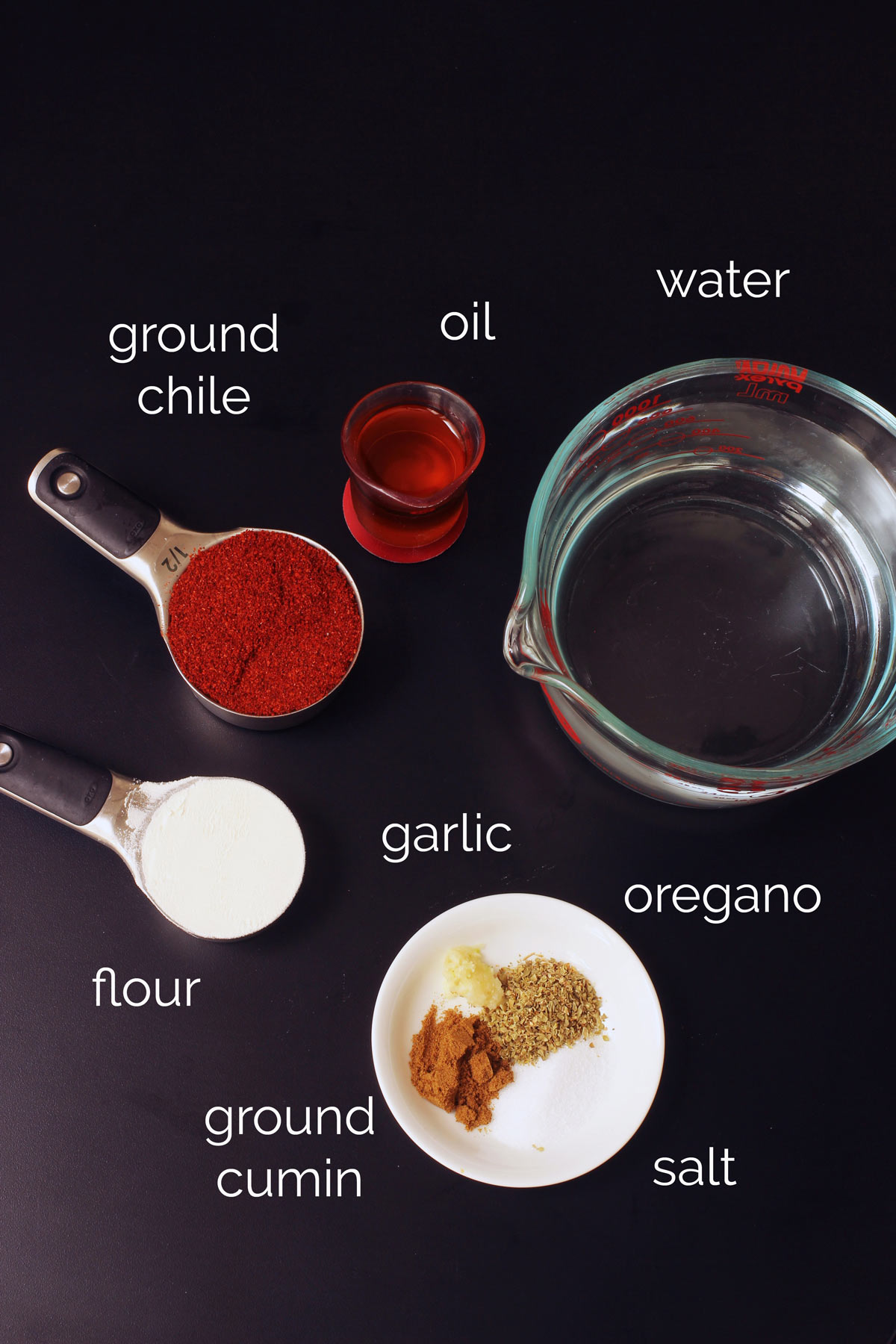 This red enchilada sauce is quick and simple to make with some regular pantry staples. A combination of hot oil and flour acts as a roux which thickens the mixture of water, chile and spices.
Things to pay attention to:
Ground dry chile – Be sure not to use chili powder which is very different than ground dried chile. Chili powder contains salt and other seasonings that will throw off this recipe. You need dried chiles that have been ground, preferably ancho. The ancho chile powder really gives it a comparable flavor to an authentich sauce made from whole dried chiles.
Oil – I use a neutral oil because it is affordable and works with any number of dietary preferences. Feel free to use butter or lard if that is what you have and there aren't any vegans in the house.
Water – You may see recipes around that call for chicken broth or stock as the liquid in homemade enchilada sauce. I've tried both and don't notice a huge difference in flavor when I just use water. I think the ancho chile speaks for itself. Plus water is cheaper!
Fresh garlic – I think the addition of fresh garlic instead of powdered gives it a fresher flavor, but you can use dried garlic powder if that's what you have on hand.
You'll notice that this recipe does
Step-by-step instructions
How to make the sauce:
Making enchilada sauce is much akin to making homemade gravy. You heat fat, add flour to create a roux, add liquid and seasonings, simmer until thickened. You can even make a creamy enchilada sauce with this same method.
Here's how to convert that technique to making a homemade sauce for enchiladas:
Heat the oil in a medium sauce pan. Add the flour and whisk until bubbly.
Whisk in the ground chile and other spices.
Stir for about a minute; don't let it burn.
Add the water, about a cup at a time, whisking constantly. Once all the water is added, simmer the sauce for 10 minutes, stirring once in awhile.
Use the sauce in recipes or chill until ready to use.
How to freeze the sauce:
You'll want large containers of enchilada sauce (about 2 cups) if you're going to use it for enchiladas, but I like to stash smaller portions as well for those times when we want just a splash of sauce.
Divide the sauce into the portions you want to freeze, either in freezer-safe containers (left) or in Soupercubes, silicone molds that allow you to pop out frozen bricks of sauce to store in bags in the freezer (right).
Chill the sauce in the fridge until completely cold.
Once cold, transfer the containers of sauce to the freeze. Be sure to label them so that you can tell your red pasta sauce from your red enchilada sauce.
FAQ
Is red enchilada sauce vegetarian?
This recipe, as it is written, is vegetarian- and vegan-friendly, as it does not contain any animal products. It's a great all-purpose sauce for Mexican food items.
How spicy is red enchilada sauce?
Ancho chiles are considered mildly spicy. You can adjust the heat in this recipe by using a different dried chile powder or a combination of dried chiles. Consult this chart of dried chiles to decide the best fit for you.
Recipe costs
Knowing how much it costs you to prepare a recipe can help you decide if it's the type of recipe to make regularly or one you might want to save for special occasions. Let's crunch some numbers and see how this recipe pencils out.
oil – $0.08
flour – $0.05
ground ancho chile – $1.75
garlic – $0.02
cumin – $0.05
salt – $0.02
oregano – $0.05
Shopped at a mid-range grocery store at non-sale prices, the ingredients for this easy red enchilada recipe should cost about $2.07/4-cup batch!
By contrast an equivalent amount of canned sauce costs over $3. Homemade tastes better and costs less!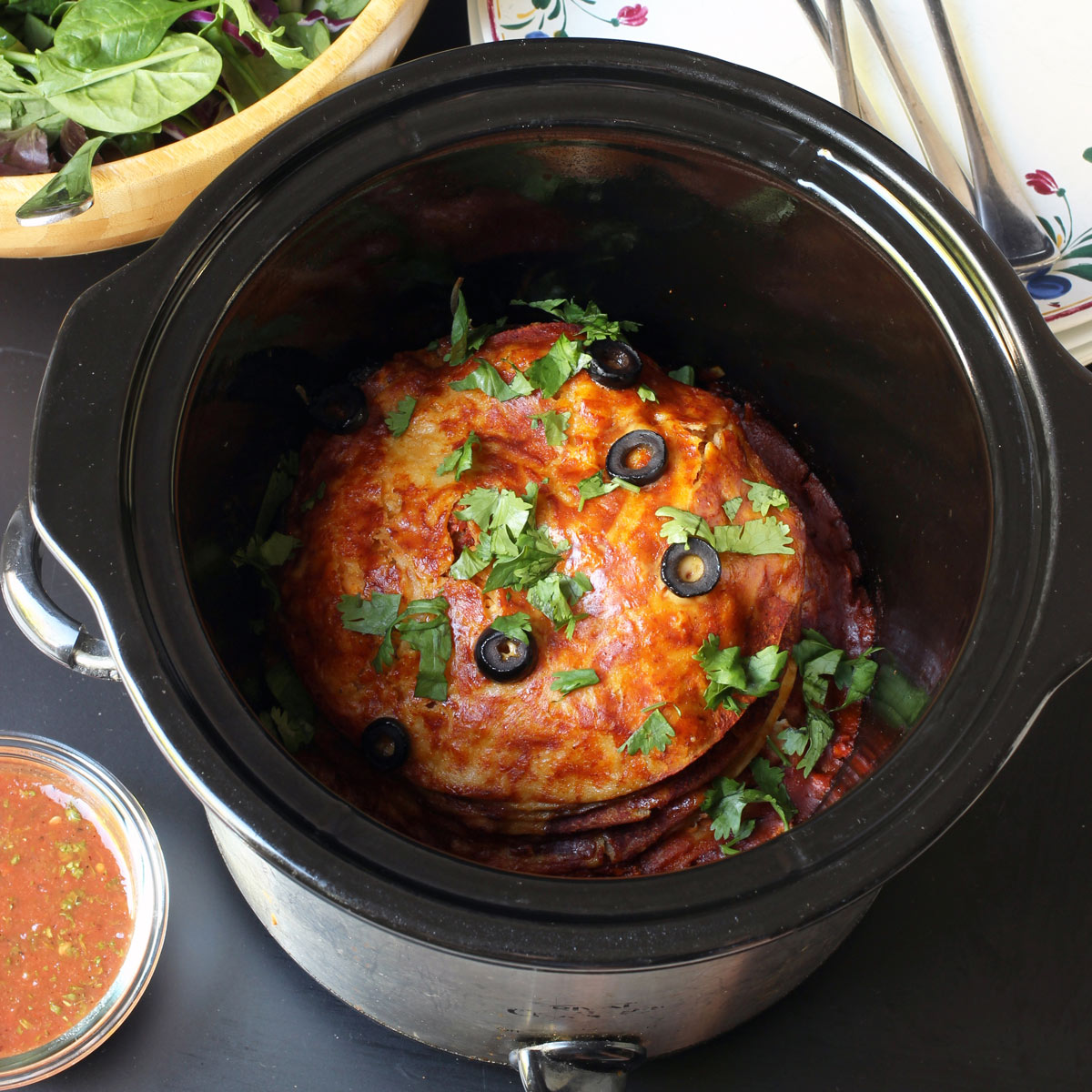 Great Mexican Food Recipes
Easy Red Enchilada Sauce Recipe
Just oil, flour, ground chile, spices, and water are needed to make this spicy sauce that comes together in less than 20 minutes!
Ingredients
¼

cup

neutral oil

¼

cup

unbleached, all-purpose flour

½

cup

ground ancho chile powder

or a combination of dried ground chiles

1

clove

garlic

minced

1

teaspoon

ground cumin

1

teaspoon

salt

1

teaspoon

dried oregano

4

cup

water
Instructions
In a medium saucepan, heat the oil until shimmering. Add the flour and whisk until smooth and bubbly. Whisk in the chile powder, garlic, cumin, salt, and oregano. Whisk in the water.

Simmer the sauce for 10 minutes, whisking occasionally.

Pour the sauce into freezer-safe containers, leaving room for expansion. Chill completely in the fridge. If using glass jars, freeze uncovered until the sauce is firm. If using plastic, go ahead and secure the lids, label, and freeze. Once the sauce in the glass jar is frozen, add a labeled lid.

To use, thaw the sauce completely in the refrigerator and proceed with recipe.
Notes
Be sure to use ground chile instead of chili powder. There is a big difference between the two products. The first is dried ground chile peppers; the latter has salt and other spices added to it which will greatly change the flavor of the sauce.
Homemade enchilada sauce is delicious to use on more than just enchiladas! Use this sauce as a chili or soup starter, to flavor taco meat, or to drizzle on nachos, quesadillas, burritos, and tamales.
To freeze the sauce: chill it completely in portion-size containers before storing in the freezer. Two-cup containers are useful for making recipes such as enchiladas, but you may prefer freezing smaller portions to use on nachos, tamales, or wet burritos.
You may make a double or triple batch. To do so, adjust the servings above to 8 or 12 cups so that you have the right proportions. If you make a bulk batch, use a large heavy stockpot.
Promptly store leftovers in an airtight container in the refrigerator, for up to 3 days.
Nutritional values are approximate and based on 1 cup.
Nutrition
Calories:
235
kcal
|
Carbohydrates:
21
g
|
Protein:
5
g
|
Fat:
18
g
|
Saturated Fat:
3
g
|
Sodium:
1080
mg
|
Potassium:
586
mg
|
Fiber:
11
g
|
Sugar:
2
g
|
Vitamin A:
8769
IU
|
Vitamin C:
1
mg
|
Calcium:
118
mg
|
Iron:
6
mg
This post was originally published on December 1, 2014. It has been updated for content and clarity.